Gluten Free Granola (Zero Waste)
January 16, 2018 | Kathryn Kellogg
Last Updated on December 2, 2022
Gluten free granola is made with healthy ingredients that are crunch and slightly sweet. Made with oats, almonds, honey, cinnamon, and fruit, you can't go wrong.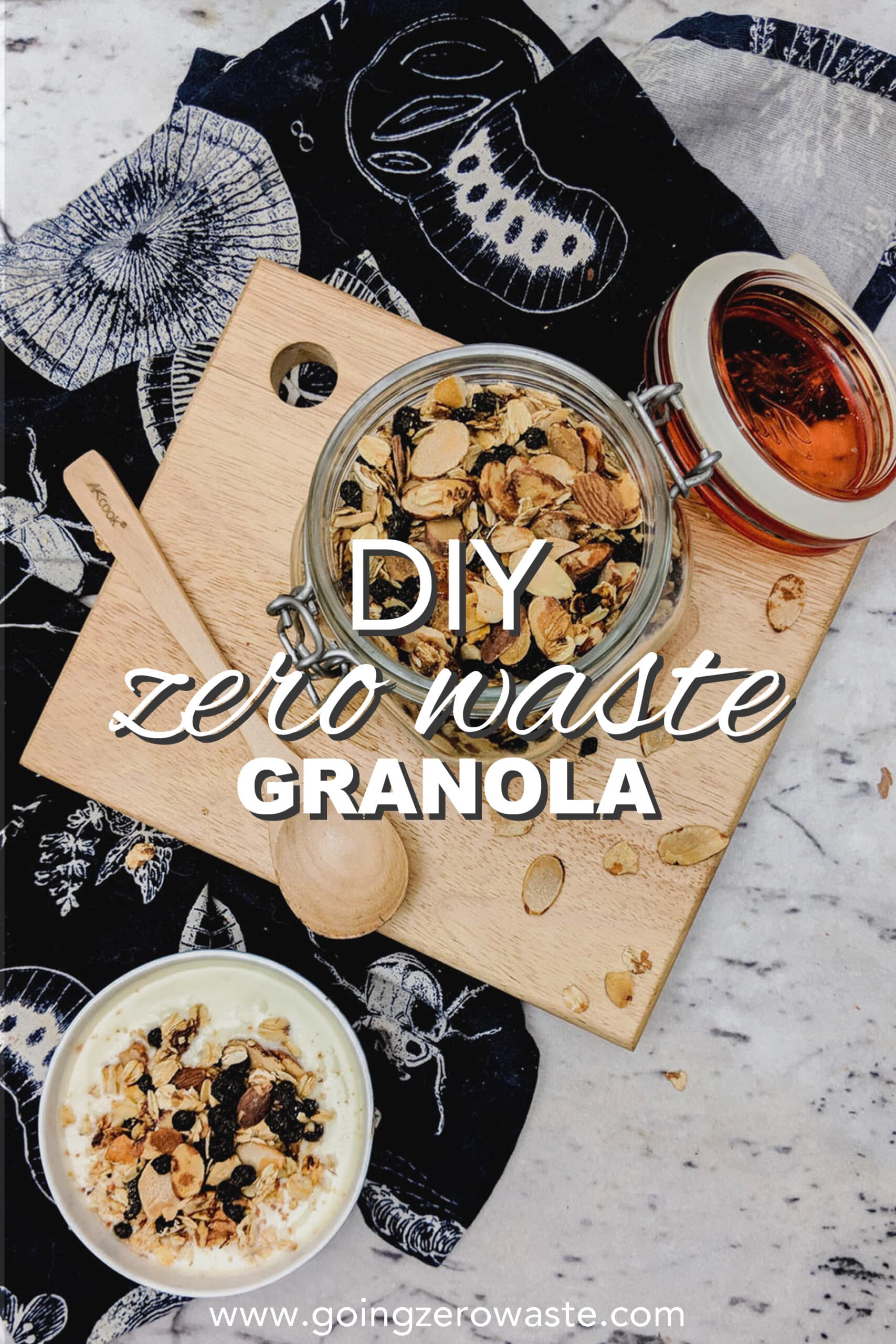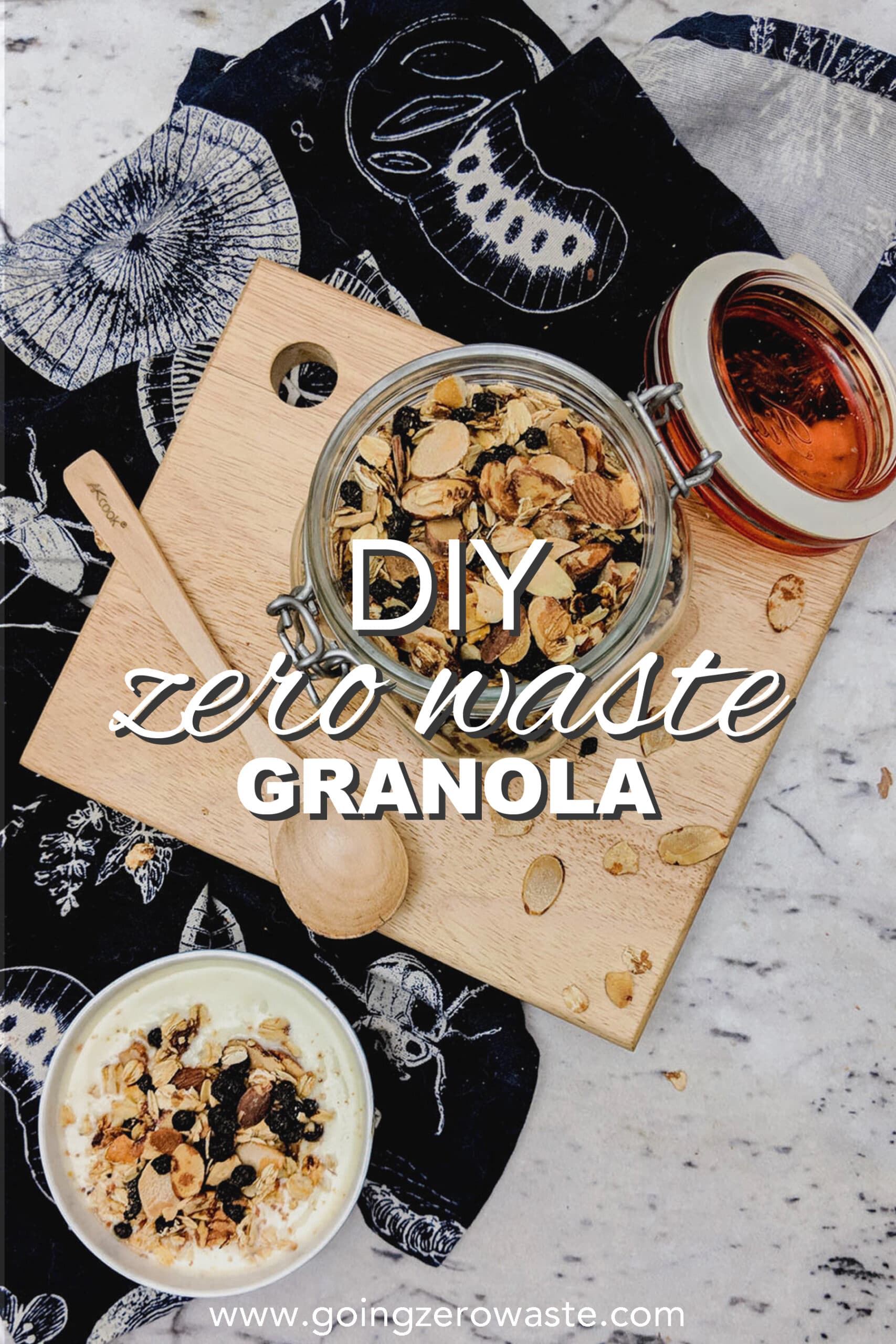 homemade granola cereal
One of my favorite zero waste breakfasts is yogurt topped with crunchy low sugar granola. I'm still working on perfecting my coconut yogurt recipe, but it's close.
I promise, I will share when it's ready!
What I love about this simple granola recipe is that it truly takes very little effort and tastes awesome.
Granola is crunchy, sweet, and a perfect substitute for all of the packaged cereals you no longer buy. While eating Captain Crunch is not the healthiest breakfast option, it's still full of so many childhood memories.
why you'll love this simple granola recipe
Customizable
Delicious
Easy
Kid friendly
Gluten free
Inexpensive
gluten free granola cereal
I used to love eating cereal for breakfast every morning. It was super quick and easy. I also would binge an entire box of Cinnamon Toast Crunch while studying for finals in college.
Cereal is also just easy. I loved not having to hassle with a huge breakfast ordeal while heading to school.
I still try to keep my breakfast super simple when heading to work.
Homemade granola cereal fits the bill for me. It's super tasty, easy to make, and a really quick breakfast. It's a fairly common item in bulk bins, but I find that it's typically loaded with sugar.
I have become really sensitive to sugar. I don't like to start my day by eating it because I get kinda jittery and can have headaches or inflammation in my joints. So I was on a mission to create a simple granola recipe that didn't make me feel that way.
So that is where my low sugar granola was born. And it's so good! Plus, with this gluten free granila there is no more jitters either…WIN!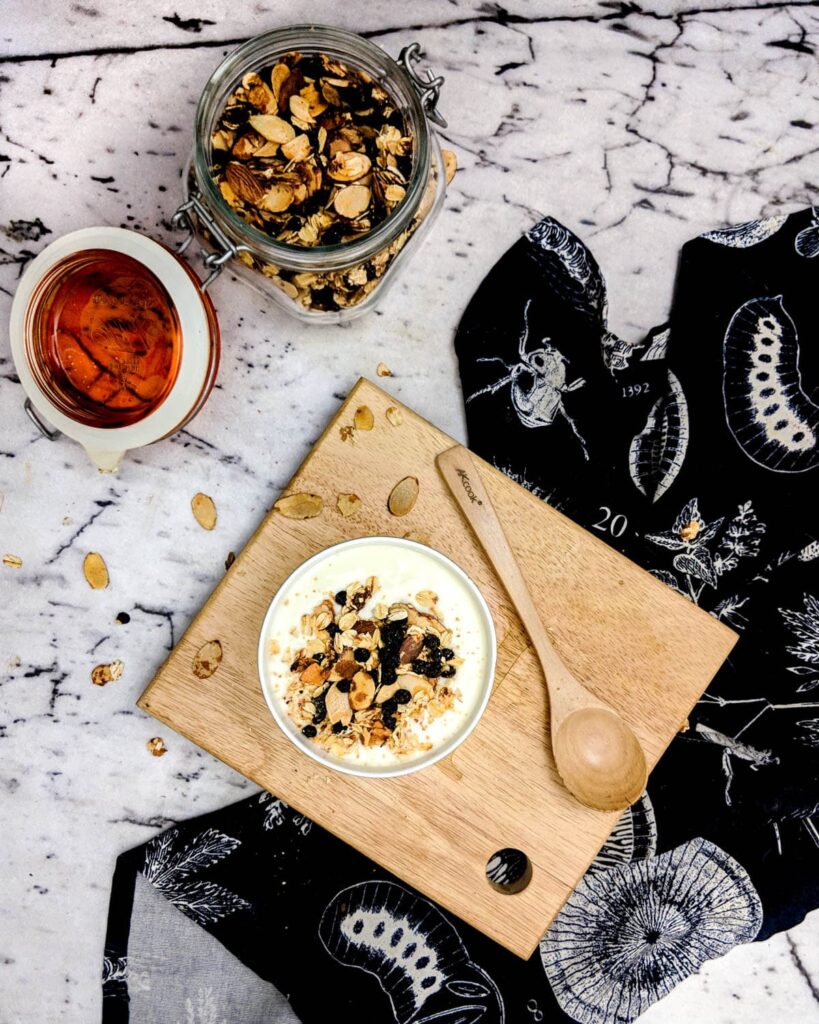 low sugar granola ingredients:
Old-Fashioned Oats – from bulk bins at Raley's
Almonds – from bulk bins at Rainbow Gocery
Olive Oil – from bulk at Amphora Nueva
Honey – from farmers market stall can bring the honey jar back
Cinnamon – from Oaktown Spice
Salt – from Berkeley Bown
Dried Fruit – (I used blueberries) from Rainbow Groceries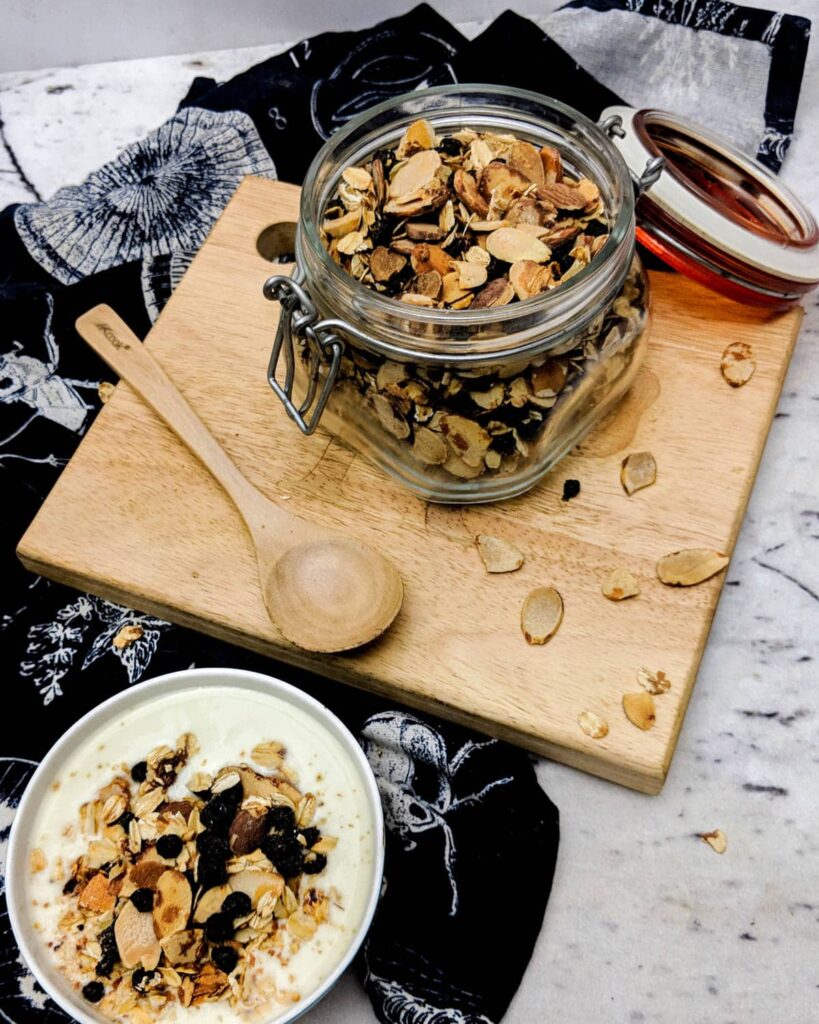 how to make gluten free granola
step one: combine ingredients
Preheat the oven to 350 degrees. Combine oats, almonds, cinnamon, and salt in a large bowl. Add in olive oil and honey.
step 2: bake
Place the low sugar granola on a baking sheet and cook for 20 minutes being sure to stir halfway through.
step 3: add fruit
Once done baking, add fruit, stir, cool, and serve your homemade granola.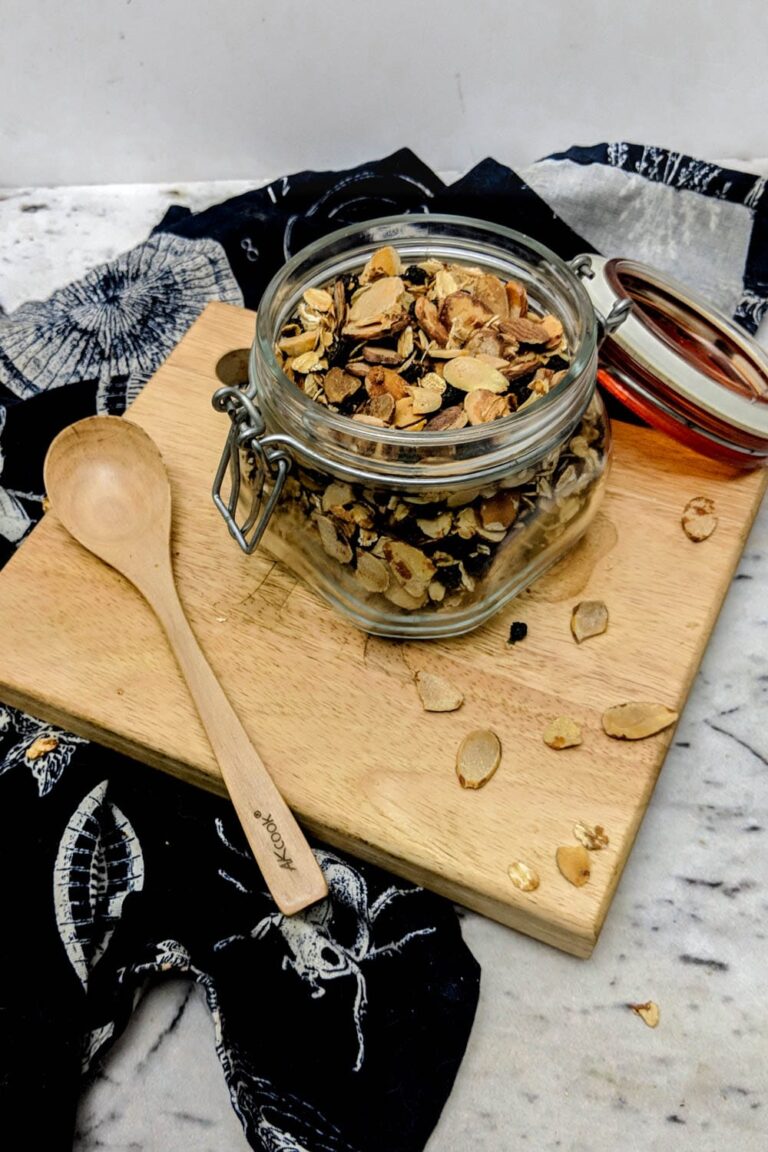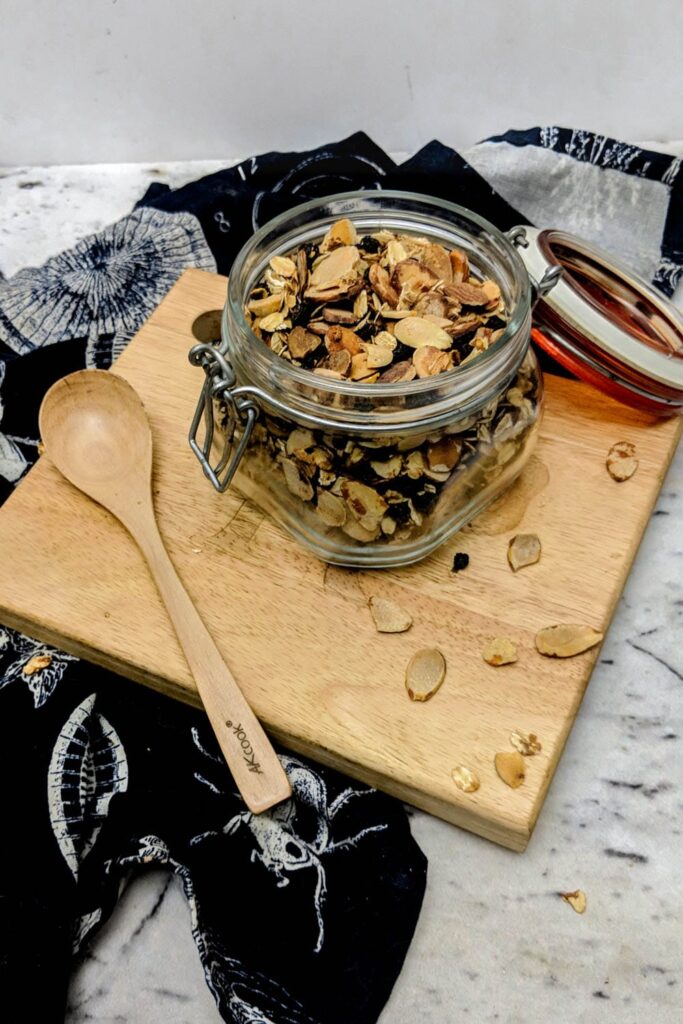 frequently asked questions
what flavor variations could I try?
I bet this gluten free granola would be insanely tasty with a sprinkling of cocoa powder and some chocolate chips! Different dried fruits like cranberries, cherries or apples would all be good.
Other great add-ins would be coconut-shreds, chocolate chips, seeds, the combinations are endless. 
how can I use this low sugar granola?
You can eat gluten free granola as a bowl of cereal with your favorite milk or nondairy milk, in a bowl with yogurt, or by the handful!
Mmmmm, dessert granola. It could be sprinkled on some homemade coconut ice cream!
more easy recipes:
Yield: 2-4 servings
Gluten Free Granola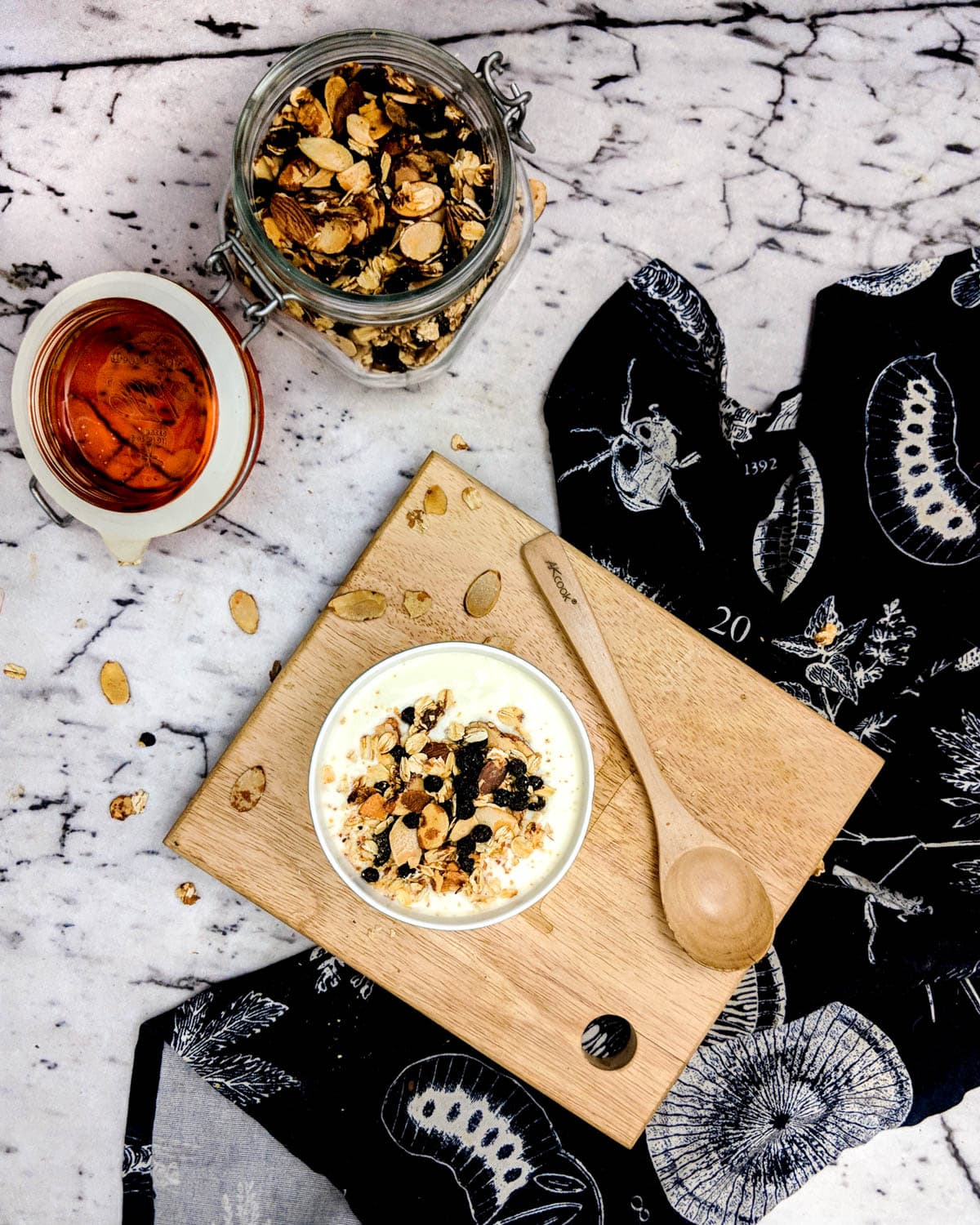 Gluten free granola is made with healthy ingredients that are crunch and slightly sweet. Made with oats, almonds, honey, cinnamon, and fruit, you can't go wrong.
Ingredients
1 Cup of Old-Fashioned Oats
1 Cup of Slivered Almonds
2 Tablespoons of Olive Oil
2 Tablespoons of Honey
1 Teaspoon of Cinnamon
Pinch of Salt
1/3 Cup of Dried Fruit (I used blueberries)
Instructions
Preheat the oven to 350 degrees
In a mixing bowl, add the oats, almonds, cinnamon, and salt
Stir until they're all combined
Add in the olive oil and the honey and mix
Spread out on a rimmed cookie sheet and bake for 20 minutes stirring halfway through
Once golden brown, remove from the oven and add in the dried fruit
Notes
*for a vegan option, try 1 tablespoon of maple syrup and 1 tablespoon of molasses