DIY, Zero Waste Granola with Dried Blueberries
January 16, 2018 | Kathryn Kellogg
Last Updated on September 11, 2020
One of my favorite zero waste breakfasts is yogurt topped with crunchy granola. I'm still working on perfecting my coconut yogurt recipe, but it's close.
I promise, I will share when it's ready!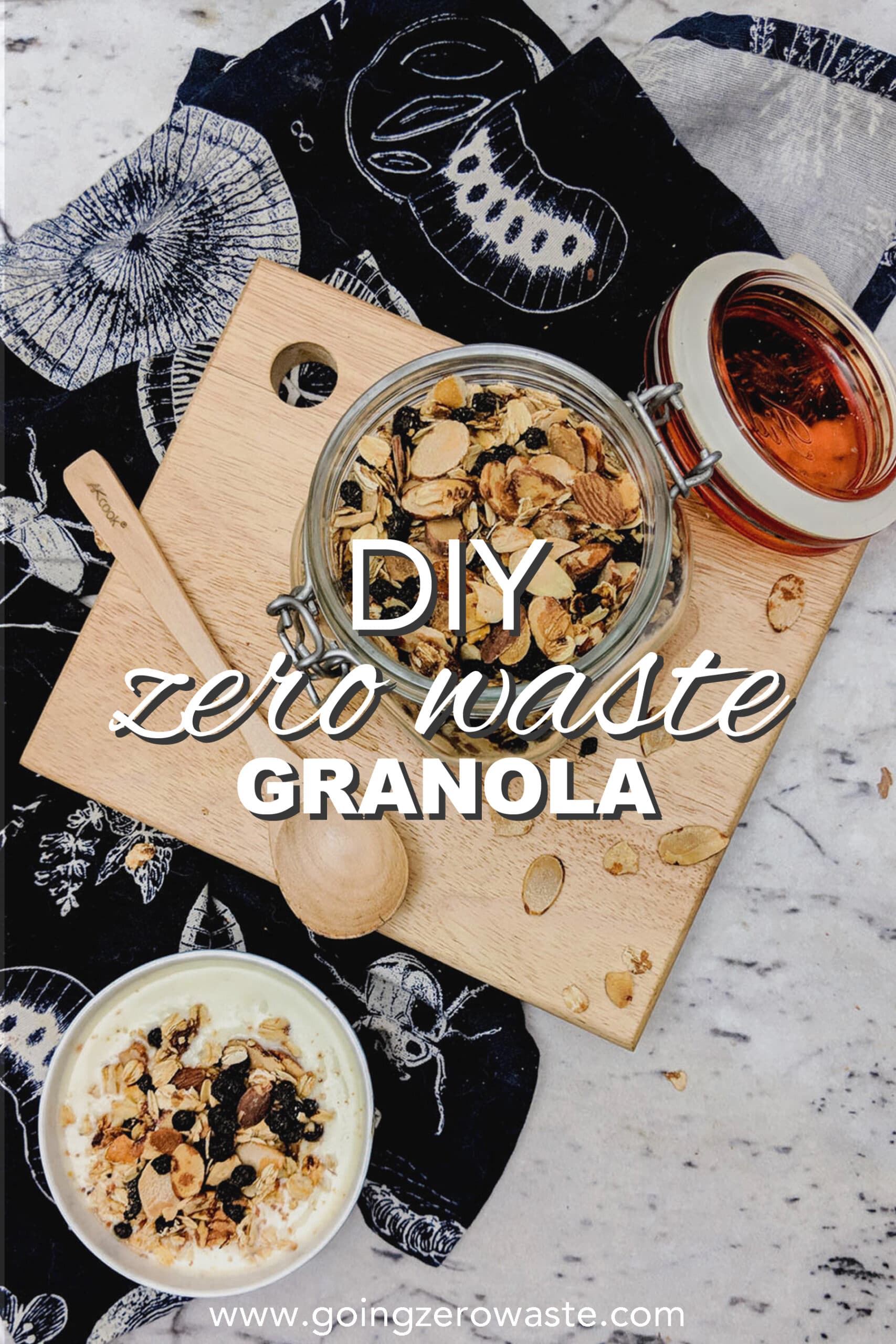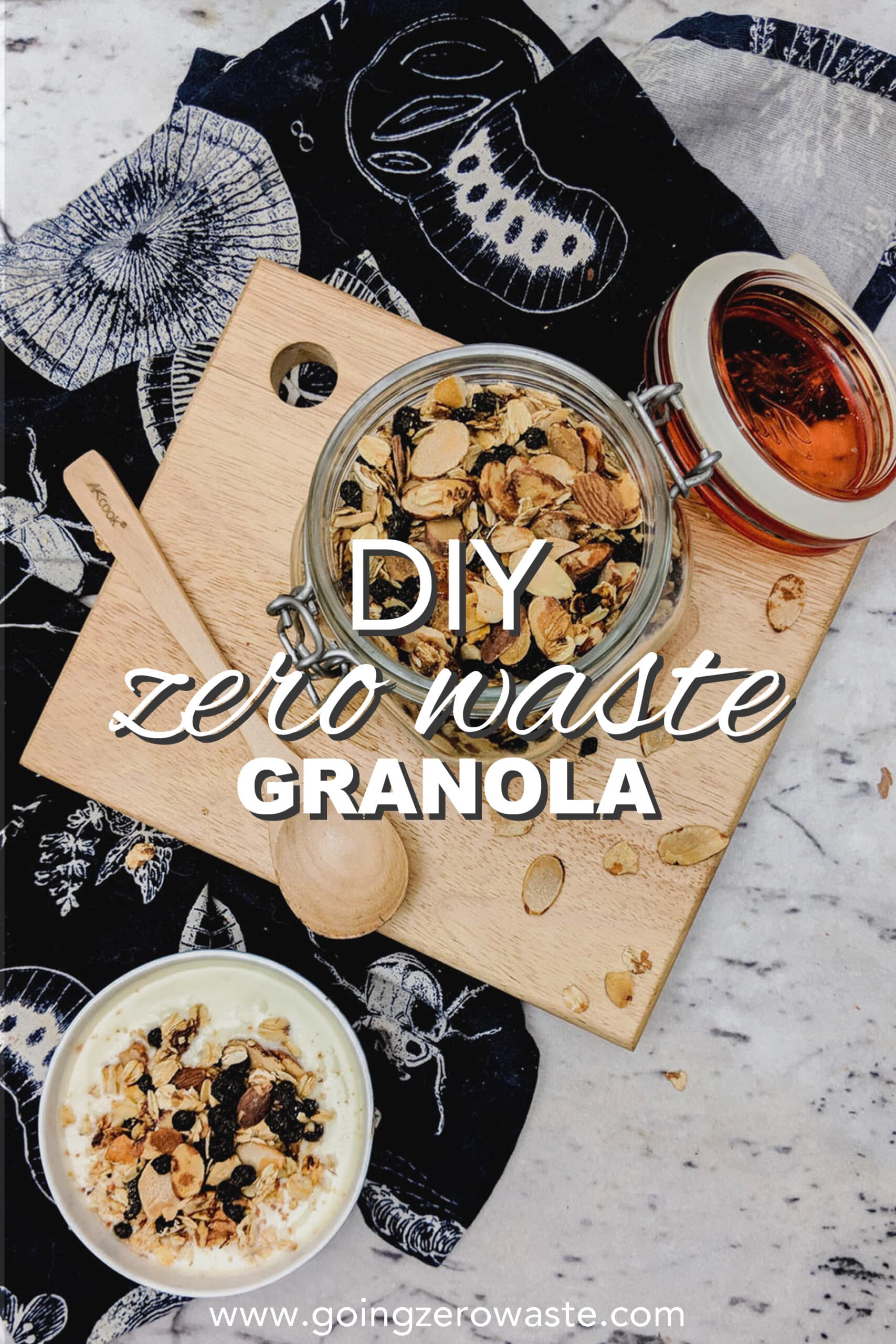 I would also love to know, what are some of your favorite zero waste breakfast ideas?
Granola is crunchy, sweet, and a perfect substitute for all of the packaged cereals you no longer buy. While eating Captain Crunch is not the healthiest breakfast option it's still full of so many childhood memories.
I used to love eating cereal for breakfast every morning. It was super quick and easy. I also would binge an entire box of Cinnamon Toast Crunch while studying for finals in college.
Cereal is also just easy. I loved not having to hassle with a huge breakfast ordeal while heading to school.
I still try to keep my breakfast super simple when heading to work.
Granola fits the bill for me. It's super tasty, easy to make, and a really quick breakfast. It's a fairly common item in bulk bins, but I find that it's typically loaded with sugar.
I have become really sensitive to sugar. I don't like to start my day by eating it because I get kinda jittery and can have headaches or inflammation in my joints.
I feel too young to be dealing with inflammation, but I try to limit my sugar. I save it all for the good stuff like decadent cups of hot cocoa and brownies!
Which reminds me, I bet this granola would be insanely tasty with a sprinkling of cocoa powder and some chocolate chips!
MMmmmm, dessert granola. It could be sprinkled on some homemade coconut ice cream! I'm so ready for it to be summer.
Honestly, granola is really easy to customize based on what you have on hand. It's typically made up of nuts, oats, honey, and dried fruit. You can really wing it with whatever is in your cupboards!
Other great add-ins would be coconut-shreds, chocolate chips, seeds, the combinations are endless.
easy granola:
Makes Roughly 2 Cups, 350 degrees
1 Cup of Old-Fashioned Oats from bulk bins at Raley's
1 Cup of Slivered Almonds from bulk bins at Rainbow Gocery
2 Tablespoons of Olive Oil from bulk at Amphora Nueva
2 Tablespoons of Honey* from farmers market stall can bring the honey jar back
1 Teaspoon of Cinnamon from Oaktown Spice
Pinch of Salt from Berkeley Bown
1/3 Cup of Dried Fruit (I used blueberries) from Rainbow Groceries
Preheat the oven to 350 degrees
In a mixing bowl add the oats, almonds, cinnamon, and salt
Stir until they're all combined
Add in the olive oil and the honey and mix
Spread out on a rimmed cookie sheet and bake for 20 minutes stirring half way through
Once golden brown, remove from the oven and add in the dried fruit
*for a vegan option, try 1 tablespoon of maple syrup and 1 tablespoon of molasses