My Top 5: Zero Waste, Back to School Snacks
August 9, 2016 | Kathryn Kellogg
Last Updated on September 11, 2020
I am working on a four part series with The Girl Gone Green for back to school! I can't believe it's almost school time. And, Justin is headed off to grad school this year. Maybe we should buy some school supplies….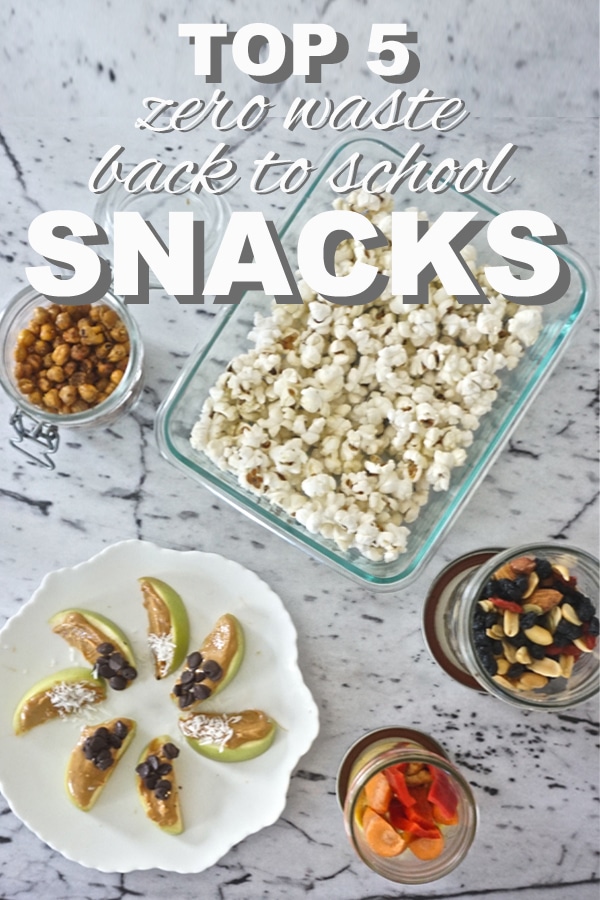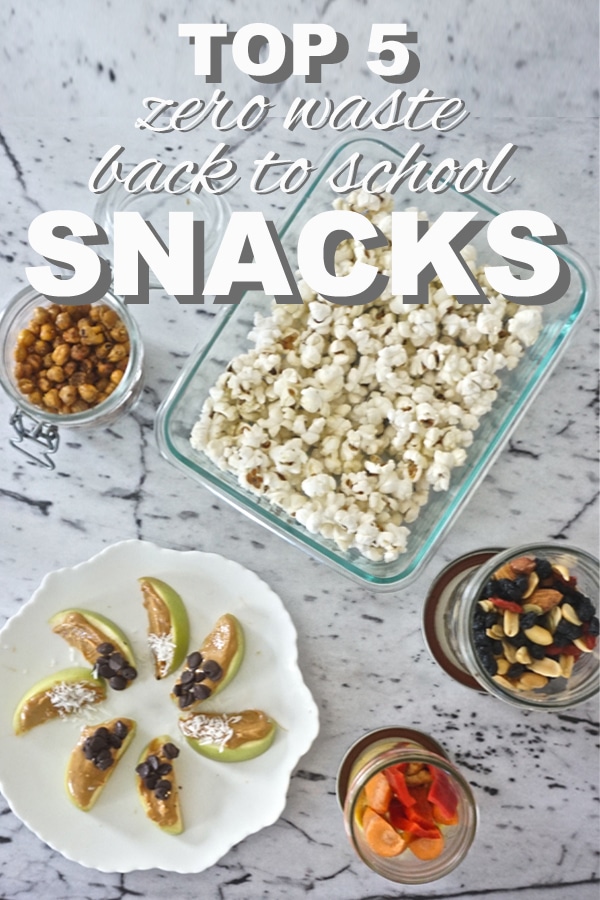 But, we can't do anything on an empty stomach. Today we're talking all about snacks. Now, when looking for snacks, I want something that is going to have some protein. That way your kiddos can eat a small amount to curb hunger but not spoil their dinner.
It's also really important to me that there is NO sugar! Kids eat waaaayyyyy to much processed food. And, a little here and there is fine, but most snacks on the shelves are chock full of preservatives and added sugar.
Also, most of these are allergy friendly. They're gluten free and vegan! Growing up with a dairy allergy, I can tell you how difficult it was to find snacks on the shelf that I could eat. So, all of these snacks can be whipped up in under 10 minutes! Because, let's face it – you're busy.
Top Five Snacks
popcorn:
I love snacks. LOVE snacks. I've never been a huge snacker, but I always liked to get a snack after school. Nowadays, I'll eat any of these things just as a meal. Especially popcorn. I love popcorn for dinner.
It is so, so simple to make popcorn.
2 Tablespoons of Olive Oil
1/2 Cup of Popping Corn
1 Teaspoon of Salt
In a 5qt dutch oven drizzle your olive oil. Turn the heat onto medium. Pour in your corn kernels and coat them in the oil. Put the lid on the pot. Wait 3-4 minutes when the corn kernels start to rapidly pop. After the kernels start to slow take the pot off the heat wait 1 minute for the stragglers to pop and remove the lid. While the corn is still hot sprinkle with salt or any other spice toppings you like. I also like to add turmeric.
oven roasted chickpeas:
These are so, so crunchy! They're also addictive and pack a protein punch. I tend to make these at the same time I make hummus since they both involve chickpeas!
1 Cup of Cooked Chickpeas
2 Tablespoons of Olive Oil
1 Tablespoon of Nutritional Yeast
1 Teaspoon of Salt
1 Teaspoon of Dry Mustard Powder
Preheat your oven to 400 degrees. Make sure your chickpeas are very, very dry. Place them in a cast iron skillet with the oil and sprinkle with salt. Roll to coat thoroughly. Place in the oven for 40 minutes. Half way through stir the chickpeas around to ensure even browning. After the chickpeas have been removed, add your spices. Let the chickpeas cool completely before storing in a container to ensure they stay crisp.
trail mix:
You can make trail mix any way you want! Like I said in the video, I just like to pick up nuts and fruits that are on sale in the bulk bins. You really can't go wrong. I like to keep my nut and fruit portions equal. So, you always get a little bit sweet and a little bit salty. Experiment – go crazy.
3 Tablespoons of Almonds
3 Tablespoons of Pecans
3 Tablespoons of Peanuts
3 Tablespoons of Pepitas
3 Tablespoons of Dried Goji Berries
3 Tablespoons of Dried Blueberries
3 Tablespoons of Dried Raisins
Place in a mason jar and shake it up!
hummus:
Do you know how easy it is to make hummus?? SO EASY.
2 Cups of Cooked Chickpeas
2 Tablespoons of Tahini
Juice of 1 Lemon
3 Cloves of Garlic
1/4 Cup of Olive Oil
Salt & Pepper to Taste
I make this right after I finish cooking the chickpeas so they have quite a bit of water to them. If yours are dry you may need to add a little more little more liquid to get really smooth hummus. In the base of your blender add the lemon, garlic, olive oil and tahini. Blend for 10-20 seconds. Then add the chickpeas. Blend until smooth. Salt and pepper to your taste and add any spices. I like to add a pinch of dry mustard, smoked Spanish paprika, coriander, and cumin.
I like to slice red bell pepper, carrot sticks, celery, cucumber, or zucchini.
apple truffles:
So, on the video I said chocolate chips, but they're actually cacao chips! They've just become synonymous in my house. Cacao is awesome. It's full of antioxidants, vegan, and NO sugar all while tasting like chocolate. Sold, sold, sold.
1 Tart Apple Like Granny Smith
1/4 Cup of Natural Sugar Free Peanut Butter
2 Tablespoons of Cacao Chips
2 Tablespoons of Shredded Unsweetened Coconut
Cut your apple into slices. Smear on approximately a teaspoon of peanut butter and sprinkle with a topping of your choice. These are so sweet and satisfying. They hit all of those flavor profiles in your tastebuds. They're crunch, sweet, slightly tart and creamy from the peanut butter.
This is hands down my favorite snack!
What are some of your favorite snacks – kid friendly, adult friendly or both!?