50 Ways to Celebrate Earth Day Every Day
April 24, 2018 | Kathryn Kellogg
Last Updated on April 19, 2022
Let's celebrate Earth Day Every Day! With a few simple changes, you can make a difference.
Earth Day is on April 22 each year, but you should celebrate Earth Day every single day! Using sustainable products, buying food from a farmer's market, and shopping secondhand are just a few ways you can get involved. It's never too late to get started with these Earth Day ideas.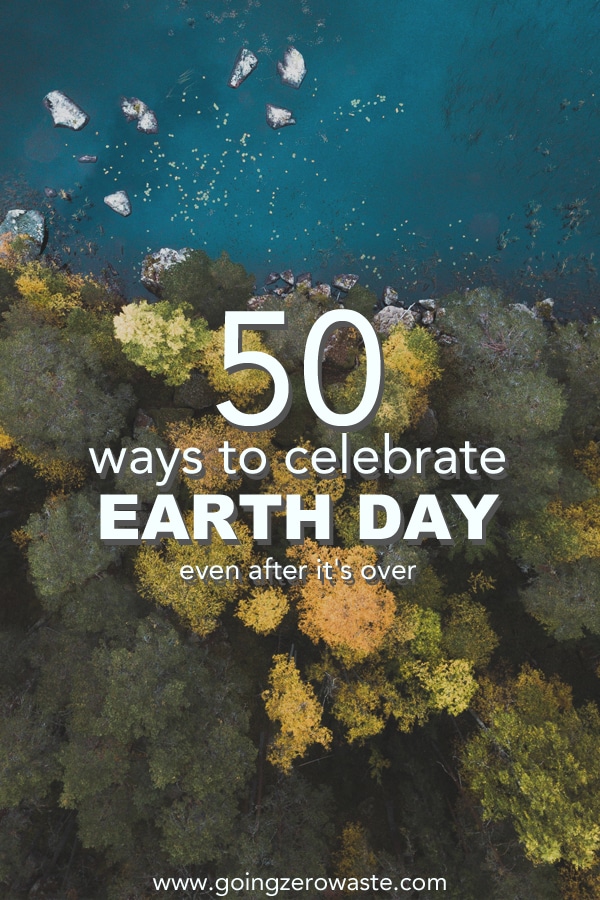 I was featured in Refinery 29, Real Simple, Global News, How Stuff Works, Accuweather, and many others, and I got to host Well and Good's first Earth Month event in Los Angeles.
It was a clean-up and it was amazing! Let's dive in a little deeper on how to celebrate Earth day every day!
what is earth day?
The first Earth Day was celebrated 48 years ago in 1970. Millions of people organized to protest the negative impacts of industrial development. The pollution and smog were negatively impacting the health of citizens and the development of children.
Biodiversity was declining as a result of pesticide use and heavy pollution.
The movement to preserve the environment was gaining a lot of traction. In the same year, the Environmental Protection Agency was formed to protect the air and water.
It's super important to protect our natural resources because we need them to live.
We need clean air to breathe, and we need clean water to drink.
Make no mistake, when we pollute the world – we're polluting ourselves.
So people began to celebrate Earth Day in hopes of getting information spread amongst the public on ways our choices negatively impact Earth.
how to celebrate earth day:
Earth Day is one of those days that everyone takes a little bit of time to fluff up their eco ego. They might buy a sustainable product or actually remember to bring their reusable bags to the grocery store.
I would really like to encourage you to take Earth Day beyond just this weekend and into the rest of the year. To help you with that I have come up with 50 ways to fluff that eco ego 24/7.
50 ways to celebrate earth day every day:
Pick up litter when you're out walking
Commit to the big four
Buy less
Use real stuff – real plates, real forks, real knives
Get involved in local government
Find a local community
Organize a talk at your local library to teach others
Set up a table at the farmers market to educate others
Host a DIY party with your friends and spend the evening making toothpowder or non-greasy lotion
Buy from the farmers market and chat with the farmers about their sustainable practices
Eat seasonally
Plant trees
Start a garden, grow food from your scraps
Get involved in your local Citizens Climate Lobby, Sierra Club, or another local organization
Shop second hand first – here are some tips to find quality clothing
Repair, repair, repair
Redistribute your resources and encourage the sharing community.
Try meatless Monday, weekday vegetarian, or vegan. Just start experimenting with some delicious plant based meals. Start with one meal and then add another and another.
If you are going somewhere less than 2 miles; walk or bike
Start a carpool sheet at work to reduce emissions
Make sure you're recycling correctly
Get involved with a community garden
Grab public transportation
Make a meal plan to avoid food waste
Swap packaged, processed snacks for fresh fruit or package-free options
Make your own cleaners
Line dry your clothes
Perform a trash-audit
Sell-by and use-by don't mean a lot. Don't toss the food at first glance, it's always safe to do a taste or smell test. Food can spoil before or after the dates.
Get outside and plug into nature. Nature is rejuvenating.
But, don't sweat it if you cant. Grab my tips for shopping without access to bulk bins
Green your make-up routine
And, your skin-care routine
Opt for loose-leaf tea
Use refillable pods, pour over, or a french press
Grab tree-free or recycled TP opt for a bidet too
Pull weeds, mulch, and help your local community park
Start a recycling or composting program at work or school
Host a documentary showing in your community
Send a letter to businesses asking that they implement more eco-friendly practices. Ask them to implement a straw on request only policy. Ask them to remove plastic from their packaging.
Get your green thumb on – use house plants to filter the air and open the windows
Vote with your dollars, when buying something new support companies that give back and focus on sustainability
It's really important that we take the hype surrounding these eco holidays to hook people and encourage everyone to do a little more all year round. So these tips for Earth Day aren't just for Earth Day!
how do you get others to celebrate earth day?
Be verbal and visual! Get on social media and start a movement, talk to your friends and neighbors, and don't be afraid to give tips for Earth Day to your local schools or businesses.
While you may not be able to get everyone on board with these earth day ideas, I think you will be surprised by how many people you can get excited.
can you really make a difference by doing small acts?
YES! Did you realize that if we all switched to receiving our bills online, we could literally help prevent millions of trees from being cut down? If we all work on the little things it will lead to a BIG impact, so don't wait. Every minute counts.