Homemade DIY Dry Shampoo
February 19, 2016 | Kathryn Kellogg
Last Updated on February 23, 2022
DIY dry shampoo will leave your hair feeling soft, silky, and free of oil buildup. It comes together in minutes and smells great too.
Dry shampoo powder absorbs excess oils in your hair and allows you to skip daily shampooing. Freshen your hair after a workout, give hair a natural lift, and keep your hair healthy by using homemade dry shampoo. Commercially prepared dry shampoo is expensive and is filled with dangerous toxins. Learn how to make your own DIY shampoo that is eco-friendly and only uses natural ingredients.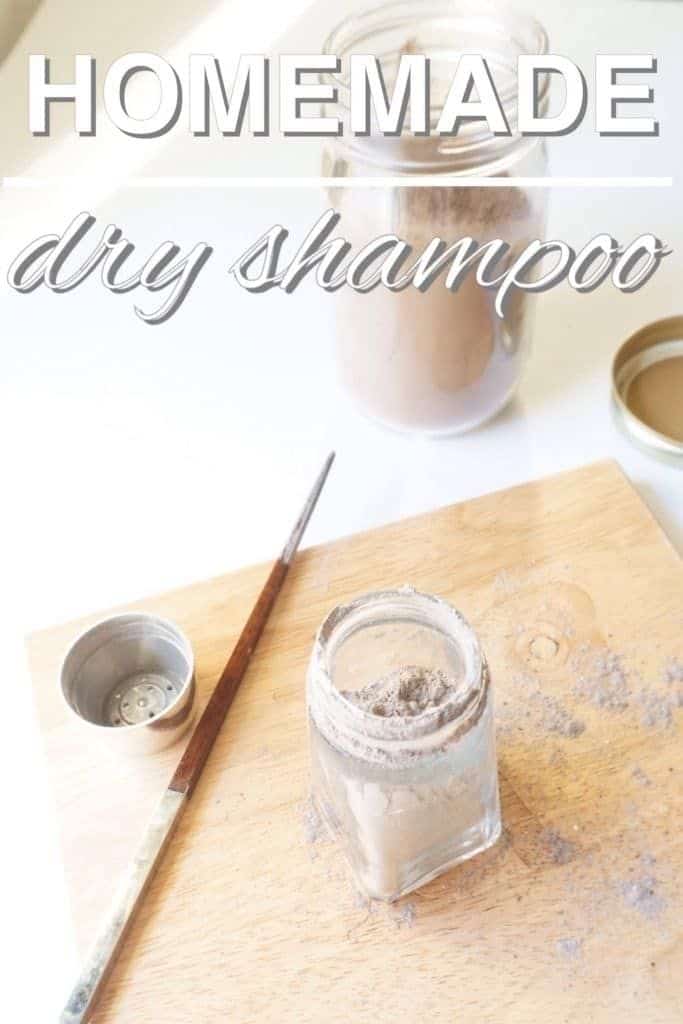 how dry shampoo powder works
Do you want to know my secret to having fab hair and extending to a weekly wash? Two words – Dry. Shampoo.
Dry shampoo has been buzzing around for quite for some time.
But, just in case you haven't heard of this magical product, it helps keep your hair full of life and free of grease between washes.
At the drug store, it typically comes in a powder or spray form. You dust or spray your oily roots with the powder, let it sit for a minute or two and then massage it in.
The powder will help absorb the excess oil in your hair and give you some lift at the root.
You're left with clean, voluminous looking hair. And, no one has to know you slept in instead of washing your hair.
why I prefer homemade dry shampoo
I first discovered dry shampoo while doing Gypsy.
My hair was looking a little oily for the performance and someone handed me a bottle of baby powder.
It was MAGICAL…. other than the fact I smelled like baby powder. There's something about the smell of baby powder that makes me want to vomit.
The next time I saw my stylist, I asked her about something similar.
She recommended a fabulous product that gave a lot of lift to the root too. 
Southern girls do love big hair. But, at $30 for a small bottle there had to be a better way.
For a while, I used just organic cornstarch which does a fine job, but I found that it faded quickly and did not cling to the roots as much as I would like.
But, I'm happy to announce; I have found an awesome DIY dry shampoo recipe you'll love!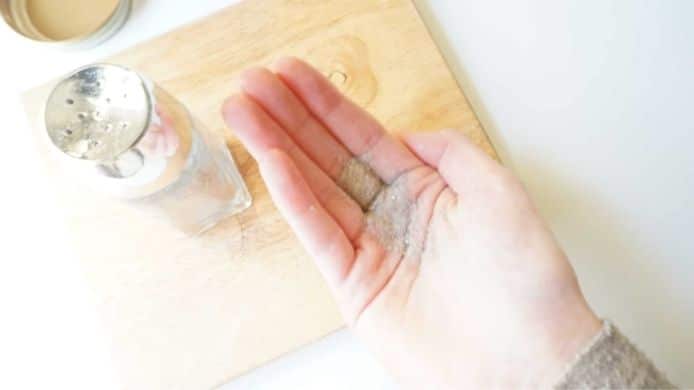 how to make diy dry shampoo
5 minutes
1 Tablespoon Bentonite Clay
1 Tablespoon Organic Cornstarch or Arrowroot Powder
1 Tablespoon of Cocoa Powder
step 1: mix the ingredients
Combine the bentonite clay, cornstarch or arrowroot powder, and cocoa powder in a small bowl. Once mixed, add the DIY shampoo to a salt or pepper shaker.
step 2: apply diy shampoo
To apply the DIY dry shampoo for dark hair you'll want to section your hair. I always part my hair a little bit further left and sprinkle.
Then I part it a little too far to the right and sprinkle. Then I save the crown for last.
By sprinkling the powder underneath the greasy hair you're also adding a little extra lift to your hair. We all know that hair can become quite limp when greasy – and no one wants that!
Allow the dry shampoo powder to sit for 2-5 minutes. This gives the homemade dry shampoo time to absorb the excess oil.
After it has sat, take your fingers and work the product through your hair. It should blend in and there shouldn't be any obvious product. If there is, continue to work it in.
is this dry shampoo for dark hair?
Yes, this DIY recipe for dry shampoo is for dark hair. The cocoa powder makes it the perfect color so there are no white residue spots that come with other dry shampoos.
For light colored hair, simply omit the cocoa powder and it will look great.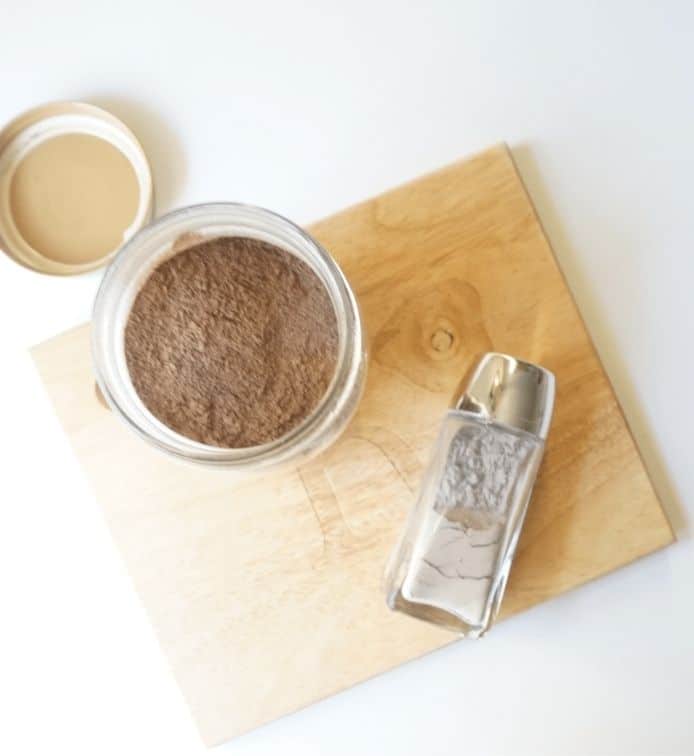 how often can I use dry shampoo powder?
This homemade dry shampoo is safe enough to use 3-4 times a week without drying it out.
can I sleep with diy dry shampoo in my hair?
Yes, add the dry shampoo to your roots before you go to sleep. Don't worry about working it through your hair. In the morning, give it a quick brush and you are all set.
related articles