Zero Waste Hair Care
March 15, 2019 | Guest Post
Last Updated on November 3, 2022
Learn these tips for zero waste hair care and you will have gorgeous locks without all the waste.
This post was sponsored. All thoughts and opinions are my own; for more information please see my disclosure policy. 
Buying hair products in plastic can be limited and possibly avoided altogether if you follow these guidelines for eco friendly hair products. Using organic hair products is not only good for your hair, it's also the first step in keeping discarded shampoo bottles out of the landfill!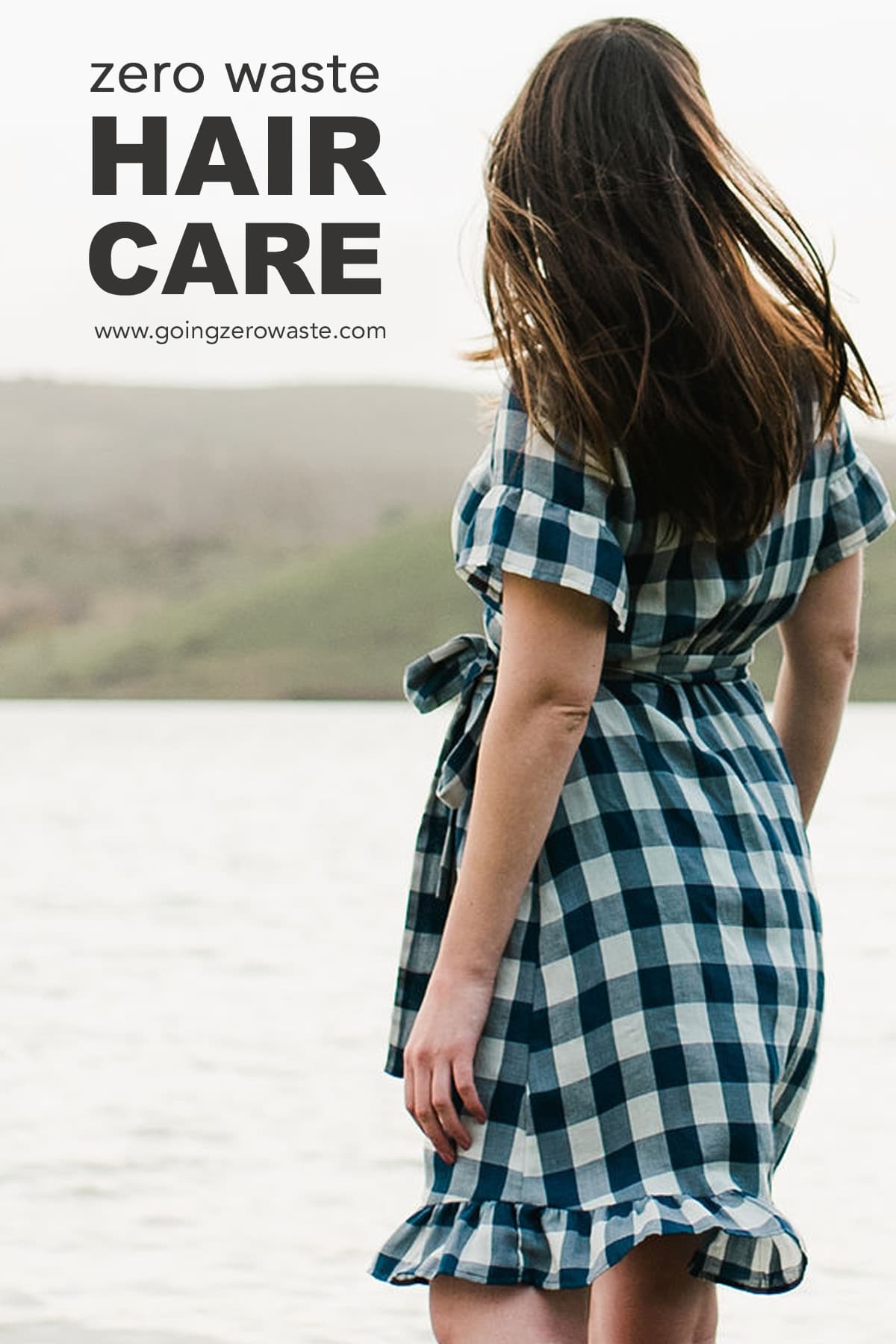 eco hair products
Pre-zero waste, my hair care routine consisted of so many different products that honestly didn't do much for it.
Plus, most of them were packaged in plastic and full of questionable ingredients.
It was an 'ah ha' moment when I realized most of the products I was using weren't necessary. So I knew it was time for me to embark on my mission to use all natural hair products that also happen to be sustainable hair products.
Your hair care routine doesn't have to be wasteful (or elaborate) to be effective. While I acknowledge everyone's hair is different, there are tons of low waste options to choose from.

I am excited to share some of my favorite zero waste hair care products!
1. shampoo and conditioner:
Before I went zero waste, I'd go through at least one shampoo and conditioner bottle every month. That's about 24 plastic bottles of shampoo and conditioner every year, give or take. UGH!
Not to mention, where I live, squeezable plastic tubes cannot be recycled at all (and, of course, my favorite shampoo brand happened to package their products like this).
I'm so glad I made the switch to zero waste hair care. There are loads of options to choose from, but I really enjoy Plaine Products.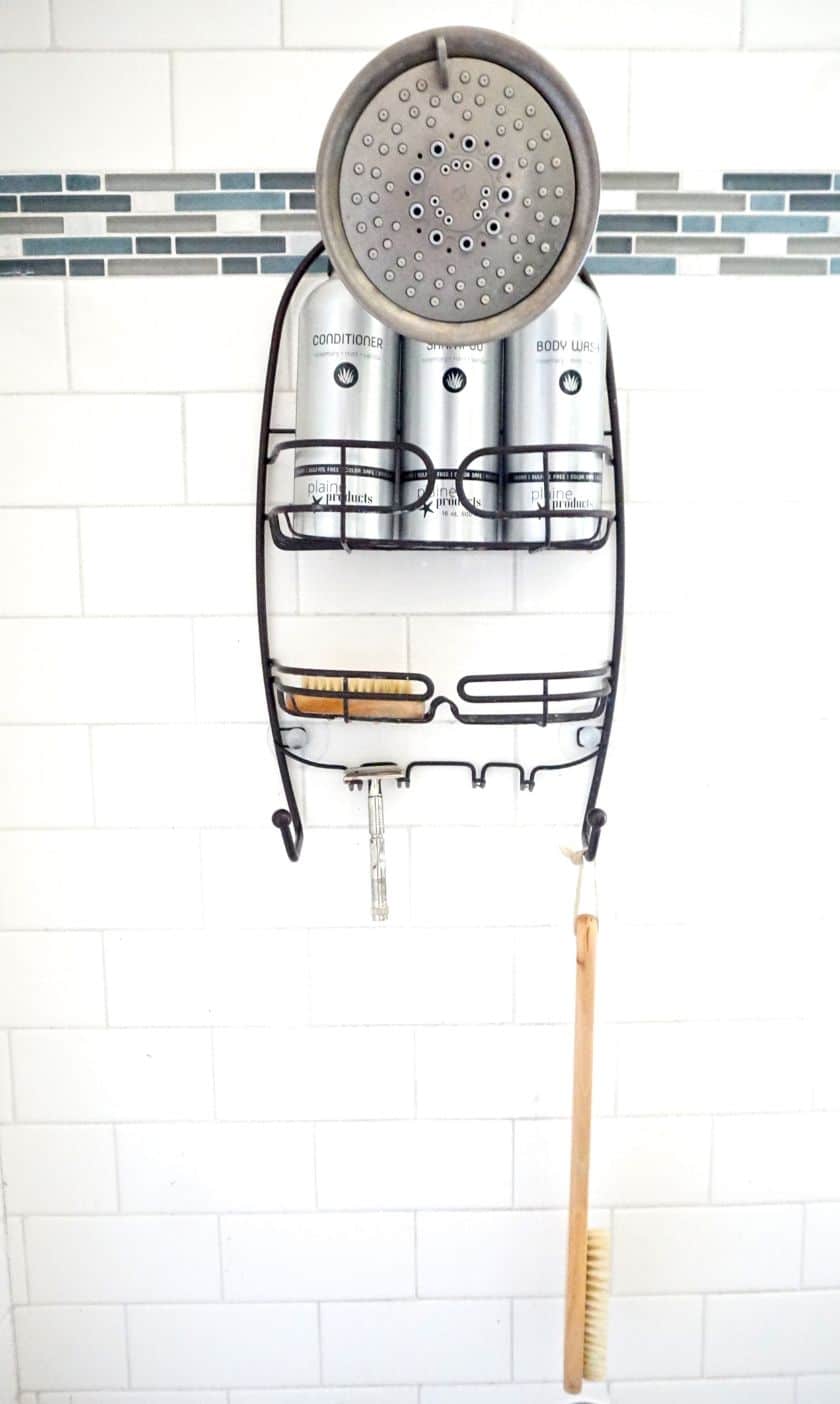 They're a zero waste brand that packages its products in refillable aluminum bottles. When you're finished with their products, you can just ship them back to them, and they'll send you a refill (how cool is that?).
Related: My Top 5 Zero Waste Shower Essentials
zero waste hair care
Aluminum can be recycled over and over again without any quality loss. In fact, recycling aluminum requires less energy than was needed to make the bottles in the first place.
As if that's not enough to love, my hair absolutely loves their products. No other shampoo or conditioner I've tried has made such a difference in it.
My favorite scent from them is citrus lavender. I use just three to four pumps of each of the shampoo and conditioner on my hair, and it comes out looking so soft, sleek, and voluptuous.
Plaine Products are definitely a pricier option, but I think it's worth it. Just one bottle lasted me months (seriously – I had it for at least 5 months!).
You can also try using shampoo and conditioner bars. Two of the most popular places to pick shampoo bars up is Lush and on Etsy. They might take a little getting used to, but they're pretty straightforward.
Related: How to Make a 4 in 1 Soap Bar
using all natural hair products
All you have to do is wet your hair, then gently rub the shampoo bar directly on your scalp. Make sure a good lather forms and try to work from the top down to prevent tangles. When you're ready, just rinse like you normally would.
If you prefer, you can also create the lather in your hands and then apply it to your hair (so you're not rubbing the bar into your scalp).
For a conditioner bar, you use it the same way but only apply it to the ends of your hair. Pretty straightforward, right?
Another all-natural brand I love for hair care is Everist: Their waterless shampoo and conditioner concentrates are 3x concentrated so a little goes a long way. It's packaged in recyclable aluminum tins and tubes. 
Made in a base of skincare ingredients (aloe vera and glycerin) these pastes give a rich, creamy lather, without stripping hair. You get 30+ washes per tube which will last approximately 3 months!
Their products are made with plant-based and biodegradable ingredients, and they're always vegan and cruelty-free. There's no parabens, dyes and synthetic fragrances.
On top of all this, Everist is a member of 1% for the Planet and certified Climate Neutral. Use code GZW10 for 10% off.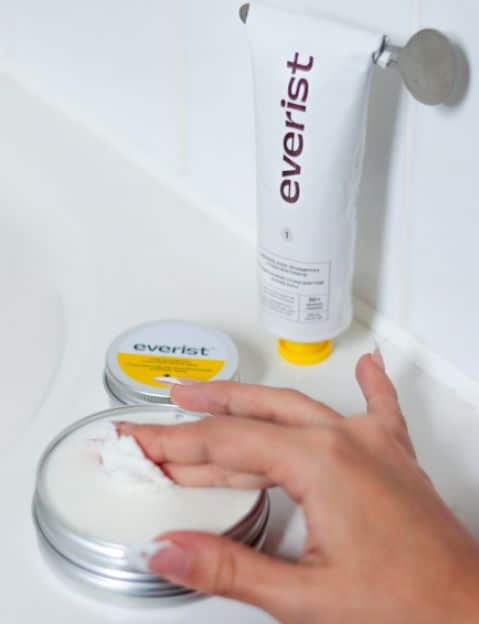 Here are a few sustainable hair products options: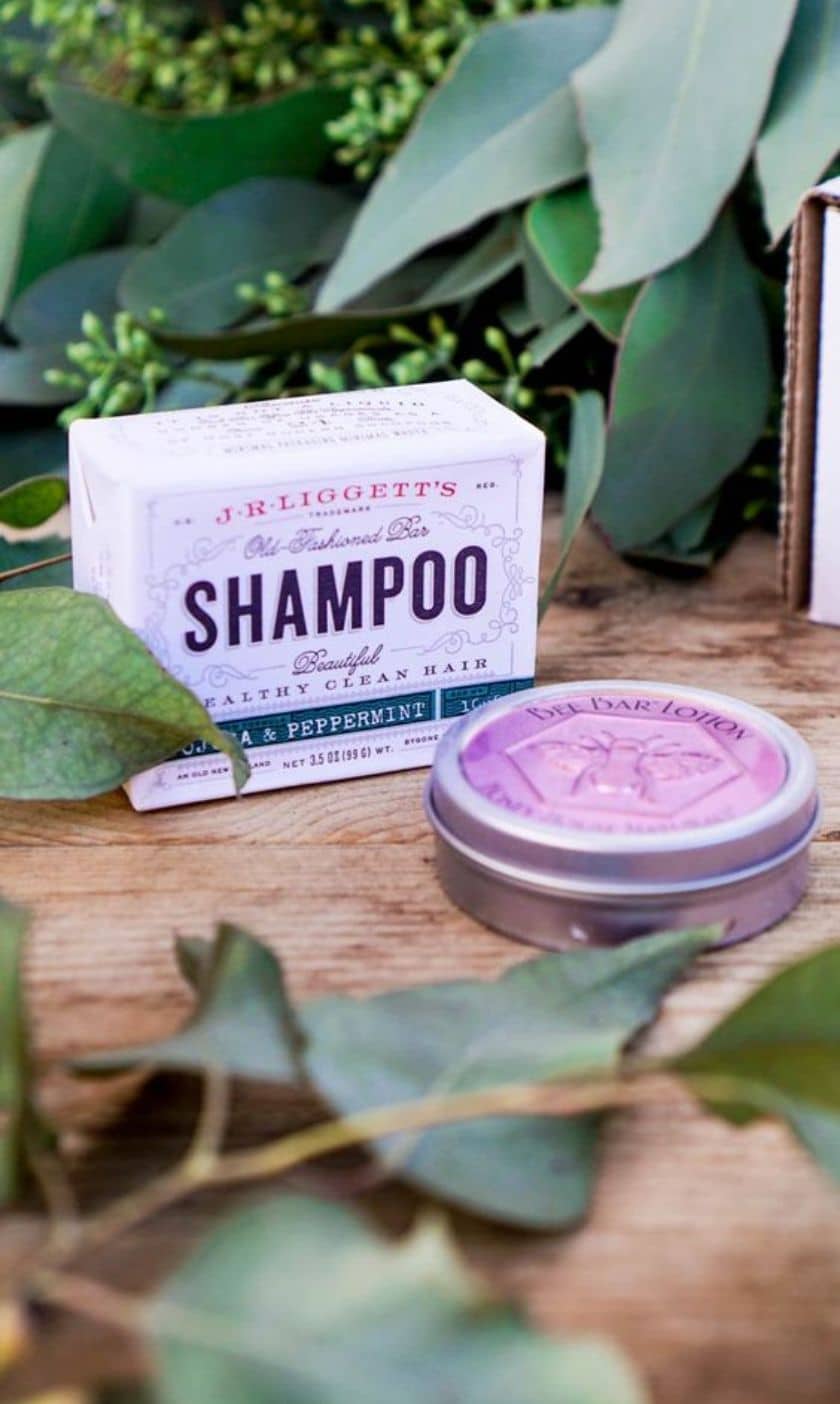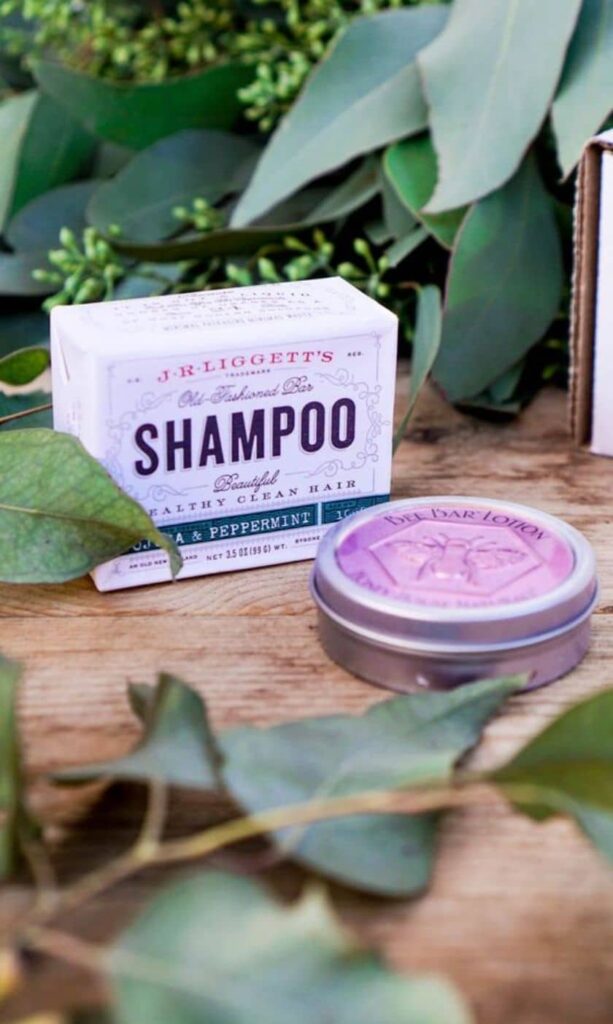 2. dry shampoo:
While whittling down my organic hair products, I found I could not part with dry shampoo. It's great for the in-between days you go without washing your hair.
For most people, it's not super healthy to wash your hair every day because you're stripping it of beneficial oils. It's good to try to stretch washes which means saving water and product, plus healthier hair. Try these sustainable hair products:
3. wooden brush:
Does anyone else have their plastic hairbrushes fall apart on them?
The little bristles used to come out when I brushed my hair, and it drove me NUTS!
I've since switched over to a wooden brush and comb. With these items, make sure they're kept in a well-ventilated area since wood is a natural material and it can grow mold.
If your bathroom is constantly steamy, either keep your brushes in your bedroom, or plastic may be a better option for you. Here are my top eco hair products for wooden brushes:
View this post on Instagram
4. hair spray:
I used to use hairspray like it was going out of style! I used to think fly-away hairs were so gross, but now I embrace the frizzies!
That said, I know there are several occasions that call for a more polished look, so reaching for organic hair products is a must.
There are several more natural options to choose from out there, but you can whip up your own DIY hair spray relatively easily, and you can find the DIY recipe in 101 Ways to Go Zero Waste!
If all you're looking to do is give your hair a little texture, volume, and lift, you can also try a sea salt spray. Try these all natural hair products to tame fly-aways:
5. serums:
If you feel like your hair needs a little extra TLC, zero waste hair care serums could help do the trick. While you could run out to the store and buy one, they're incredibly easy to make at home.
But before you make your own, I recommend getting to know your hair first. A serum's effectiveness will depend on what oils your hair loves.
Here are some oils I recommend experimenting with:
Argan oil
Olive oil
Coconut oil
Grapeseed oil
Jojoba oil
Sweet almond oil
Just add a few drops to your wet hair right after a shower and leave it in as you blow it out.
I like to create a serum using coconut oil, olive oil, and sweet almond oil. Use 3 teaspoons for each, put it in a small glass dropper bottle, and shake it up.
I add a few drops to my hair after showering, and it works like a charm. It does a nice job of moisturizing the hair follicles and preventing frizz.
But if DIY isn't your style, here are a few of my favorites — some of them are face oils but wound up working better for my hair!
6. hair rinses:
Every once and a while, I like to treat myself with a hair rinse. It does wonders for the hair and is super easy to do.
My particular favorite is a green tea hair rinse.
I just take two teaspoons of loose leaf tea, and I let it steep for 30 to 45 minutes, or until cool, and then apply it to my hair (wet or dry).
The key is to let it stay in the hair for five to fifteen minutes, gently massaging in a circular motion. Then, you rinse out with cold water.
Doing this helps add shine to my hair and promotes hair growth! Plus, it's a lot of fun, if I'm being honest.
You can try it using different kinds of herbs too, not just green tea. Chamomile tea, rose petals, lavender, and rosemary all work well and promote healthy locks.
If you do decide to use tea bags for this method, and not loose leaf tea, here's how to avoid plastic tea bags.
Not all tea brands are created equal, and you want to make sure you can compost your tea bag after use!
Check out this post for tips on making iced tea from loose leaf tea.
7. zero waste hair gel:
I'm not a fan of conventional hair gel because it's usually loaded with nasty ingredients. That said, it's really easy to make your own that holds up just as well! Making homemade eco friendly hair products is easy and fun!
I recommend flax seed hair gel.
2 cups of water
¼ cup of whole raw flaxseeds
Put the flax seeds and water in a saucepan.
Bring the water to a boil.
Let the flax seeds simmer for about ten minutes until it starts looking gooey and sticky.
Take the pan off the heat and let it cool for about 30 minutes.
Strain the flaxseed mixture through a nut milk bag.
Transfer the mixture to a glass jar — you now have hair gel!
Store the hair gel in the fridge, and it should last 3-4 weeks.
You can save your flaxseeds and add them to smoothies in the morning!
Related: How to Freeze a Week's Worth of Smoothies
8. eco friendly hair ties:
Love putting your hair into ponytails, buns, or braids? You don't have to give up hair ties.
There are eco-friendly hair ties available. Kooshoo makes organic cotton hair ties that are naturally dyed and are fully compostable at the end of their life.
They are a bit on the pricey side, though.
Another option is to pick up hair ties off the ground, wash them with some soap and reuse them.
You can also just reuse any old hair ties you have lying around your house until they break. I've been using the same scrunchie for the past year now, and it's still holding up!
How do you keep your hair care routine zero waste?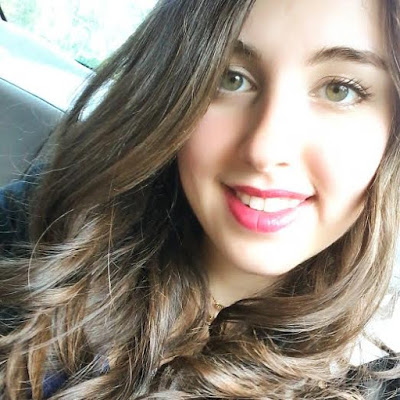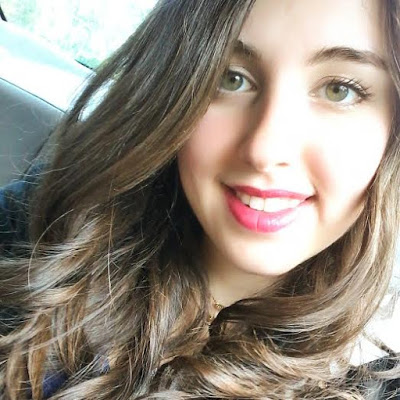 Guest Post: Ariana Palmieri is the founder of Greenify-Me.com, a blog dedicated to zero waste living and sustainability. Her work has been featured on MindBodyGreen, Green Matters, The Penny Hoarder, and several other publications. Get her free e-book "10 Ways to Reduce Trash" by signing up for her newsletter and learning how to reduce your waste today.