20 Easy Zero Waste Swaps
November 6, 2019 | Kathryn Kellogg
Last Updated on June 8, 2022
When you first start going zero waste, you probably want to get some quick wins under your belt.
It can be pretty daunting to know where to start so I've rounded up 20 easy ways for you to get started!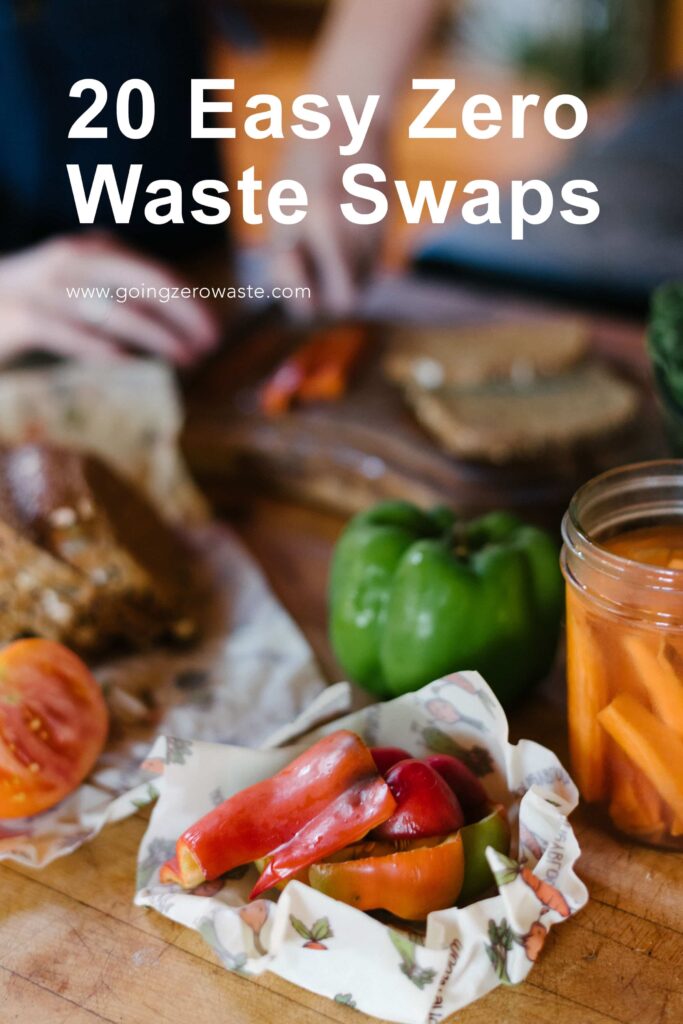 If you're just starting out trying to live a more eco-friendly lifestyle then be sure to check out the beginner's tab or take the Zero Waste Challenge.
The ZWC is an amazing way to build habits and implement many of these changes in your life.
1. water bottle:
Carrying a reusable water bottle is one of the easiest habits to get in.
I always tell people to add it to their mantra before they leave the house: phone, wallet, water, keys.
Some overall good brands to consider are: Klean Kanteen, Swell (stainless steel), Life Factory (glass), and Bobble (plastic).
They each make different kinds of reusable water bottles from different materials, but they'll all get the job done.
Check out this blog post to help you choose the right reusable water bottle for you!
2. grocery bags:
Bag podz are my favorite reusable bags!
I use these all the time, I love the handy little pod they come in.
It's like an endless supply of bags that fit in that tiny pod.
I never fear of running out in the check out line of the grocery store.
The other tote I always have on my is my Amour Vert cotton tote.
The tote came with a purchase I made online, but it's one of my favorite bags to carry with me.
I really wish they made other designs because I would love to have another one.
3. thermos:
500 billion disposable cups are produced every year.
Most of them can't be recycled because they're lined with plastic.
If you're sitting in the coffee shop ask for a mug to stay.
If you're getting your drink to-go cup bring your own thermos!
I use a mason jar if I'm getting something cold to drink.
But, for hot drinks use a keep cup or an insulated water bottle!
Check out this blog post, if you're looking for all of the different ways to brew a zero waste cup of coffee.
4. produce bags:
Why stop at just plastic grocery bags, swap out those plastic produce bags too.
These organic cotton ones are my favorite!
I use them at the farmers market all the time.
Get my Four Farmers Market Essentials for picking up that local, zero waste produce.
5. cloth napkins:
Instead of paper napkins swap them for cloth napkins!
The hardest part of this switch, for me, was remembering to wash them.
I didn't want to store the dirty napkins in my laundry hamper so I started throwing them in the base of the washing machine.
Whenever I did the next load of laundry the napkins would automatically be included.Be sure to check out my blog post on cloth napkins for more tips on making the switch!
6. straws:
This is one of the easiest swaps! You might not even need a reusable straw, just ask for, "No straw," with your drink order!
However, if you think you'd benefit from drinking from a straw.
I myself really enjoy drinking from a glass one, I've created a fun guide to help you figure out Which Reusable Straw is Right for You.
7. mason jars:
I do love me some mason jars.
They're also the ideal form of liquid storage i.e. nut milk, smoothies (did you know you can freeze smoothies?)
Having a clear, glass, non-branded container in my pantry allows me to see what foods need to be eaten and which ones I need to buy more of. It makes cooking meals faster, simpler, and most importantly PRETTIER.
I mean there's a reason everyone loves a pinterest perfect pantry!
Of course, you don't have to go out and buy mason jars, you can upcycle them from many of the jars you already own like mustard jars, jam jars, pasta sauce etc.
And, I promise your pantry will look just as beautiful even if the jars don't match!
8. snapware:
I LOVE my glass snapware.
I like that it's so versatile. You can buy food or even get zero waste takeout the containers.
You can cook in them, freeze in them, microwave them, and of course, use them store leftovers.
They work so much better for me than just shoving everything in a mason jar.
Check out this post if you're looking for ways to Store Leftovers Without Plastic .
9. metal lunchbox:
Instead of brown bagging it look into swapping out for a metal tiffin.
Not only is it great for lunch, but you can also use it to carryout leftovers from a restaurant.
Related Post: How to Pack a Zero Waste Lunch + Lunch Ideas!
---
Prefer a video instead of a blog post? Be sure to subscribe to my YouTube channel and catch the video below!
---
10. stasher bags:
Switching out plastic baggies is super easy because there are so many options like silicone stasher bags or even a beeswax wrap.
Check out this blog post if you're looking for Zero Waste Kitchen Swaps.
11. cutlery:
Instead of plastic cutlery, use real flatware. I like to stash a set in my handbag for festivals and bbqs so I don't have to use single-use forks and spoons.
A lot of people assume that using disposable products will save water, but what they forget to take into account is the water used in production and manufacturing.
It takes 8 gallons of water to make one paper plate!
The modern dishwashers that are energy-efficient use 3-5 gallons of water per load of dishes.
So you could potentially wash A LOT of plates with all of that water you saved.
There's so much water that goes into these products that we don't even think about.
So, switch to reusables! Check out this post Tips for Using Real Stuff for more information.
12. french press:
It should come as no surprise that I LOVE to make tea in my french press.
I find that it works much better than using a tea ball or a reusable tea bag.
If you have a small kitchen, it's important to have items that can perform multiple tasks.
I like the french press because I can use it to make tea, coffee, or nut milk. Yes, your french press can strain your nut milk!
Get my tips for making almond milk and for making iced tea with loose leaf tea.
13. compostable dish scrubs:
Instead of using sponges, I use compostable dish scrubbies! Here are some of my favorite swaps below:
Be sure to check out this blog post if you want to MASTER Zero Waste Dish Washing.
14. rags:
Did you know that paaper towels were actually a mistake product?
It took a long time for companies to convince the public to buy them because the thought of paying for trash was ridiculous up until a few years ago.
The biggest complaint I hear about paper towels is that they push water around instead of absorbing it.
I've had the best luck with these cotton towels that have a larger weave.
Get my six tips for ditching paper towels so you can break up with paper towels forever!
15. cleaning:
Swap out cleaners that have questionable toxic ingredients for some easy homemade options. Here's a round up of my favorites!
To get all of my latest cleaning recipes like dish soap for hand washing, soap for your washing machine, floor cleaner, and more check out my book 101 Ways to Go Zero Waste!
16. bamboo toothbrush:
This is a very super simple zero waste swap! Instead of using a plastic toothbrush why not swap for a bamboo toothbrush.
Every plastic toothbrush ever created still exists since their invention in the 1930's.
Isn't that mind-boggling? I filmed a short film about the life of a toothbrush, and it's super cute!
17. safety razor:
Switching to a safety razor is a little different than using a disposable razor, but once you switch you'll get a superior shave. Plus, you'll save so much money!
Check out my guide to zero waste shaving for tips!
18. menstrual products:
A lot of the mainstream tampon and pad brands use a combination of bleached rayon, conventional cotton, and contain plastic.
The average pad contains the equivalent of four plastic bags.
My GO-TO period products are Thinx!
They look just like regular undies, but they absorb blood up to two tampons worth depending on the style.
I have a couple of their thongs for lighter days, and a couple of the heavy duty pairs.
They're super comfortable, cute, and I never have to worry about leaking!
Plus, I love how the company prioritizes giving back. That's always something I look for when I make purchases.
Thinx was nice enough to offer the readers of Going Zero Waste $10 off if you use this link!
Other options include menstrual cups, cloth pads, compostable organic tampons.
For more information check out my blog post How to Have a Zero Waste Period.
19. bidet attachment:
Did you know it takes 37 gallons of water to make one roll of toilet paper!? Beyond the water, think of all the trees it takes.
Americans use 8 million tons of toilet paper a year.
If every US house used just one roll of 100% post consumer recycled TP a year, it would save 423,900 trees.
Surprisingly, there are a lot of options when it comes to toilet paper, but you're going to want to look for toilet paper with recycled content or tree free.
And, of course, you should look into getting a bidet attachment like a Brondell or a Tushy bidet.
20. bar of soap:
Last but not least, is a bar of soap.
It's such a simple swap to make from plastic body wash to a bar of soap. I think it looks so much nicer in the shower and it's just really luxurious.