15 Simple Swaps for a Zero Waste Bathroom
February 28, 2017 | Kathryn Kellogg
Last Updated on December 7, 2023
The bathroom may be the smallest room in the house but man-oh-man can it be wasteful! The average woman puts on 12 products in the morning before she leaves the house, but we typically have a lot more in our cabinets, under our sinks, and in the shower.
I've found one of the best ways for me to reduce my waste is to implement a one-in-one-out rule. So, I can't actually bring in a new product until I run out of an old product.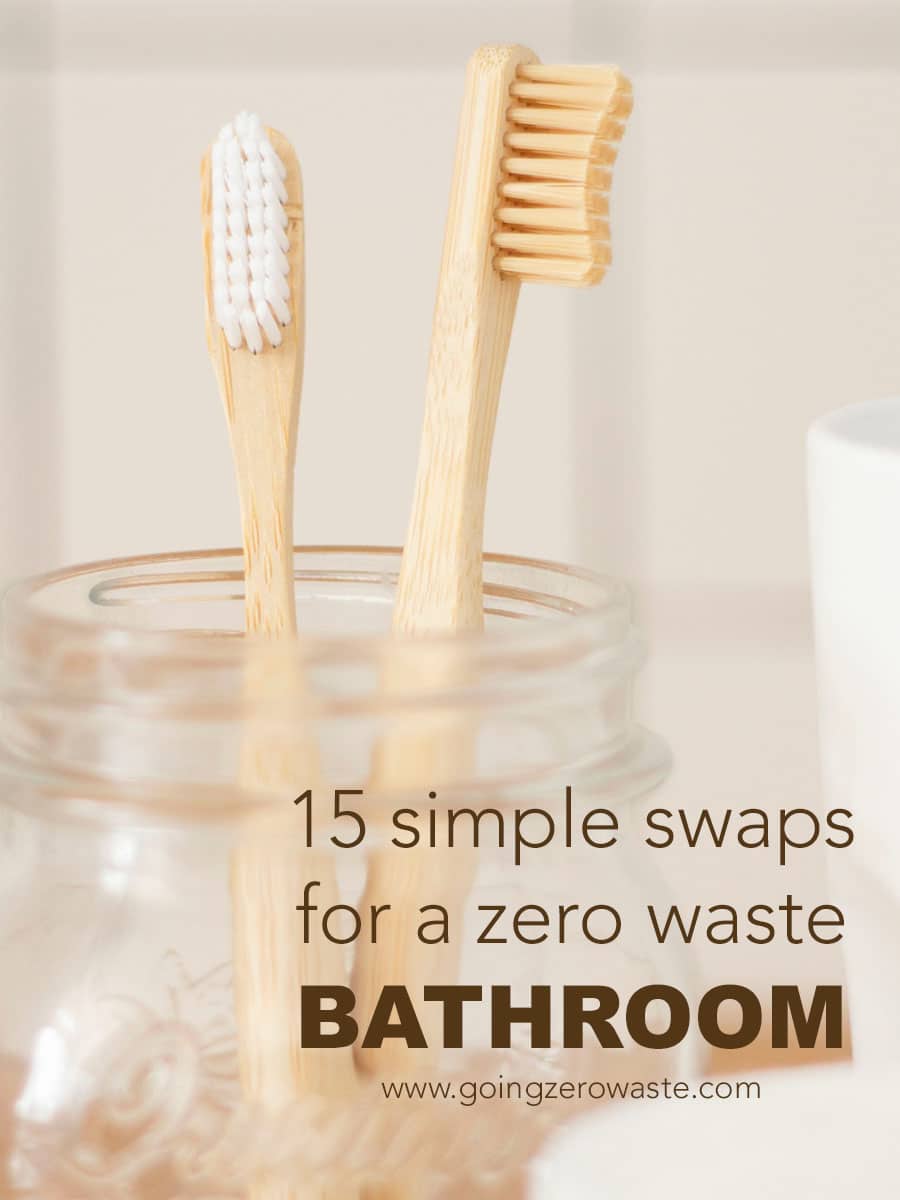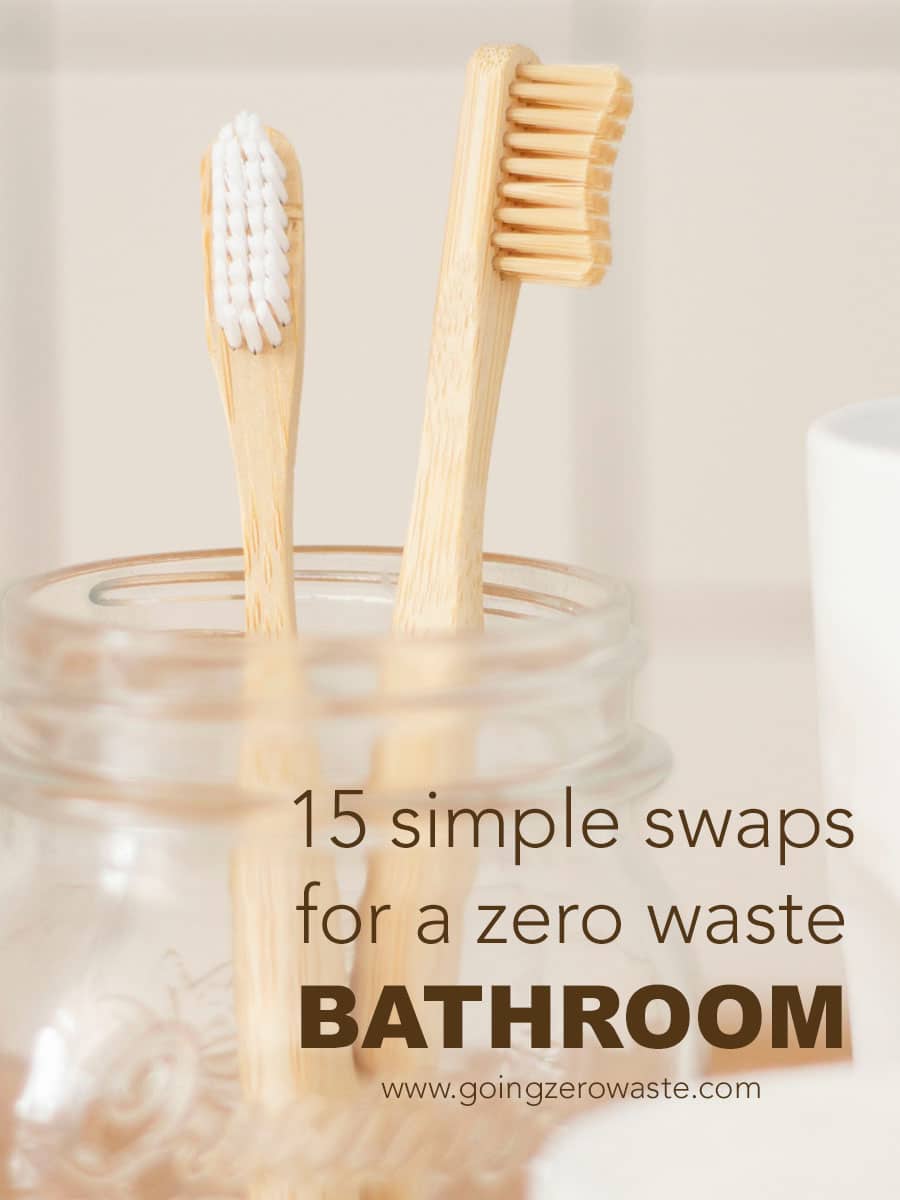 This post was sponsored and some of the links down below are affiliate links for more information see my disclosure policy.
I don't know why, but when ever I started running low on an item, I would immediately run to the store to buy a new one and typically wind up picking a few extra things. This resulted in me having an ever growing expanse of beauty items. Most of these items were never even used or only used once.
If you're wanting to reduce your waste in the bathroom, I would definitely start with making sure that you will actually need and use what you bring into your home.
If you're looking for more tips on implementing the practice of waiting check out my post Why I Wait 30 Days Before Making a Purchase. I ran a whole minimalism series to help others really think through their purchases because we can sometimes consume pretty mindlessly.
lotion:
Winter is wrapping up and boy am I ready for warm weather. I'm ready for dry skin to be a thing of the past. I don't make all of my products, I only make a few of them. The ones that I really, really like. Ones that are effective and don't take too long to make!
All my DIYs have to meet my rules of personal sustainability.
Lotion has been one of the easiest switches I've made. It's easy to make and works better than any of the store bought stuff I've tried. I use it on my body and face. Here's the recipe for my non-greasy, homemade zero waste lotion.
floss:
I wrote a great blog post on zero waste flossing options. I use a combination of water pikking and using silk floss. I've used both dental lace silk floss and flosspot silk floss. Both are great!
razor:
Swap your plastic disposable razor for a safety razor. Safety razors are made of stainless steel which means they can be recycled at the end of their life, but they'll probably never even get to that point because they are very
Using a safety razor can be tricky – get my tips on using a safety razor.
But, just because you want to swap to a sustainable razor doesn't mean you have to give up on style! This rose gold safety razor is drool worthy!
I found it on Eco Roots a small sustainable and plastic free store in Colorado. They have a nice curated selection of zero waste bathroom supplies.
hair brush:
You probably have a plastic hair brush or comb. When the time comes, whyy not switch to a wooden hair brush or comb? A wooden brush or comb does a much better job of pulling oil from the root to tip so you might be able to go an extra day without washing.
dry shampoo:
Dry shampoo is my saving grace in the morning. Need an extra 15 minutes of sleep? This is what you need! It works great in dark or light hair. You can get my recipe for zero waste dry shampoo for both light and dark hair.
multi-tasking soap bar:
Do you need a separate soap bars for everything or can you use an all-in-one? I make one that works great for face, hair, body, and skin. It's soothing, gentle, and it lathers exceptionally well for a shave soap.
As a bonus, It's only two ingredients! Get my recipe for a homemade, zero waste four-in-one soap bar.
If you don't want to make your own, I totally get it, you have tons of options. Check out my post on zero waste hair care. You can also check with a local soap maker or grab a homemade soap bar like this one and this one. 
conditioner:
Swap out traditional conditioner for ACV. Mix one to two tablespoons in a large cup of water. Use a spray bottle to spritz in your hair or just pour over your head. Let it soak in for a couple of minutes and then rinse.
You can also use diluted ACV for toner as well. Using ACV is great to balance your pH especially after using a soap bar.
mouthwash:
Mouthwash could be a place to streamline, but I find that toothpowder doesn't leave your breath smelling very minty fresh. Mouthwash is a great addition to a morning routine.
This homemade, zero waste mouth wash is super soothing for gums and refreshing.
periods:
Switching to eco-friendly menstrual products has been one of the best swaps that I've made! There are so many different ways to have a zero waste period so there's bound to be one that works for you.
Not only are these swaps better for the environment, but they're also great for your wallet. You can swap to cloth pads or a menstrual cup.
For more information check out my blog post How to Have a Zero Waste Period.
lip balm:
Lip balm is a very simple swap. It's so easy to make and I like to make a big batch that lasts for months.
I have two recipes, and favorite recipe contains beeswax and is featured in a video below. It leaves your lips looking glossy and nourished.
If beeswax is not your jam then check out my recipe for homemade vegan, zero waste lip balm. This recipe does melt when it's warmer out, so try not to keep it in your pocket.
toilet paper:
You all know how I feel about my bidet attachment. I love it! It has shrunk our toilet paper usage by 60%! That's a lot of reducing. But, even after reducing that much, we can still make better choices like tree-free TP or 100% recycled.
For more information read the full post on zero waste toilet paper.
toothbrush:
Swap your plastic toothbrush for a compostable bamboo toothbrush.
Every plastic toothbrush ever created is still around! Isn't that crazy? I was able to be apart of an awesome short film illustrating that with Brush with Bamboo. You can see the post/video here.
toothpowder:
I worked with a dentist on this toothpowder. Check out my blog post zero waste toothpowder for the recipe. The last thing I would want is to cause irreversible harm to my teeth. Health is my number one priority zero waste or not.
After all, I started this zero waste journey due to reclaiming my health. Check out this blog post to read more about my story and how I ended my chronic pain.
This toothpowder is mild and non-abrasive. However, teeth are highly individual. If you have soft teeth, you may need fluoride to prevent cavities. It's very personal. Justin still uses Tom's of Maine toothpaste, you can read that post here.
And, you can read all about my six-month check up here.
cosmetics:
Cosmetics can be pretty tricky to make. By far the most difficult thing I've DIY'd is mascara, but I've given up on trying to make my own cosmetics because I don't think it's a good use of my time. Thankfully there are a lot of eco-friendly beauty companies out there. Check out these 10 Zero Waste Green Make-Up Brands.
deodorant:
Switching to a natural deodorant has been super important to me. I have a few recipes on the blog and a few new ones in my book 101 Ways to Go Zero Waste.
One of my favorites DIY deodorants is super simple to make with just two ingredients. It's an all-natural homemade roll-on deodorant.
I also really like this one that I like to call Extra Strength Zero Waste Deodorant that's stored in an old deodorant tube that works just like store-bought!
---
I'm working on makeup remover, another face scrub, another face mask, and a couple other bathroom DIYs. Is there anything you'd like to see me make? What are some of your favorite zero waste bathroom swaps?
This post may contain affiliate linking you can read more on my disclosure page.