Minimalist Wardrobe Clothing Essentials
January 22, 2016 | Kathryn Kellogg
Last Updated on March 3, 2022
Creating your own personal minimalist wardrobe is easy, cost effective, and trendy. You'll just need a few basic clothing essentials to get started.
While the fashion industry is constantly changing designs and trends, having the right wardrobe staples will provide you with many years of wear. We will explain how to choose zero waste fashion that works for you and give you a list of clothing essentials you won't want to go without.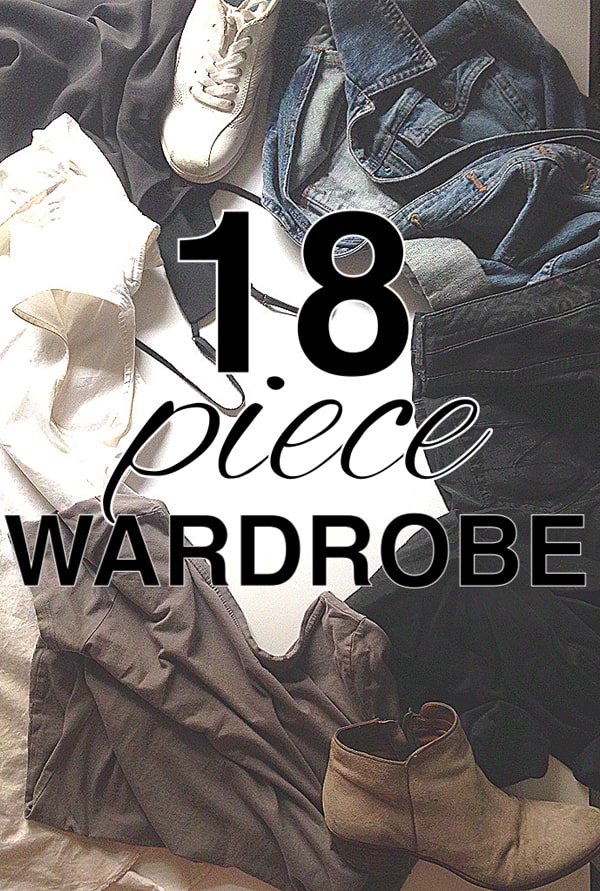 Do you ever feel like you are drowning…in stuff?
Been there, done that! I decided it was time to clean up and stick with basic fashion staples that won't explode out of my closet every time I open the door.
Having tons of clothes used to be something I got excited about. Why? It was expensive, I was always worried about what I was wearing, and I didn't need that much stuff.
Guess what, you can still look good while limiting the number of items you keep in your closet. That's where these wardrobe essentials for women come in handy.
why you should consider a minimalist wardrobe
You'll save money.
It's easy to organize.
You'll have much less stress when deciding what to wear.
You'll be positively impacting the environment.
how to create a minimalist wardrobe
step 1: figure out your fashion style
The first step is figuring out what *you* really like.
Narrow down your personal style. Do you love chic, vintage, prep, bright colors, solids, prints, earth tones or any other style?
Whatever you decide on, you need to feel confident and good about yourself. This is supposed to save you stress… not cause you more!
Once you have a game plan in place, it's much easier to make purchases that fit your style and become clothing essentials for you.
step 2: how many wardrobe staples do you need
It's going to vary from person to person, but you'll need to dig deep and be practical. Do you honestly need 3 bathing suits or can you get by with one?
Consider what you need for work, casual wear, and the different seasons. For most of us, you can get by with somewhere between 15 – 45 clothing pieces. You'll need to decide what is going to work for you.
step 3: get rid of old clothes
Now it's time for my least favorite part.
I've dealt with the guilt of giving away clothes that were gifts.
And, just because you loved something doesn't mean you still love it.
Thank it for the time you had with it, and move on. It was such a freeing experience. Check out my article dealing with the guilt of stuff for more on that.
I recommend recycling, donating, and selling items you are no longer going to wear. Not only is it helpful to the environment, but it's also a great way to jumpstart your minimalist wardrobe.
second hand zero waste fashion clothing essentials
I think you'll be amazed by all the wardrobe essentials for women that you can pick up second hand! A lot of my stuff was found second hand, and I saved a lot of money.
Buying second hand is fabulous for the environment. Here's a list of minimalist wardrobe clothing that is easier to find second-hand.
Denim– Right now jeans are often faded, cut, distressed and worn in bigger sizes, therefore it's easier to find and fit.
Knitwear– If you can find natural fabrics like wool or 100% cotton, or even cashmere, these fabrics will last and still look great second hand.
T-shirts– Look for a color trend that will blend with the rest of your wardrobe.
Belts- These items can naturally withstand a few owners. I've had some luck finding belts that work great with the rest of my wardrobe.
It can sometimes be difficult to find exactly what you're looking for when shopping second hand. So supporting fair trade and ethical clothing lines is essential for me. The next part of this post is all about sharing my favorite wardrobe staples!
wardrobe essentials for women
So, I'm really excited about this. Not only is it fun to shop for a few basic wardrobe staples, but it's also exciting to come up with different outfits based on the few clothing items I have.
The best part is that most of the items go beautifully together, and you can create some fantastic zero waste fashion outfits just by being creative.
As you can see, I like neutrals with small pops of colors. You can choose any colors or combinations that work for you. Here are my favorites.
Click on the items that interest you to shop the websites. Also, be sure to check out my post 50 ethical and sustainable clothing brands for even more inspiration.
zero waste fashion tops & shirts
jackets & cardigans
dresses & jumpsuits
pants & jeans
activeware
other wardrobe staples
While I didn't add any shoes, bathing suits, hats, belts, or accessories, those are all items you will want to add to your collection. You can completely transform an outfit by simply adding a belt or hat.
Remember, by having a minimalist wardrobe you are helping the environment, and you will have lots more space in your closet!