Zero Waste Sustainable Wedding Dress Shopping
February 10, 2017 | Kathryn Kellogg
Last Updated on December 7, 2023
There are 8 places where you can find a sustainable wedding dress! They are gorgeous, eco friendly, and zero waste.
Ethical wedding dresses come in all shapes and sizes. Plus, there are many styles of eco friendly wedding dresses to choose from. There are recycled wedding dresses available as well. We will offer many suggestions for the perfect sustainable wedding dress for you!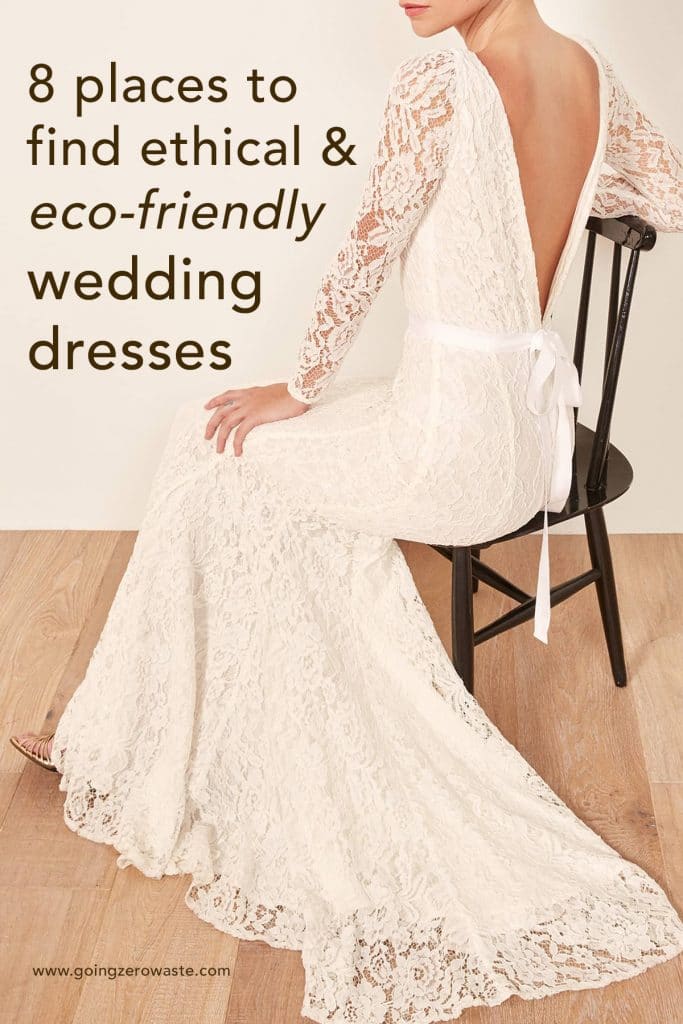 choosing a sustainable wedding dress
I was so excited to go wedding dress shopping! Then I actually started shopping for my eco friendly wedding dress. Hello, overwhelm!
Looking at all the ethical wedding dresses wound up being difficult because I couldn't really try any on. Most of the ethical wedding dress options are only available online, which is a bummer.
I went to a few wedding dress shops so I could get an idea of the styles that I liked, but honestly just wound up being pretty confused.
I had NO CLUE what type of dress I wanted…. other than wanting it to be white… Pretty narrowing criteria for a wedding gown, eh?
eco friendly wedding dresses journey
When I went dress shopping, I was honestly pretty flabbergasted by the price and quality.
Most of the quality of the dresses was terrible, and the national average for bridal attire is almost $1,500. I just couldn't justify spending that much on a dress that looked like it was about to fall apart and that I would never be able to wear again.
$1,500 cost more than the 4-star hotel we honeymooned in for a week! Speaking of honeymoons… check out our Zero Waste Honeymoon to Maine!
I honestly had no idea what type of sustainable wedding dress I was going to end up with, so I rounded up some eco-friendly, ethical options to check out in my quest!
My goal was that I could make my purchase even more sustainable by figuring out a way to wear the dress again.
I mean, I know everyone says that… and I'm not sure if anyone has found a way to re-wear their sustainable wedding dress, but I would love to know if you have?
Being able to re-wear clothes again and again definitely makes them more sustainable! Have you heard of the #30Wears project? It would be amazing to do that with something like a wedding dress!
If all else fails, I have no qualms about selling my dress. I'll feel better knowing that I can recoup some of the cost and pass it on to another bride who will love wearing it! Many brides are more than happy to wear recycled wedding dresses!
1. heirloom eco friendly wedding dresses:
Do you have a family dress? If it's a classic shape, it might be really special to wear on your big day.
My mom's dress was VERY 80s, but it had a beautiful slip underneath that would have made a gorgeous simple slip dress. It looked very 1920's glam.
The only problem was it was really, really tight. And, it would have been difficult to find matching fabric to have the dress let out. It's much easier to take something in than it is to let it out.
It's a bummer because I would have loved to have had my mom's dress! So check with your family and see if you can find the perfect dress for you without a huge investment.
2. recycled wedding dresses:
Before you think I've lost my marbles, let me tell you – I have found some stunning recycled wedding dresses at thrift stores! Several friends have actually picked their dresses up off the rack for B-A-R-G-A-I-N-S! Like $30 for an amazing wedding dress.
Hey, it's worth a shot to go look, right? You never know what you're going to find.
3. consignment:
There are several wedding dress shops that offer consignment gowns. It's the full wedding dress shop experience, but with second-hand gowns like Emerald City Gowns in Berkeley, CA.
If you don't have a shop like this near you, there are tons of websites full of second-hand wedding dresses for a fraction of the cost. Preowned Dress and Newlywed both have some great options.
My goal was to go to a shop and figure out what styles, designers, and fits I was looking for. Then, equipped with that knowledge, shop online for the perfect gown.
4. reformation sustainable wedding dresses:
Reformation is an awesome company in LA. They're a certified B Corp and 75% zero waste. I am in love with the Hestia dress. I spoke at Reformation's headquarters, and while I was there, they were working on this dress.
Had this dress been available before I got married, I probably would have bought it.
Reformation is very reasonably priced for wedding dresses, with most of them coming in under $500. Here are a few of my other favorites.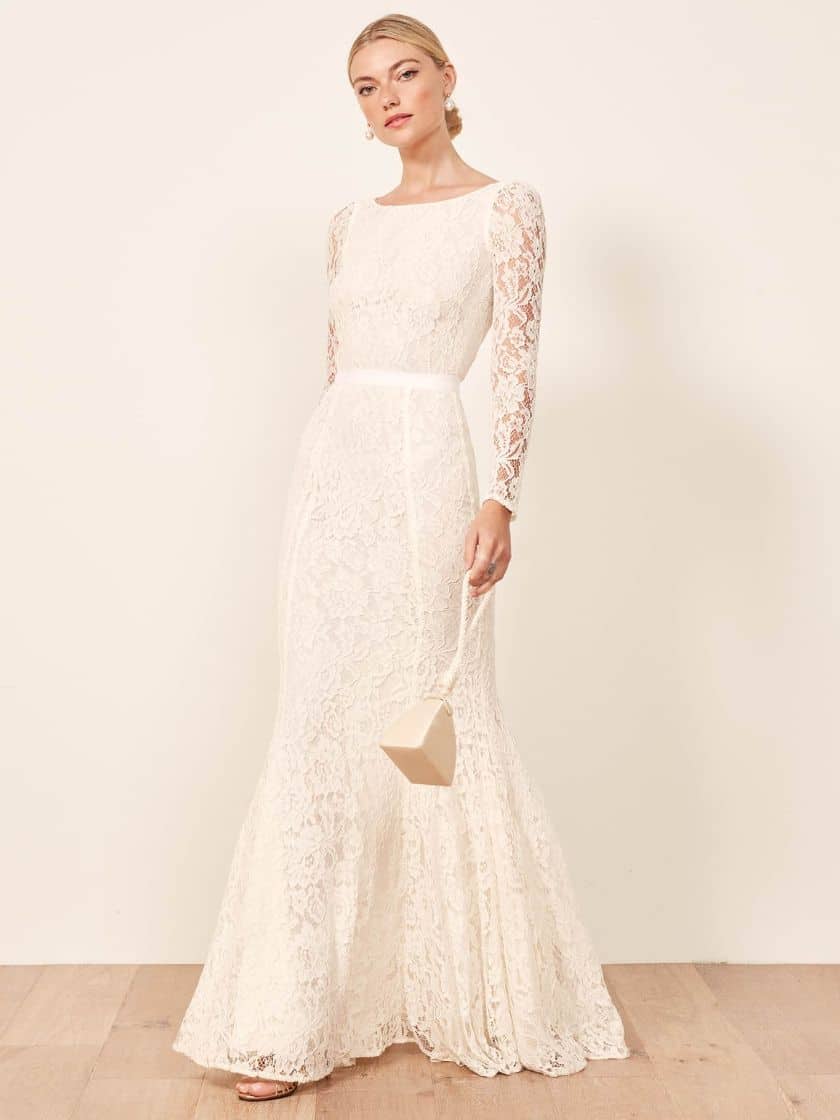 5. rent the runway:
Rent the Runway's selection has seriously blossomed over the last few years. They have some amazing selections, whether you're using it for your big day or all of the surrounding events like the bachelorette party and bridal shower!
Gosh, scrolling through their amazing selections has me REAL close to signing up for their unlimited package.
I've rounded up a few of my favorites!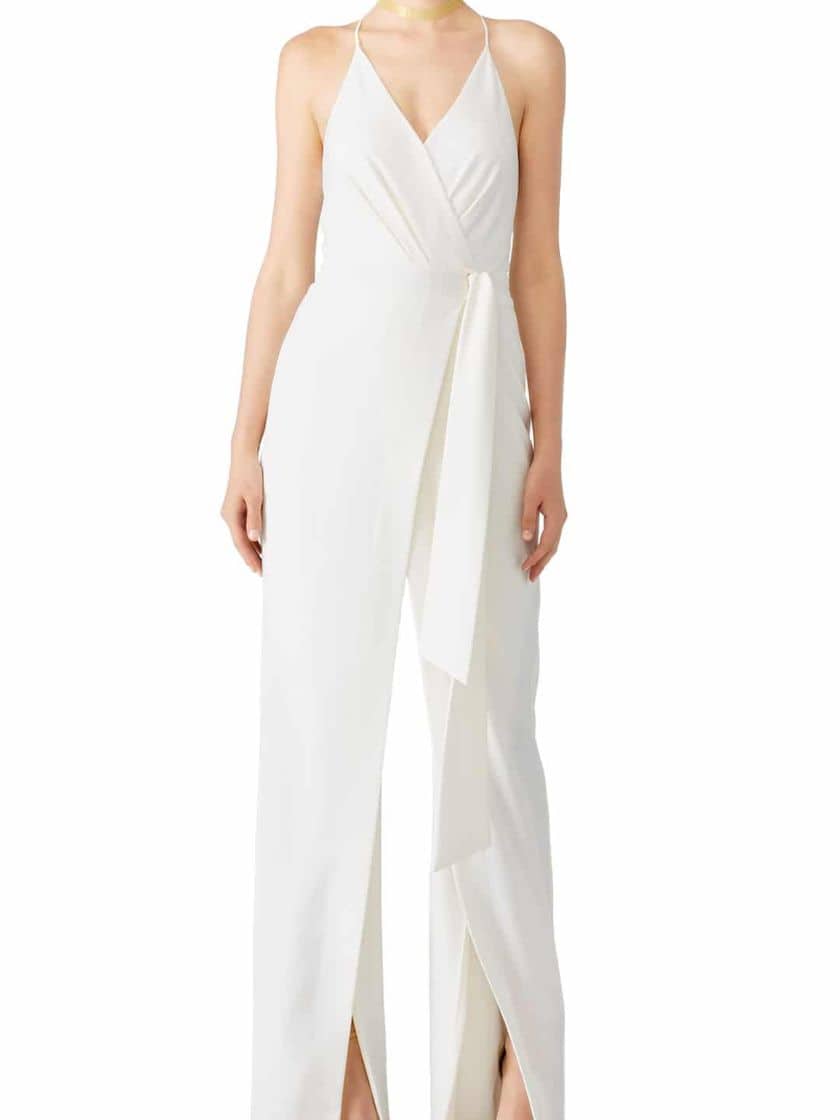 6. saldana vintage:
Saldana Vintage is made in Los Angeles with vintage lace. Their sustainable wedding dresses give off a very 60s bohemian vibe! The price point is really reasonable for these dresses too. I've rounded up some of my personal favorites below.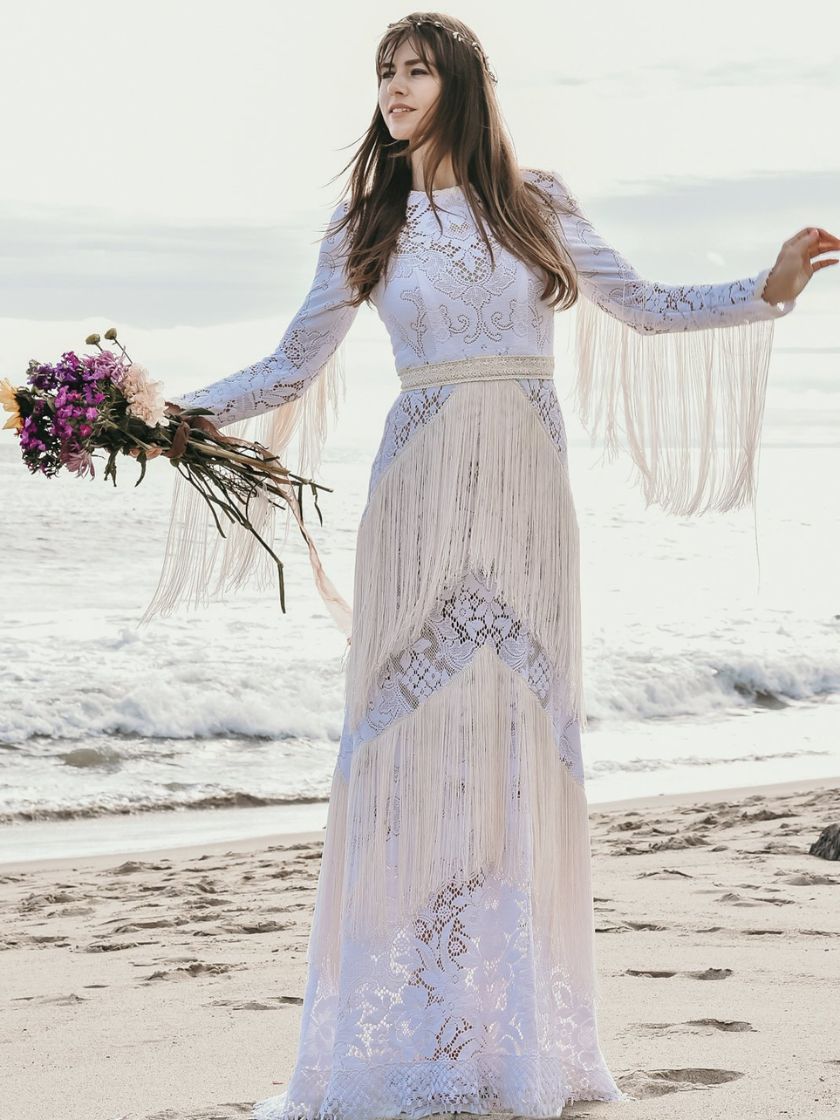 7. etsy:
Etsy has a great selection of vintage and handmade pieces for weddings. I bought my wedding top from the site.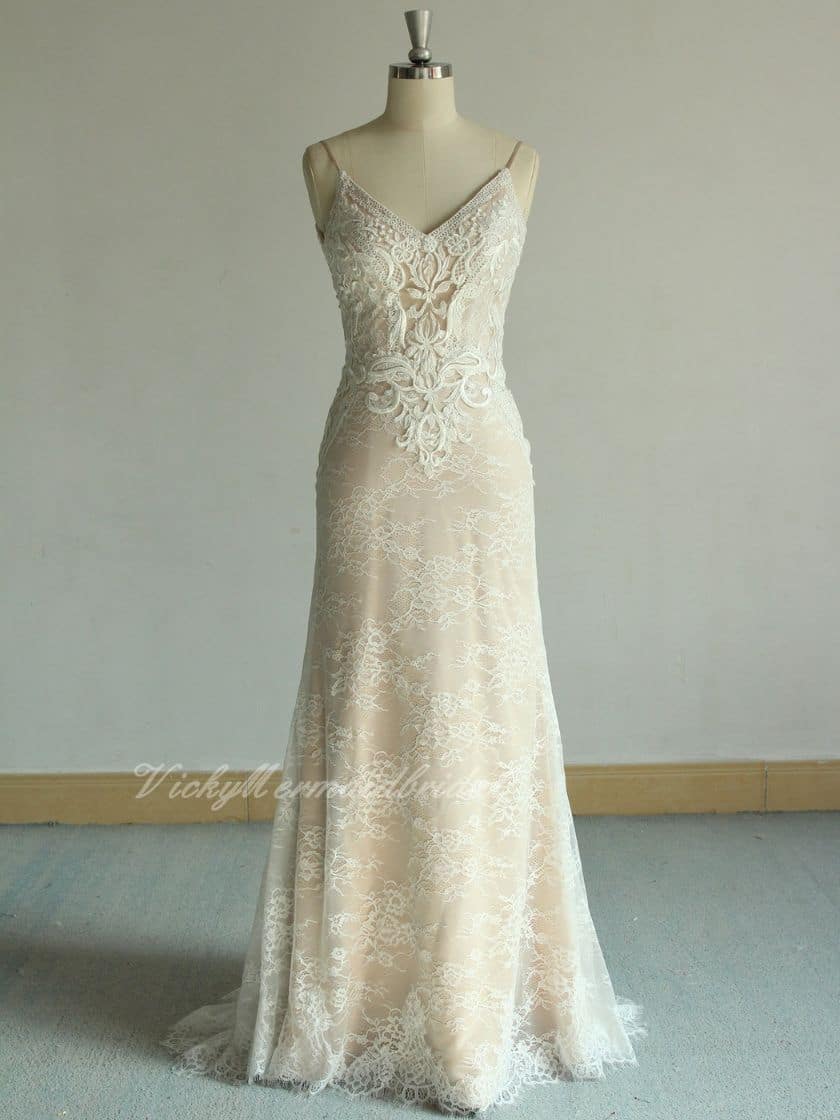 8. Leanne Marshall:
My dream dress was a Leanne Marshall. I'm not embarrassed to say that I had a wedding Pinterest board years before I was actually engaged. My dream dress was unfortunately not available once I got engaged, but it was a Leanne Marshall dress.
I had no idea that Leanne Marshall was a sustainable wedding dress designer, but their dresses are handmade, and they use sustainable practices. I've rounded up a few of my favorites, but honestly, any of their dresses are top picks. They're all classy, romantic, and feel like what an eco-friendly Grace Kelly would wear.
I wound up buying a vintage corset and a wedding skirt secondhand.
Check out my Zero Waste Wedding for pictures.
frequently asked questions
what can I wear to my wedding if I hate dresses?
If you are a person who hates dresses, that is okay! You can find some gorgeous rompers, pantsuits, tailored suits, and even some cute shorts. It's your special day, so choose what you are comfortable in.
is it okay to choose a colored wedding dress?
Absolutely! Pinks, off-whites, and even floral prints can look beautiful. Again, choose your style and go with whatever you like the best.
I'd love to hear stories about your wedding dresses! Was it a hand-me-down? Brand new? Did you have any regrets? Or was it just perfect?