Zero Waste Travel: Toiletry Kit Camping Edition
August 2, 2016 | Kathryn Kellogg
Last Updated on April 7, 2020
So, we're going on a camping trip! And, I'm a little nervous; because, I've never gone camping before…. Well, I went once with my family when I was three-ish? But, I don't think it counts. I hardly even remember it.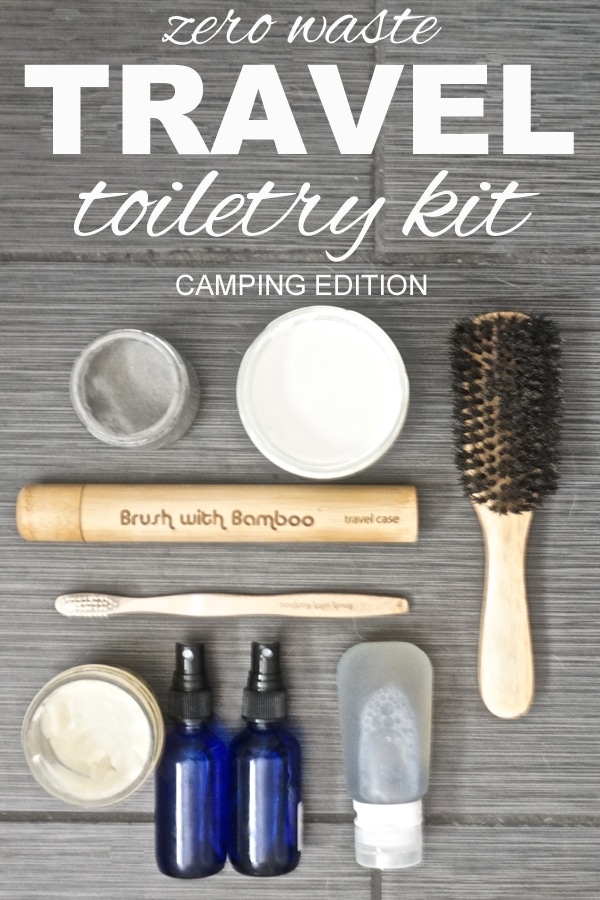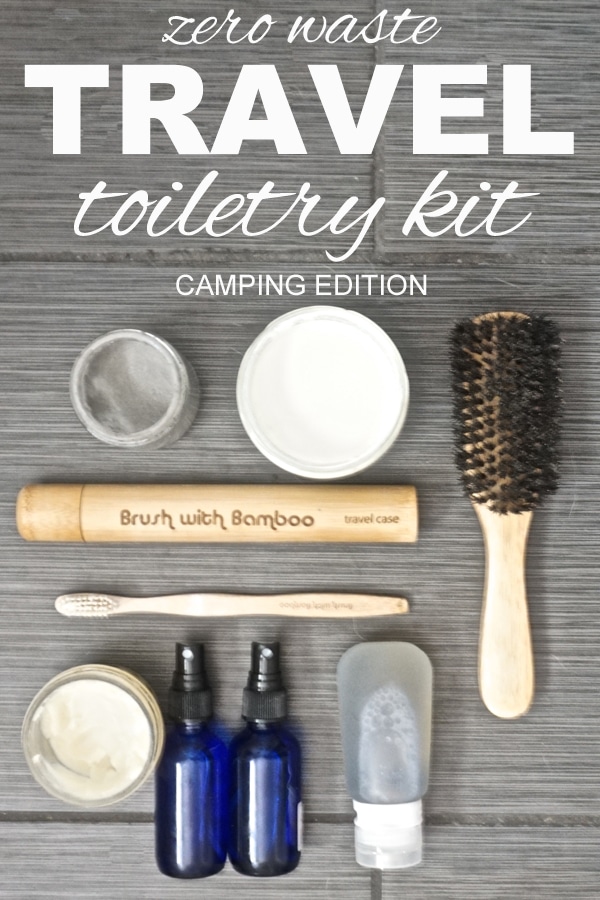 So, I'm doing lots of planning aka spreadsheets and hoping I'll be prepared! I will definitely do a full report on how it goes. I'd have to say planning all of the food is what makes me most nervous. Thankfully I think I have the toiletry thing down pat!
I'm trying to keep what I'm packing pretty minimal, since we don't have much room.
So, what am I packing in my toiletry bag?
Deodorant: So, this seems pretty important if I'm going to be camping/hiking for 5 days. Sweating seems to be pretty inevitable.
Toothpowder: Healthy teeth are important.
Toothbrush: I love my brush with bamboo toothbrush!
Holder: I really hate throwing my toothbrush into my bag naked. The bristles always get bent which shrinks the lifespan of the brush. Brush with Bamboo, my favorite people. makes these awesome toothbrush holders out of bamboo. So they're compostable. They also have a hole in the bottom so they don't mold like the plastic one I had previously.
Castile Soap: Castile soap is a multi-purpose wonder. You can use it on your teeth, but if you've ever done it, it's not pleasant. We will be using this for our dishes, face soap, and body soap. I don't think I'll be washing my hair, but if I really need to, I'll probably use dr. bronners.
Moisturizer: Dr. Bronners is super drying on my skin. I have really dry skin, so moisturizing is super important.
Hair Brush: I will be keeping my hair in a braid or pony tail most of the time.
Bug Spray: I'm whipping up another batch of bug spray this week.
Sunscreen: I still have some sunscreen left from my PZW days. But, I'm going to be making some and testing it out.
I'll be uploading my bug spray and sunscreen recipes soon. I'm hoping we don't run into any issues. But if you have any suggestions, I would love to hear them!
What do you like to take camping?