Zero Waste Challenge Day 18: Snacks
June 18, 2016 | Kathryn Kellogg
Last Updated on September 11, 2020
When the weather gets warmer, I tend to graze rather than dive into hearty meals.
Where I may have reached for a package of chips ahoy or poptarts in a past life, I now seek out whole, real food.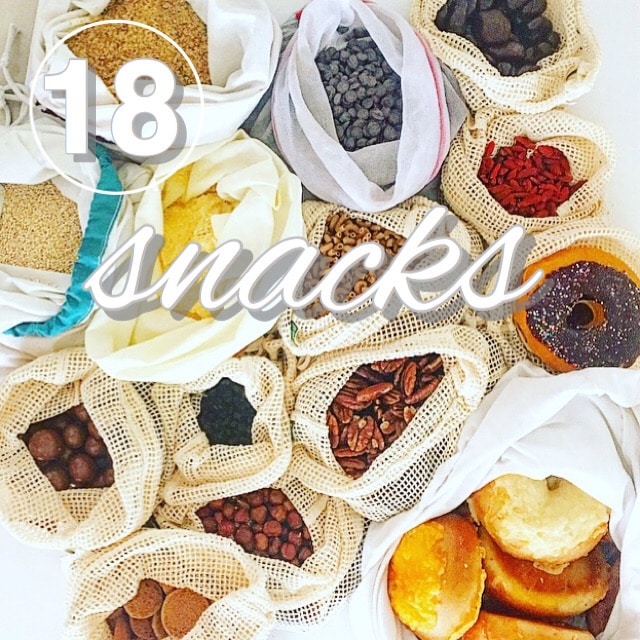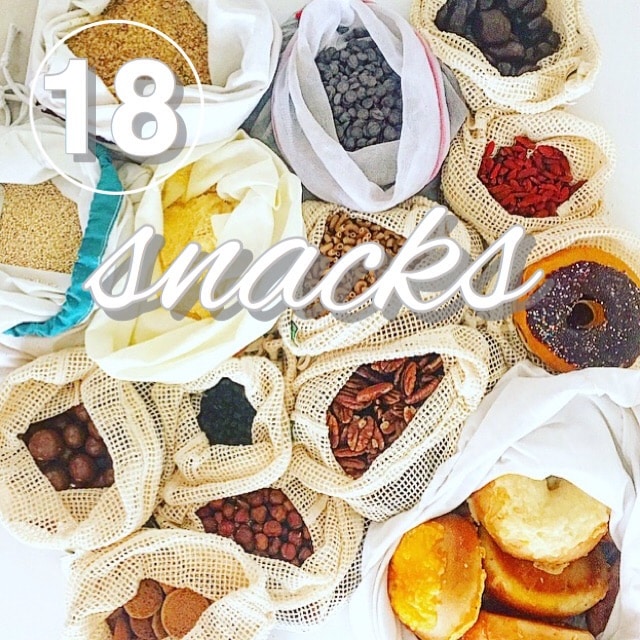 Of course I could make poptarts and cookies, if I really wanted them, but zero waste lends itself to simplifying. Instead of constantly baking and making, I tend to look for whole foods.
It takes less time and energy. It's also cheaper than premade cookies and snacks in bulk or from the bakery, and it's way healthier.
Below are a list of my favorite easy snacks for this hot summer weather.
zero waste snacks:
Nuts: I love having a mix of nuts for baking, snacks, and making my own trail mix.
Dried Fruit: Justin's favorite is mango, and my favorite is blueberries! Buying dried fruit in bulk is always WAY fresher than the stuff that comes in a plastic ziplock bag in the middle ailse.
Crakers: I am so, so lucky to have access to pretzels and chese crackers in bulk. They are perfect for a quick snack or as a side dish for lunch.
Trail Mix: I really like to make my own trail mix with an assortment of seeds, nuts, and dried fruit. My favorite mix is pecans, peanuts, pumpkin seeds, dried blueberries, goji berries, and raisins.
Snap Peas: they're in season right now and the perfect snack. Also great for throwing into salads.
Berries: It is berry season! A thing I look forward to every year. Blueberries are my all time favorite.
Stone Fruit: Peaches, plums, cherries, so many to choose from this time of year.
Carrot Sticks: Slice them up and put them in water! They'll keep crisp for a month.
Nut Butter: I can buy peanut butter in bulk from the health food store like Rainbow and Whole Foods. But, you can turn any nut into nut butter with a high powered blender!
Chocolates: The two most popular things to find in bulk are chocolates and nuts – and my absolute favorite CHOCOLATE COVERED NUTS! You need treats every now and then.
Jerkey: Justin loves beef jerekey. To buy it in bulk check out gas stations or liquor stores.
Cucumber Slices: Put them in water, on your face, and give them a munch!
Popcorn: Stove top popcorn is sooooooo much better than microwave. And, you can flavor it anyway you want.
Seeds: Seeds are way cheaper than nuts and still pack a huge protien punch. You can also make nut butter with sunflower seeds, and vegan cheese.
Energy Bites: This takes a little bit of prep, but they're so good for breakfast, snacks, and dessert.
the challenge:
Try swapping out two packaged snacks you buy for two unpackaged snacks. Prep your fruits and veggies so they're just as convenient as grabbing something pre-packed!
Keep them at hand when you're on the go to fight off a hunger attack.
What are some of your favorite zero waste snacks?