What is Organic Cotton + Why Does It Matter?
February 24, 2023 | Kathryn Kellogg
Last Updated on February 24, 2023
You've probably heard me use the term "organic cotton" on my website before. But what is organic cotton and what brands are utilizing it?
Essentially, organic cotton is grown using methods and materials that have a low impact on the environment. It's grown without pesticides or other harmful materials. There are several brands that utilize organic cotton, such as Pact, Patagonia, and Ten Tree.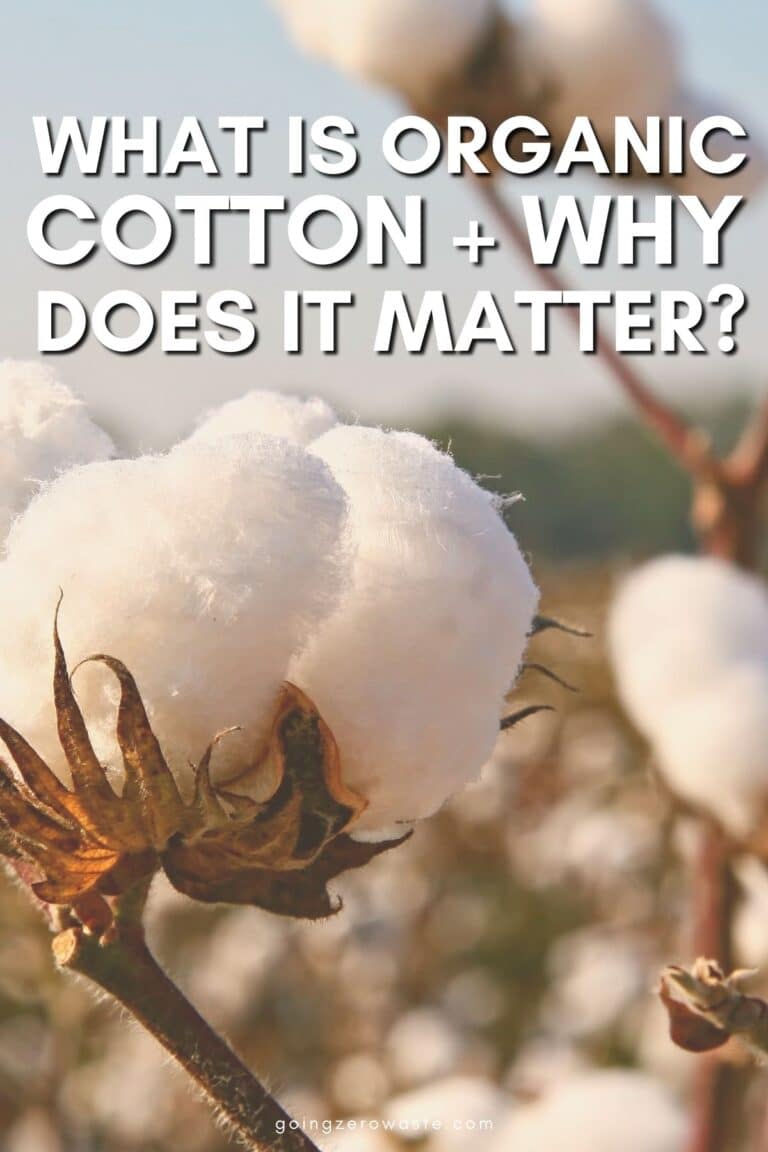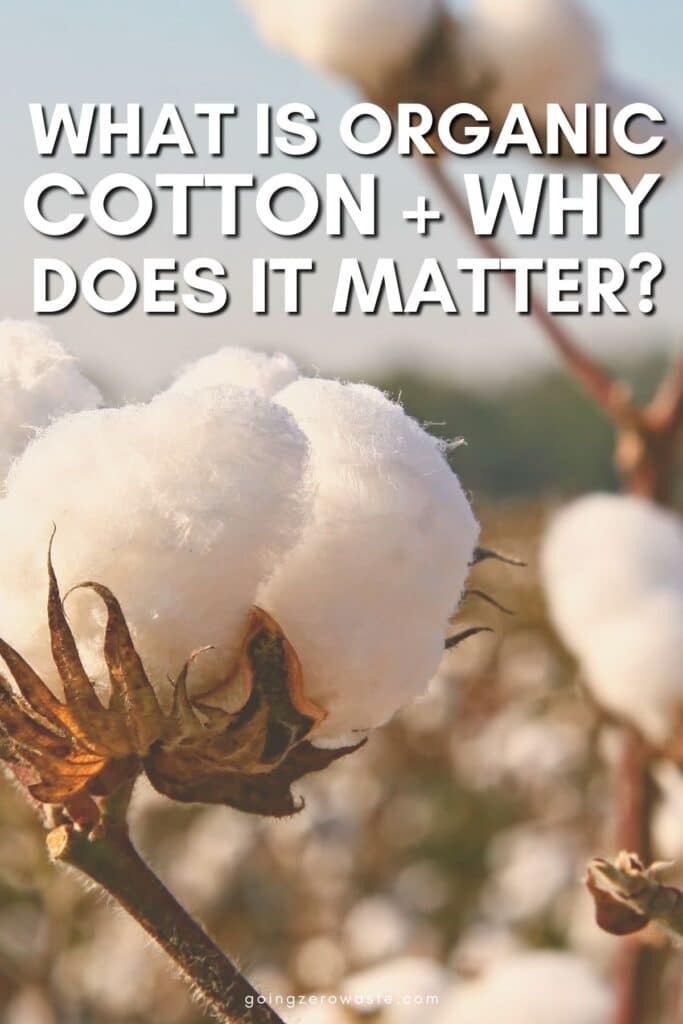 Some of the links in this post are affiliate links; for more information please see my disclosure policy.
Organic production systems replenish and maintain soil fertility, reduce the use of toxic and persistent pesticides and fertilizers, and build biologically diverse agriculture.  
Here's what you need to know about organic production and how to shop for products that use organic cotton.
what is the difference between cotton and organic cotton?
The difference between cotton and organic cotton boils down to how they were farmed. Conventional cotton comes from genetically modified seeds designed to resist bugs, but more pesticides are needed when bugs become stronger.
In fact, cotton is one of the top four genetically modified crops in the world. It's also considered the world's "dirtiest crop" because it requires heavy amounts of toxic pesticides. These pesticides have poisoned thousands of cotton farmers, as well as pollute the environment.
An example of this is Aldicarb, cotton's second bestselling insecticide, and most acutely poisonous to humans and wildlife.
Alidcarb was phased out of the U.S. from 2014-2018 after 16 states reported it in their groundwater. The problem is Aldicarb is still used in 25 countries, along with additional pesticides and insecticides.
These are two lists with both pesticides and insecticides used on cotton. It's clear using well over 14 chemicals on one crop can lead to several environmental and human health problems.
Insecticides are designed to interfere with biological systems. They can be breathed in through the air, or drunk in contaminated water.
Cotton is a water-intensive crop. But chemicals sprayed on the plant will mix with water runoff. This leads to groundwater contamination. To give you an idea of how water-hungry cotton is, it takes 2,500 liters of water to produce one t-shirt. 
But organic cotton is grown in a way that doesn't require the use of pesticides or other harmful chemicals. Organic cotton doesn't use genetically modified seeds and it requires 91% less water than its conventional counterpart. It's responsible for much less water pollution, too.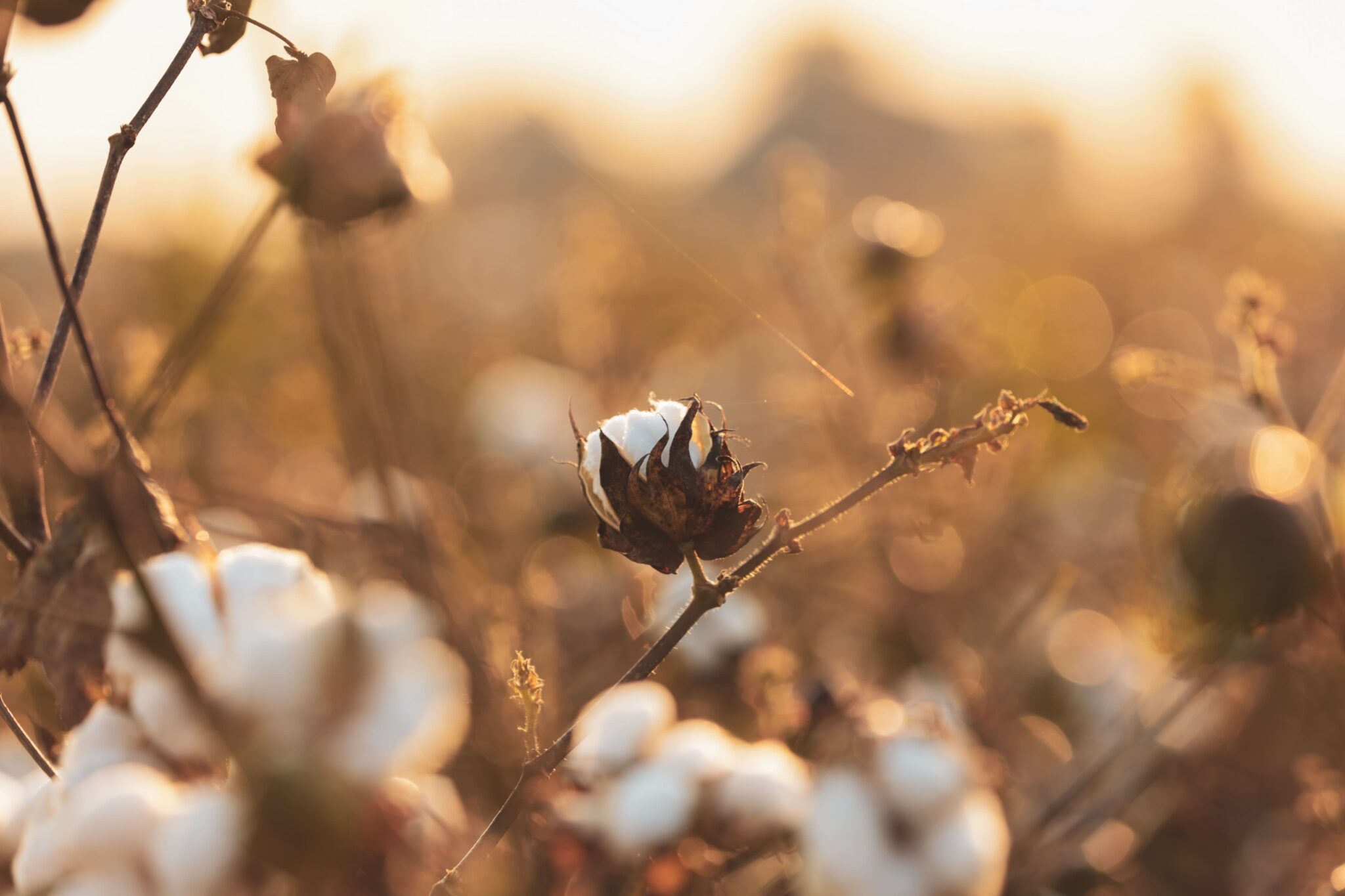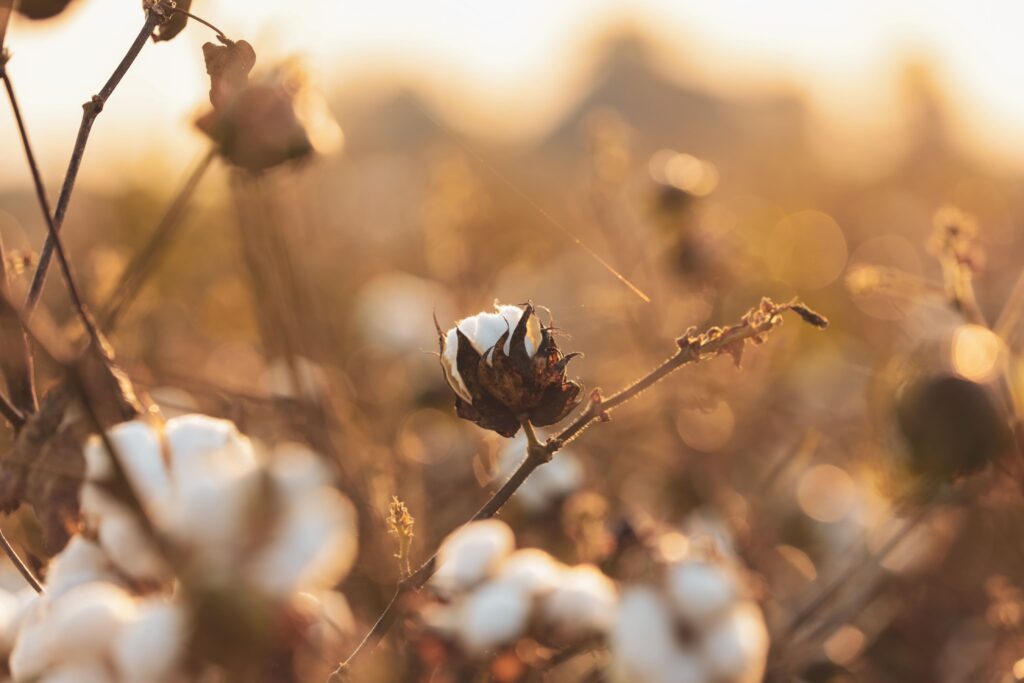 is organic cotton better than 100% cotton?
Yes, organic cotton is better than anything labeled simply "100% cotton" because it's more sustainable. Anything labeled simply "100% cotton" can be from GMO seeds and be farmed with strong pesticide usage.
However, organic cotton uses no pesticides, insecticides, or harsh fertilizers and chemicals. It also uses less water, preserves soil quality and limits soil erosion. This helps create more regenerative farming practices.
Here's how organic cotton is farmed:
Growing cover crops (this helps protect the soil when not in use)
Applying organic fertilizers and compost (there's no harsh chemicals in these, and compost helps keep the soil healthy)
In place of insecticides, copper sulfate and insecticidal soap may be used
Using beneficial insects (instead of driving them all away with pesticides, though natural pesticides like neem oil may be used)
Incorporating crop rotation techniques (so it's not a monoculture and the land gets back some nutrients that were depleted when cotton alone grew in that spot) 
Opting for human labor for weed control (instead of spraying insecticides)
what's the problem with conventional farming?
Organic cotton farming techniques help support soil fertility and increase biodiversity. This is very important considering some experts suspect that Earth will run out of usable topsoil within 60 years, due to unsustainable farming practices.  
When topsoil erodes, the nutrients crops need go with it, making it more difficult for soil to store water and support plant growth. Farmers can lose 50 to 70 percent of their yield potential because of the loss of topsoil.
Insects are also dying off at alarming rates, and this is due to our reliance on pesticides used in farming, habitat loss, and climate change.
According to Nat Geo, every year, the number of insects flying over, crawling on, or burrowing in some parts of the planet drops by a percentage point or two. That means areas of severe decline could lose as much as much as a third of all their insects in two decades.
This harms our soil and food production because so many plants rely on helpful insects to pollinate them, hunt unwanted insects that would otherwise devastate a crop, or simply improve soil health (think decomposers like red wigglers and pill bugs).
This is why organic and regenerative growing methods are so vital to the health of our earth, wildlife and human survival.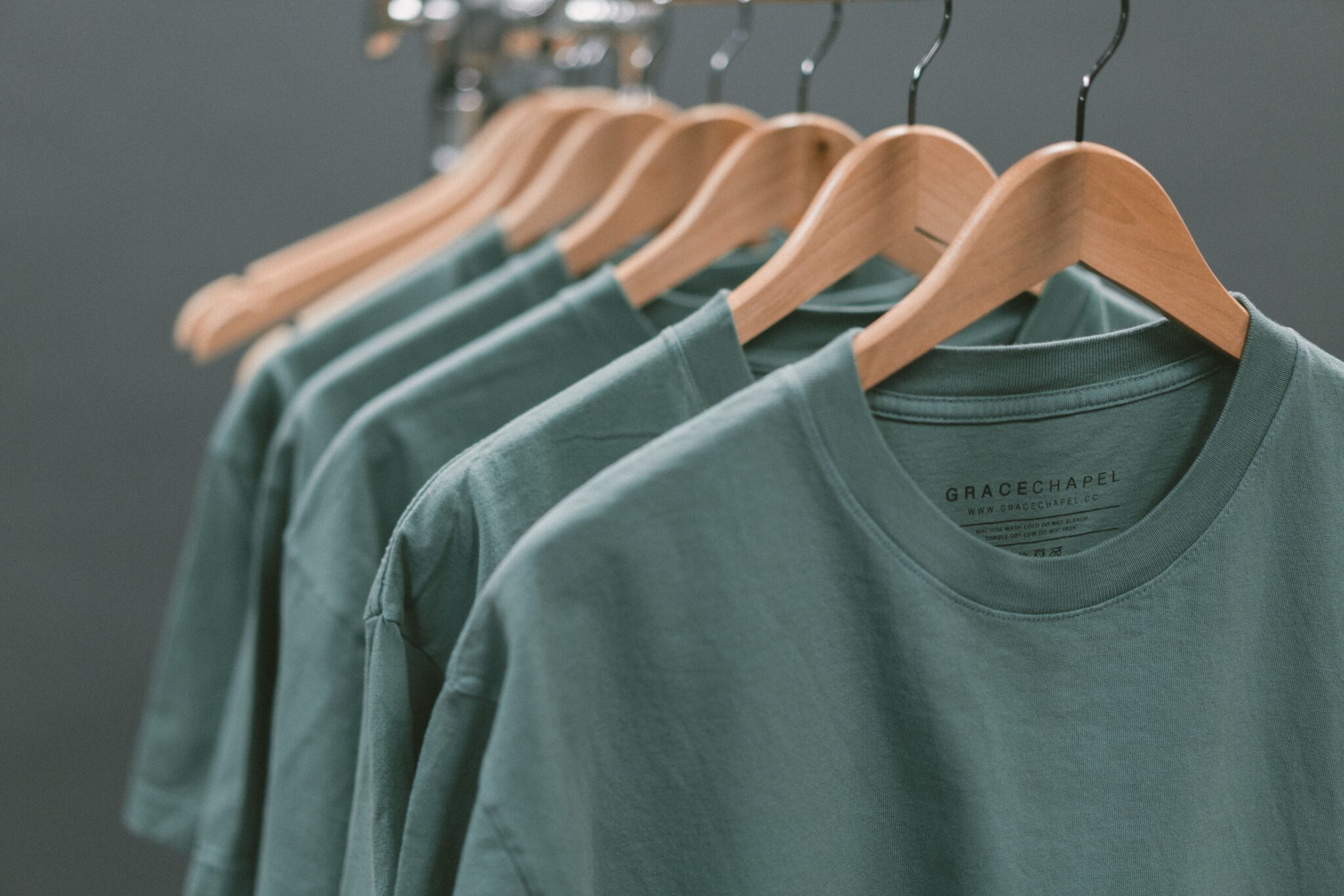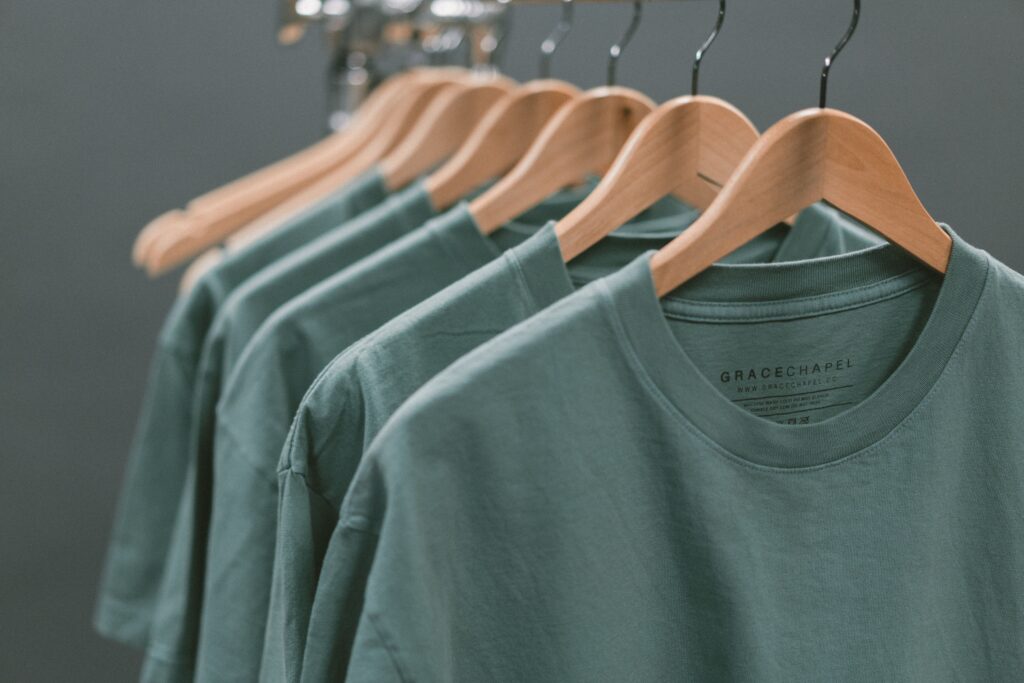 why you should wear organic cotton?
You should wear organic cotton because you're helping support a more sustainable method of farming that will replenish earth's resources instead of deplete them.
You're also helping support the health of cotton farmers, and the communities they live in, when you choose organic cotton. And most organic cotton is fair trade which means cotton farmers are paid fair wages for their labor.
In addition to environmental benefits, organic cotton creates softer, more durable, higher-quality clothing.
The organic cotton isn't processed with any harsh chemicals, so the resulting clothing is more comfortable when worn.
At the processing level, there are none of the toxic chemicals (think: formaldehyde, heavy metals, flame retardants, etc.) commonly found in conventional cotton, making it so you won't absorb trace amounts of chemicals with every wear.
This is why you will often see many baby clothes being made with organic cotton: It's perfect for people with sensitive skin.
is organic cotton better than polyester?
Organic cotton is better than polyester when it comes to everyday clothing and household linens. The one exception is if you're looking for athletic wear, as you'll need something with a bit more stretch and moisture wicking efficiency.
Here are some sustainable activewear brands to consider that use eco-friendly, recycled materials.
Otherwise, organic cotton is better than polyester because it's a natural material and won't shed microplastics in the wash. Every time a piece of synthetic clothing is washed, it releases 1,900 plastic microfibers into the water.
These microfibers go from your washing machine straight to sewage plants or local waterways. Microplastics end up washed out to sea because they're too small to be filtered.
Also natural materials like organic cotton won't cause as much irritation or chaffing to the skin, especially in hot weather.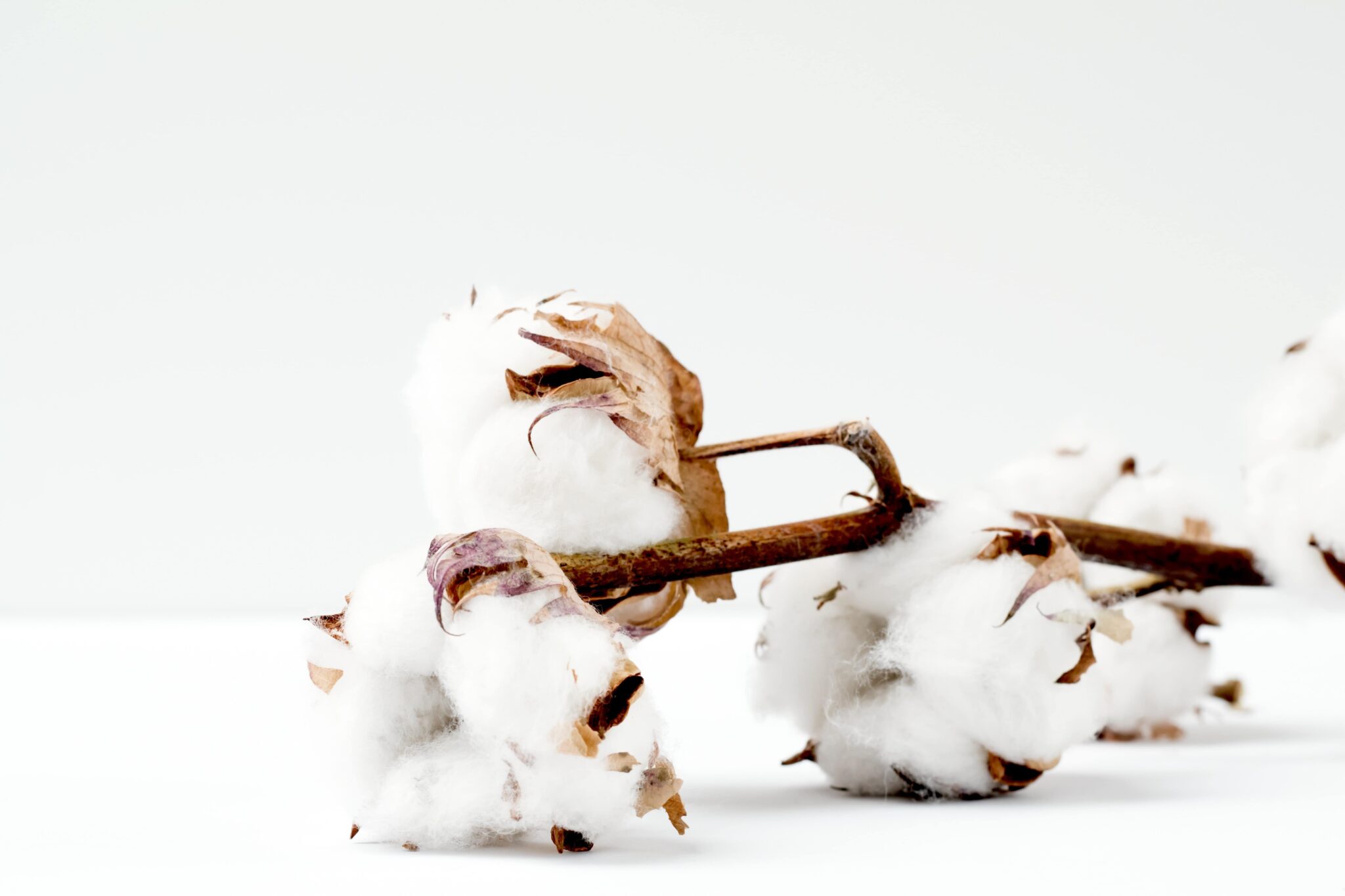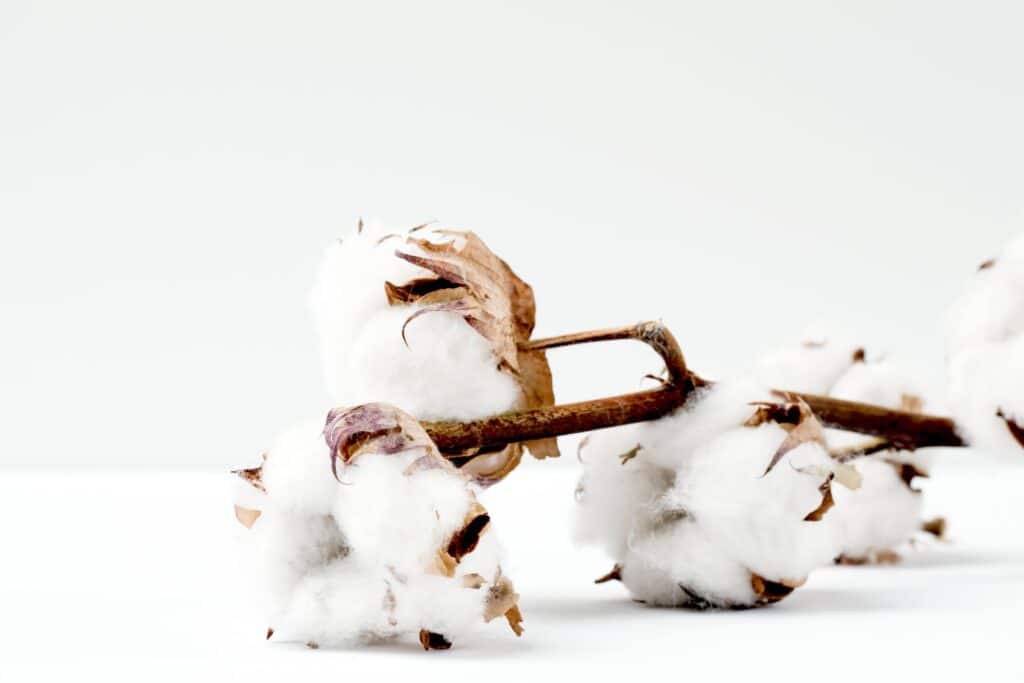 is organic cotton good quality?
Organic cotton is good quality cotton because it wasn't treated with a bunch of chemicals. The fibres are much longer compared to regular cotton which makes it softer on the skin.
However, it is important to note that not all organic cotton is created equal. You should always look for Global Organic Textile Standard (GOTS) certified organic cotton when possible.
GOTS is the worldwide leading textile processing standard for organic fibers. It's the toughest third-party organic textile standard, and anyone who applies must meet their strict criteria from start to finish of a product.
To be GOTs certified your organic cotton must:
Contain a minimum of 95% certified organic fibers
Be processed without bleach, dye, formaldehyde, and other toxic chemicals
Be produced in a mill that has strict environmental and social standards (aka prohibits child labor, minimizes waste, provides fair wages, etc.)
Be free of chemical dyes and azo (they release carcinogenic compounds)
To have a GOTS organic cotton certification means the brand you're choosing to buy from isn't lying to you (aka greenwashing).
Some other sustainable cotton certifications to look for:
the best brands that use organic cotton
Now that we've analyzed "what is organic cotton," here are some brands that use organic cotton in their clothing lines and get the Going Zero Waste seal of approval. All these brands are organic certified but most go beyond that, be it through donating to nonprofits, or being climate neutral.
I've gone ahead and highlighted some key features of each brand, but it isn't an exhaustive list. Be sure to check out their websites for more information.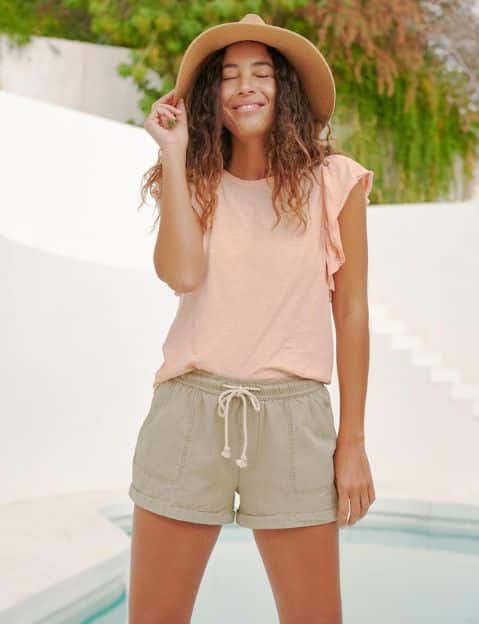 GOTS Certified Organic Cotton
Women, men + children's everyday clothing
FSC certified recyclable paper bag shipper
Give back box program
Fair trade
Carbon neutral certified
---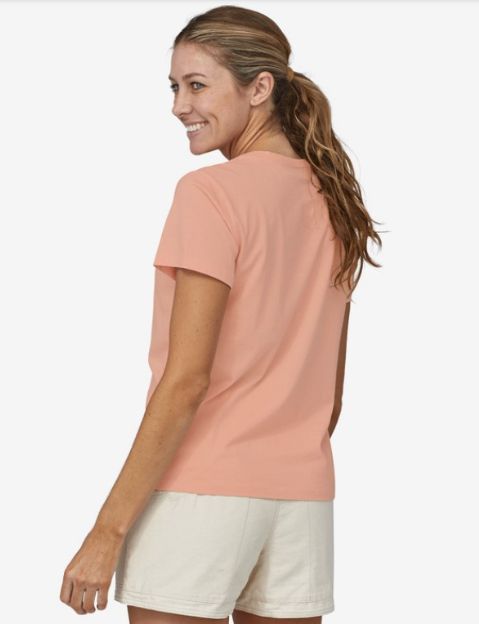 Regenerative Organic Certified cotton
Outdoor clothing for women, men + children
Worn Wear program
Founder donated company to fight climate change
1% For The Planet member
---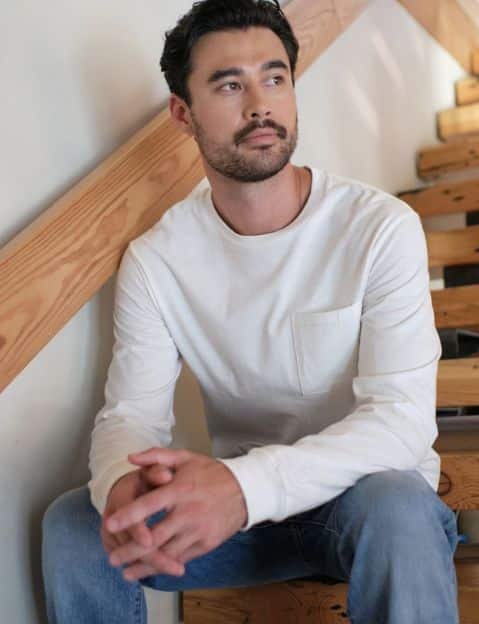 Blends made with 100% organic cotton
Women and men's clothing
10 trees planted with every order
Ethical manufacturing
Responsible packaging
B Corporation
Carbon neutral certified
---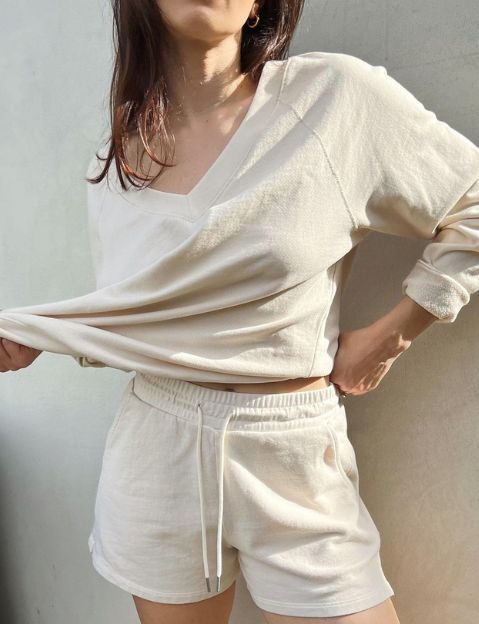 Organic Cotton Jersey grown in Maharashtra, India, knitted + dyed in the United States
Women + men's clothing
No plastic packaging
Take-back recycling program
1% For the Planet member
Carbon neutral certified
---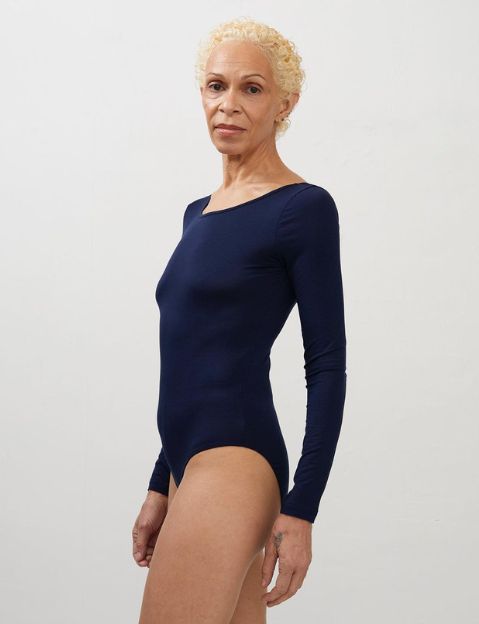 GOTS Certified Organic Cotton
Women + men's clothing
Established the Regenerative Organic Cotton Pilot Project with WWF-Turkey
1% for the Planet member
---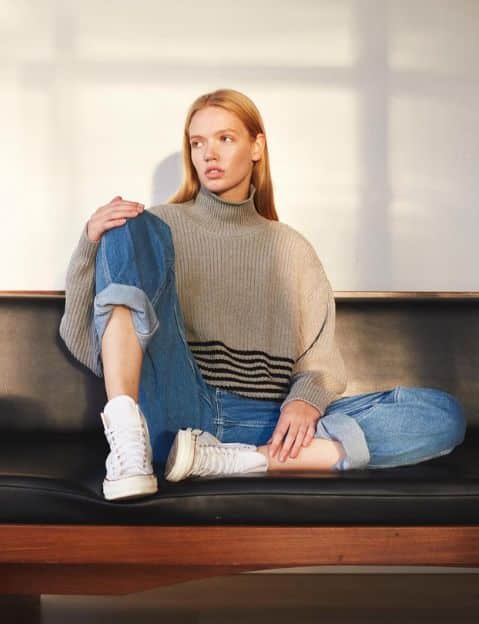 GOTS Certified Materials
Women + men's clothes
SMETA certified factories
Dyes are non-toxic + Cradle-to-Cradle certified
10% closet cash on every purchase (site credit you can use for future purchases)
Take back bag
---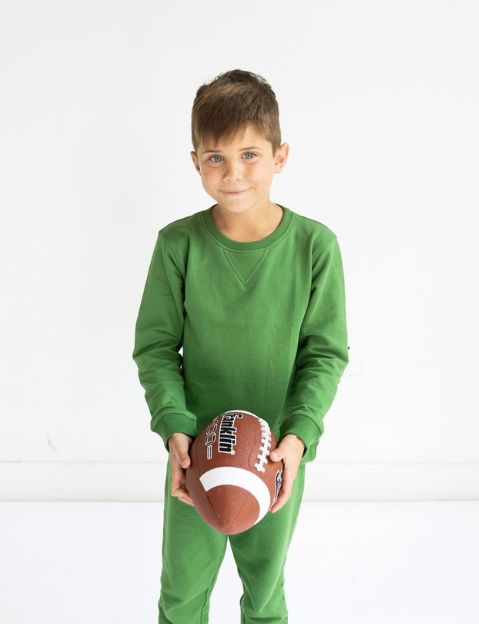 GOTS Certified Organic Cotton
Kid's clothing
Free from irritating tags and cuffs
Ethical manufacturing
---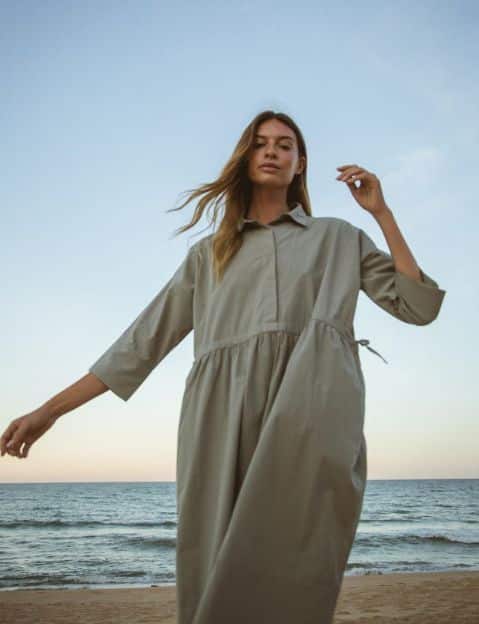 GOTS Certified Organic Cotton
Women's clothing
British-based company
Ethically made in Portugal
work with factories within the EU that pay fair wages + guarantee worker safety
---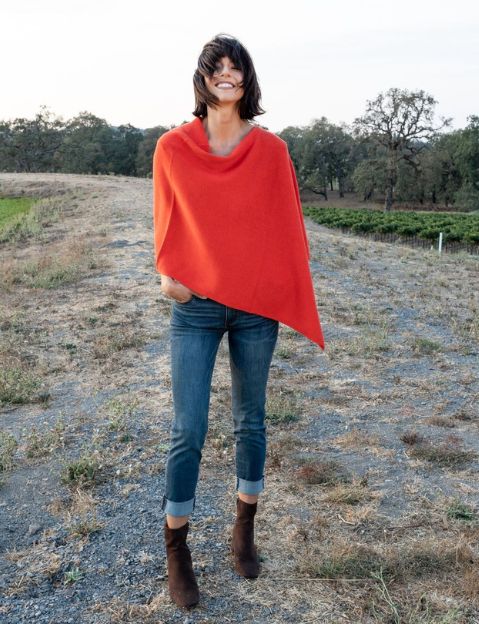 Pima 100% Organic Cotton Fiber produced on family-operated farms in Peru
Women's clothes + accessories
Fair trade
Employs 1000 artisans in Peru who specialize in hand-knitting/weaving
---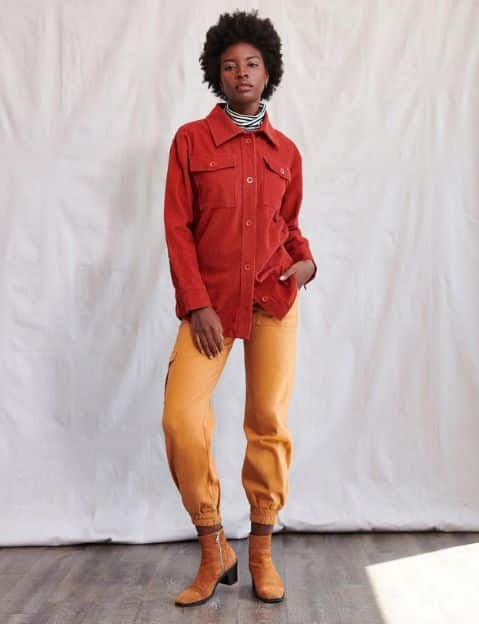 GOTS Certified Organic Cotton
Women's clothing
Heritage Collections are hand-made by artisans using traditional techniques + practices
Fair trade certified factories
B Corporation
So, what do you think of organic cotton? Let me know in the comments below!