What I eat in a day | Zero Waste, Plant-Based, Quick Easy Meals
March 11, 2020 | Kathryn Kellogg
Last Updated on May 4, 2021
It's been about two years since I've done a 'What I Eat in a Day' blog post and I thought it was time to do another one plus a little YouTube video.
If you didn't know, I have a YouTube channel and I would love for you to hit that subscribe button.
Most of my meals are quick, easy, and plant-based since eating a plant-based diet is one of the best ways to have a positive impact on the environment.
Since I live a zero-waste lifestyle, I buy most of my food without packaging.
If you're curious to learn more, check out my blog post The Ultimate Guide to Zero Waste Grocery Shopping.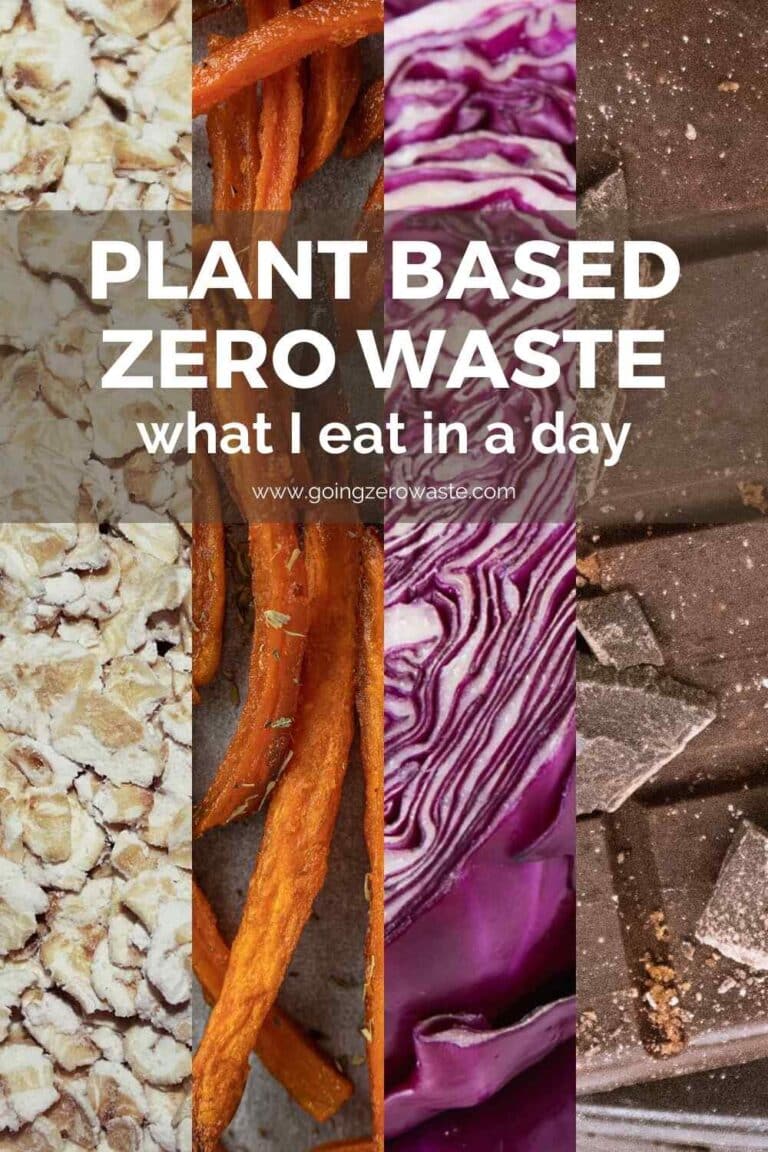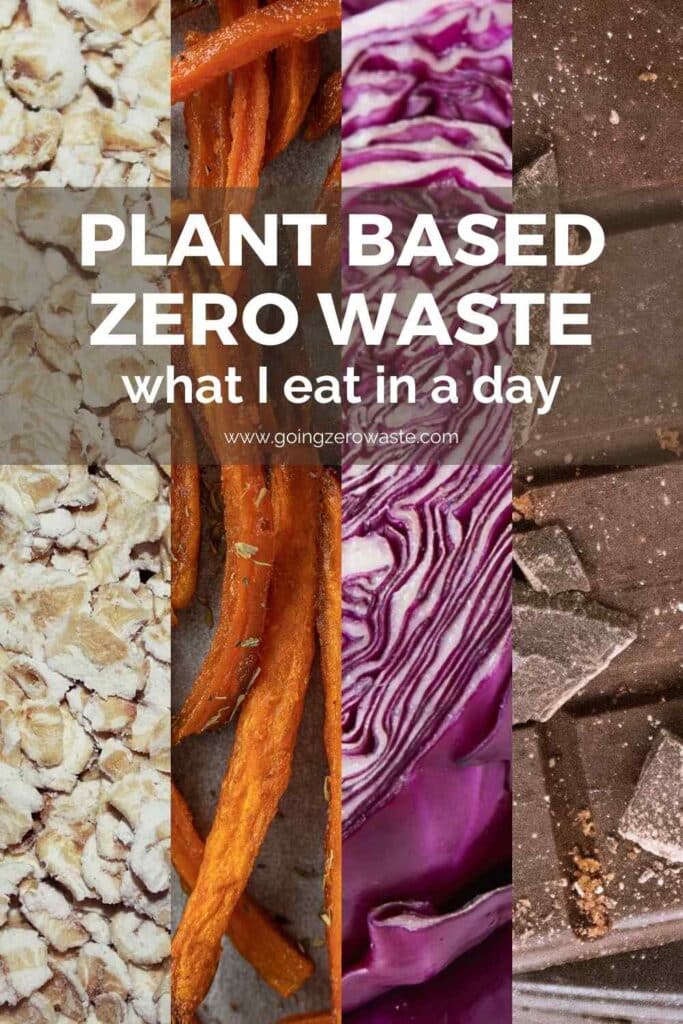 This post was sponsored by MegaFood! All thoughts and opinions are my own.
For more information, please see my disclosure policy.
I like to start my day at 6 am because that's when I feel the creative energy buzzing through my bones.
I like how peaceful everything seems early in the morning.
No one expects me to respond to emails or comments or interact in any way because the world is still a little sleepy.
pre-breakfast:
This is when I get the bulk of my writing done, but before I'm off to type away I like to brew a huge batch of loose leaf tea, drink a glass of water, and take my supplements!
Last year, I started looking for more sustainable supplements, and have been really pleased with MegaFood®, which crafts premium supplements made with real food from trusted farm partners, plus added nutrients.
MegaFood is a certified B Corporation, which means they meet a strict code of social and environmental practices.
They have a very impressive roster of certifications like non-GMO project verified, certified glyphosate residue-free, tested for 125+ pesticides and herbicides, as well as many others.
MegaFood is committed to organic and regenerative agriculture, lobbying to ban glyphosate, and all of its employees are paid a fair living wage.
I've been very impressed with the company's commitment to people and the planet.
In today's busy world, the ultimate self-care routine can be as easy as taking a daily multivitamin.
The multivitamin I take on a regular basis is MegaFood Multi for Women, which is specifically for women seeking optimal health and wellbeing* with vitamins B, D, A, C and E, plus iron, biotin, and beta carotene.
I'm often so busy so making sure I take my daily multivitamin is the best way I can take care of myself!
Along, with my daily multi, I've also found it useful to take probiotics, and a vitamin B supplement.
If you're eating a vegan or plant-based diet, you really should be taking at least a B12 vitamin (MegaFood has a great option for this vitamin, too).
I have struggled with a hormone imbalance in the past and find it beneficial to take a B complex.
If you have any questions about what supplements you should be taking it's best to consult a doctor to see what's right for you.
So, while my tea is brewing, I take my supplements and drink a glass of water.
I pour my tea into a thermos, add in a little bit of CBD oil, and then sip on it throughout the morning.
watch the YouTube video:
breakfast:
I typically start to get hungry around 9 or 10 so I'll whip up some breakfast and I really like to eat oatmeal in the winter.
And, my all-time favorite this time of year is apple, cinnamon oatmeal.
1 apple peeled, cored, and cubed

1 teaspoon of oil

Cinnamon

Pinch of salt

1/2 cup of organic old-fashioned oats

1 cup of nut milk (I like cashew)

Maple syrup (optional)

Peanut butter (optional)
In a small saucepan add your oil and apple and sauté until the apple is softened

Add in a dash of cinnamon to taste and set aside

Add your nut milk into the pot and bring to a simmer

Add in the oats and let them absorb the liquid about 5 minutes

Add a pinch of salt

Sometimes I like to add in a splash of maple syrup or a spoonful of peanut butter at this stage too.

Add your oatmeal to a bowl and top with your cinnamon apples and enjoy!
lunch:
I really like to keep lunch simple. I prefer soups or salads – things that can easily be prepped in advance and stored in a 16oz mason jars.
I've recently been on a curried carrot and ginger soup kick. It's one of my all-time favorites!
2 tablespoons olive oil + a little more for drizzling

2 large shallots, peeled and chopped

6 cups vegetable broth

2 pounds carrots chopped

1 peeled and cubed apple

1 tablespoon grated fresh ginger

3-4 tablespoons of curry paste

pumpkin seeds (optional)

cashew yogurt (optional)
In a dutch oven add in the olive oil and shallots

Wait until the shallots are translucent and add in the grated fresh ginger and curry paste and sauté for about 30 seconds

Add in the carrots, apple, and the vegetable broth

Bring the vegetable broth to boil and cover the pot until the carrots are fork-tender

Add the mixture to a blender and puree.

Pour into a bowl and add in a few tablespoons of cashew yogurt.

Top with some pumpkin seeds and a little drizzle of olive oil.
snack:
I have a few different snacks I like to keep on rotation which you can read about in my Five Favorite Zero Waste Snacks, but today I'm going with bell peppers and hummus.
dinner:
While I like to keep breakfast and lunch pretty similar, dinner is where I switch things up.
I like to make taco bowls, burgers, nachos, salads, bowls, etc.
But for dinner, I wanted to keep it pretty simple.
I think it's a big misconception that zero-waste meals have to take a long time, they really don't.
And, one of the best ways to save time is to cook once and eat a few times.
So, if I'm making veggies and quinoa for dinner tonight then I'll make extra and save it for later.
You can read more in my post about meal prepping.
Roasted red cabbage

Black beans

Roasted sweet potatoes

Brown rice

Arugula

Avocado Lime Dressing (Avocado + lime juice + cashew yogurt + salt)
Toss everything into a bowl and eat up!
dessert:
I'm a huge lover of chocolate so I'm finishing my day with a few squares of organic dark chocolate!
late evening:
I often have trouble falling asleep, but after establishing a really good nighttime routine it's really improved.
I've reduced tech use right before bed, keep the bedroom phone free, and like to wind down with a cup of herbal tea.
MegaFood has team members who are experts when it comes to health and wellness.
Erin Stokes, a naturopathic doctor and Medical Director at MegaFood, shared a lot of great insight on nutrients and botanicals to help you sleep, which has been super informative.
During the evening along with my tea, I've been taking the new Herbal Sleep supplement from MegaFood, which is formulated to provide a sense of relaxation and restorative sleep.*
I want to give MegaFood a huge shout out for sponsoring this post! If you're looking for quality and sustainable supplements then you have got to check out MegaFood.
This is what a typical day looks like for me, and I hope that you found this post helpful! That it might inspire a few quick, easy zero-waste meals in your rotation.
Do you have any go-to plant-based meals?
*These statements have not been evaluated by the Food and Drug Administration.
This product is not intended to diagnose, treat, cure or prevent any disease.