10 Eco Friendly Nail Polish Brands For the Best Non-Toxic Manicure
July 7, 2022 | Ariana
Last Updated on July 7, 2022
I don't paint my nails very often, but I still get manicures and pedicures for special events. I've been looking into more eco-friendly salon practices as well as eco friendly nail polish brands. It might surprise you to learn that some nail polish is classified as hazardous waste by the EPA which basically means the EPA acknowledges nail polish has substantial or potential threats to public health or the environment.
This is particularly important when you dispose of your old nail polish so make sure you're doing it properly. You can throw away empty bottles, but if they still have product in them, you shouldn't throw it in the garbage or pour it down the sink. Instead, pour what you have left onto a scrap of paper and let it fully dry. Then you can throw both of those things away – they are NOT recyclable.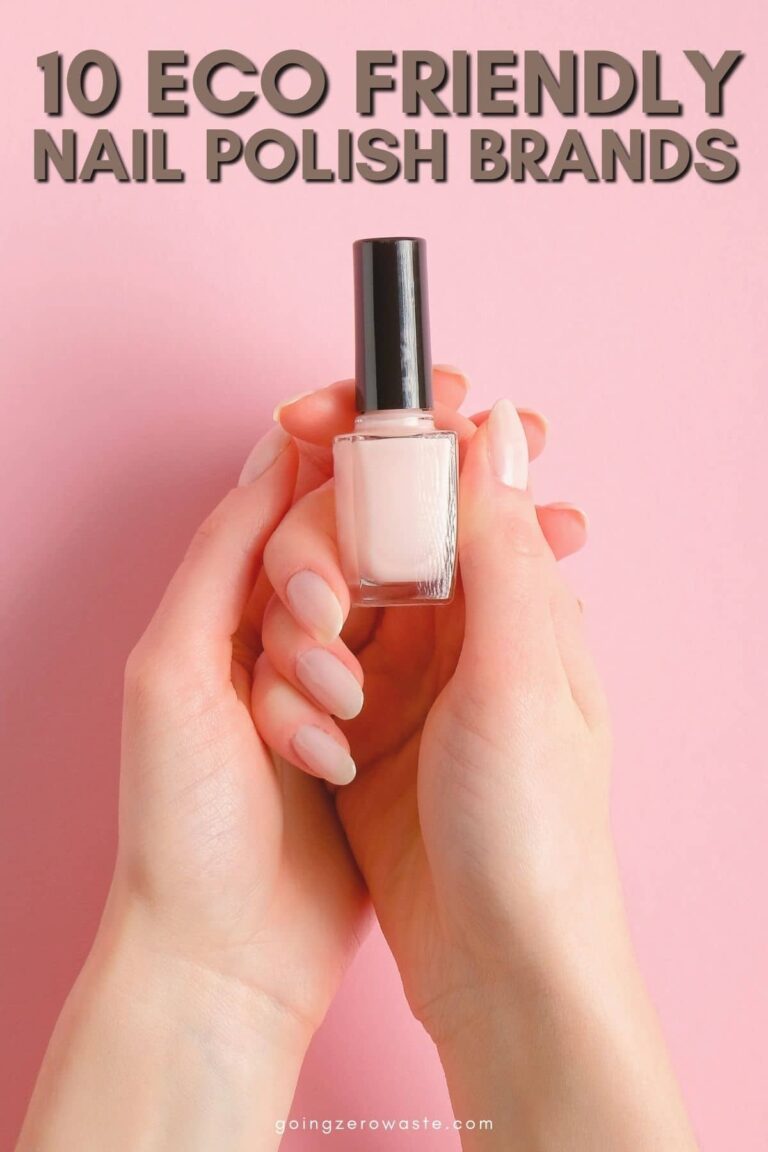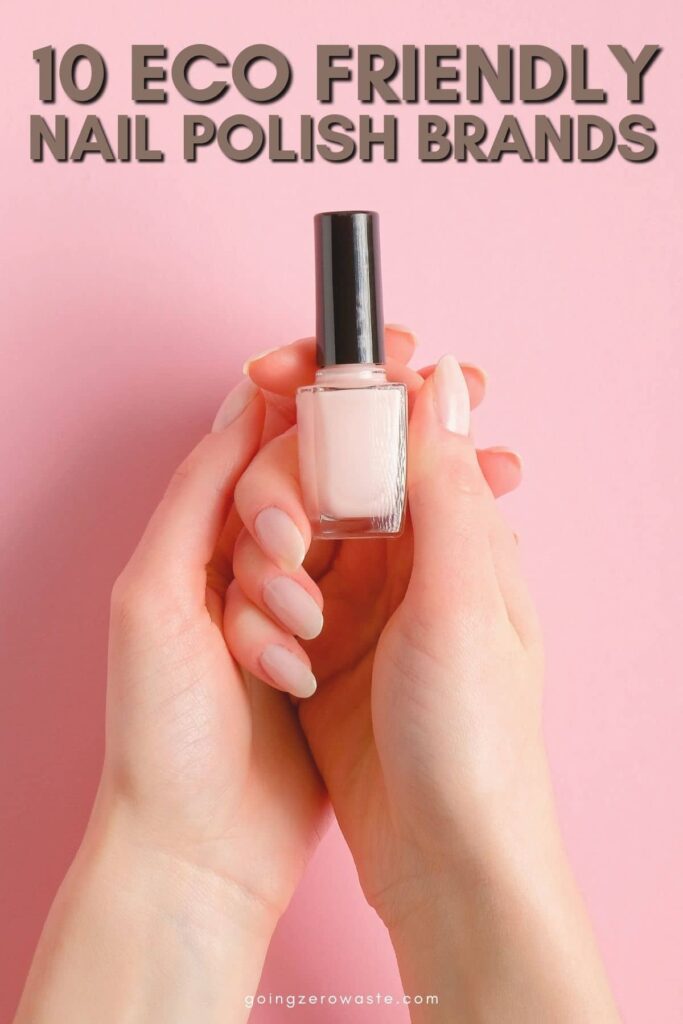 Some nail polishes also contain questionable ingredients, and while having a manicure done every now and then isn't a big problem, the fumes can be so bad in poorly ventilated nail salons, that the workers are most at risk.
Despite this, nail polish sales are on the rise. According to Grand View Research, The global nail polish market size was valued at USD 14.3 billion in 2021 and is expected to expand at a compound annual growth rate (CAGR) of 6.8% from 2022 to 2030.
Lets take control of our health and choose more non-toxic nail manicure options. Instead, why not give yourself a sustainable manicure with vegan, eco-friendly nail polish? In this post we'll go over how to choose a more eco-friendly and ethical nail salon as well as polish recommendations so here's everything you need to know about creating the perfect non-toxic at-home manicure.
are manicures bad for the environment?
Yes and no: If you're doing your nails at home, and properly disposing of your nail polish, chances are it's not a huge environmental or health concern.
However, if you get your nails done at a salon, several salons tend to have poor ventilation which is potentially harmful due to the nature of nail polish fumes. These fumes can lead to indoor air pollution that's potentially harmful to human health.
Some of the fumes, like toluene a common ingredient in many nail polishes, can cause a condition known as "painter syndrome." This is a permanent condition that can cause memory loss, mobility issues, and speech problems.
Toluene, formaldehyde, and dibutyl phthalate are sometimes referred to in the industry as the "toxic trio". In a study run by the California Department of Toxic Substances Control, a limited number of nail salon products claiming to be free of one or more of the toxic trio tested positive for the chemicals of which they claimed to be free of.
Nail salon workers are the ones most exposed to solvents, fragrances, and hardeners that could be volatile. These chemicals are inhaled when they evaporate into the air. For example, the dust created when filing artificial nails may contain glues, silica and benzoyl peroxide. Nail salon workers should wear gloves and masks for this reason, and I highly recommend you look into going to an ethical nail salon.
Because of the exposure to toxic fumes, this results in health conditions for the workers. This is just the tip of the iceberg when it comes to abuse and exploitation in the industry. There was a great expose in the New York Times detailing the low to no wages, wage theft, no breaks and more.
how to find an ethical and sustainable nail salon?
Here are a few things I look for when trying to find a sustainable and ethical nail salon.
Try to avoid places with rock bottom prices. If the price is $10 for a manicure, someones probably not being paid.
If you get your nails done often, there can be a lot of turnover in unethical salons. Try and form a relationship with one person that you can see on a recurring basis.
Look for a salon with good hygiene practices, ventilation, and if they offer more eco-friendly nail polishes that's also a pretty good sign.
Look on a salon's website for mention of ethical business practices.
Google "eco friendly nail salons near me" or "ethical nails salons near me"
One of the salons I liked to go to in Berkley was Marlowe. On their website you can see their ethics clearly posted. They champion fair labor standards for employees, including living wages, healthcare, and 401(k)s.
They provide some organic service options as well, like The California Mani and Pedi. They're also committed to clean salons with hospital-grade sterilization, pro ventilation for breathable air, and drainless pedi bowls for squeaky clean services.
If you're not sure what to look for in a salon from a hygiene perspective, the EPA recommends nail salons follow these guidelines to create a healthy work environment and reduce indoor air pollution.
Check and see if your local nail salon is following these practices:
Proper ventilation. Install a local exhaust ventilation system. A nail salon should have one of more of the following options to capture vapors and dust: – Ventilated table with dust and charcoal filters, ceiling-mounted exhaust vent, wall-mounted exhaust vent. Installing free standing air purifiers at work tables, opening windows and doors for fresh air, and keeping nail care product containers closed when not in use will help as well.
Wearing dust masks when working with customers and gloves when handling nail care products. Replace gloves immediately if there are signs of cuts or tears. Change gloves with every new customer.
No eating or drinking at work table. Wash hands before eating and drinking.
Wash hands before and after each customer.
Clean and sterilize nail care treatments after each use.
some other sustainable nail salons worth checking out:
Lunula, located in Brooklyn, New York, takes an acute focus on the health of your nails, hands and feet through customized, dermatologist-approved services. They use organic serums, scrubs, lotions whenever possible and opt for non-toxic nail treatments/polish.
Nail Origins, located in San Diego, California, uses high quality cruelty-free, non-toxic nail products. They provide as much vegan and organic options as possible.
Tenoverten is located in New York City's Financial District and is free of harsh fumes and deep cleaned daily with the help of medical-grade autoclaves. You can choose from their complete collection of Tenoverten nail colors (8-free, vegan and cruelty-free) or pick a polish from another one of their favorite conscious brands. Team members are required to wear a face covering.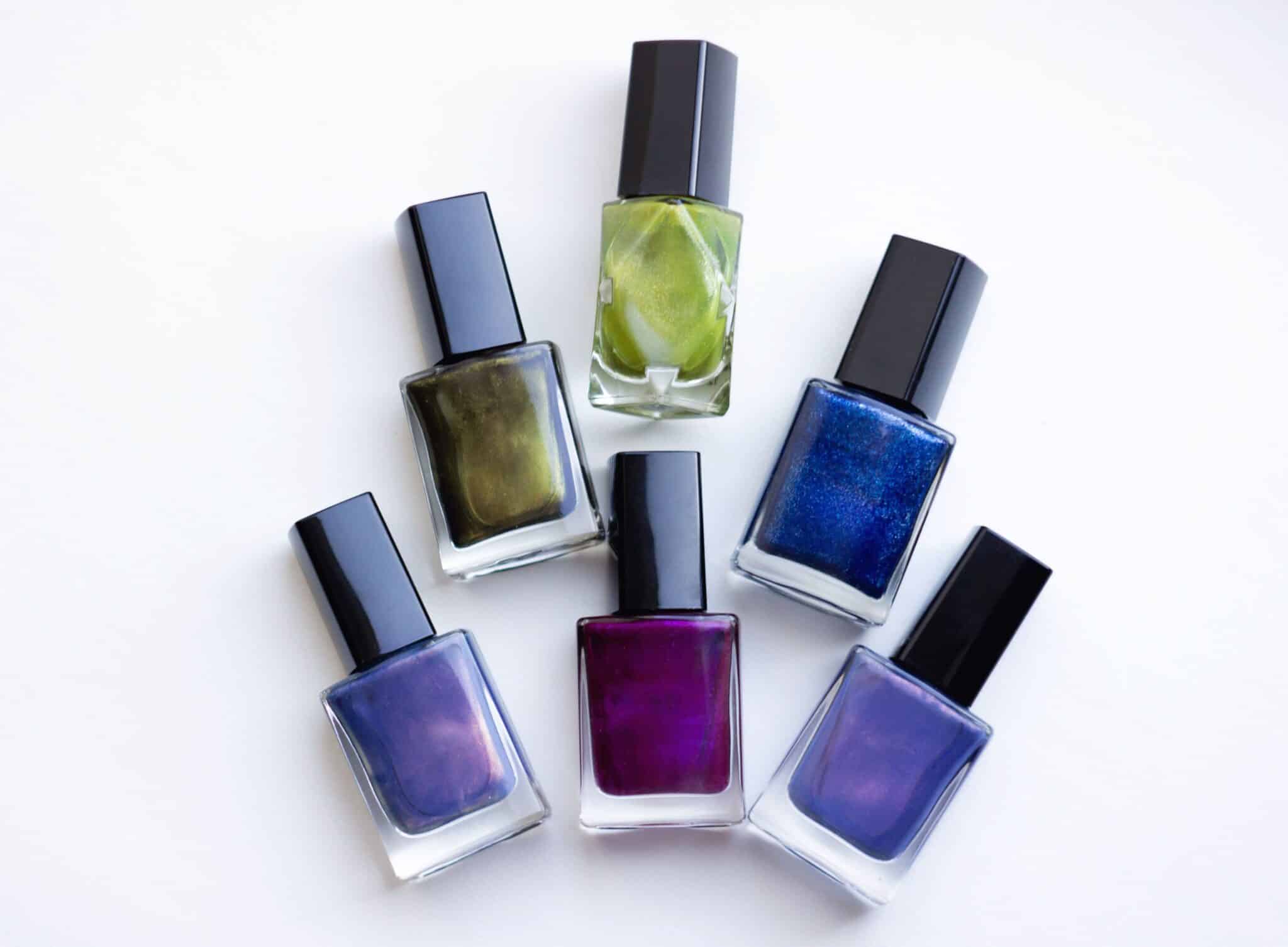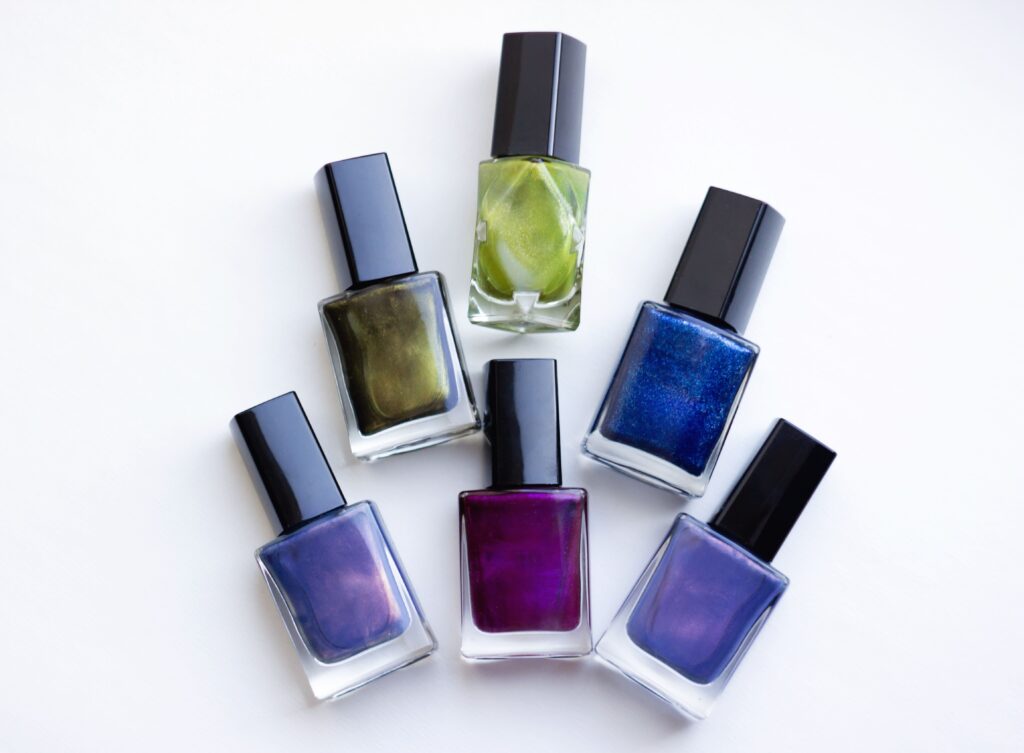 how do you recycle nail polish?
You cannot recycle nail polishes with traditional curbside recycling programs. The US EPA considers nail polish to be household hazardous waste due to the chemicals used to make it. Also, nail polish bottles tend to be small and would probably end up getting lost in the recycling process.
Elle Polish, an ecofriendly nail polish brand, offers a recycling program where you can send 5 empty Elle polish bottles in to be recycled and you'll get a special edition polish in return. Simply email them at [email protected] to obtain your free mailing label.
Cote also offers nail polish recycling program. For any used bottle of polish you bring into their LA shop, you'll receive 10% off your next Cote polish purchase. You can also mail your used bottles in as well.
If you cannot participate in any of these recycling programs, check with your local nail salons to see if they'll collect the bottles for proper disposal with their own.
You can always check with the specific brand you're using to see if they offer any take-back programs as well. Also Earth911 has a recycling center search you can utilize to see how to recycle something near you. Just type in "nail polish" and your zip code.
what in nail polish isn't vegan?
Any nail polish that contains animal-derived ingredients isn't vegan. Here's a list of animal-based ingredients found in cosmetic products, including but not limited to nail polish. An ecofriendly nail polish will often avoid animal-based ingredients, as these tend to have a higher carbon footprint and aren't always ethically harvested.
The animal-based ingredients commonly found in nail polish include:
Guanine: Usually listed as pearl essence, which comes from fish scales. Gives nail polish shine.
Carmine: Often found in red shades of nail polish. Carmine is made from boiled and crushed beetles.
Shellac: Used in nail polish which is a dark brown resin from the excretions of lac scale insects, collected from the branches the insects live on.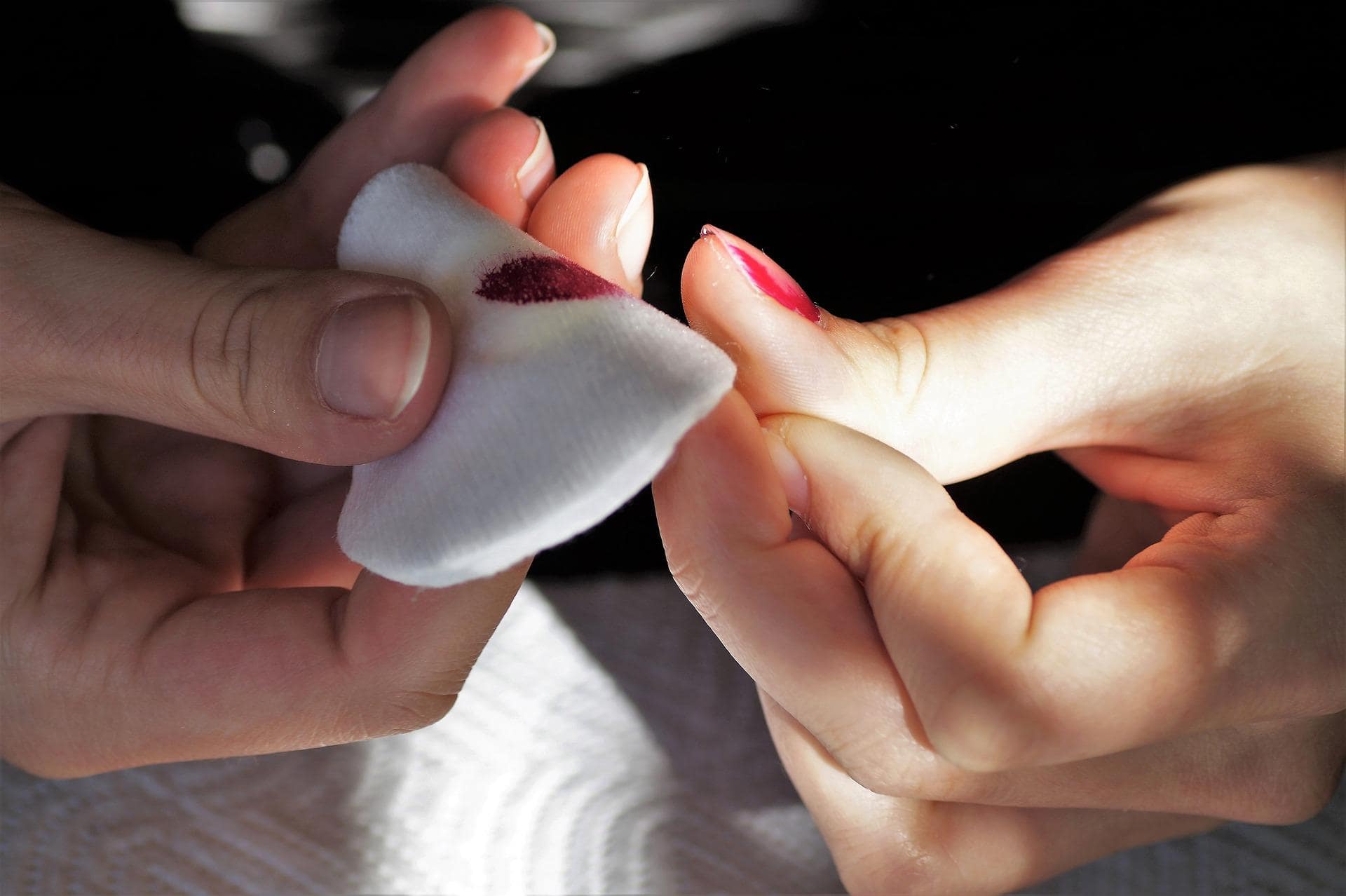 is nail polish remover eco-friendly?
The EPA classified nail polish remover as household hazardous waste, just like nail polish. That's because this product is flammable and toxic.
Nail polish removers are made up of solvents designed to dissolve the resins in nail polish. Acetone is one of the most common nail polish remover solvents used. Many removers also contain fragrance and colorants which can cause allergies and skin irritation.
Not sure about you, but when I'm exposed to products that contain fragrance I often headaches, my nose acts up, and sometimes even my throat. Artificial fragrances can contain dozens or even hundreds of untested chemicals like synthetic musks and phthalates which are hormone disruptors.
Plus, most nail polish removers have plastic packaging that is difficult to recycle. Consumers must clean out the bottles before recycling, which might lead to hazardous waste being dumped down the drain and entering waterways. While packaging isn't everything, it's something to note considering the average American generates 4.9lbs of trash per day.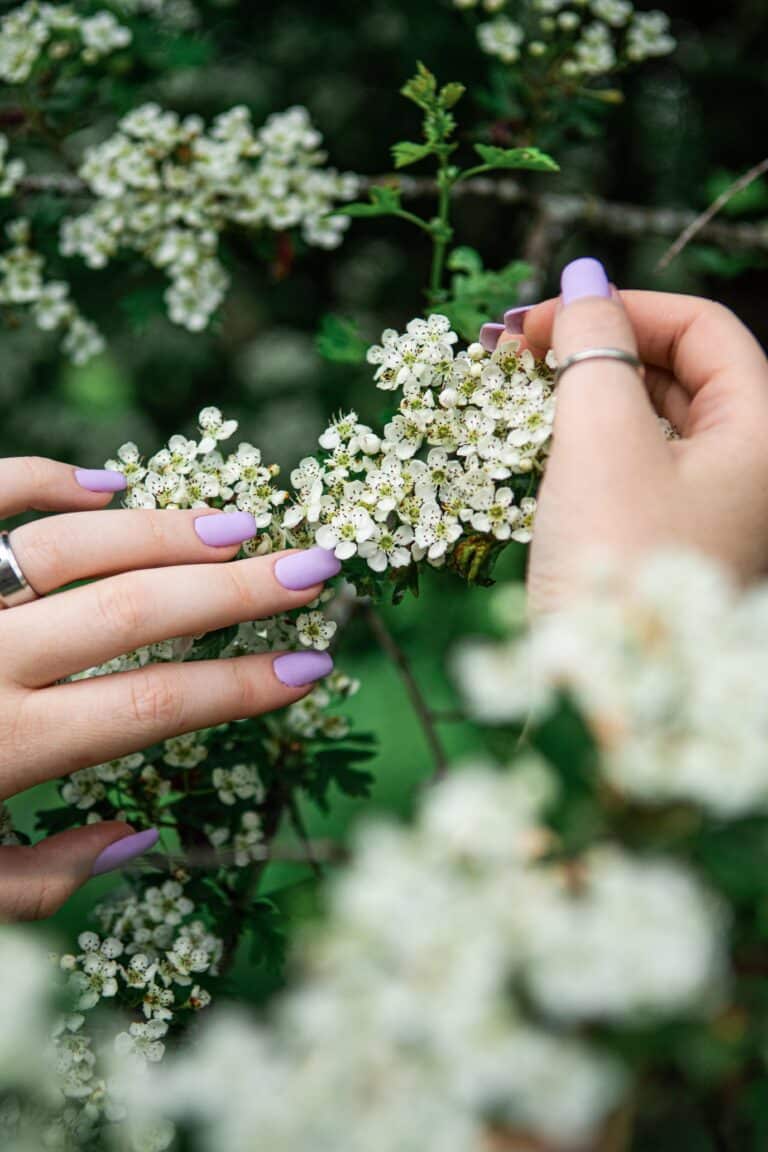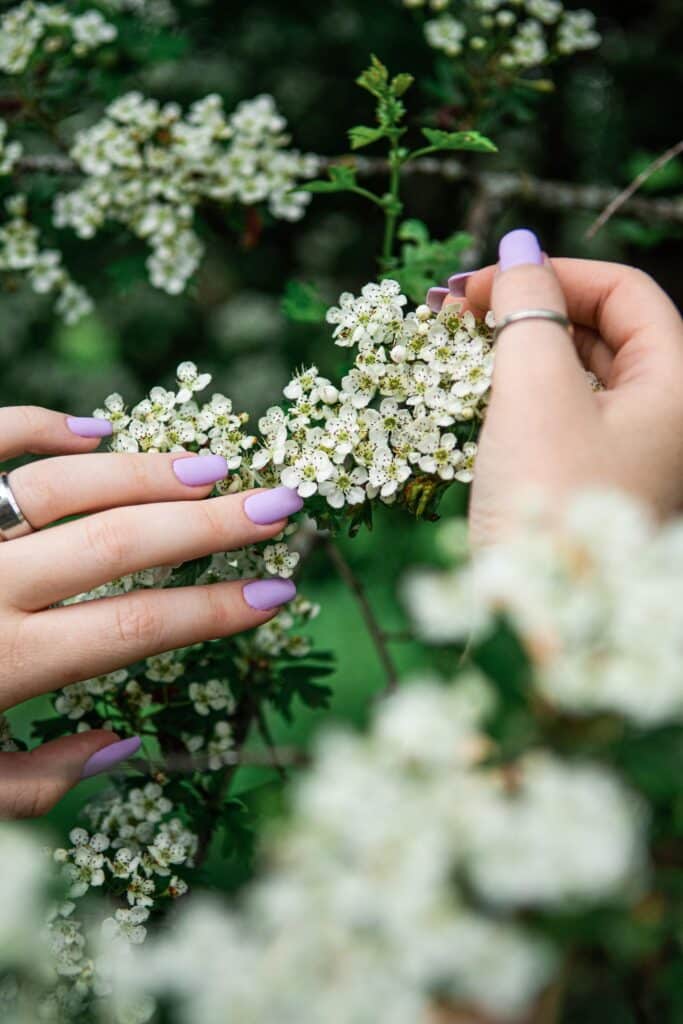 how to have a sustainable manicure and pedicure
You don't have to give up on painting your nails entirely. Creating a more sustainable at home manicure and pedicure system is the most sustainable option. You can also bring your own tools and polish with you to nail salons and ask them to use those.
nail file
Nail files are typically made from sandpaper, cardboard and glue. While they certainly can last a while, they'll eventually need to be tossed out because they can't be properly sanitized. Instead, choose an eco friendly nail file made from stone, glass or metal. These can be easily sanitized and reused for years to come, making them zero waste.
nail polish remover
Instead of acetone-based nail polishes, opt for an eco friendly nail polish remover. Try Rooted Woman's organic soy nail polish remover instead: It's made with botanically derived ingredients and comes in a glass jar with a dropper. The dropper is also glass and allows for more precise application and less waste.
reusable nail polish remover pads
Instead of disposable cotton rounds, try switching to reusable nail polish remover pads. I really like these homemade ones from Etsy – they're made using 100% bamboo felt. If you're good at sewing, you can even craft your own cotton rounds from an upcycled flannel shirt like I did.
nail polish
Try to avoid gel, acrylic and powder dipped manicures to reduce waste. If you're looking for an eco-friendly gel nail polish, Green Flash is a good option that can be removed like regular polish using an acetone-free nail polish remover. It's made from bio-sourced ingredients like potato, sugar cane and cassava. Also, you could try to out any of the vegan and ecofriendly nail polish nail polish brands listed below.
cuticle oil
You can make your own cuticle oil using 1 tablespoon of sweet almond oil, a few drops of vitamin E oil and 4 drops of your favorite essential oil (optional). Just combine it into an empty small jar or bottle you have on hand, or a tiny dish. Make sure you blend it together to combine, then apply to your nails using a clean nail polish brush or dropper.
are there environmentally friendly nail polishes?
Glad you asked – yes there are! Here are the best eco friendly nail polish brands that get the Going Zero Waste seal of approval. All of these polishes are vegan and some even offer take-back programs for recycling their bottles.
I've gone ahead and highlighted some key features of each brand, but it isn't an exhaustive list. Be sure to check out their websites for more information.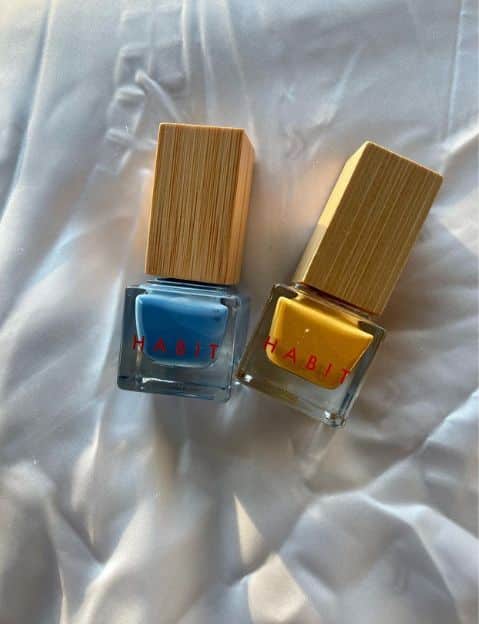 1. habit
Non-toxic, 10-free formula
Recycled plastic components
Compostable bamboo overcaps
Vegan and cruelty-free
1 Percent For the Planet member
/ SHOP HABIT /
---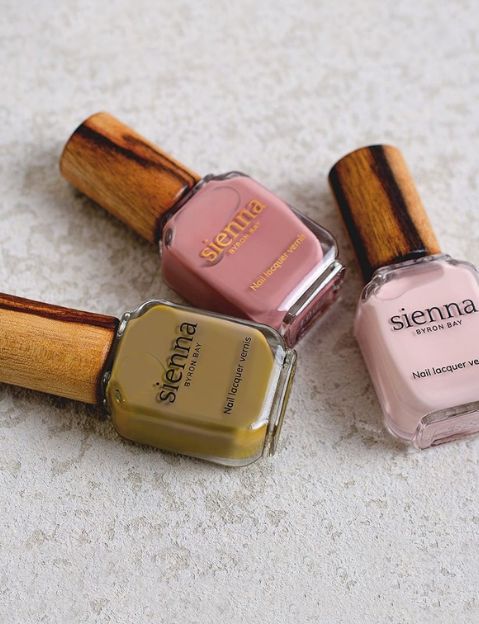 2. sienna
Plant-based formula with little to no waste by-product
Compostable timber overcaps from non-native weed wood
No nano-particles, no aluminum, no micro plastic
Vegan and cruelty-free
Recycling program for empties
/ SHOP SIENNA /
---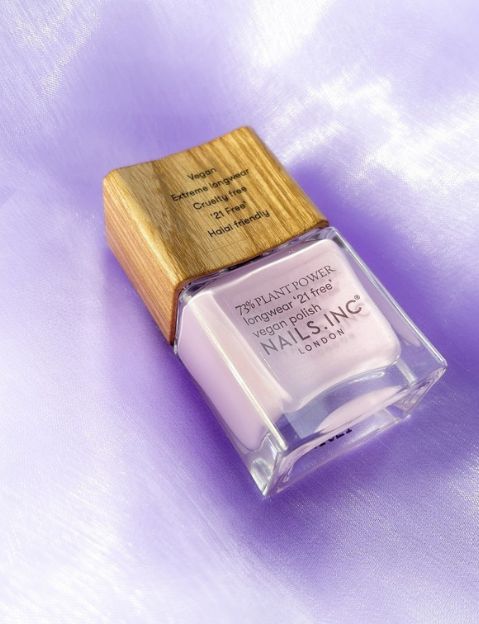 3. nails.inc
Non-toxic, 21-free formula
Plant power collection is 73% plant-based formula with wooden overcap
Vegan and cruelty-free
UK based
/ SHOP NAILS.INC /
---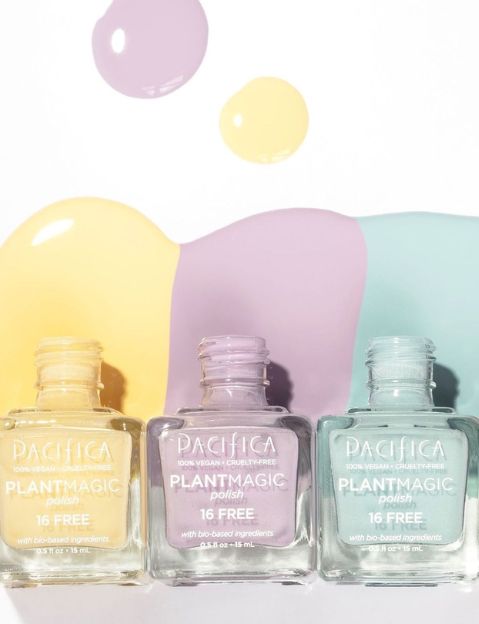 4. pacifica
Non-toxic, 16-free formula
Bio sourced ingredients
Vegan and cruelty-free
Partner with the ACLU and the Gentle Barn
/ SHOP PACIFICA /
---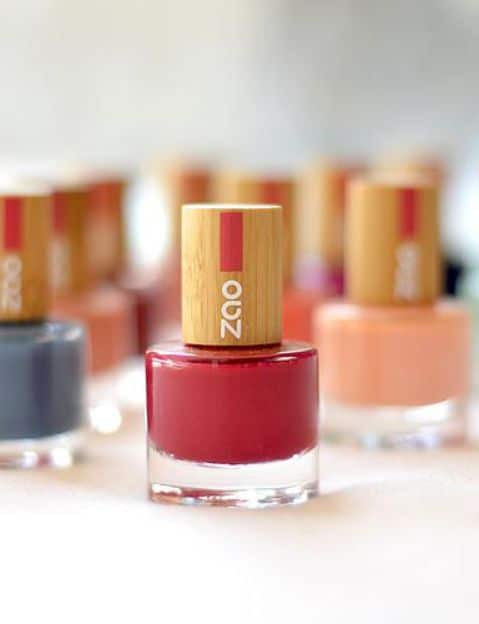 5. zao
Non-toxic, 10-free formula
74% to 84% ingredients from natural origin
Bamboo overcap
Vegan and cruelty-free
Made in France
/ SHOP ZAO /
---
---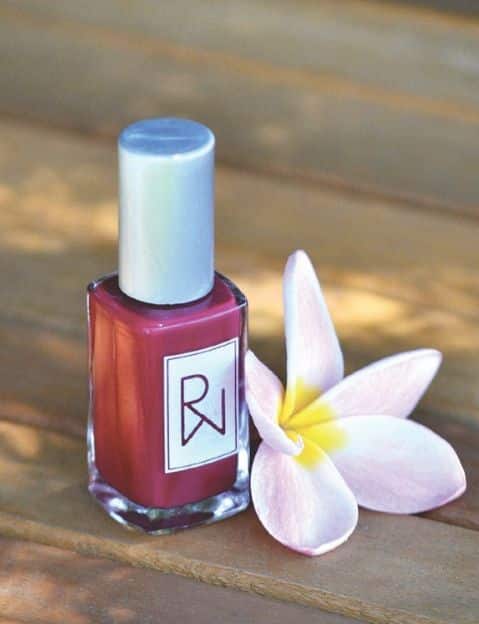 7. rooted woman
Non-toxic, 10-free formula
Gluten-free
Vegan and cruelty-free
Black owned, woman owned brand
Handmade in the USA
Small batch production
---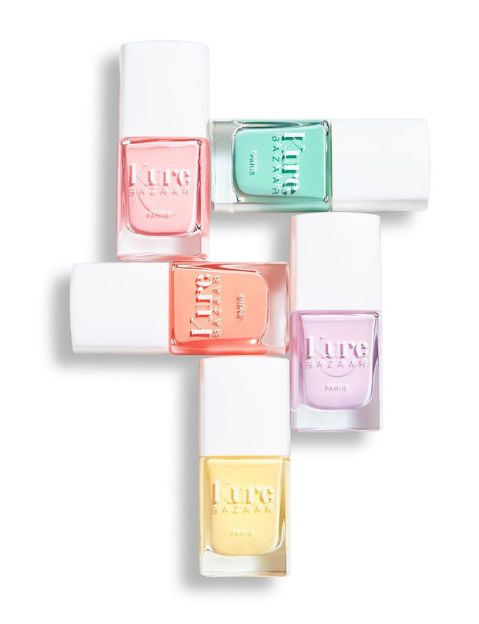 8. kure bazaar
Non-toxic, 10-free formula
Made of 85% natural ingredients
Vegan and cruelty-free
Made in France
/ SHOP KURE BAZAAR /
---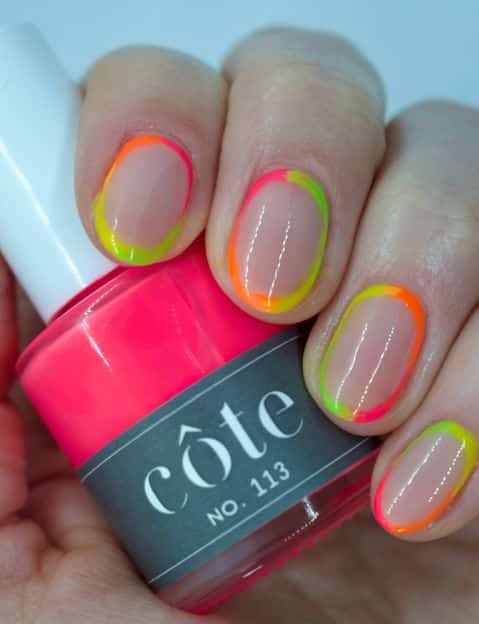 ---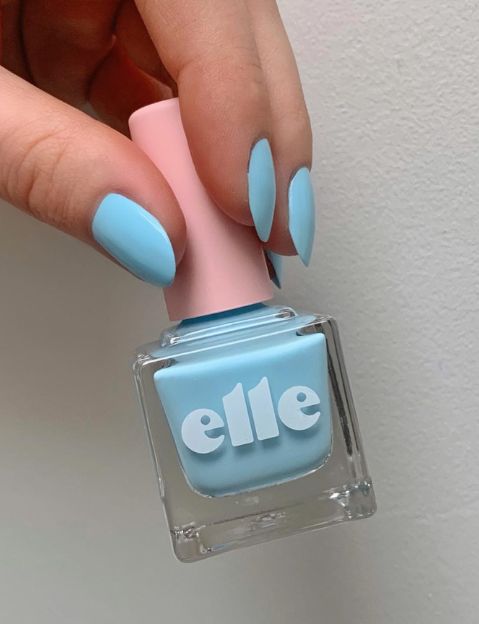 10. elle
Non-toxic, 15-free formula
Handcrafted in small batches
Vegan and cruelty-free
Recyclable and 100% post-consumer waste packaging
Recycling program for empties
/ SHOP ELLE /
So, which of these ecofriendly nail polish brands would you try? Let me know in the comments!