10 Simmer Pot Recipes for a Beautiful Smelling Home
December 23, 2022 | Kathryn Kellogg
Last Updated on January 14, 2023
Simmer pot recipes are all the rage lately and I've noticed them continuously popping up a lot on my Instagram feed.
A simmer pot is essentially a homemade air freshener, or candle replacement, made from boiling fragrant ingredients in water. It's also a great way to use up food scraps, as many simmer pot recipes can be made using odds and ends of things.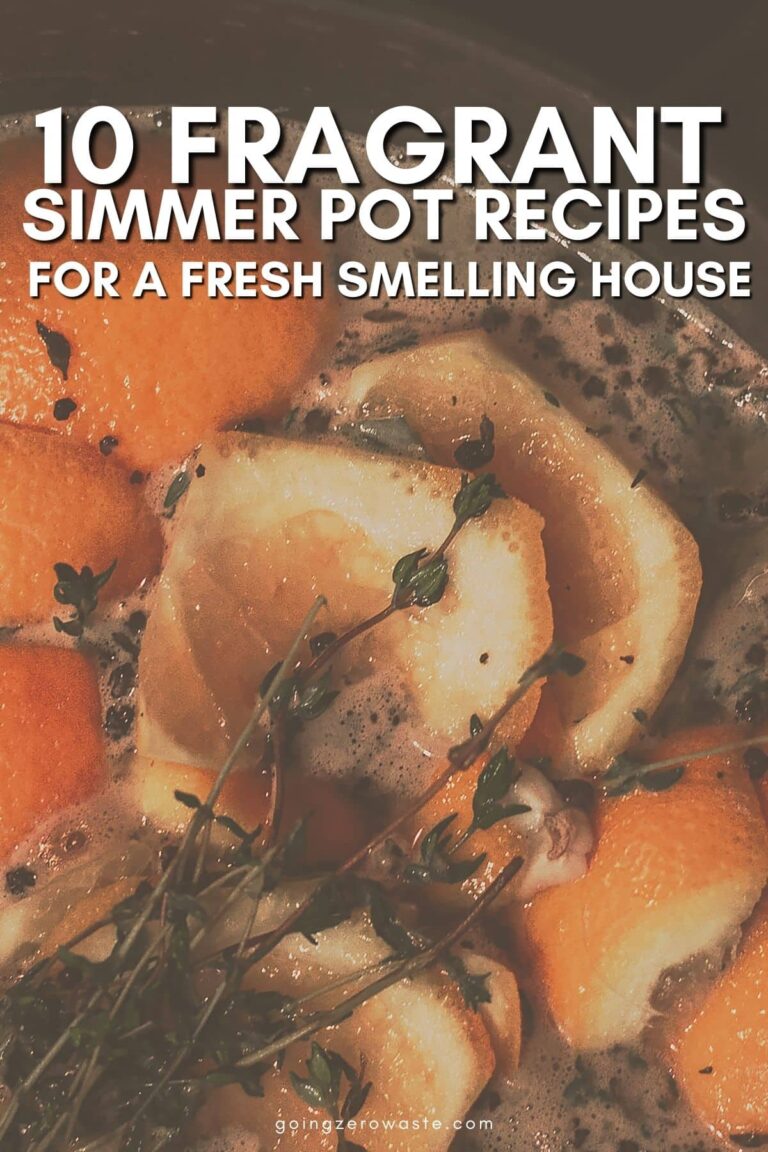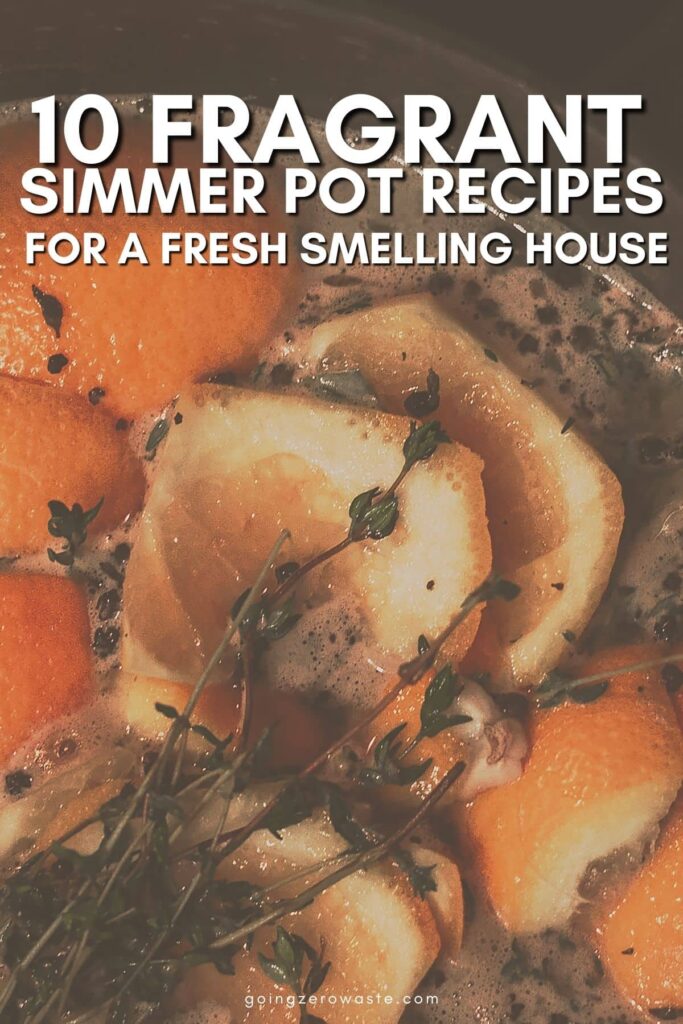 While simmer pots are especially popular in the winter months, you can use them in any season to make your home smell amazing. The best part is how budget-friendly they are: It's cost effective because you can use whatever you have on hand.
Here are 10 simmer pot recipes to have a beautiful smelling home any time of year.
what can you put in a simmer pot?
You can put a number of things in a simmer pot to make them smell amazing: Herbs, flowers, spices, and fruit are popular choices. Typically, anything fragrant or in a scent you like can work well in a simmer pot.
The most popular additions to simmer pots are woodsy things, like pine; citrus; cranberries; and whole spices.
what do you do with a simmer pot after cooking?
When you've finished using your simmer pot, drain the remaining water using a strainer or cheesecloth. Store the ingredients in an air-tight container like an upcycled jar. You can reuse the ingredients the next day, then compost them once they've run their course.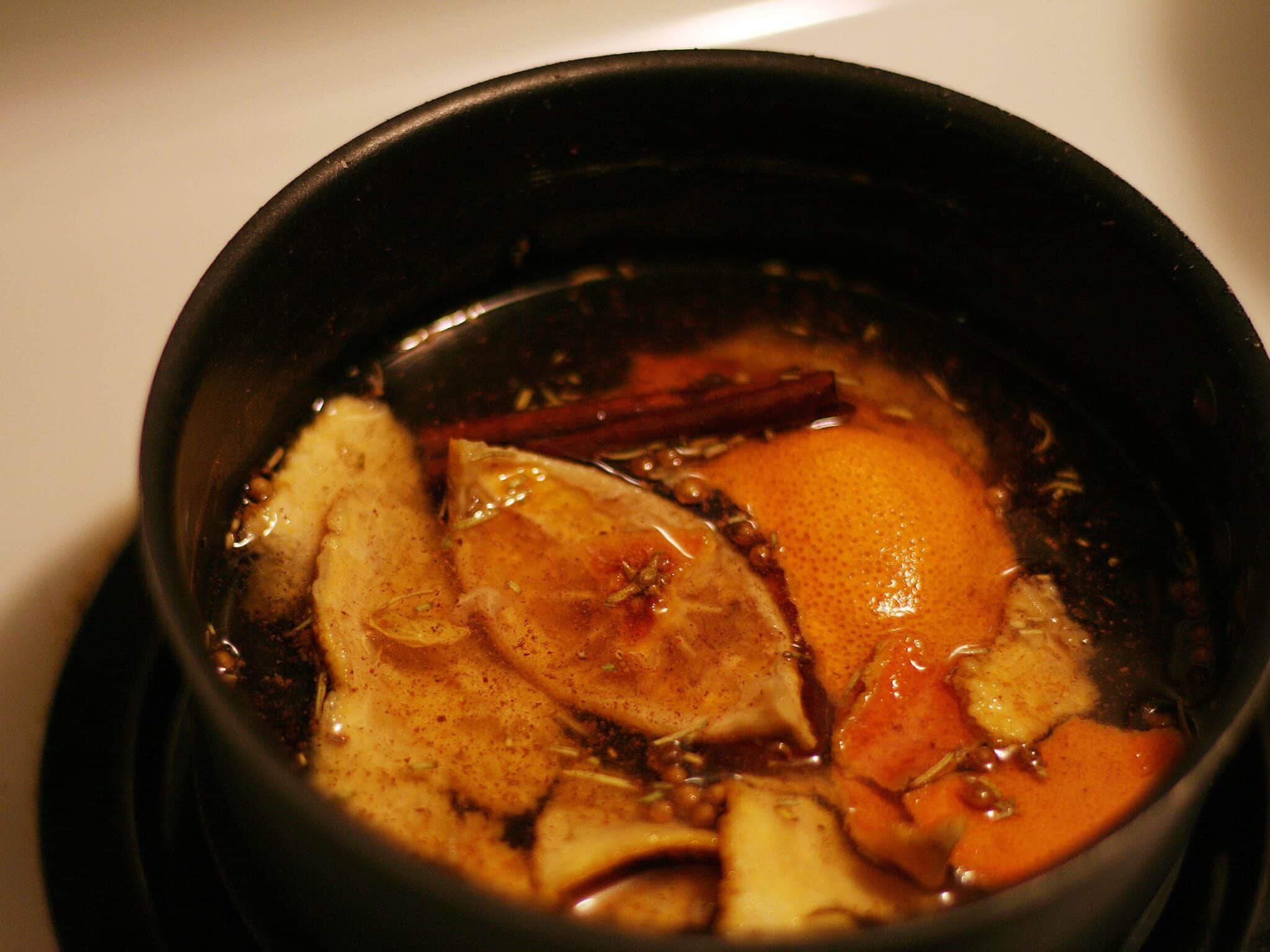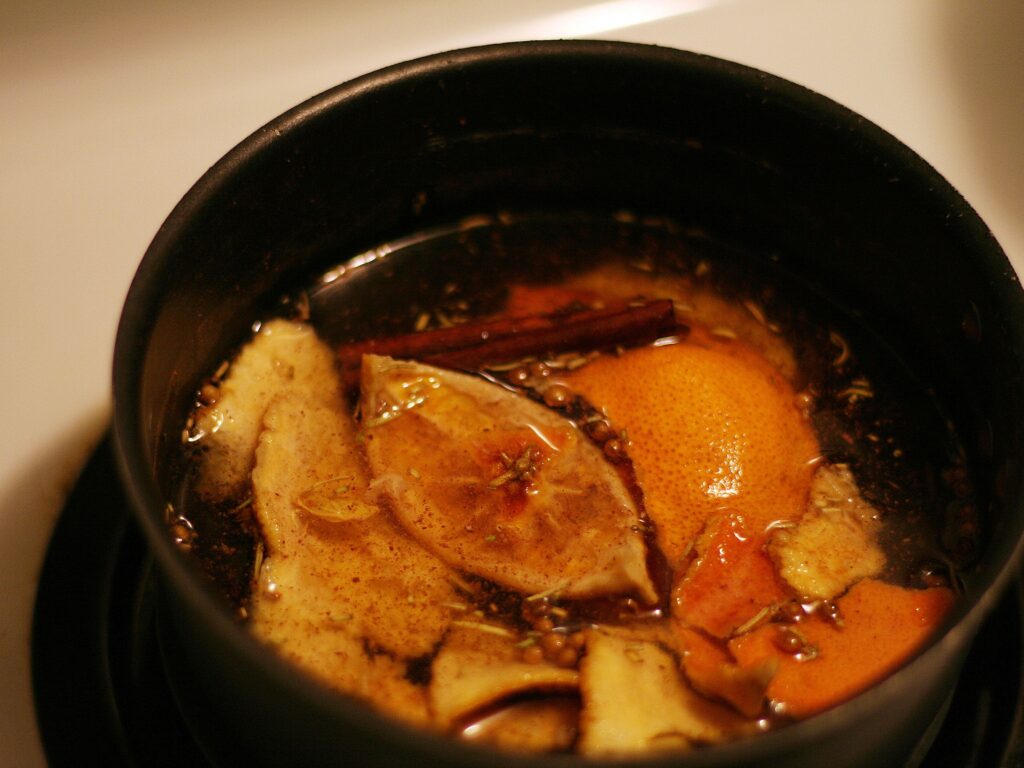 what is the point of a holiday simmer pot?
A holiday simmer pot can fill your home with festive aromas that create cheer. It's a great alternative to petroleum-based candles that contribute to indoor air pollution.
RELATED: 15 Eco-Friendly, Organic, and Non-Toxic Candles
A holiday simmer pot typically contains ingredients you can find in-season during the winter months, like oranges, cranberries, and pine. Or, it can bring about nostalgic holiday memories, like baking cookies or making gingerbread houses. It all depends on the scents and ingredients you choose to use.
how to make a simmer pot?
It's very easy to make a simmer pot. Here's how to make a simmer pot using a saucepan over the stove, and a crock-pot.
for over the stove:
Simply fill a small saucepan with water and bring it to a boil.
Then add ingredients from your favorite recipe (like the ones I list below) and continue to boil for a few minutes.
Next, turn down the heat to a simmer.
Add water as needed, usually every 30 minutes or so.
for a crock-pot (or other slow-cooker):
Just fill the pot most of the way with water, add your ingredients, put on the lid, and turn it on high.
When there's steam rolling off the lid, take the lid off and set it to low.
Add water as needed to keep it at least halfway full.
Simmer pots can be used for two to three hours, or longer, if they're checked and monitored consistently. And you can reuse the same materials 2-3 times!
gzw approved simmer pots:
Here are the best simmer pot recipes for every season, occasion and vibe. Whatever you're looking for, there's something for everyone.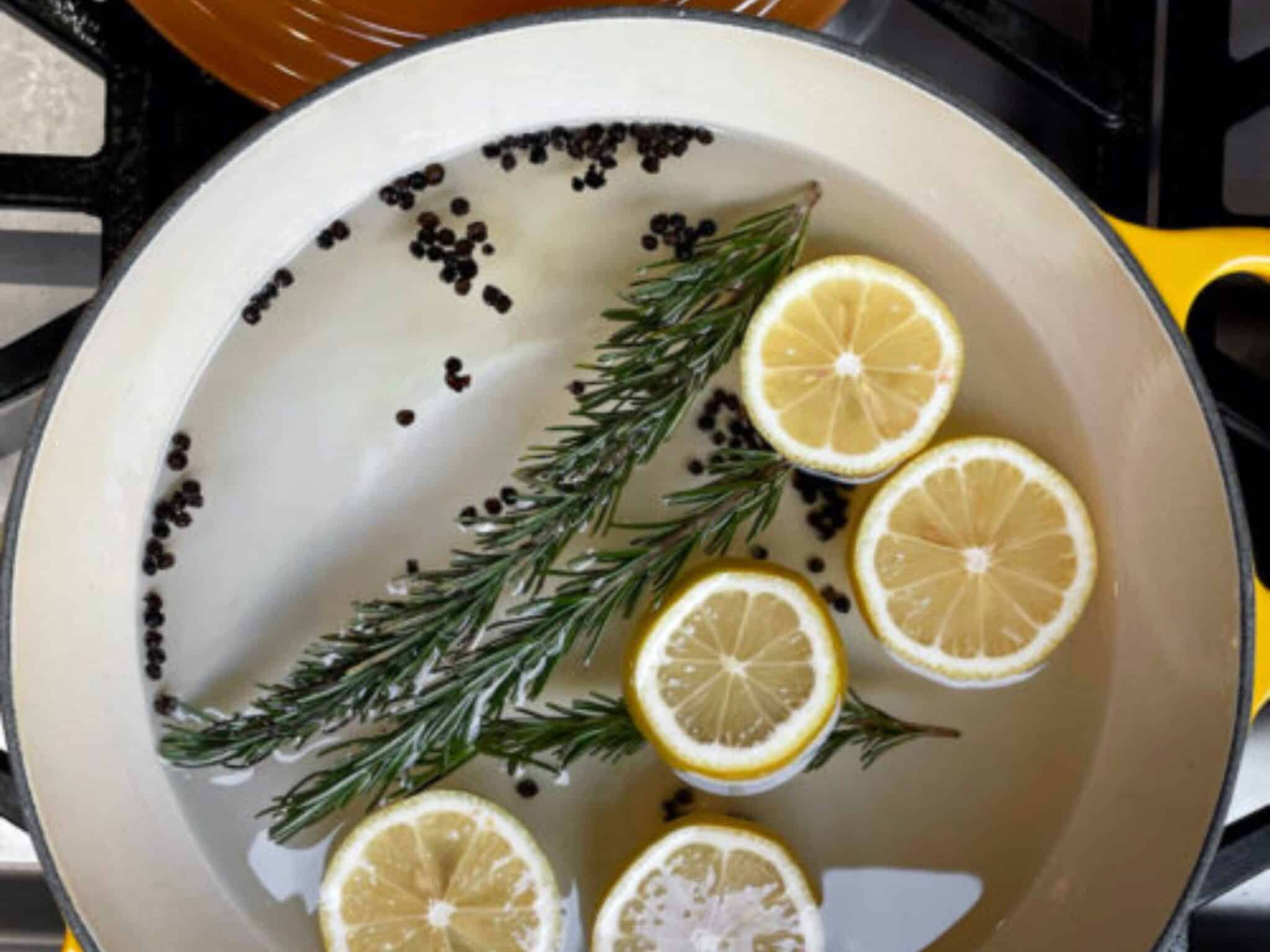 1. williams sonoma
Perhaps the most famous simmer pot of all, the Williams Sonoma is a timeless classic. It goes well with just about any season and any occasion.
Ingredients:
3 sprigs rosemary
1 lemon, cut into slices
1 tsp. vanilla extract
1 tsp. black peppercorns
8 cups (64 fl. oz/1.9 l) water
2. holiday simmer pot
This simmer pot will immediately make you think of cold snowy days and warm cozy nights by a fireplace. Perfect for a festive Christmas get-together with friends, or just for making your home that much more cozy in the winter time.
Ingredients:
2 oranges
1 cinnamon sticks
1 tsp of whole cloves
Christmas tree sprig
Cranberries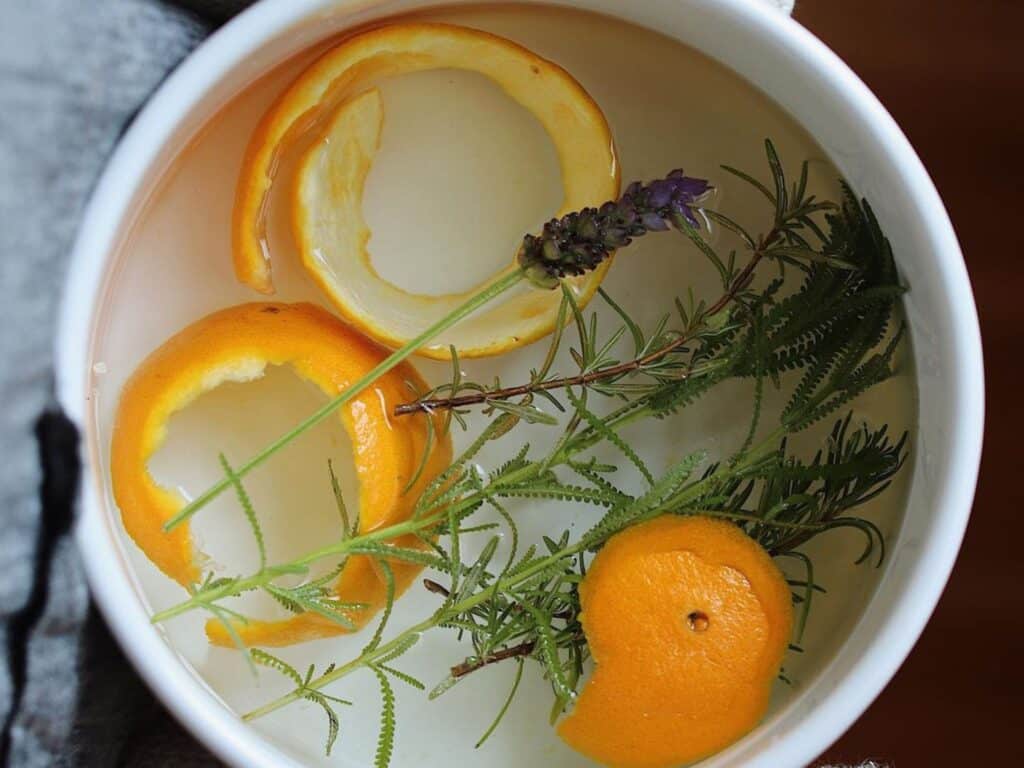 3. food waste simmer pot
Use up those various odds and ends and give them a second life in this amazing smelling simmer pot that combats food waste. Compost the remains!
Ingredients:
Orange peels
Leftover pine
Apple peels + cores
Strawberry tops
Herb stems or ends
4. gingerbread simmer pot
The perfect simmer pot for recreating those warm memories making gingerbread cookies in the kitchen with mom or grandma.
Ingredients:
1-2 tsp of whole cloves
1-2 tsp of whole allspice
3-5 cinnamon sticks
5 ginger slices
1 tsp of vanilla extract
5. spring simmer pot
Strawberries are the first berries to hit the market stands in the spring – why not celebrate their arrival with this simple simmer pot?
Ingredients:
1 cup of halved strawberries
A handful of mint leaves
6. summer simmer pot
For those tropical smells that immediately remind you of a summer getaway, try simmering some of these exotic foods. You can use the peels (or in coconut's case, the shreds) of these fruits to create a wonderful aroma.
1 pineapple skin
1/2 cup of shredded coconut
1 mango peel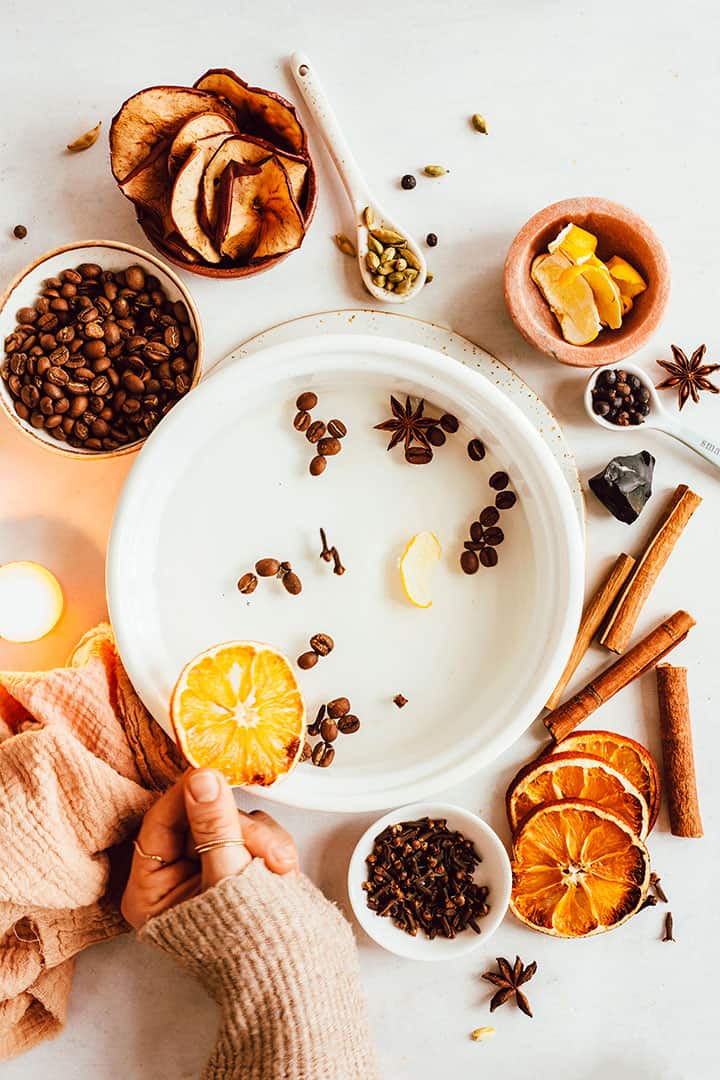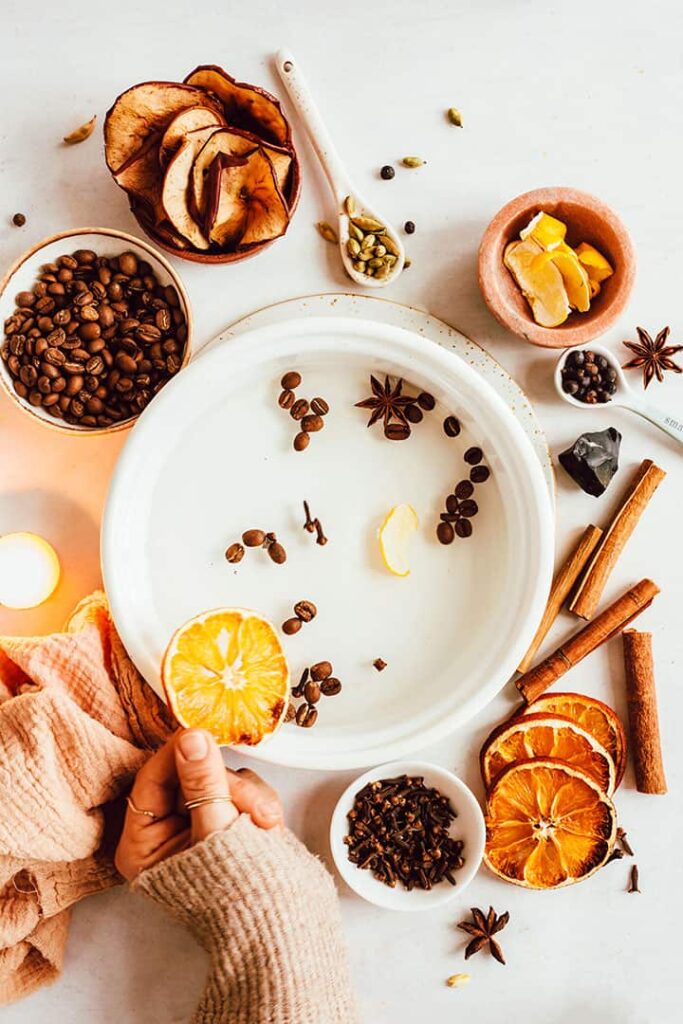 7. coffee simmer pot
Who doesn't love the smell of coffee? This simmer pot will make you feel like you just walked into a coffee shop.
1/4 cup whole roasted coffee beans
3-4 cinnamon sticks
1 tablespoon whole cardamom pods
4 star anise
1 teaspoon allspice berries
8. floral simmer pot
Who doesn't love the smell of fresh cut flowers? Recreate that throughout your home with this lovely simmer pot – perfect for summer, spring or Valentine's Day!
Ingredients:
1 tbsp dried lavender
1 lemon, thinly sliced
1 sprig of fresh mint
Roses or rose buds, stems removed
1 cup rose petals
1/2 cup fresh chamomile flowers
9. fall simmer pot
Want to make your home smell like you just went apple picking? Here's the perfect cozy fall simmer pot recipe to make.
Ingredients:
1 apple
1 bay leaf
2 cinnamon sticks
1/2 tbsp. whole cloves
1 tsp of vanilla
1 whole nutmeg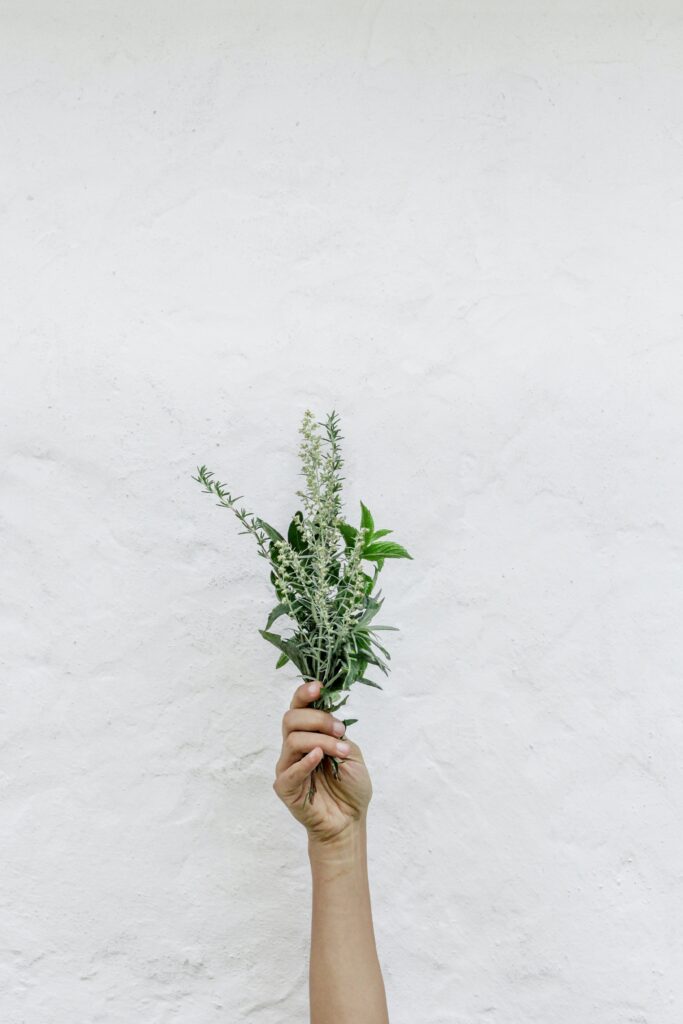 10. herbal simmer pot
Love the smell of herbs? You'll love this herbal simmer pot that's perfect for the spring or summer.
Ingredients:
4 basil leaves
2 sprigs of rosemary
2 sprigs of parsley leaves
4 mint leaves
What do you think of these simmer pot recipes? Let me know which you're most excited to try in the comments below!