12 Best Eco Friendly Water Bottles for Ultimate Hydration
September 22, 2021 | Ariana
Last Updated on August 29, 2023
Looking for the best eco friendly water bottles? Don't blame you. Plastic water bottle waste is high. Globally, more than a million plastic bottles are sold every minute. In the U.S., only 30% of these bottles are recycled.
Thankfully, there are many eco friendly water bottles on the market so you don't have to contribute to single-use alternatives. This list includes recycled water bottles made of steel, plastic free water bottles made of glass, and sturdy BPA-free plastic bottles that filter water for you. Not every product on this list is a non plastic water bottle, but long-term use is the name of the game — especially if the plastic is recyclable!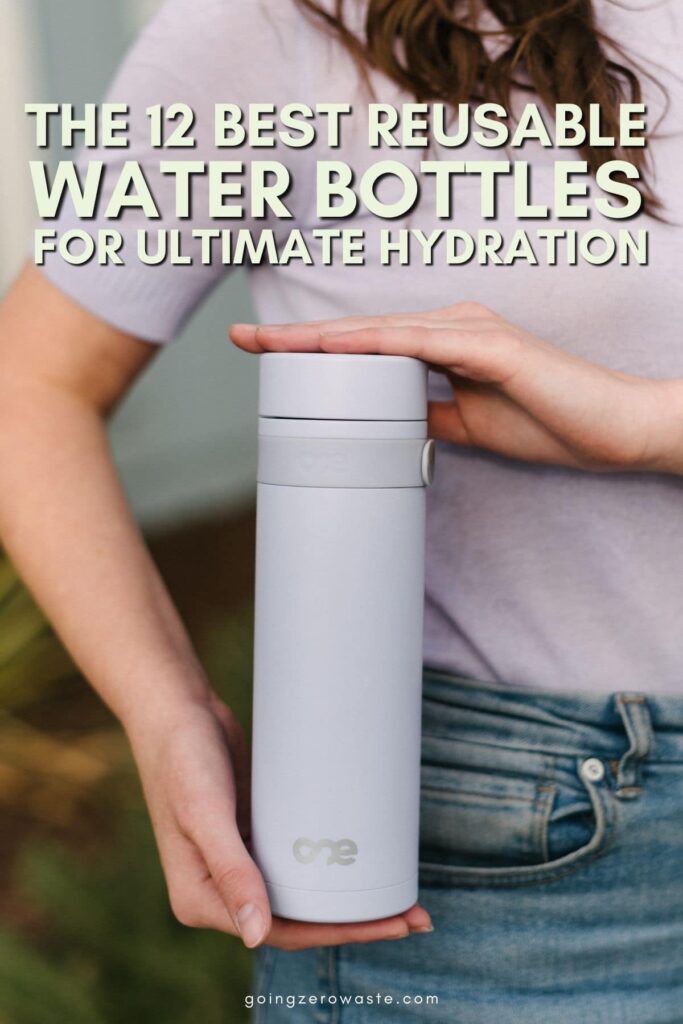 eco friendly water bottles
It can be hard to figure out what is the best non plastic water bottle for you. Or maybe a sturdy, reusable plastic bottle is the right choice after all?
Which of these bottles is the best — glass, stainless steel, or plastic? If you're feeling stumped, this blog post is here to help you find the BEST eco friendly water bottle for you!
For me, the best reusable water bottle is one that's going to last a long time so I don't have to waste resources by replacing it with a new one. Investing in high quality items means less will go to waste and doesn't support mass consumerism.
So, every reusable bottle on this list, whether it's the best non plastic water bottle on the market or a company that makes recycled water bottles made of plastic, is built to last. These containers will keep you hydrated without harming the earth.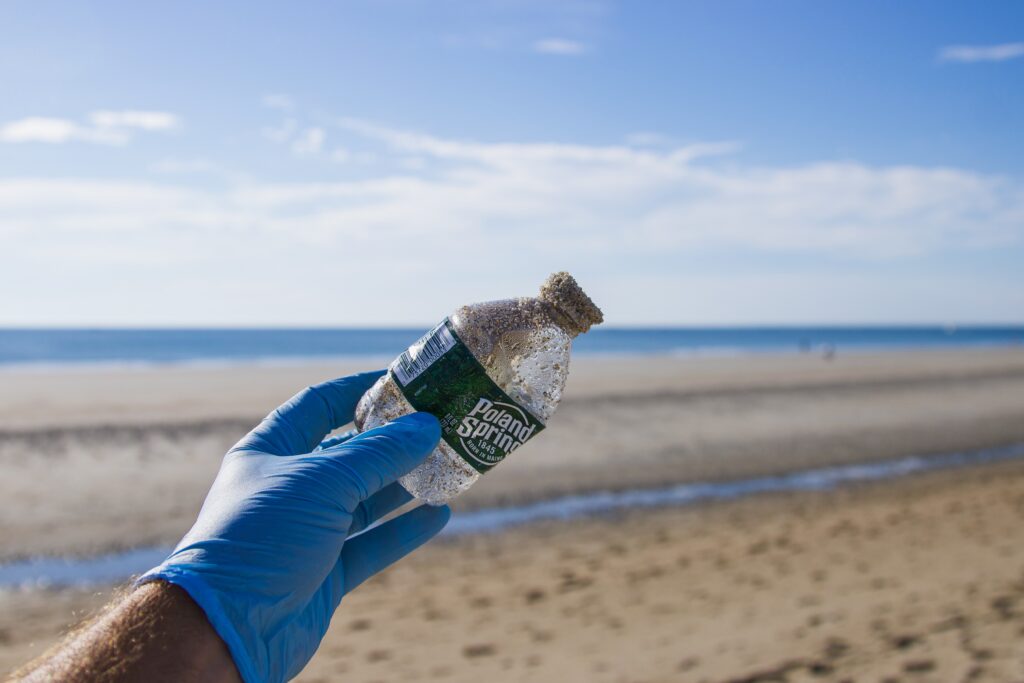 why are reusable and plastic free water bottles so important?
Plastic bottles, or more specifically single-use bottles, are a problem because we're overconsuming them. According to The Guardian, 20,000 plastic water bottles are sold every second globally. This makes recycled or non plastic water bottles more important than ever.
the problems with bottled water at beginning of the lifecycle:
These mass produced bottles are commonly made from polyethylene terephthalate (PET), which is non-renewable and petroleum based. Yep, plastic is a product of the oil industry. Be sure to check out my full blog post on how plastic is made.
the problems with bottled water mid-lifecycle:
And this doesn't even begin to cover water usage. Did you know it takes 3 liters of water to make 1 liter of bottled water? That's all the water used in the creation of the product!
I could write another blog post going into detail about how bottled water companies steal water from communities, pay next to nothing for it, and make billions. Nestle is one of the biggest offenders and you can read more here.
the problems with bottled water end-of-lifecycle:
Plastic's carbon footprint is high from beginning to end. In 2015, the emissions from plastic were nearly equal to 1.8 billion metric tons of CO2.
If these bottles get into our waterways, they break up — not down. Then, it becomes a whole separate issue: microplastics! Be sure to read up on what they are and what we can do about them.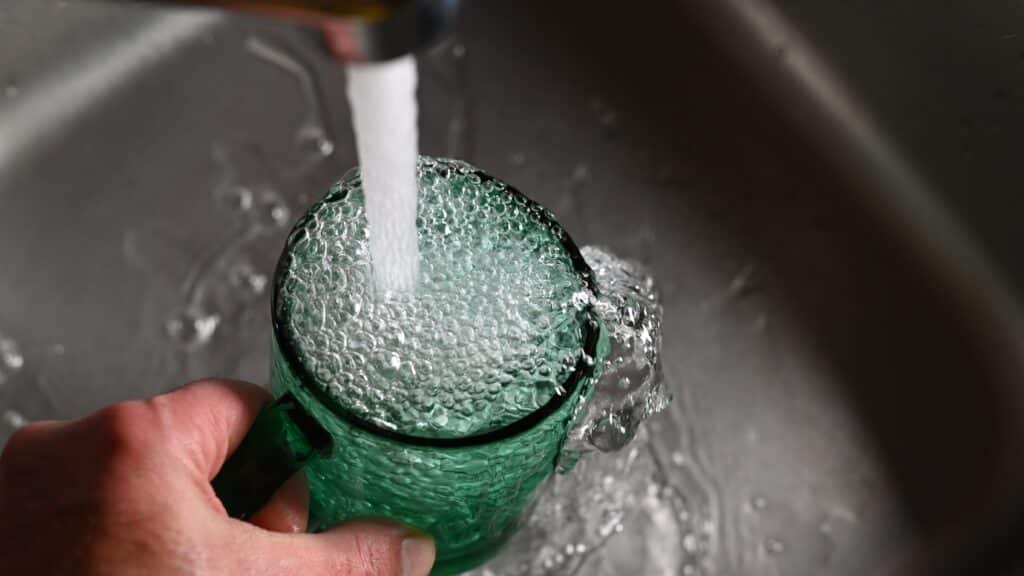 fill those recycled water bottles up – it's tap water anyway
Single-use, bottled water isn't any safer or of higher quality than your sink can offer. Consumers are surprised to learn that an estimated 25 percent or more of bottled water is just tap water. Plus, tap water is monitored constantly, whereas bottled water goes through no kind of regulation or monitoring. This means tap water is actually generally a better option than single use bottles.
All tap suppliers must provide annual quality reports to their customers. You can even test the water yourself using standard consumer test packages.
Obviously, in some places like Flint, Michigan, tap water is not the better option. But for the majority of the U.S., tap is the better choice.
Bottled water companies also steal from natural springs, sometimes going so far as to dry the spring up. From 2018 to 2020 alone, Nestle stole 173 million more gallons from the San Bernardo National Forest than it was permitted to do.
Also, bottled water requires up to 2,000 times the energy used to produce tap water. A typical one-liter bottle uses about two liters of water which is mixed with fossil fuels to create the plastic. For every ton of plastic that's produced, three tons of CO2 is created.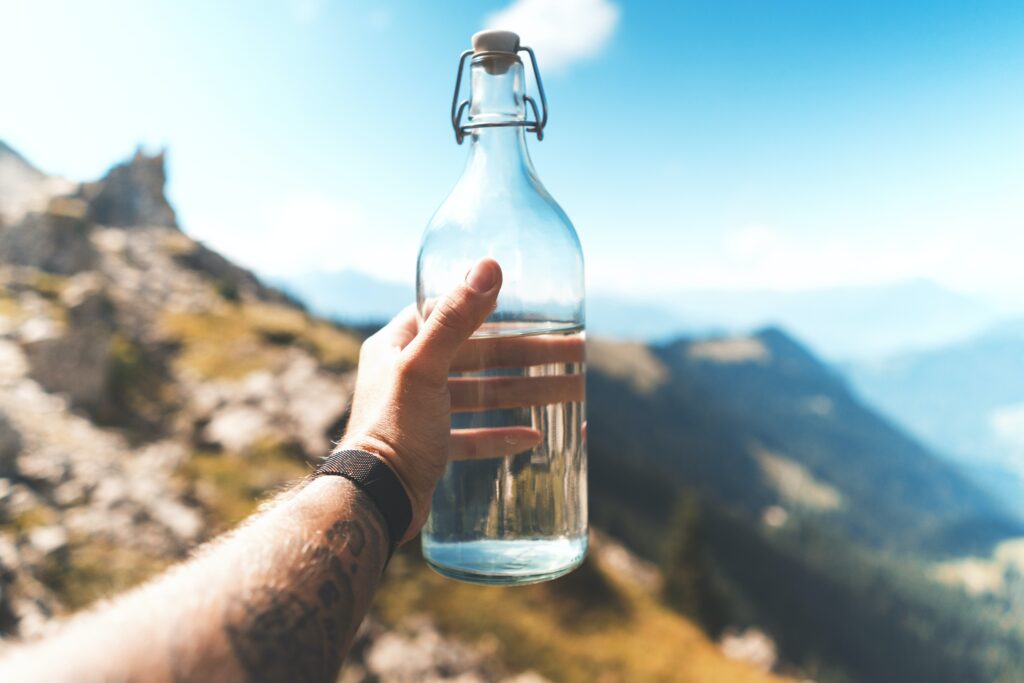 is a glass, plastic, or steel reusable water bottle better?
It depends on what you're looking for. Despite being an eco-friendly blog, I'm not only a proponent for choosing a plastic free water bottle. In fact, several of the eco friendly water bottles on this list are made of plastic due to their durability, lifespan, and recyclability.
There are the pros and cons to each material.
Stainless steel water bottles:
The most durable.
Typically the most expensive.
Recyclable.
They can also house hot liquids.
Some dent easily
Glass water bottles:
Can be infinitely recycled.
Doesn't alter the taste of what's inside.
Most fragile of the bunch.
Often come with silicone sleeves to help with grip and protection.
Reusable plastic bottles:
Affordable.
Durable, can take a beating.
Often come with loop handles, making it easy to carry them around.
Some even come with built-in filter systems.
For more context, I suggest reading my blog post Which is Better For The Environment? Glass or Plastic? The answer might surprise you – but it's certainly not as simple as it seems.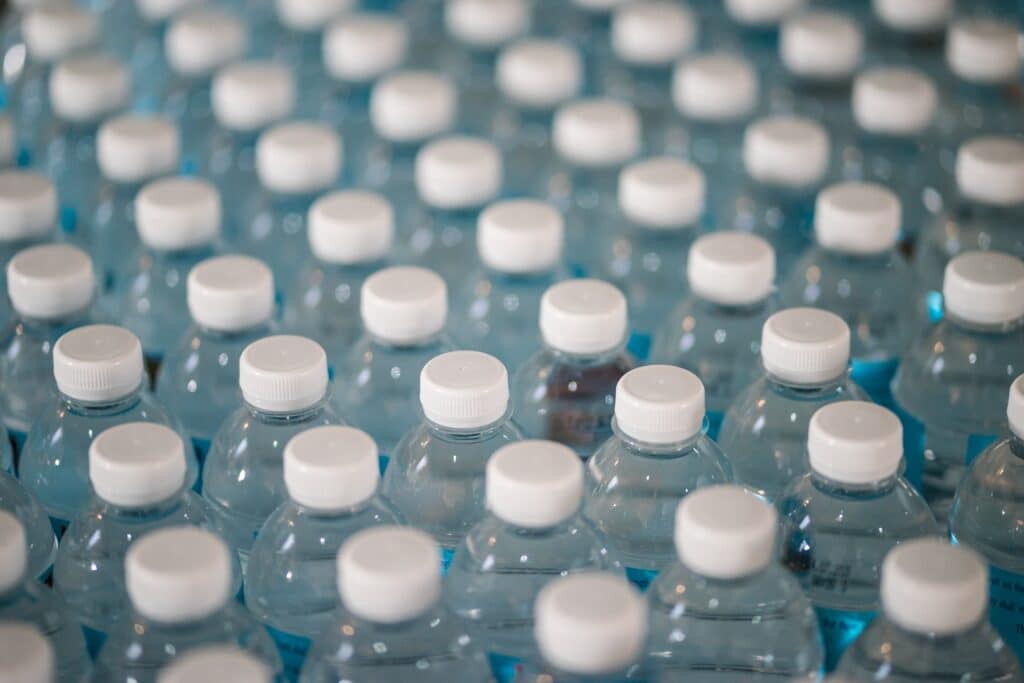 the best water bottles aren't necessarily non plastic water bottles
Reusable bottles, even if they're made of plastic, are better than single use plastic bottles for multiple reasons.
Here are some perks to owning a reusable bottle:
Saves you money
Reduces single-use plastic consumption
Can be refilled infinitely
Designed to last
Customize their appearance
Helps support clean waterways
Doesn't support the fossil fuel industry
No one will mistake your drink for theirs
I think there's a lot of misinformation out there that might convince you that drinking from a tap is unsafe and bottled water is better. Truth is, it really depends on where you live. But as a general rule, the bottled water industry markets its products as safer than tap on purpose.
Speaking of misinformation marketed by the fossil fuel industry, check out this post: Are Electric Cars Bad For The Environment?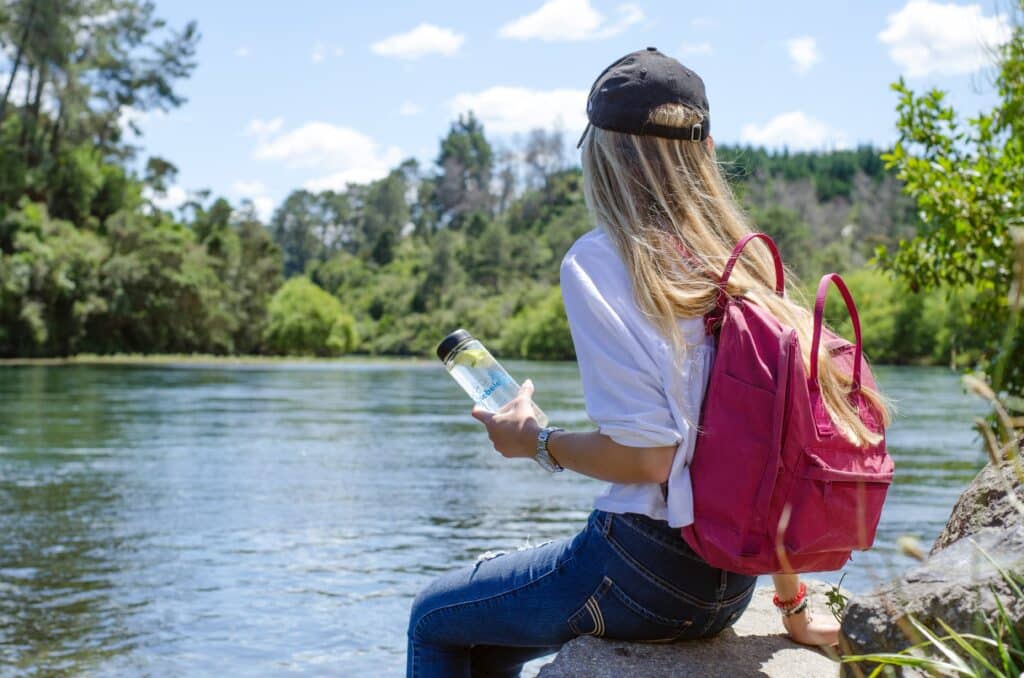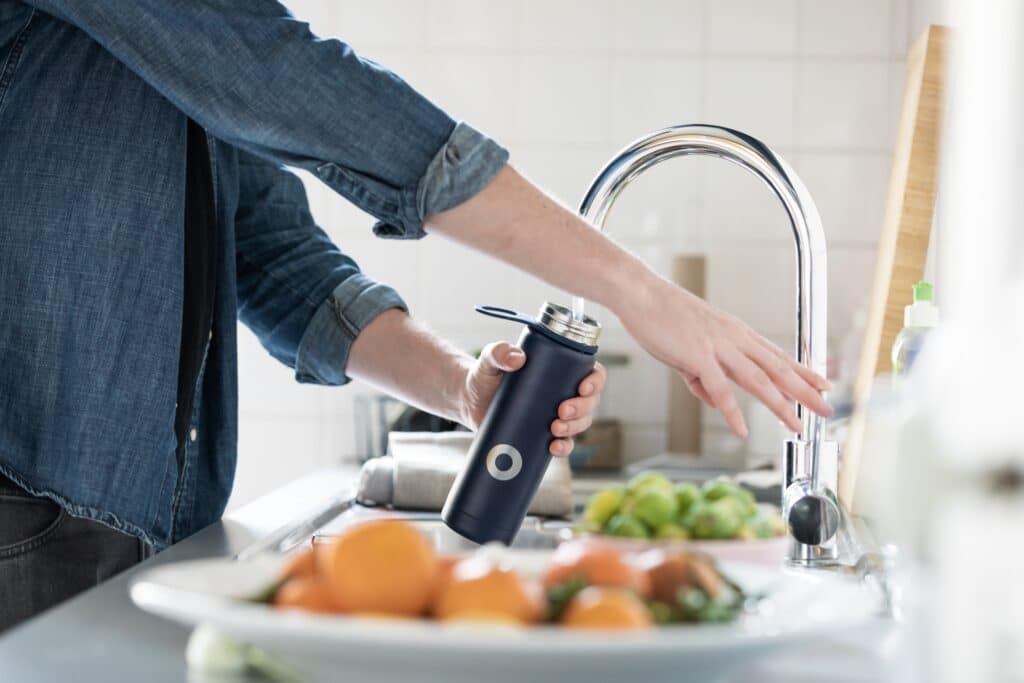 what are the best reusable water bottles?
So glad you asked. I've taken the liberty of rounding up the very best reusable water bottles on the market. I've organized them into categories based on their material: stainless steel, glass, and plastic.
Each of these bottles gets the Going Zero Waste seal of approval. Several of these brands also help clean waterways and fund clean drinking water for communities in need.
I've gone ahead and highlighted some key features of each brand, but it isn't an exhaustive list. Be sure to check out their websites for more information.
best non plastic water bottles made from steel:
These reusable water bottles are steel, which is infinitely recyclable and extremely durable. Steel water bottles can also be used to hold both cold and hot drinks.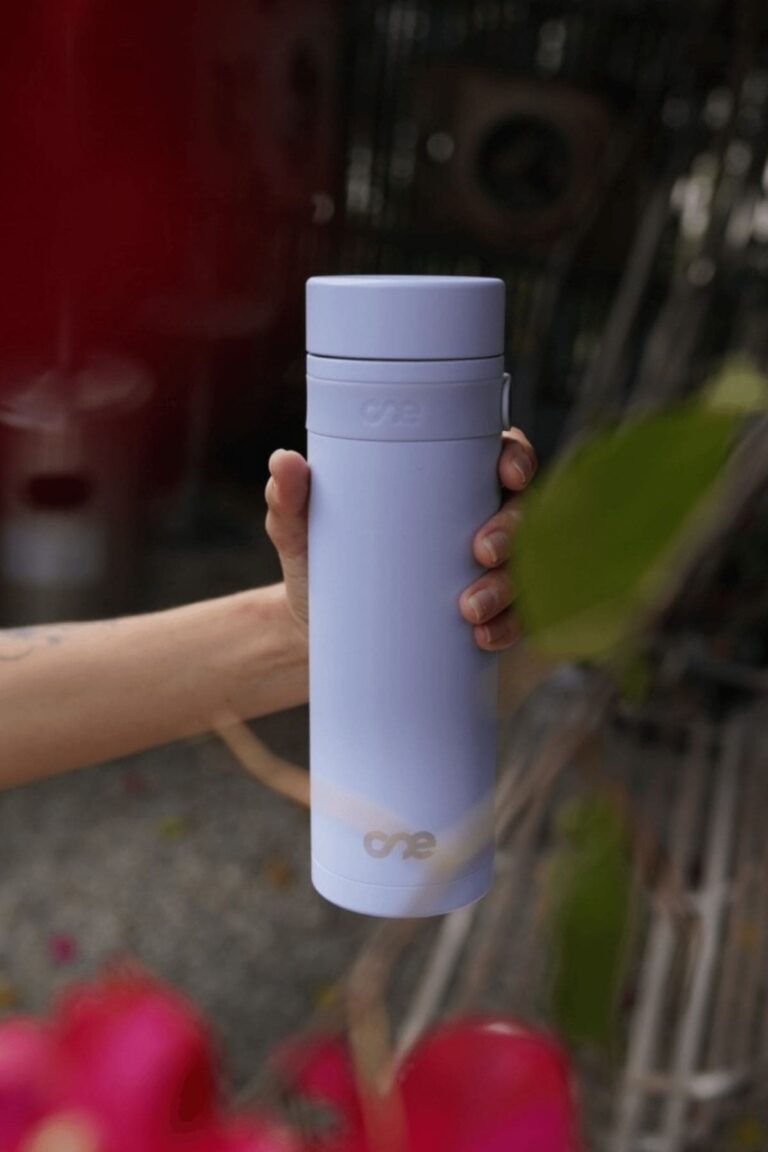 1. one movement bottle
Recycled stainless steel
Each purchase removes 2000 plastic bottles from waterways
Recycles the plastic bottles into eco bricks
Eco bricks build recycled homes for homeless waste pickers
---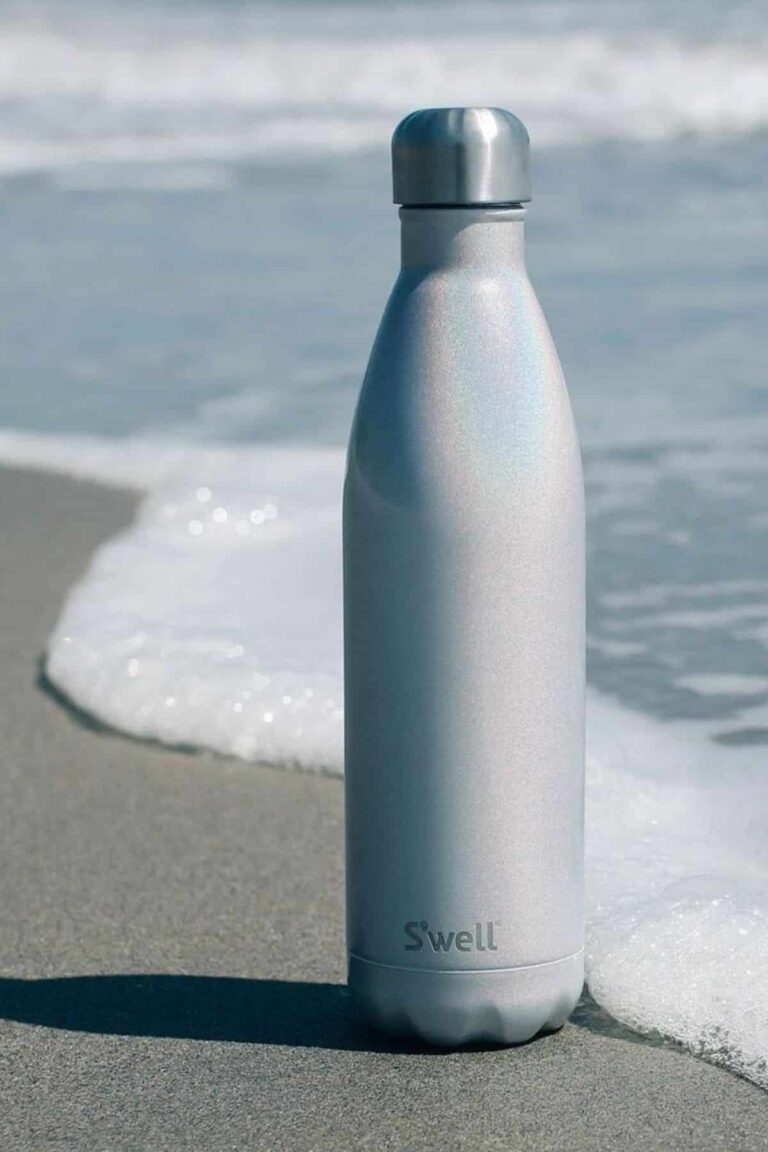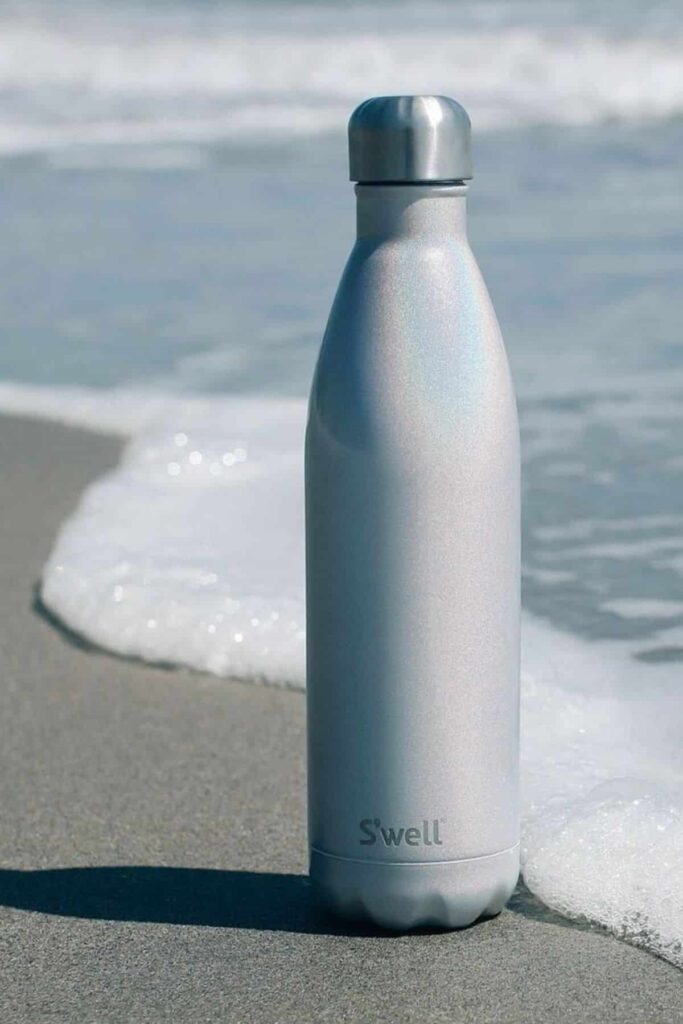 2. s'well
Triple layered vacuum-insulated, 18/8 stainless steel
Hand wash only
BPA/BPS-free
Condensation free exterior
Certified B Corp
partner of UNICEF, committing $1.4million since 2017 to provide clean and safe water
/ SHOP S'WELL / 
---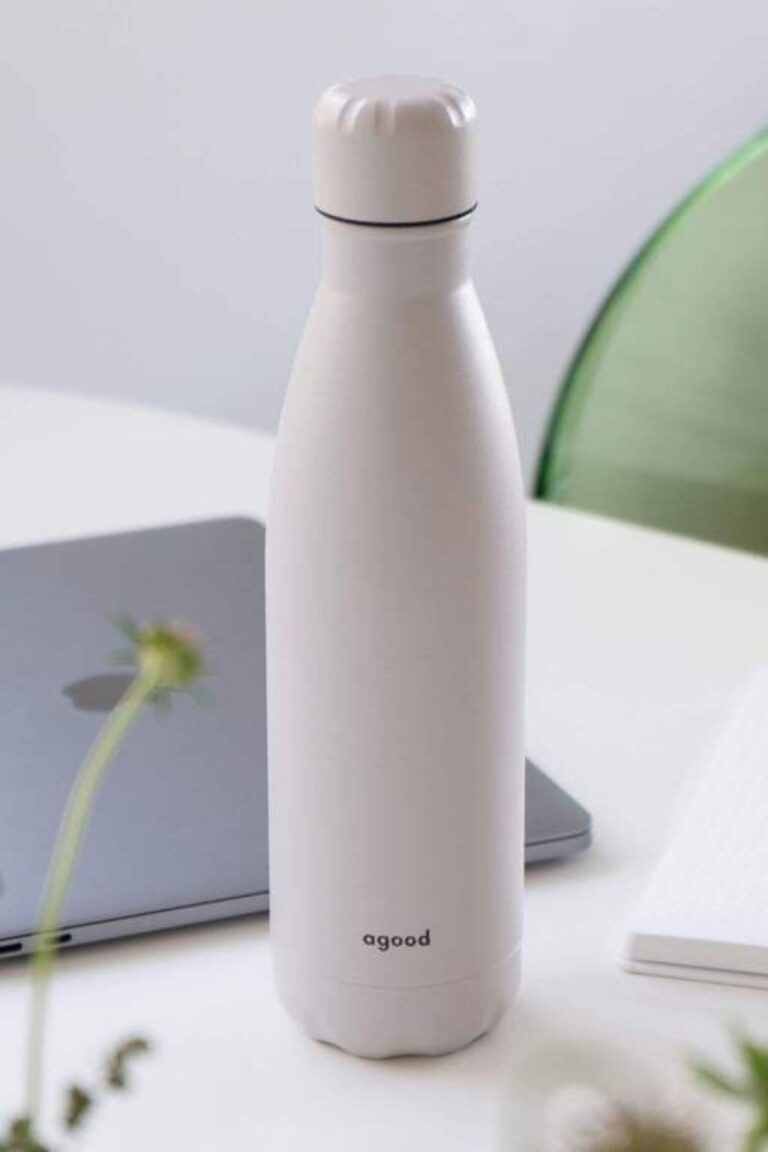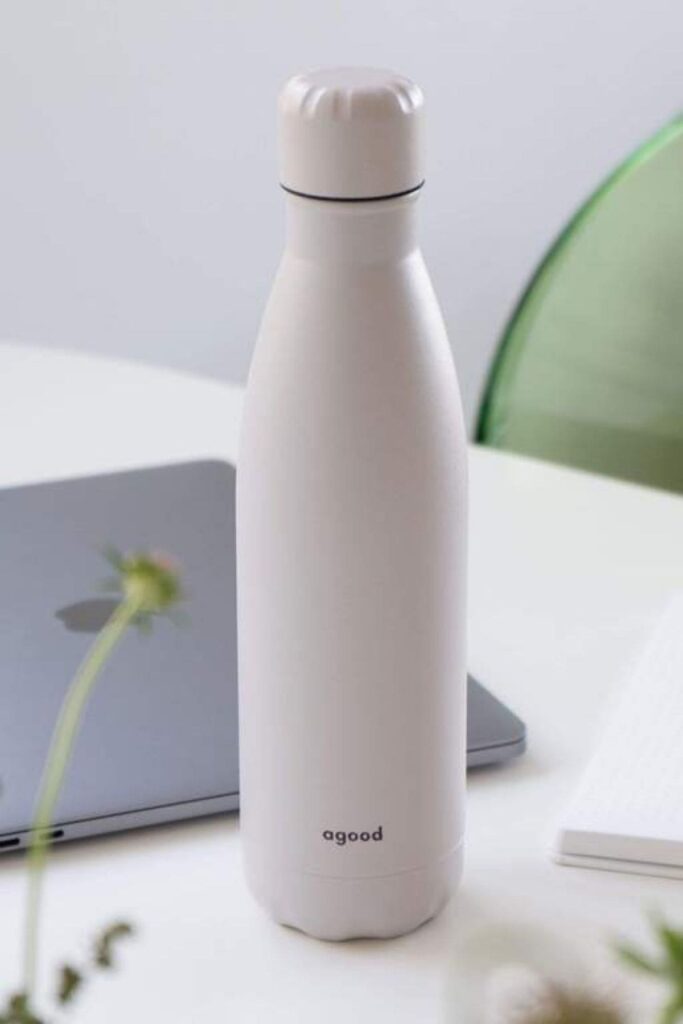 3. a good company
Double-walled vacuum insulation, 304 stainless steel
Dishwasher safe
BPA-free
Comes in an organic cotton storage bag
Every purchase plants trees in Africa to mitigate carbon emissions from production
---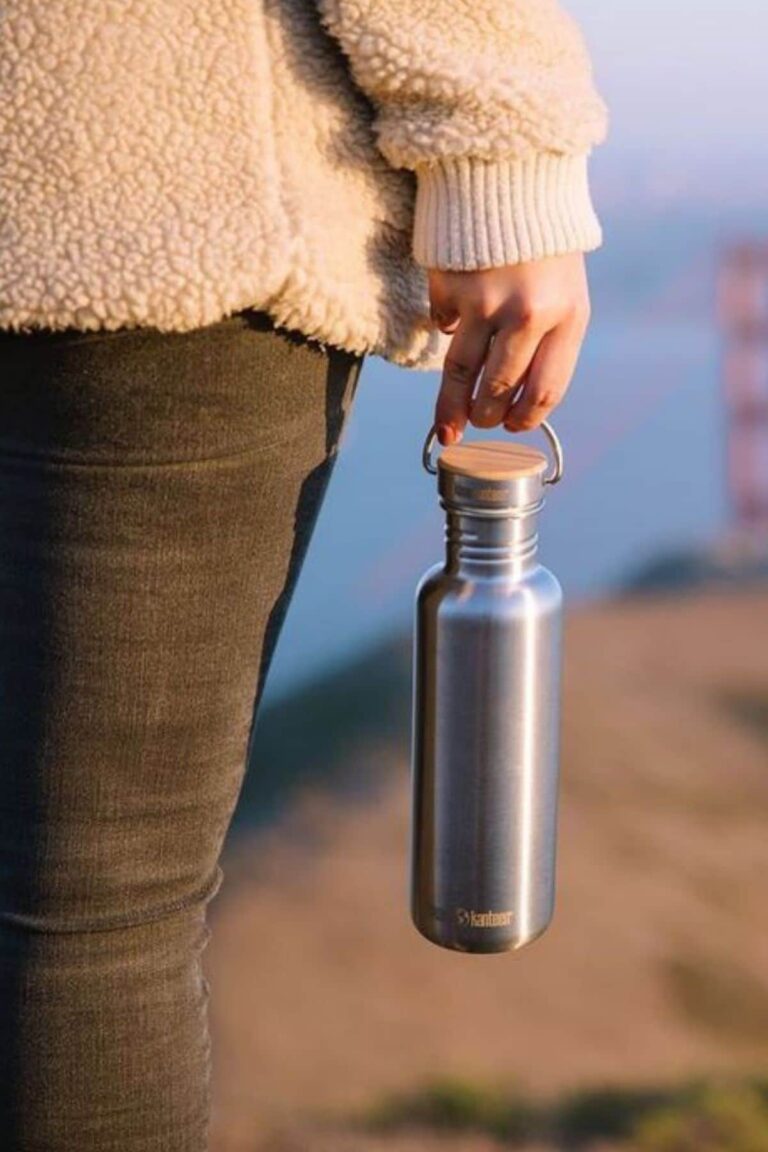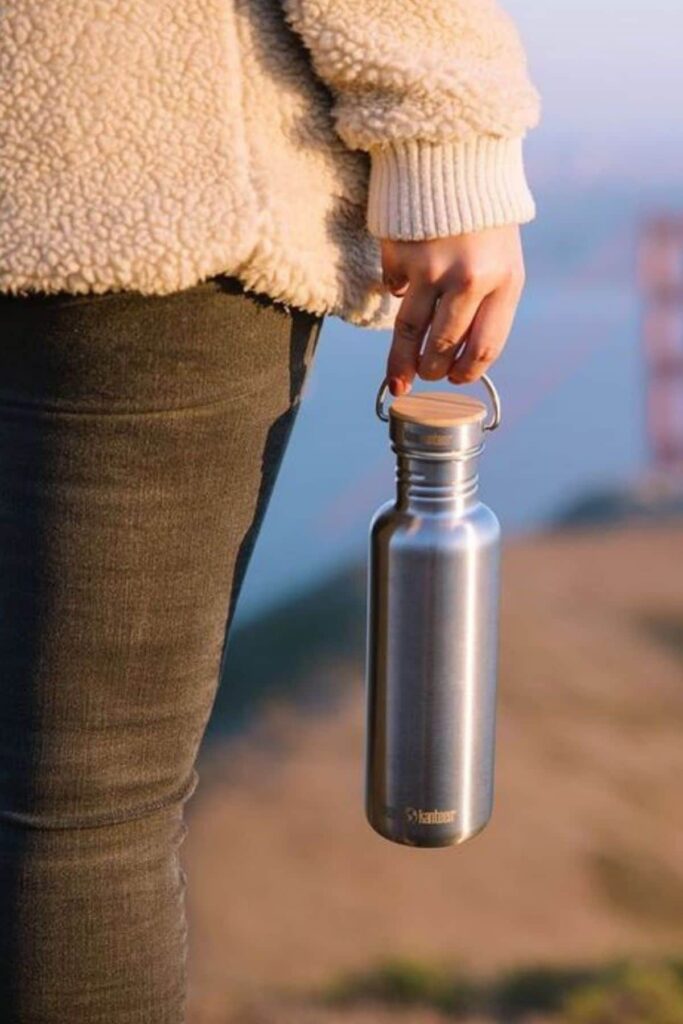 4. kleen kanteen
18/8 Food Grade Stainless Steel
Hand Wash Cap, Dishwasher Safe Bottle
BPA-free
Certified B Corp
Charitable, 1% For The Planet
best reusable water bottles made from glass:
Glass is infinitely recyclable, and it will never leech any toxins into your drink. A word of caution: Get a protective sleeve for your glass bottle if it doesn't come with one.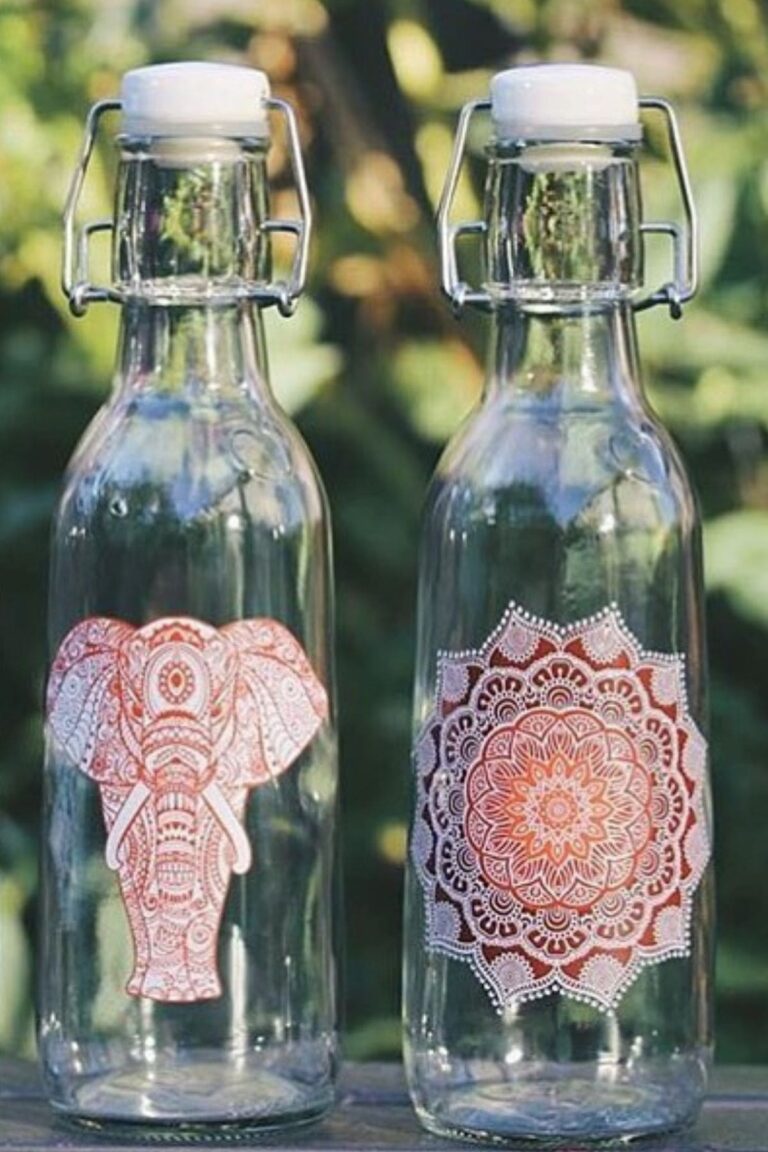 5. love bottle
Bottle made from 40% recycled glass
Dishwasher safe
BPA-free
Certified B Corp
Made in the USA
Donates 5% of every purchase to Global Water
/ SHOP LOVE BOTTLE /
---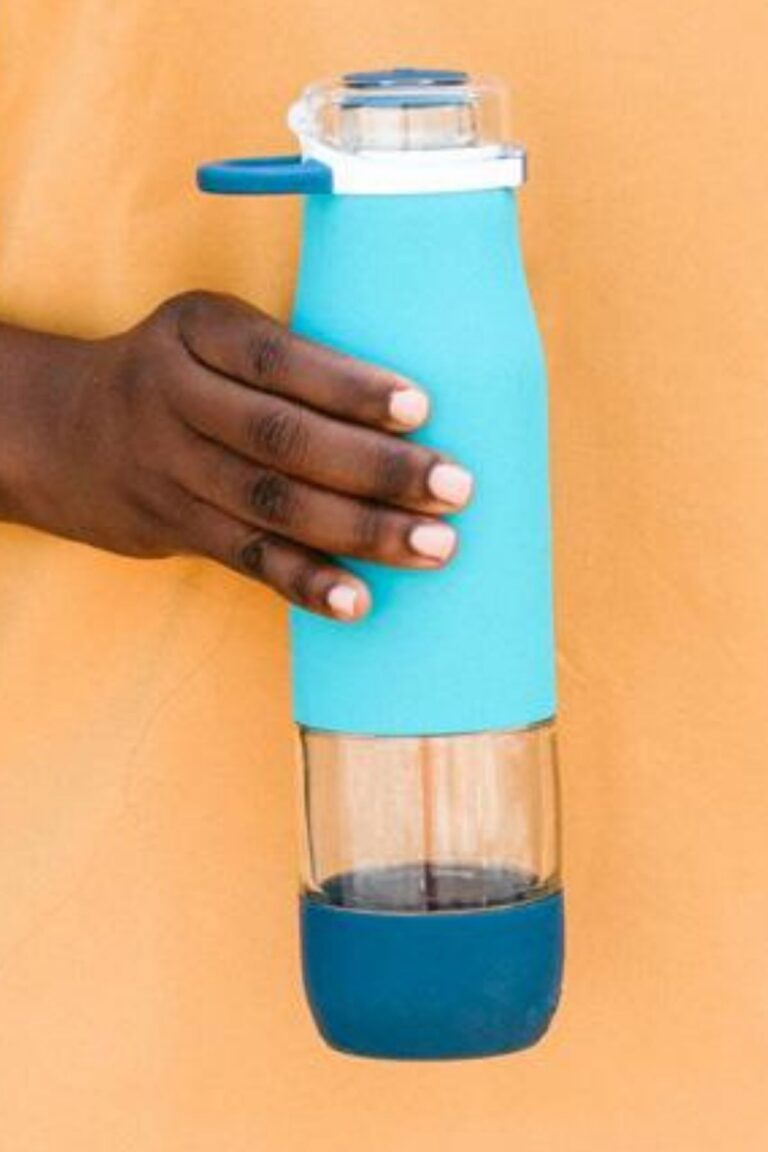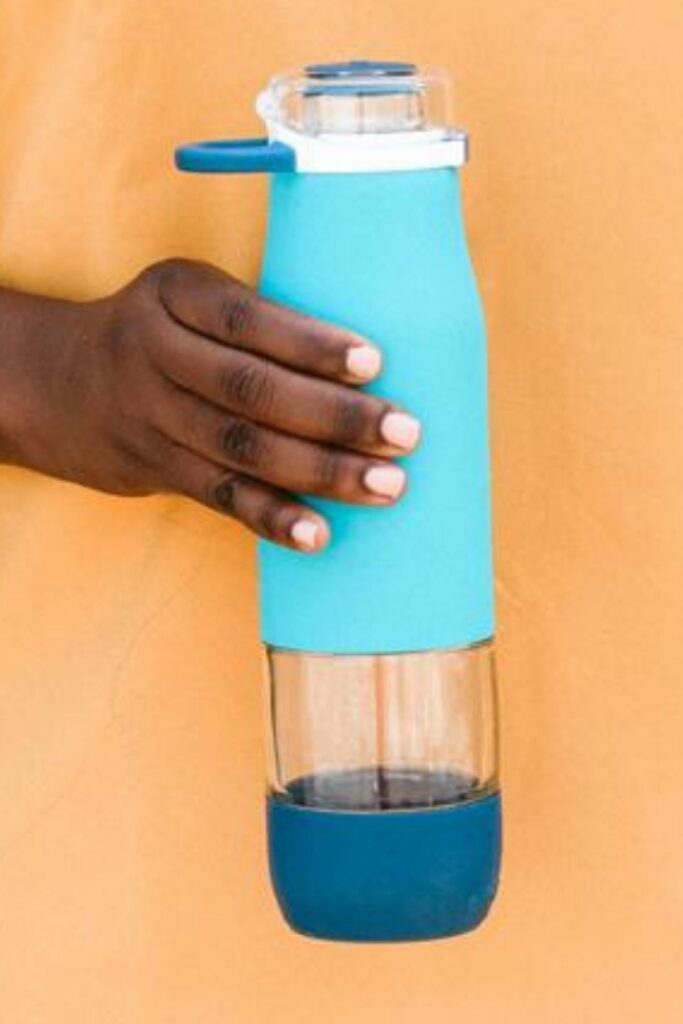 6. ello
Glass bottles available with silicone protection
Bottle is dishwasher safe, hand wash lid
BPA-free
Guardian technology
Partnered with the Clean Water Project
/ SHOP ELLO /
---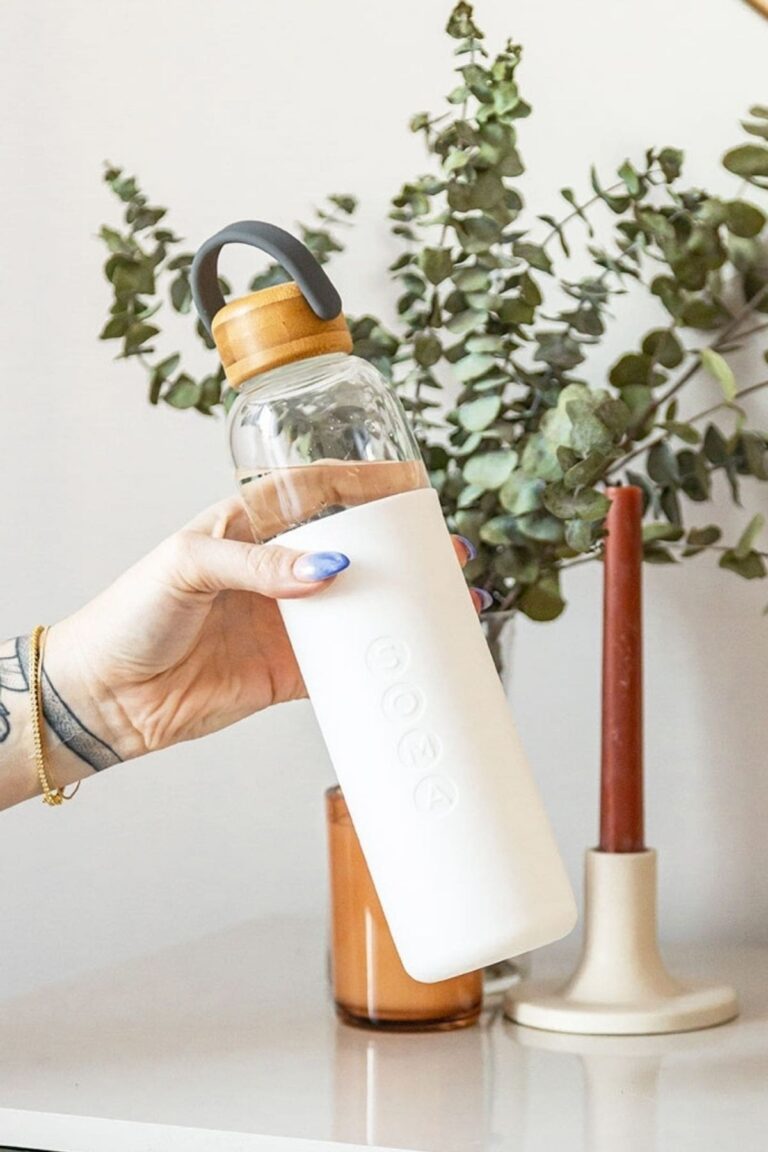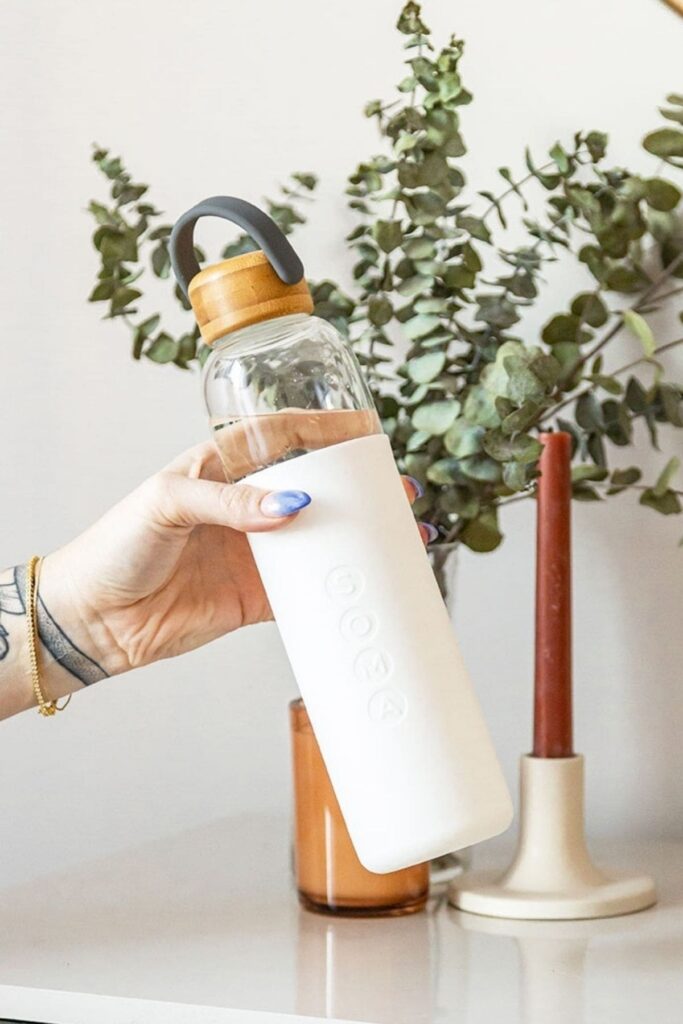 7. soma
Borosilicate glass
Hand wash only, do not remove silicone sleeve
BPA-free
Certified B Corp
Soft touch silicone handle
Will replace broken bottle
Every purchase helps fund water projects in developing countries
/ SHOP SOMA /
---
best reusable water bottles made from plastic:
Plastic is lightweight so it actually requires less fuel to transport than glass, which is heavier and can weigh down a vehicle. It's also durable and will last a long time.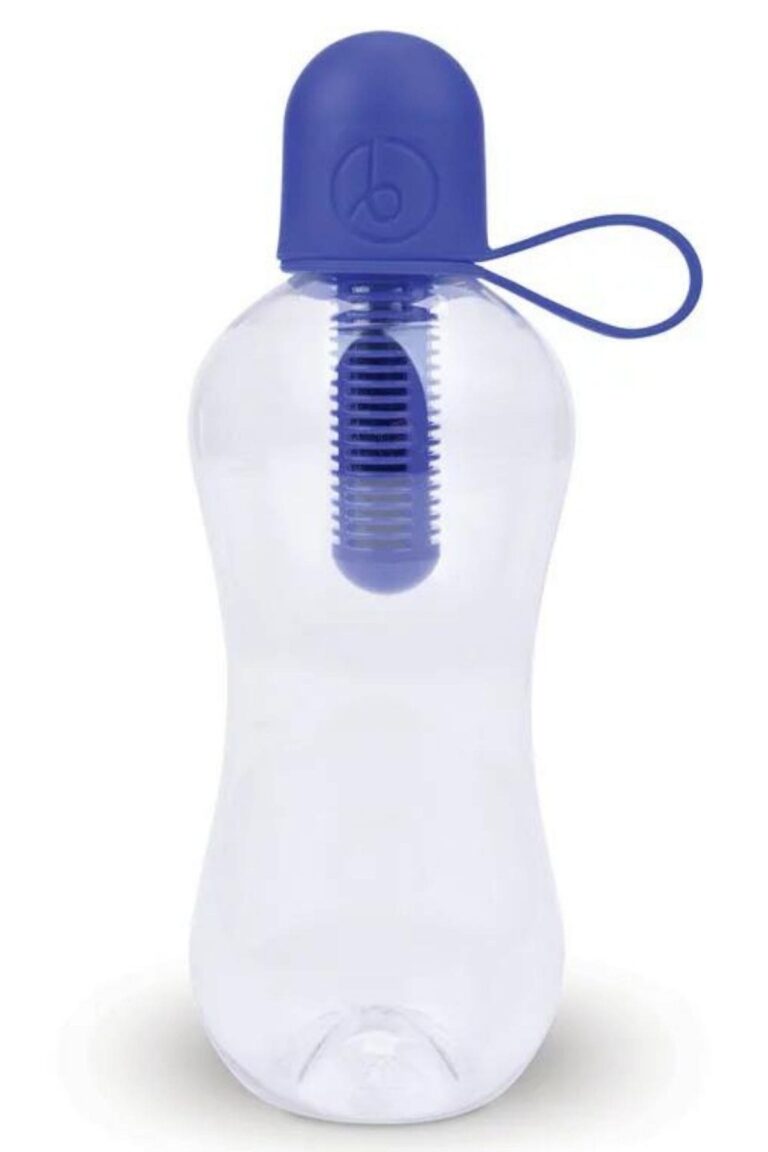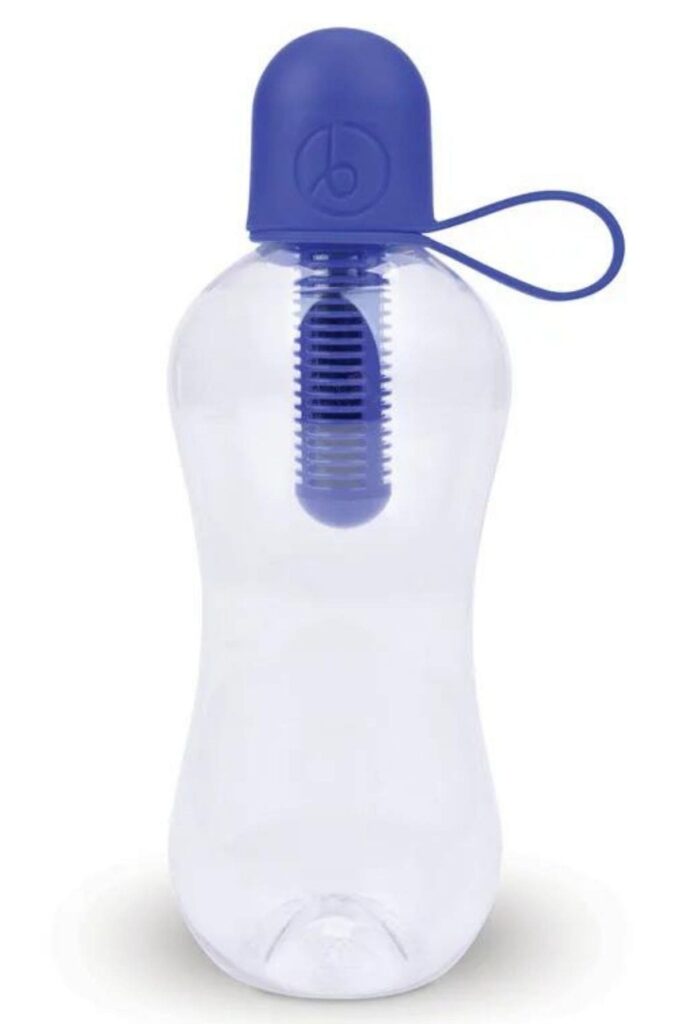 9. bobble
Filtered water bottle
Dishwasher safe
Replaceable carbon filter
100% BPA free plastic
soft-touch carry cap with loop
/ SHOP BOBBLE /
---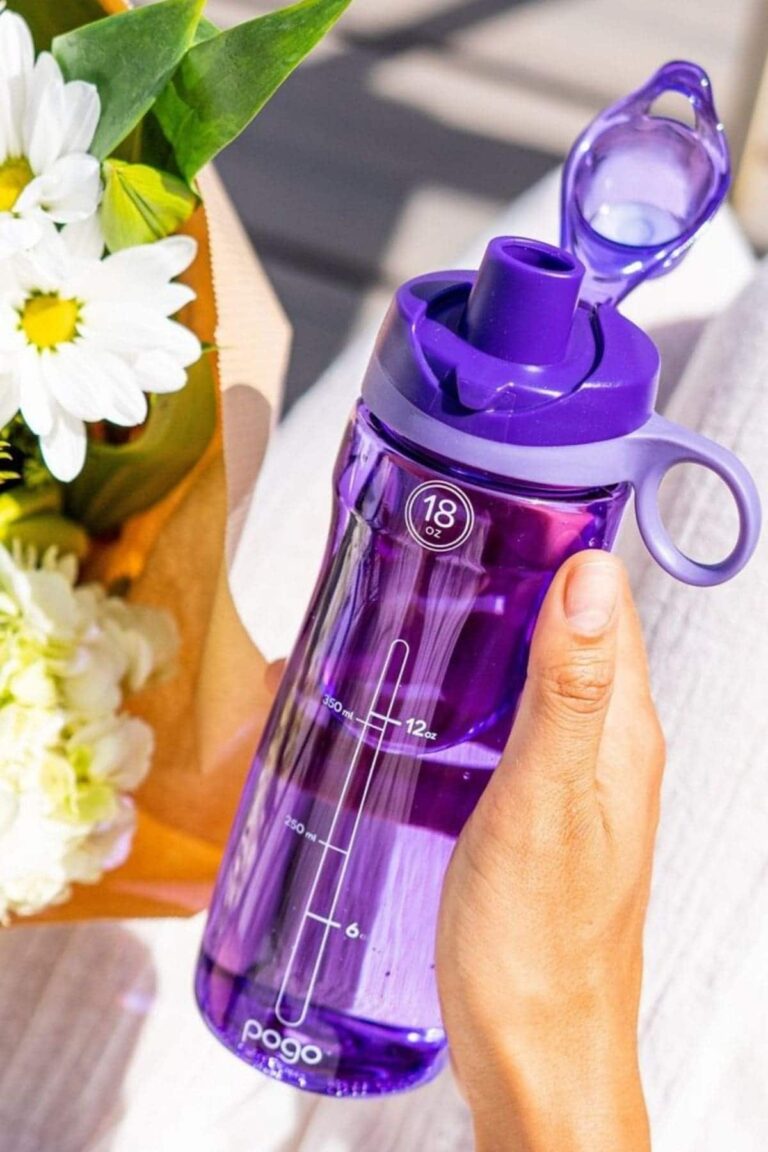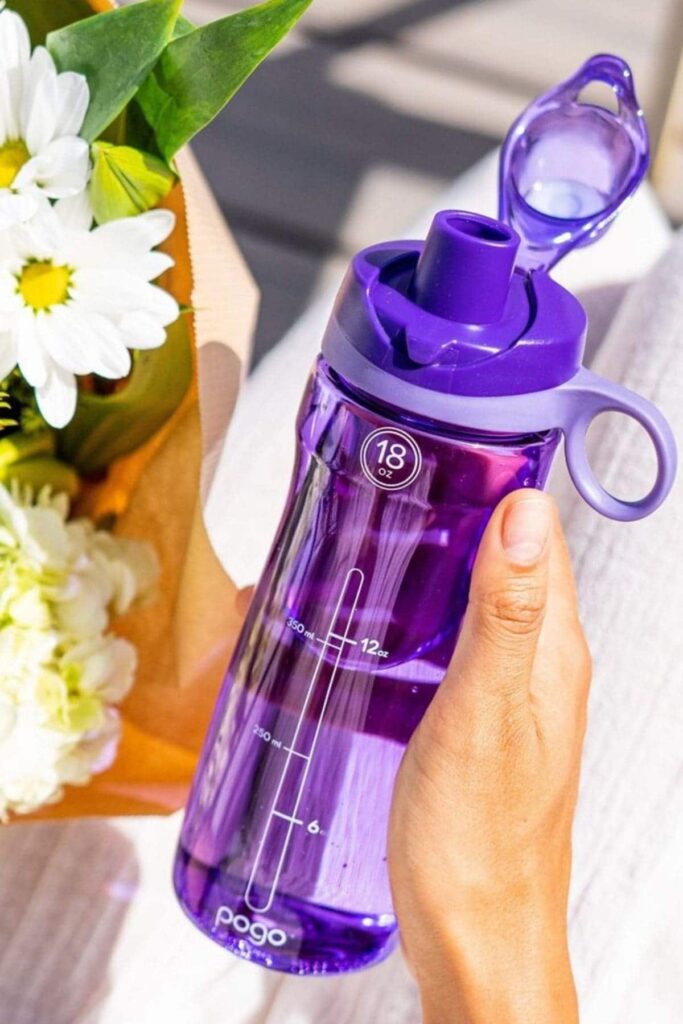 10. pogo
Tritan plastic
All parts top rack dishwasher safe
BPA-free
Soft touch carry loop for easy transport
Chug style and soft straw style lid options
/ SHOP POGO /
---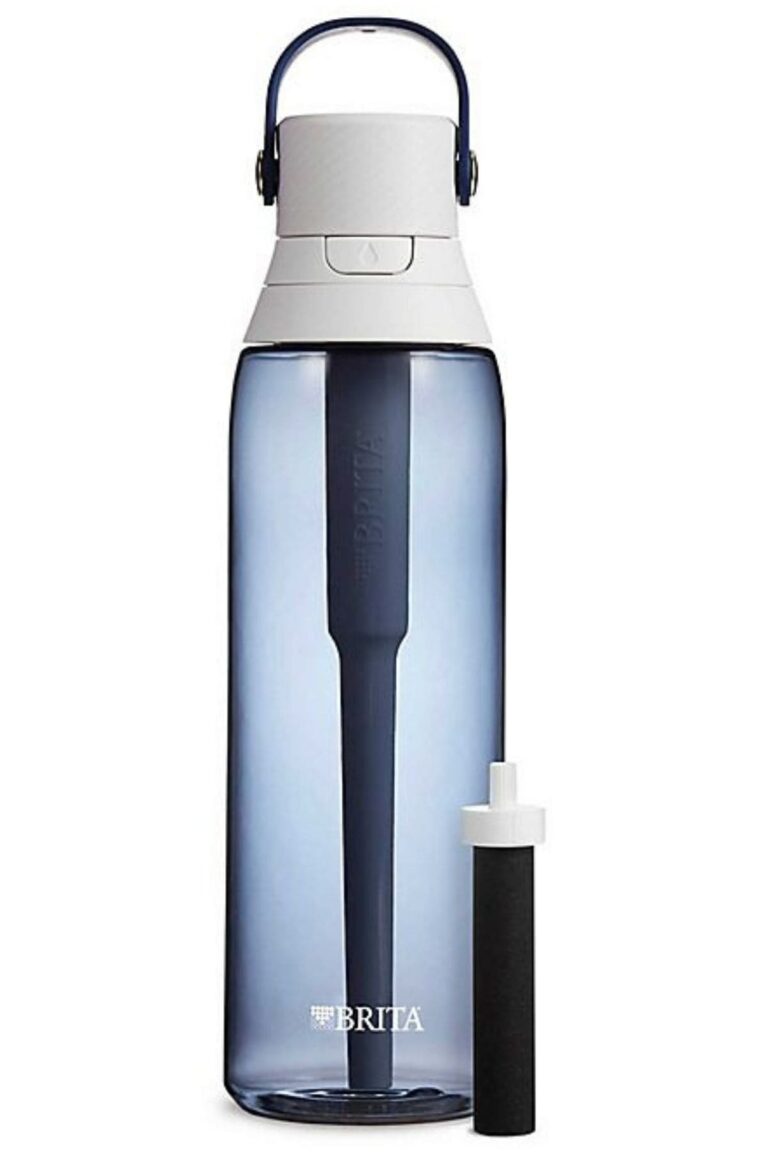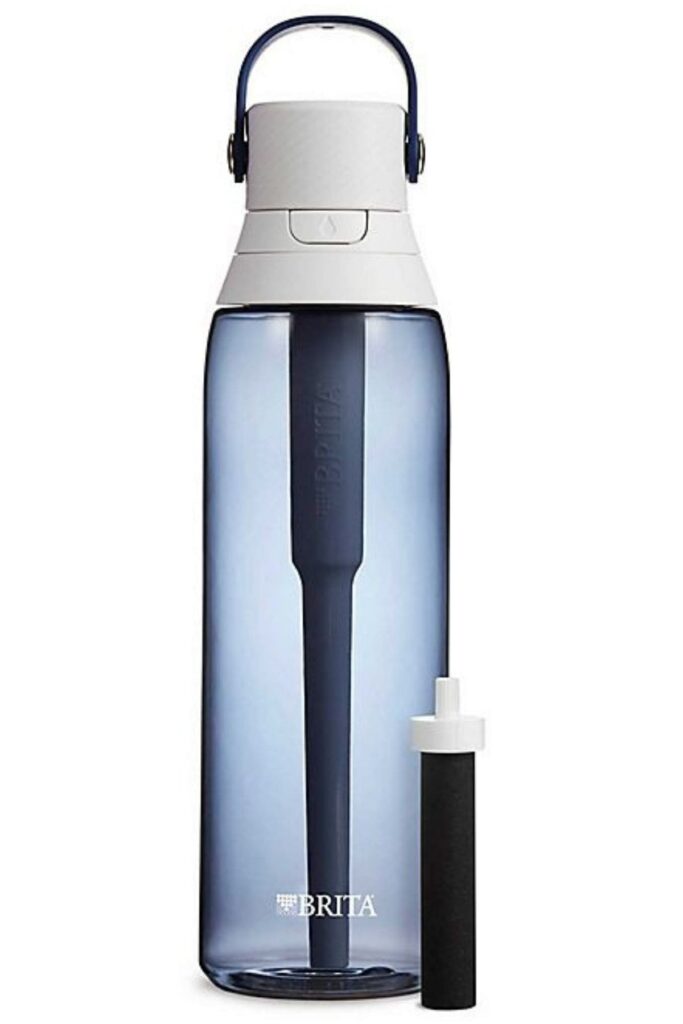 11. brita
Filtering water bottle
Dishwasher safe (top rack only)
Enclosed easy sip straw
1 bottle filter included
BPA-free
Loop handle for easy transport
/ SHOP BRITA / 
---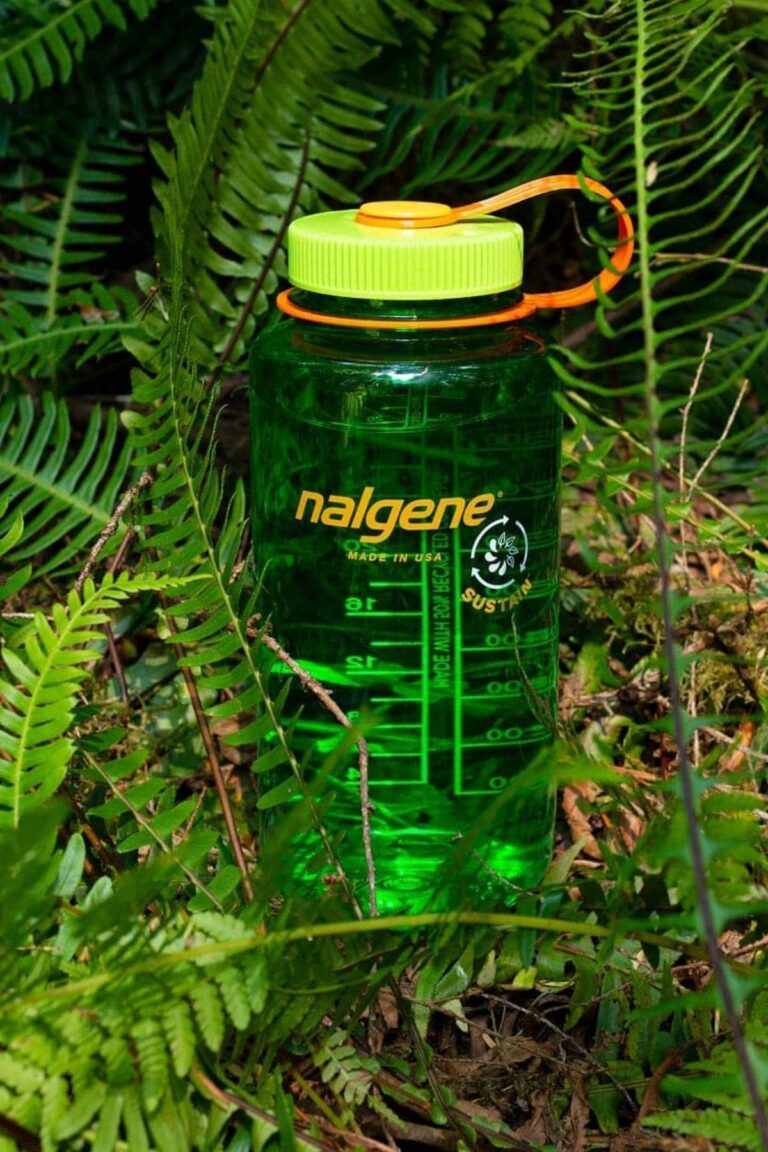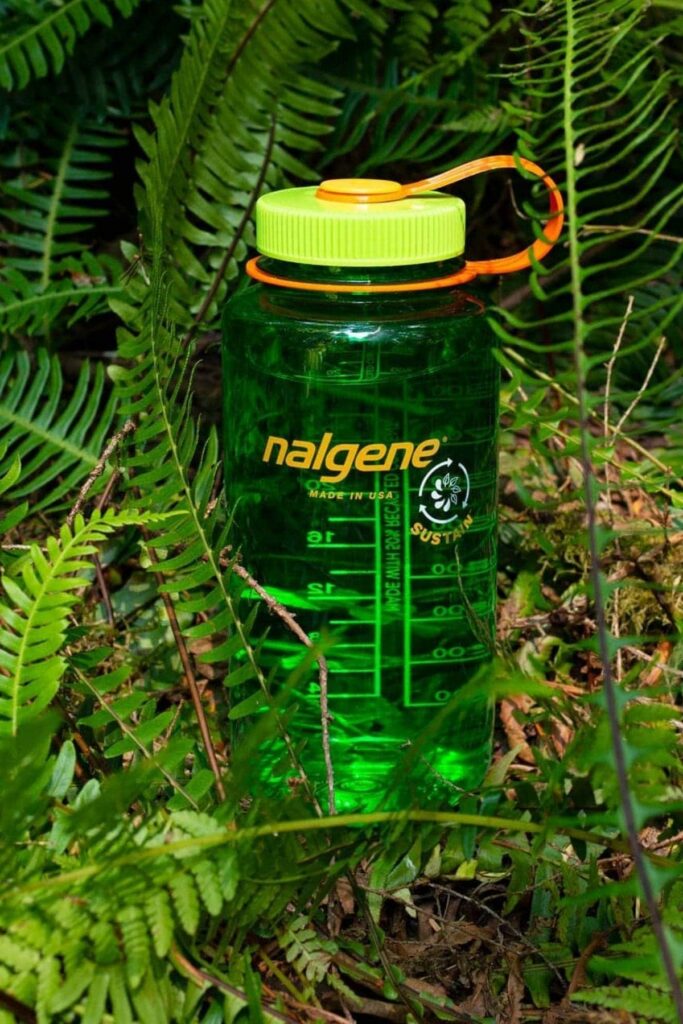 12. nalgene
Narrow Mouth Nalgene Bottle is made from 50% recycled materials
Dishwasher safe
BPA/BPS-free
Made in the USA
Loop handle for easy transport
/ SHOP NALGENE / 
faqs
what's the best way to wash eco friendly water bottles?
You can use eco-friendly dish soap and a brush to clean out a reusable water bottle. The best kinds of brushes for the jobs are ones like this – it's designed to be slender and reach into narrow openings. Ideally, you should wash them after each use to make sure germs, mildew, and mold don't accumulate.
Some reusable water bottles can also be cleaned in the dishwasher – here are some eco-friendly dishwasher detergents I recommend.
reusables bottles that sell in bulk?
There are several reusable bottles that sell in bulk (aka wholesale), like S'well, Kleen Kanteen, Soma, and BKR. You can typically have these fully customized for your needs. These are also great for corporate or business use.
how many people carry a reusable water bottle?
According to CivicScience, data shows 60% of U.S. adults carry a reusable water bottle. However, despite the number of people who say they own a reusable bottle, the overall percentage has gone down since CivicScience last checked in 2018.
There's also this to consider: just because you own a reusable water bottle, doesn't necessarily mean you actually use it. It could be sitting in your cupboard gathering dust.
As a general tip to remembering your reusable bottle, here's what I do. Before I leave the house, I repeat "keys, wallet, phone, water bottle" which helps me remember to grab my reusable bottle on the way out.
Which of these reusable water bottles would you try? Let me know in the comments below!