The Best Non Toxic Dishwasher Detergent for your Eco Friendly Home
August 9, 2021 | Ariana
Last Updated on September 27, 2023
Dishes: Everyone's got to do them. If you'd rather load up the dishwasher, it might be time to question what detergent you're using to get your dishes clean.
Did you know in the USA, cleaning companies aren't legally required to disclose the ingredients in their products? This is a huge issue, considering many of our products, including dishwasher detergent, get into our waterways, where they can harm aquatic ecosystems.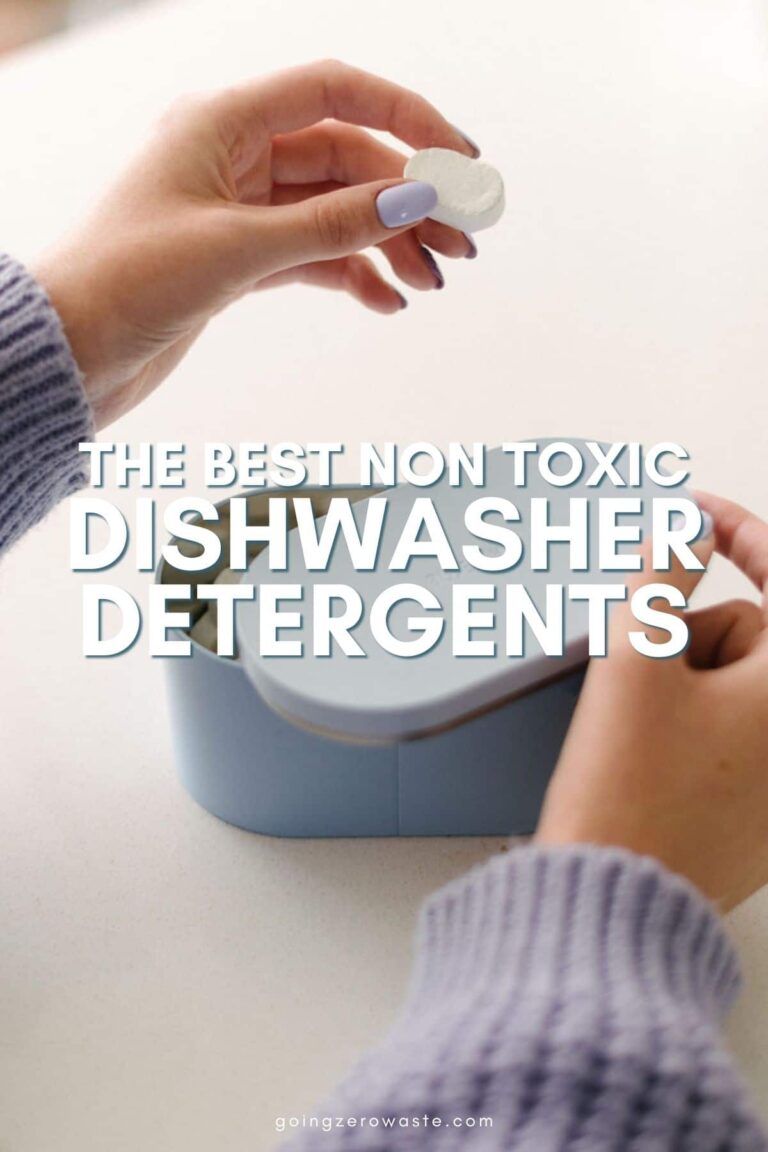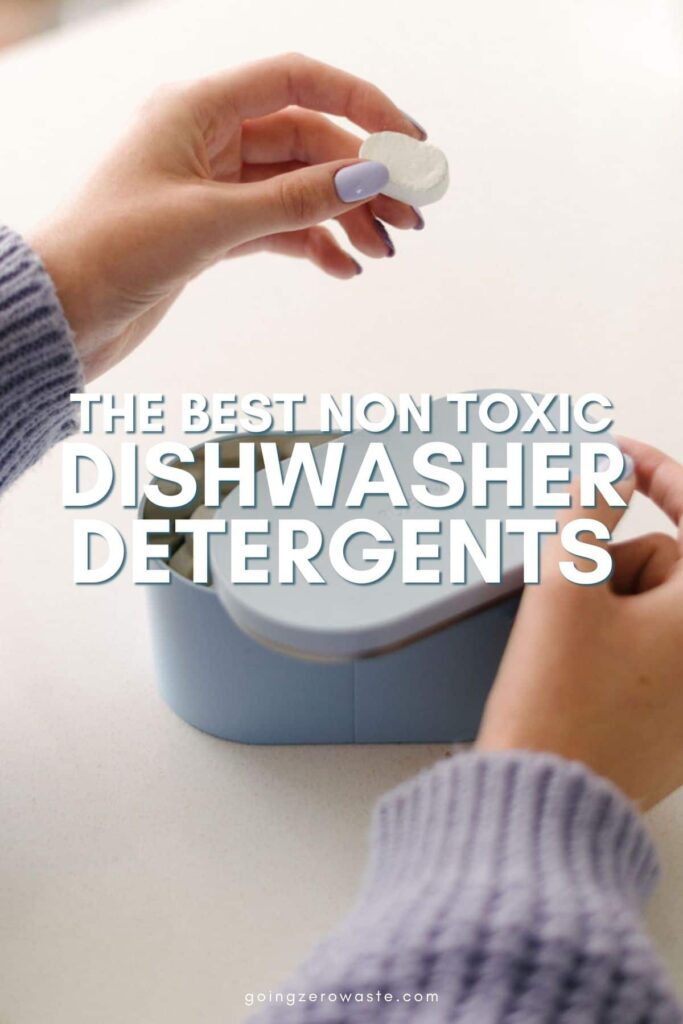 Cleaning products don't have to be toxic to work. For more info check out the blog post 15 All-Natural and Eco-Friendly Cleaning Products.
For me, the best non toxic dishwasher detergent is going to be derived from natural and organic ingredients that biodegrade so it doesn't damage the environment.
The dishwasher detergents on this list are efficient, safe to use for both humans and environment, and have thoughtful packaging.
what makes these the best dishwasher detergents?
Before we get into the dishwasher detergent, it's important to discuss what makes these the best on the market. We all want a dishwasher detergent that's tough on grease, but at what cost?
Is the detergent contributing to waterway pollution? How safe is it for human health? Is it using innovative packaging and non-toxic ingredients? These are the questions we need to start asking.
environmental impact:
The environmental impact of dishwasher detergent boils down to two things: The chemicals used to make the detergent and the packaging.
Most dishwasher detergents contain phosphates which can lead to eutrophication in waterways, resulting in big algae blooms. These algae blooms deplete the water of oxygen and can harm marine wildlife.
Phosphates aren't the only problem. There are other ingredients inside dishwasher detergents, like dyes and artificial fragrance, that are toxic to marine organisms too. When these enter waterways, they can lead to dead zones where waters are devoid of life.
The chemicals in these detergents often reduce an organism's life span and ability to reproduce, if exposed. These chemicals can even make their way up the food chain as predators eats prey.
Every brand on this list avoids using these harmful chemicals in their products, choosing to use more eco-friendly ingredients instead. There are no phosphates, harsh dyes or fragrances in these products.
Now, packaging isn't everything when choosing a dishwasher detergent, but it should definitely factor in somewhere. Sustainable packaging is important because it reduces the ecological footprint of a product in its various life cycle stages.
All the brands on this list utilize sustainable, thoughtful packaging that is reusable, compostable, or recyclable. Some brands even offer refill programs and reusable containers designed to last indefinitely.
are pods plastic?
It's worth talking about PVA (polyvinyl alcohol) for a moment: A lot of brands create PVA pods, which is water-soluble film that biodegrades according to the EPA. However, a recent study found PVA doesn't fully biodegrade during wastewater treatment.
The study was funded by a brand who doesn't use PVA, and I'm always a bit skeptical of studies funded by a brand so said brand comes out looking better. It's kind of like the dairy industry funding a study that found plant milks are bad for you.
All in all, I think a good conversation has been started. I look forward to seeing more data and studies about this in the future, and have included some PVA free options below.
what is the best dishwasher detergent for hard water?
When shopping for a dishwasher detergent for hard water, you should look for one that contains a sodium-based chemical as the main ingredient. This is because it will act as a water softener by creating a reaction with sodium ions that ultimately reduce buildup that lingers on dishes. Essentially, it turns hard water soft.
From the detergents I listed, Nellie's Dishwasher Powder is the best for hard water because sodium chloride and sodium carbonate are the two first ingredients in it.
is liquid, powder, or pods best for your dishwasher?
What's best for your dishwasher can vary depending on what you're looking for. If your goal is to completely avoid packaging, tablets and powders may be your best bet.
However, if you want to ensure less of a mess, pods may be a better choice. Gel and tab detergents are good options for those who want the most concentrated cleaning power.
should you use a rinse aid when washing your dishes?
I've never used a rinse aid because I prefer to air dry my dishes, and you should too! Using your dishwashers heater is going to be the biggest source of energy use – so save some money and skip it!
You can ready more about that in my blog post on 10 ways to save money in on your electric bill in the kitchen.
But, if you're really in a pinch and need to have dry dishes immediately – maybe some guests are coming over? You should use a rinse aid because it enhances drying effectiveness. It also helps eliminate water spots and etching reduction, resulting in sparkling clean dishes.
A rinse aid is basically a drying agent that helps your dishwasher improve its drying performance which could help you cut back on a little bit of energy. The rinse aid only needs to be refilled every several washes.
However, just like dishwasher detergent, not all rinse aids are created equal. I recommend checking to see if any of the brands listed here also sell rinse aid – I know Ecover and Seventh Generation do.
And, white vinegar, everyone's favorite all-natural cleaning product works amazing! I would recommend limiting it to once a month or a few times a year because of the high acidity of vinegar it can break down your dish washers seal over time.
ingredients to avoid in dishwasher detergent:
There are a select few ingredients you never want to see in your dishwasher detergent. If you see any of these, it's a red flag! None of the products listed here contain these ingredients.
Here are the ingredients you should avoid.
fragrance: Artificial fragrances can cause allergic reactions, chemical sensitivities, and even rashes.
dyes: These add zero cleaning power and can cause allergies and rashes – many are proven carcinogens and almost all are endocrine disruptors too.
phosphates: When these enter waterways they cause eutrophication, mineral poisoning that causes high die-off of marine animals.
sodium hypochlorite: Otherwise known as bleach, which is corrosive to eyes and skin, can cause throat irritation, gastric burns, and fluid in the lungs.
polyacrylates: These contain acrylic acid, 2-ethylhexyl acrylate, and methacrylic acid. Acrylic acid alone is known for causing eye damage, severe burns, and being toxic to aquatic life.
benzisothiazolinone: An eye, lung, and skin irritant as well as a environmental pollutant that's harmful to fish.
methylsothiazolinone: Linked to inhalation toxicity, allergic reactions and possible neurotoxicity.
the best non toxic dishwasher detergents:
So, now you know that you're looking for a safe, eco-friendly, non-toxic dishwasher detergent.
If your head is spinning from all this information – don't fear. I've rounded up a list dishwasher detergents that get the Going Zero Waste seal of approval. All these brands are tough on grease, but gentle on the planet.
I've gone ahead and highlighted some of my favorite features of each brand, but it isn't an exhaustive list. Be sure to check out their websites for more information.
1. dropps
Detergent pods
Compostable packaging
Plant-based ingredients
Cruelty-free
Carbon neutral shipping
Made in U.S.
/ SHOP DROPPS /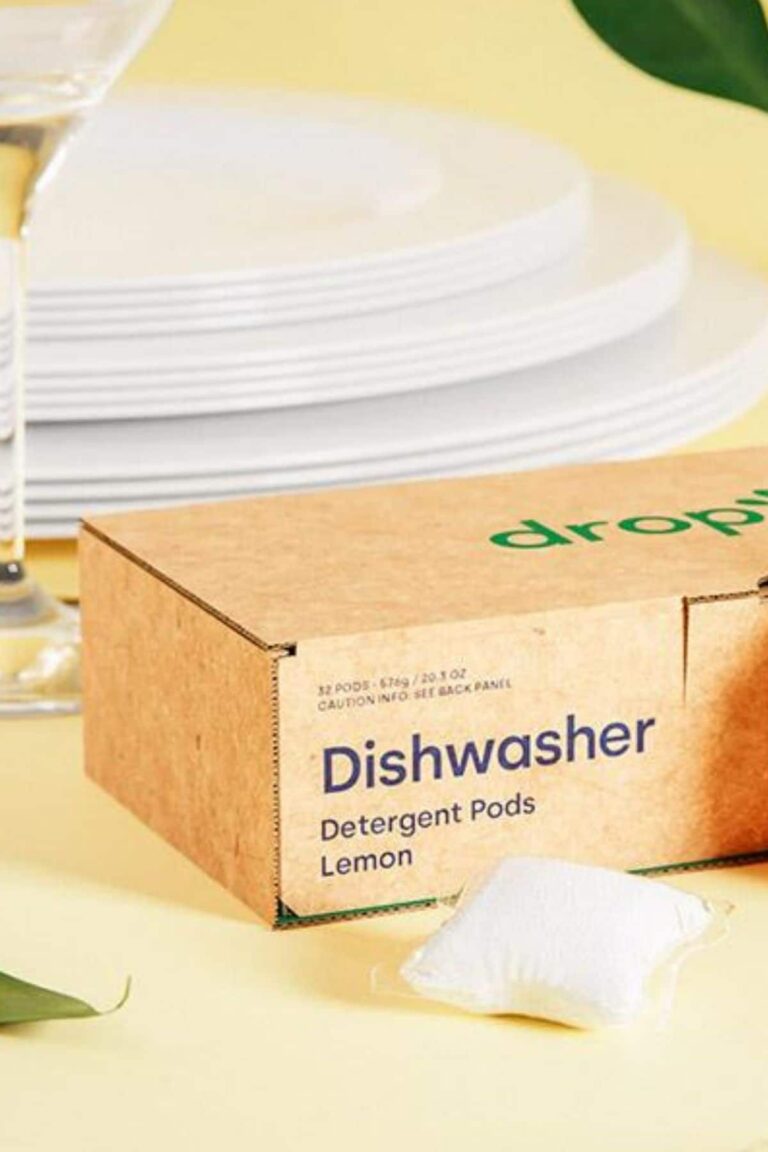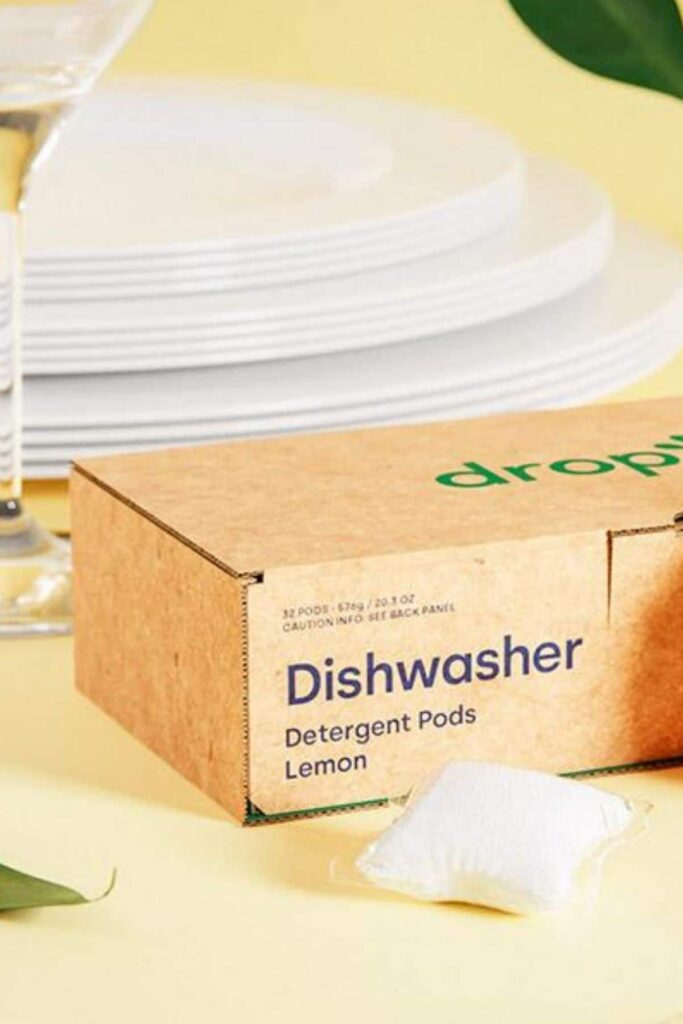 2. blueland
Dishwasher tablets
Reusable steel tin
Plant-based ingredients
Leaping bunny certified
USDA BioPreferred
PVA-free
Plastic free refill program
/ SHOP BLUELAND /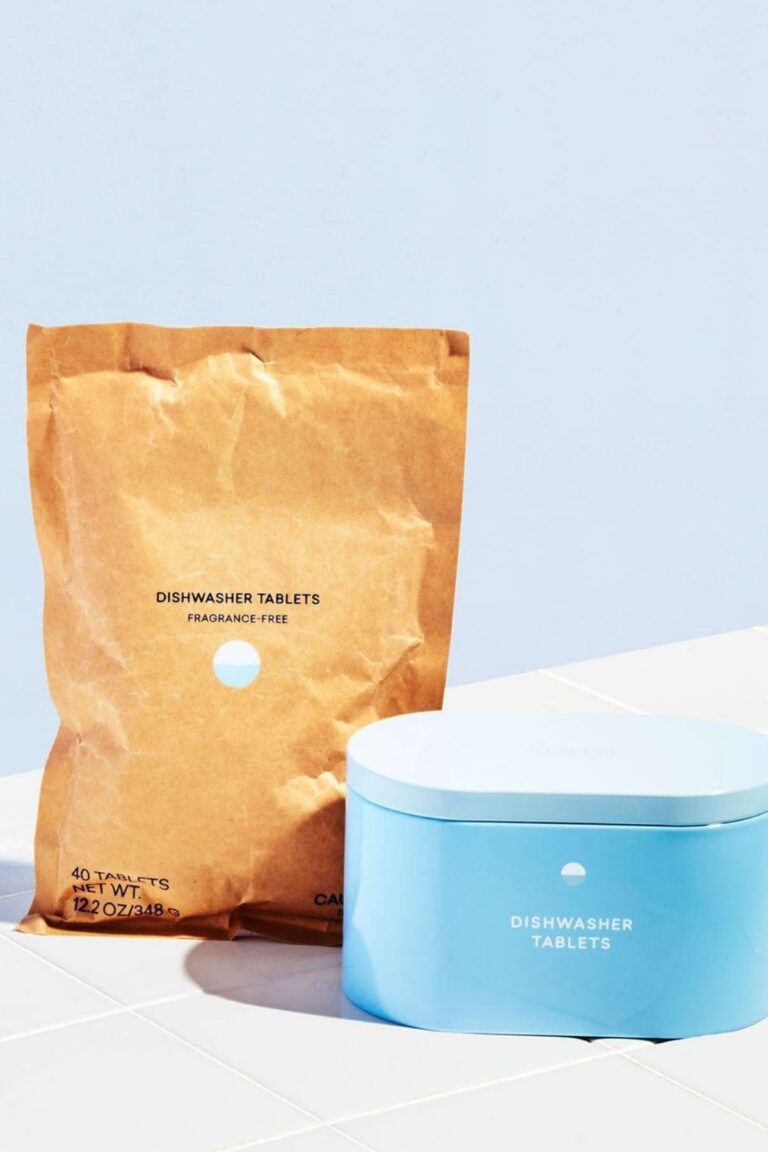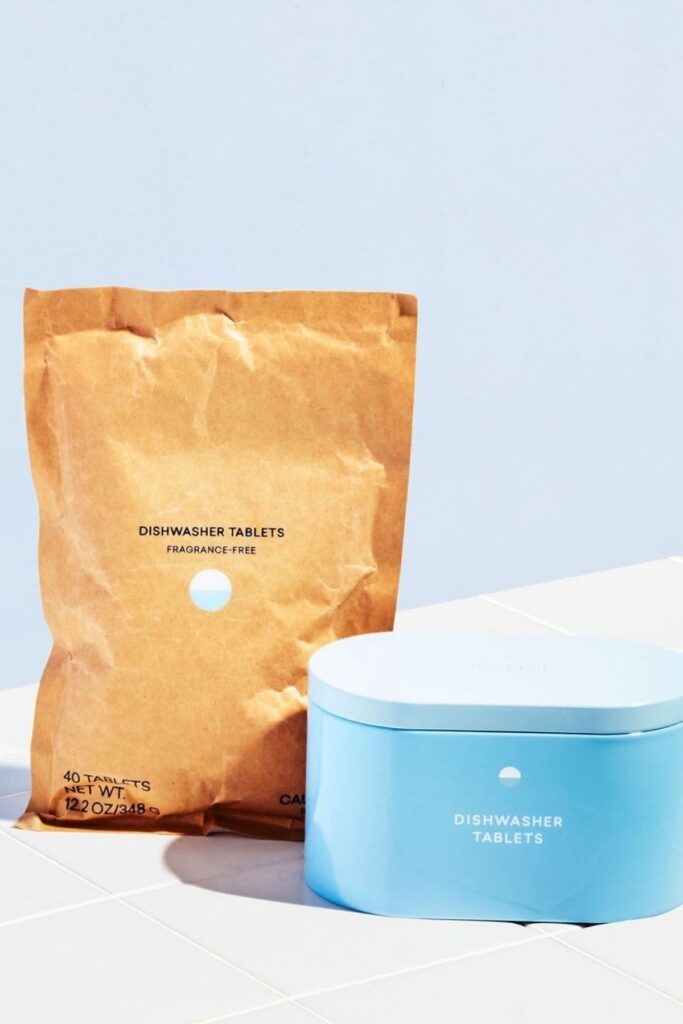 3. cleancult
Detergent tablets
Reusable tablet jar
Plant-based ingredients
Leaping bunny certified
Carbon neutral shipping
Refill program
/ SHOP CLEANCULT /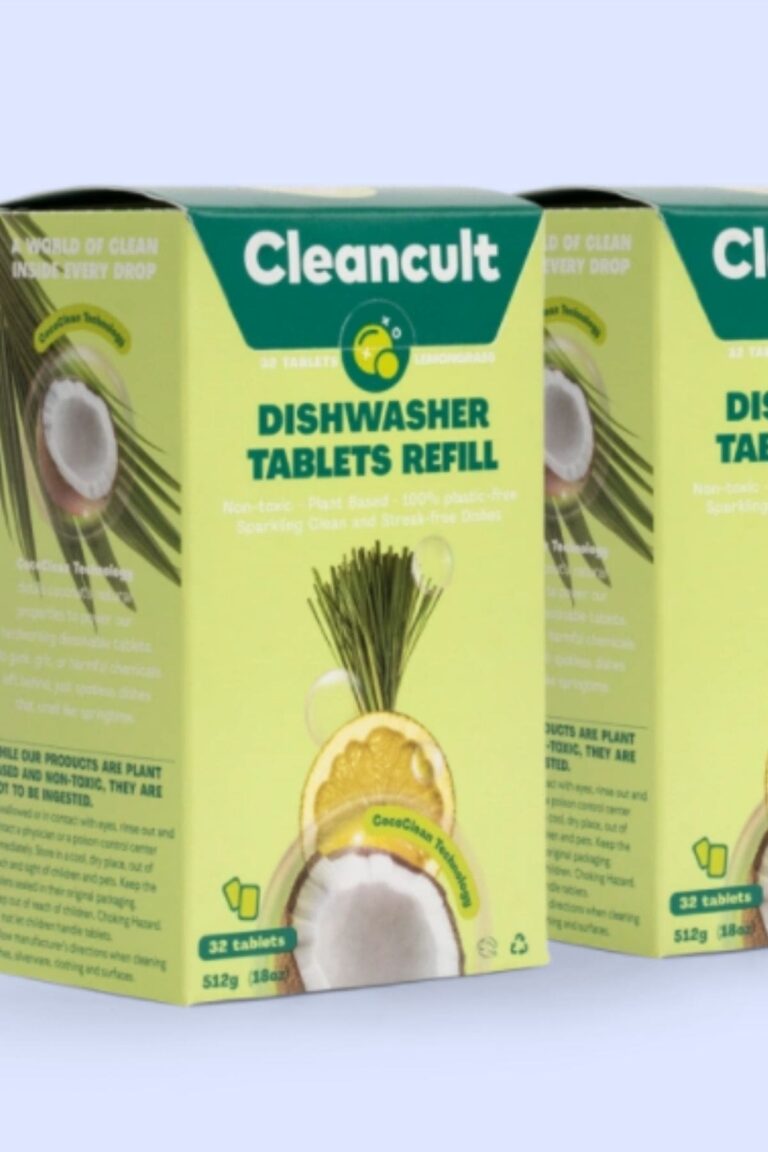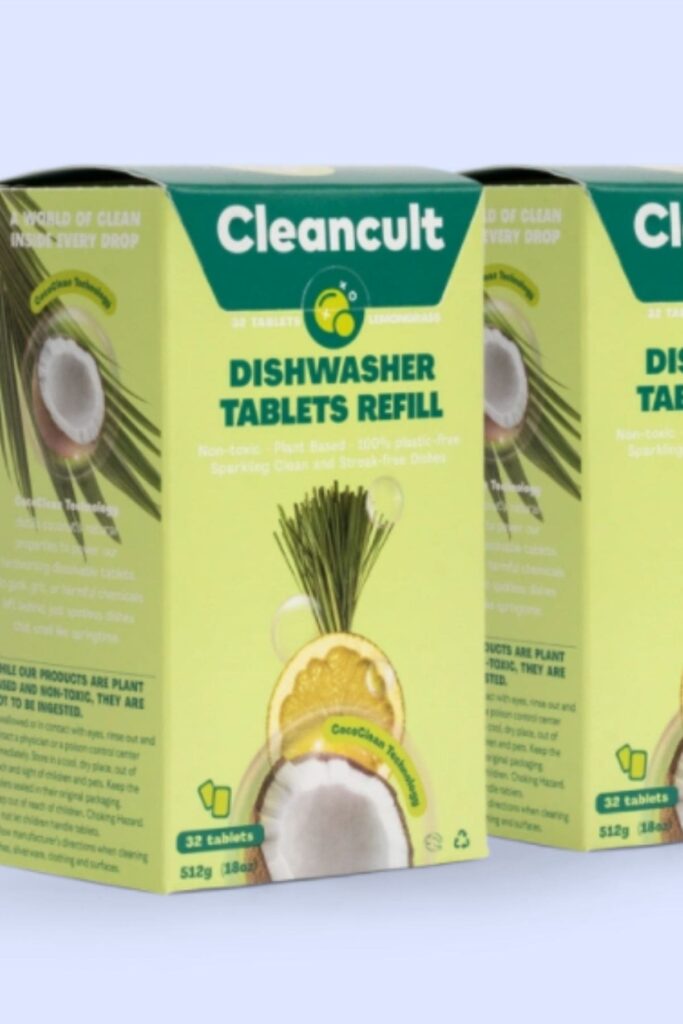 4. ecover
Detergent powder and tablets
Plant-based ingredients
Cruelty free
Certified B Corporation
Hypoallergenic
/ SHOP ECOVER /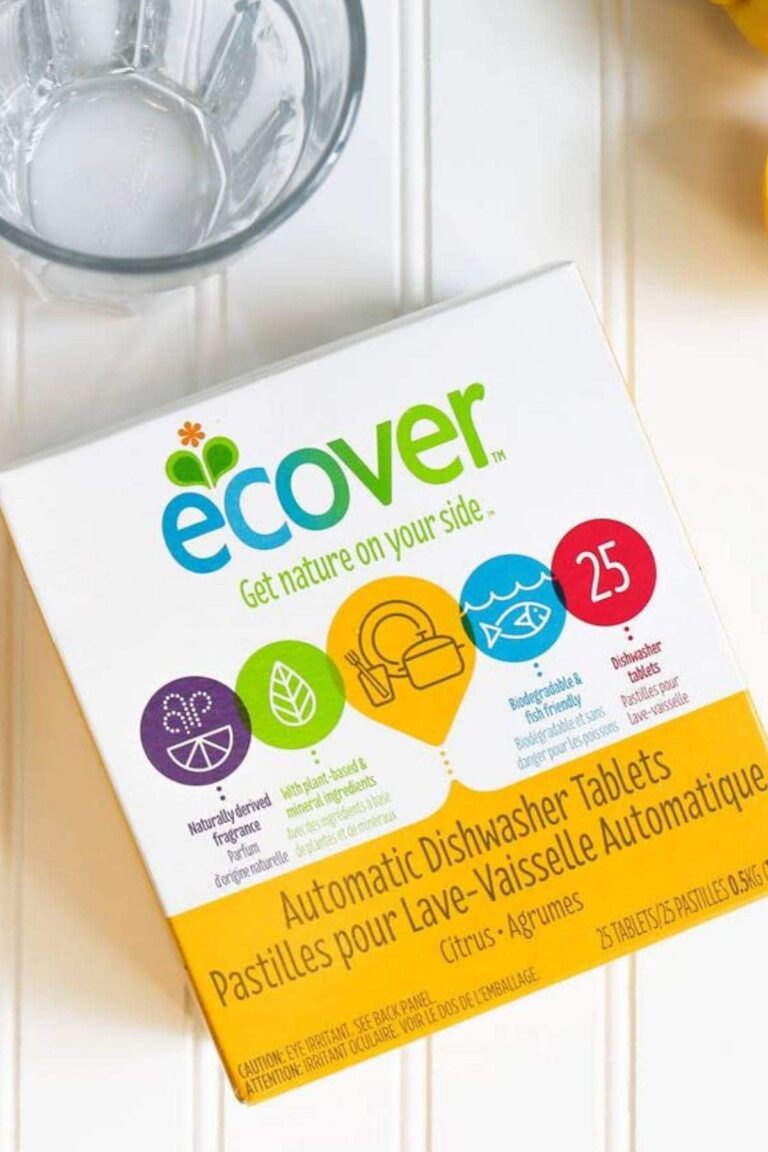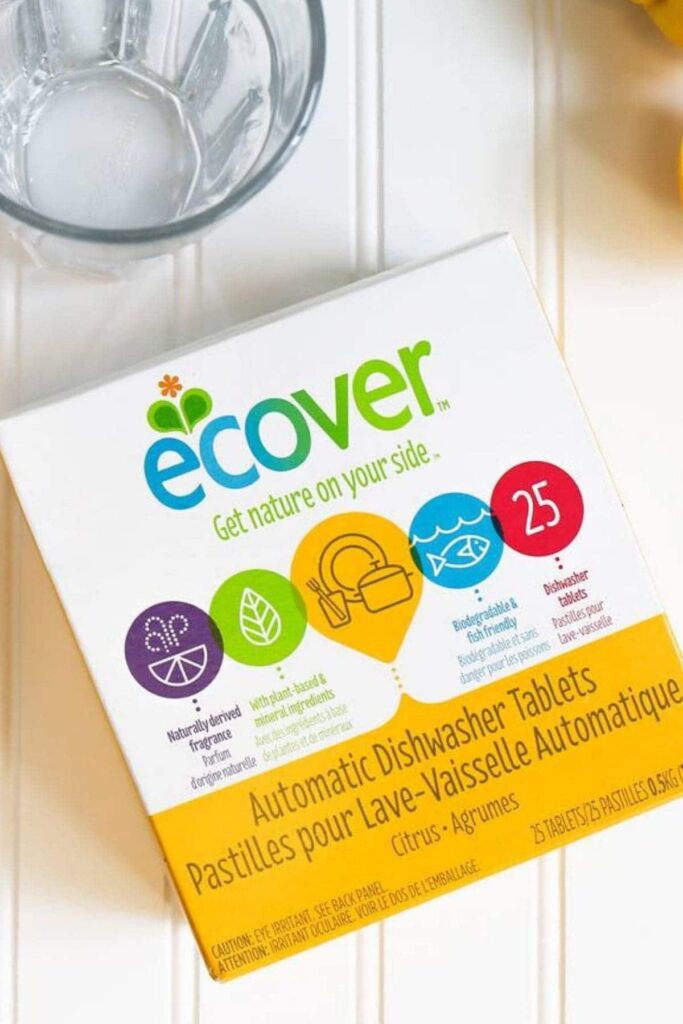 5. pur home
Detergent tablets
Packaged in cardboard box
Black and woman owned business
Plant-based ingredients
PVA-free
Leaping Bunny Certified
/ SHOP PUR HOME /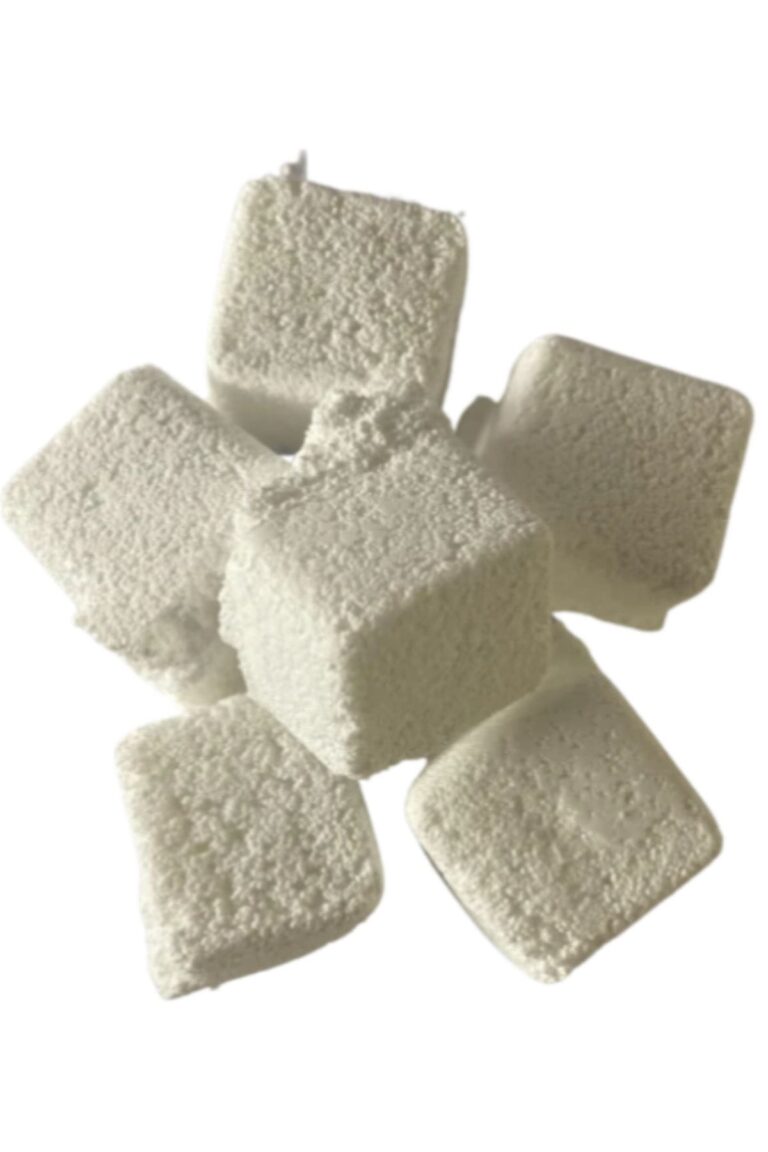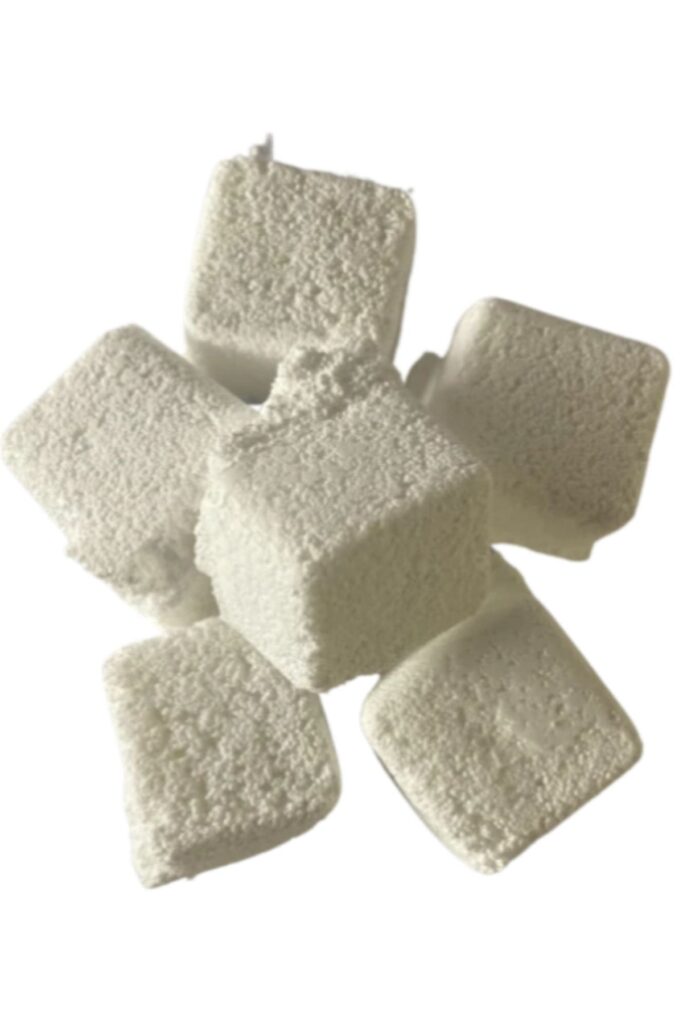 6. grove collaborative
Detergent pods
Plant-based ingredients
Cruelty free
Certified B Corporation
Recyclable pouch packaging
Carbon offsets for each shipment
Plastic neutral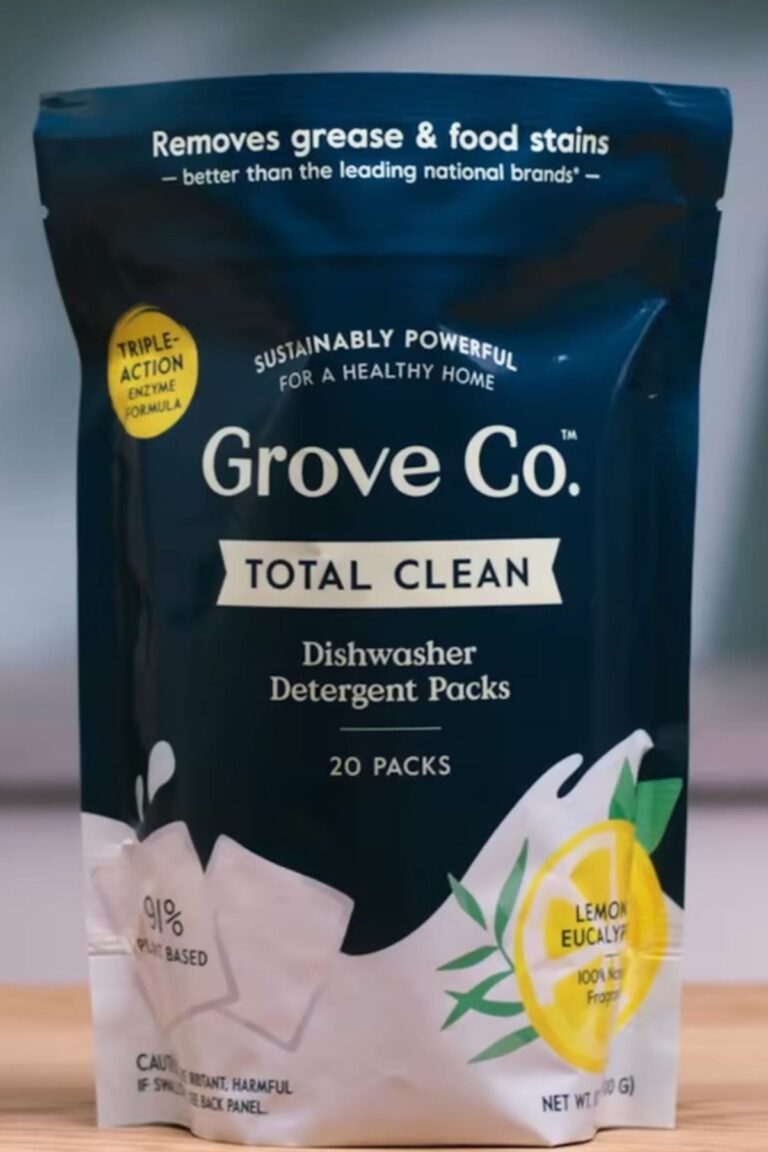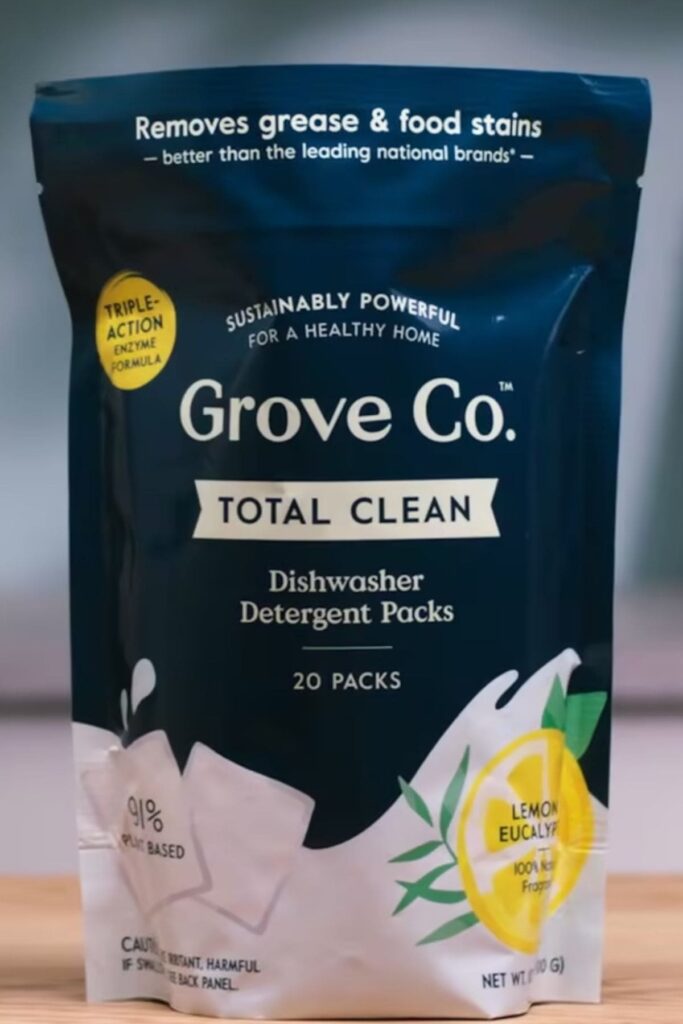 7. seventh generation
Detergent tabs
Plant-based ingredients
Leaping bunny certified
Certified B Corporation
USDA certified biobased product 96%
Recyclable pouch packaging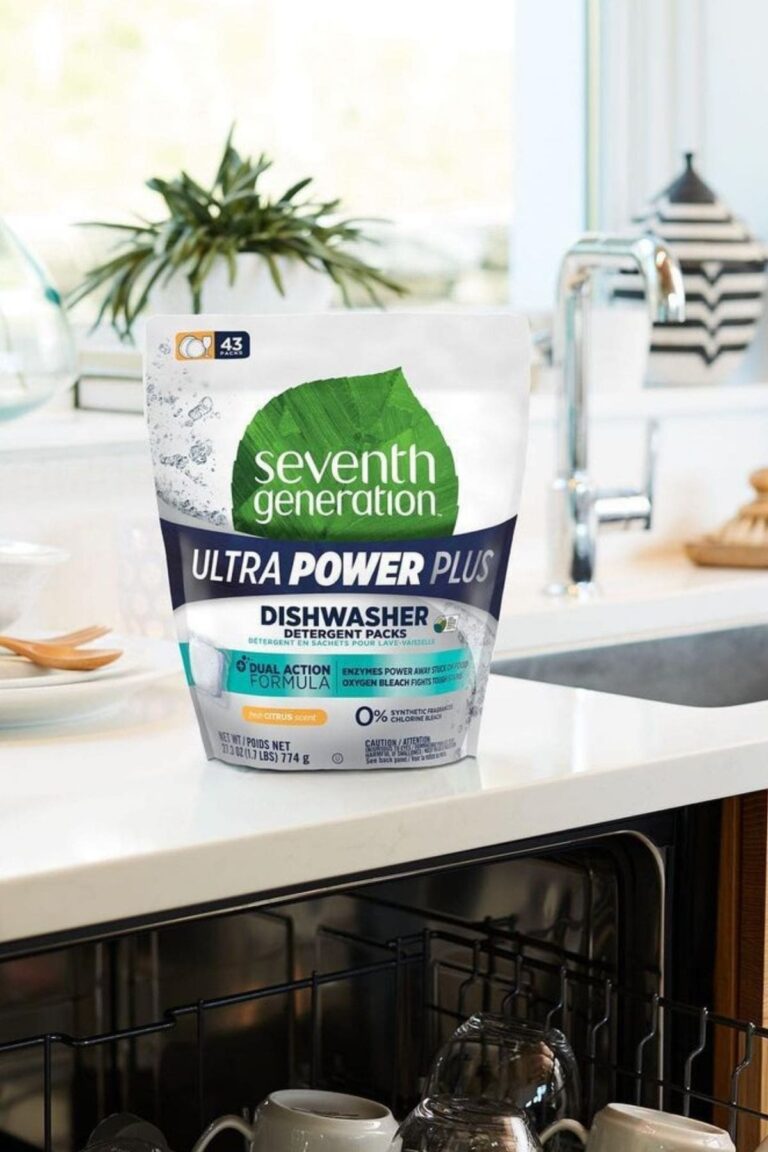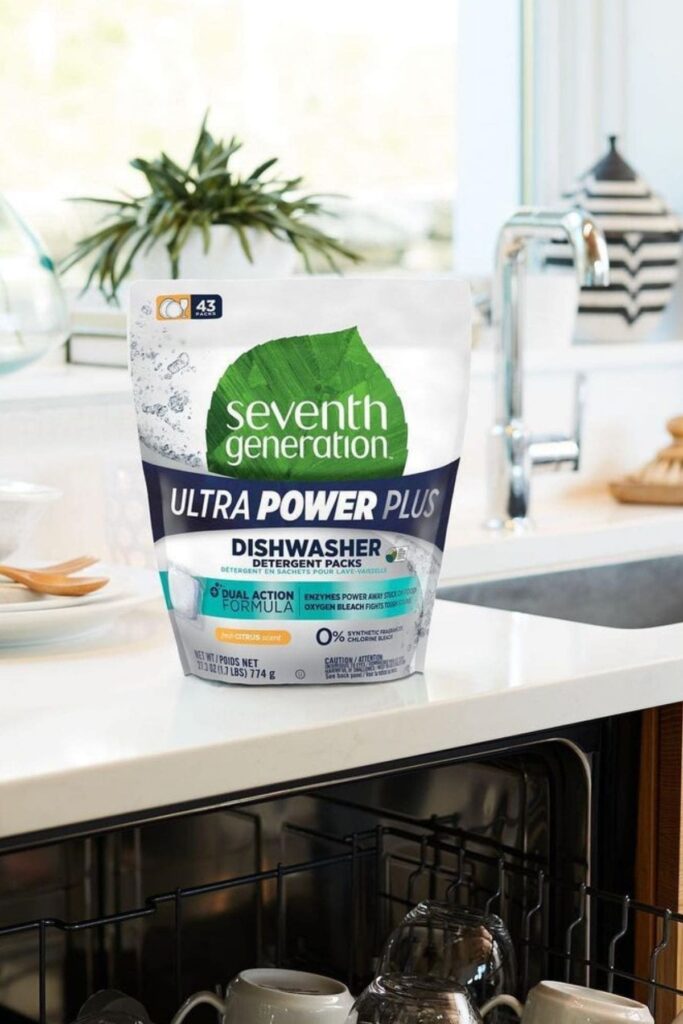 8. ecos
Dishwasher gel and pods
EPA safer choice certified
Leaping bunny certified
Vegan
Facilities are run on 100% renewable energy
TRUE Platinum Zero Waste certified
/ SHOP ECOS /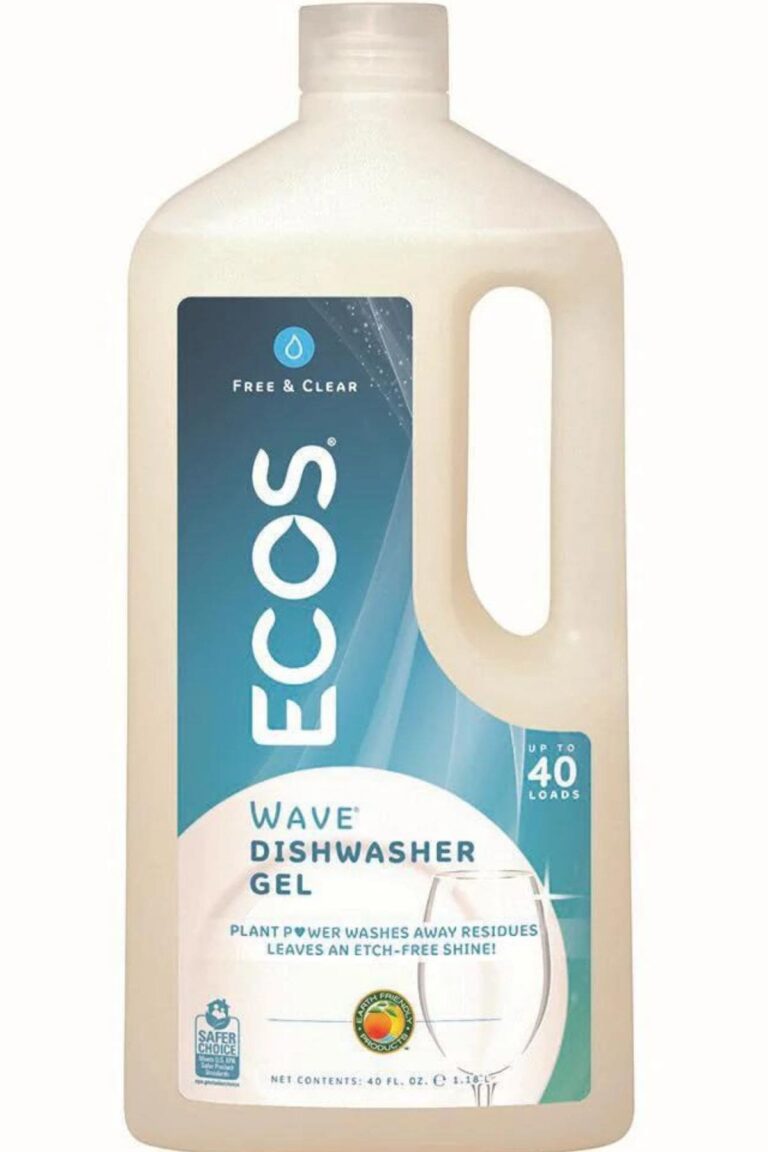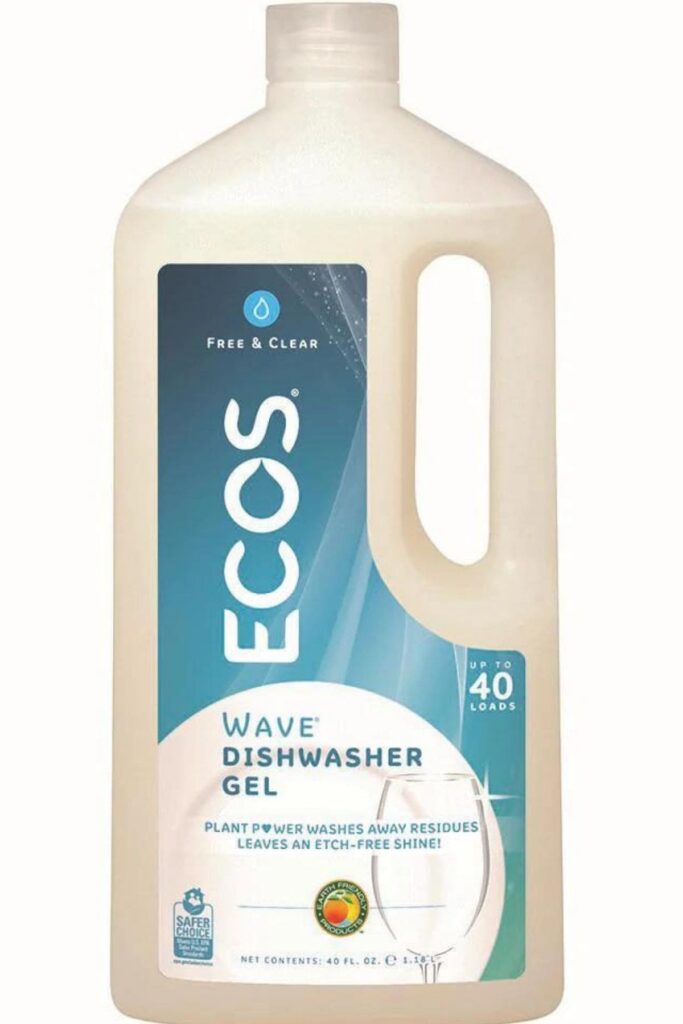 9. mrs. meyer's clean day
Dishwasher tabs
Plant derived ingredients
Cruelty-free
Made in the USA
Recyclable pouch packaging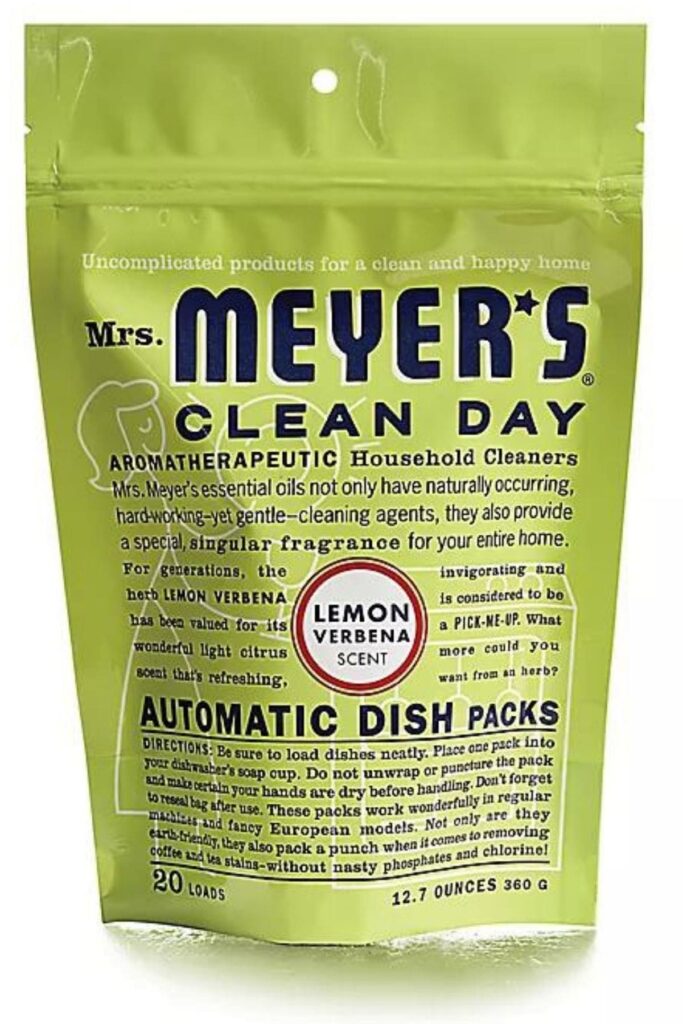 10. nellie's dishwasher powder
Detergent powder
Plant-based ingredients
Reusable tin
PVA-free
Leaping Bunny Certified
Works great in hard water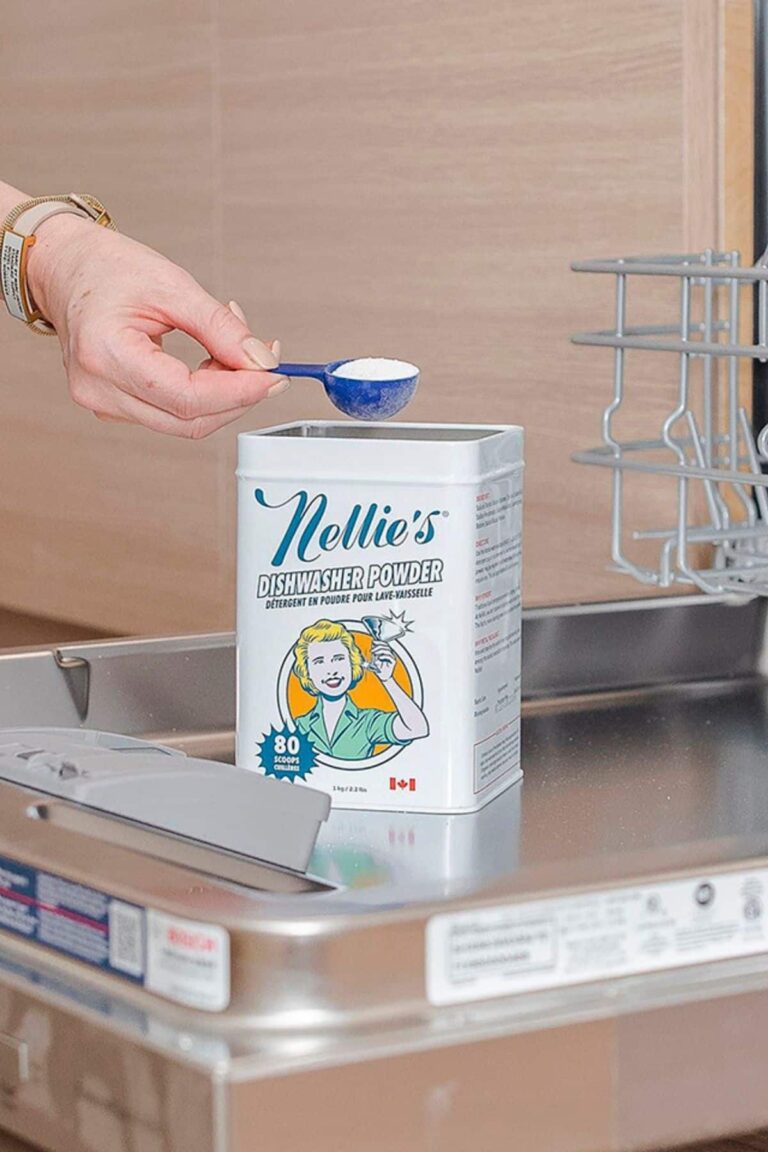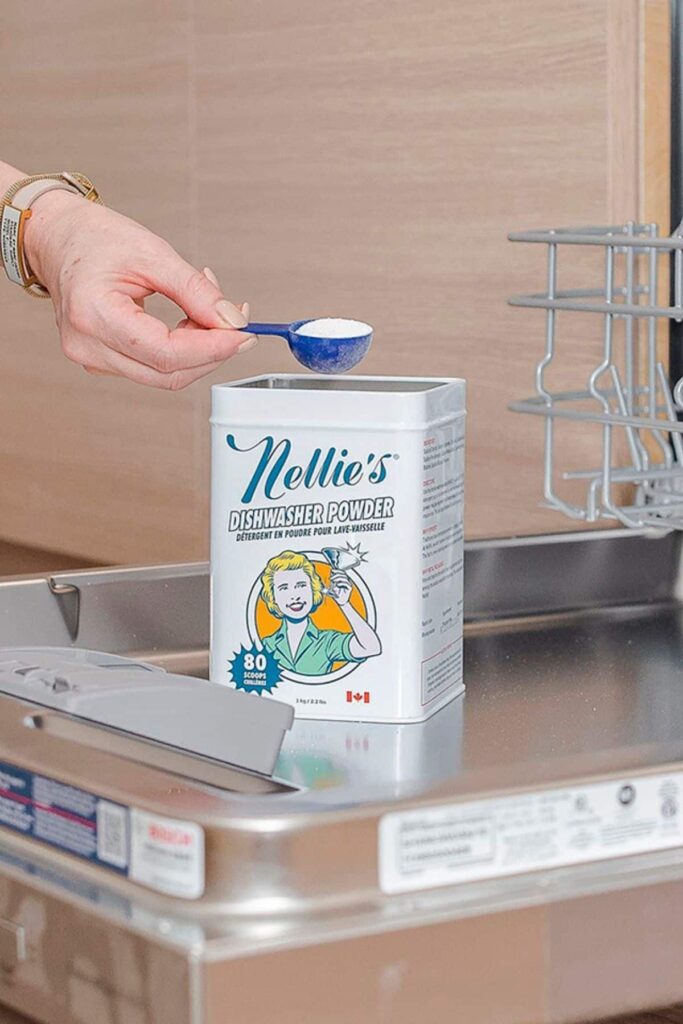 Which of these do you think is the best dishwasher detergent?