Top 10 Organic Tampons For a Healthy Period
February 22, 2023 | Kathryn Kellogg
Last Updated on October 12, 2023
I'm sharing the top 10 organic tampons for a zero waste period, because one of the most common questions I get is, "how do you handle your periods?"
These tampon brands offer natural tampons free of chlorine and other harmful ingredients for a healthier body — as well as a healthier environment! I've rounded up the best organic tampons for individuals who aren't interested in or can't use menstrual panties or cups. While these brands offer products that are obviously still single use, they're a great step toward a more sustainable, plastic-free period!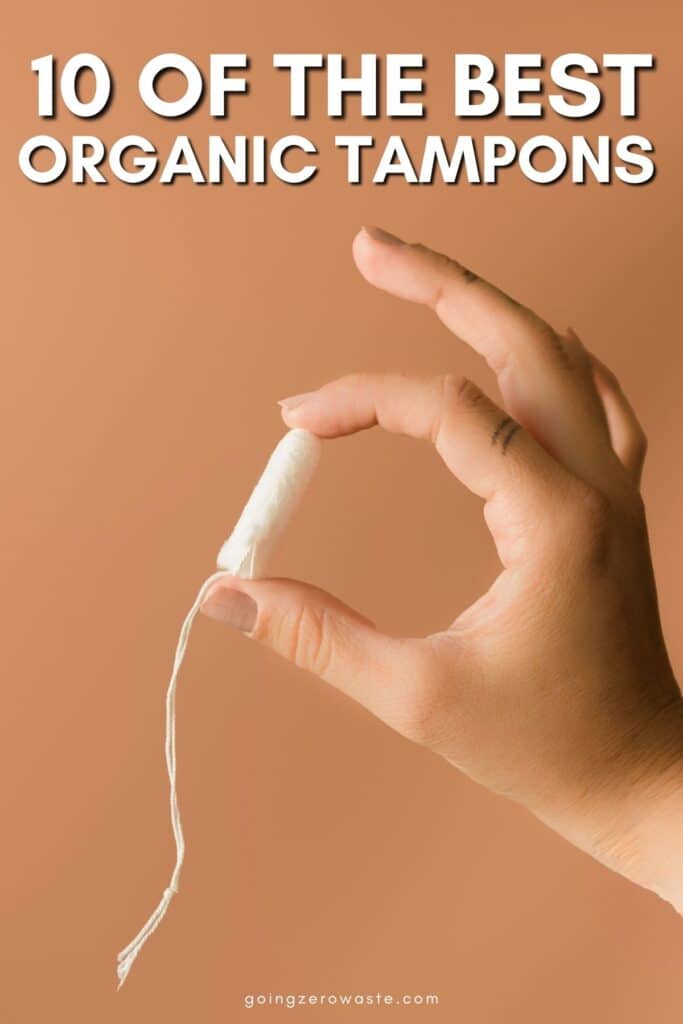 Some of the links in this post are affiliate links; for more information please see my disclosure policy.
organic cotton tampons
While there are a number of ways to have a zero waste period, my go-to product is period underwear. It has all the comfort of regular undies but keeps you leak-free. They're also reusable and washable.
Menstrual cups are a close second, as they act very similar to tampons. You insert it and get to forget about it for approximately 12 hours. Then you remove it, dump your blood into the toilet, and reinsert.
I have a whole blog post all about how to use menstrual cups and how to choose the right menstrual cup for you.
However, I fully understand that reusable period options are a bit of a learning curve. And they're not for everyone.
If you're not quite ready to make the switch just yet, I really suggest looking into organic tampons and pads.
Conventional tampon and pad brands use a combination of bleached rayon, conventional cotton, and contain plastic. Also, conventional cotton uses a lot of pesticides — things you probably wouldn't want to put in such a sensitive area. 
While natural tampons are still single-use, they're a much better option for your body and the planet. That's why I've created this list of the best 10 organic tampons on the market.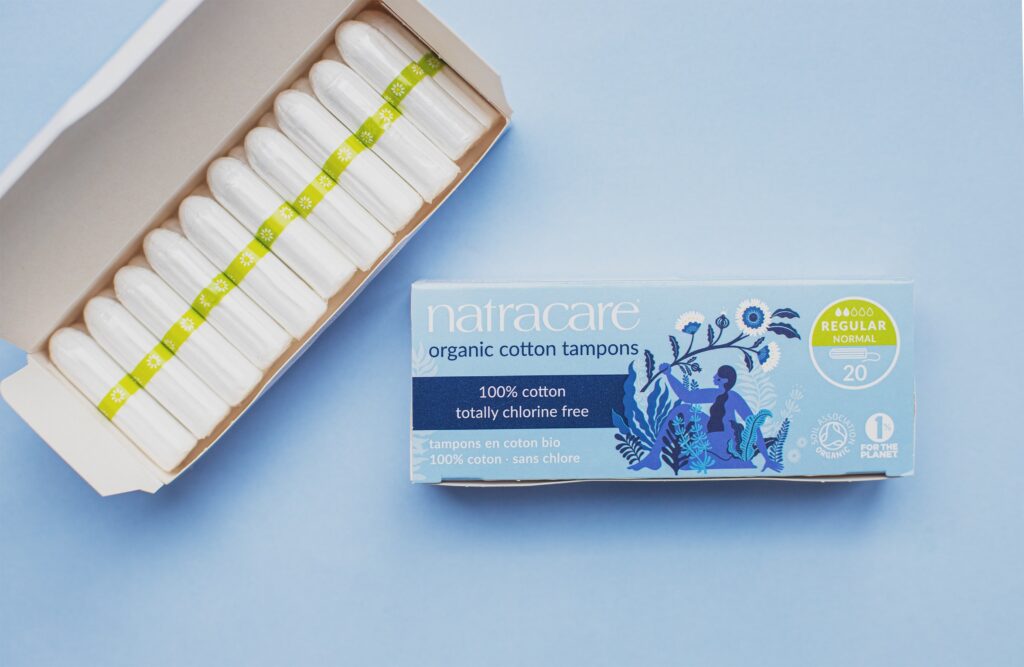 are natural tampons better for you?
Yes, organic tampons are better for you, and the planet. That's because they don't have any unnecessary harsh chemicals, fragrances, or additives in them.
To understand this further, it's important to talk about what's in conventional tampons.
Conventional tampon brands use these materials:
rayon
This is derived from wood pulp. Rayon's high levels of absorbency may cause the bacteria Staphylococcus aureus to grow, which can cause toxic shock syndrome (TSS), a rare complication brought on by bacterial infection. However, it's worth noting that only 3 to 6 people in 100,000 get TSS per year.   
cotton
Conventional cotton production soaks up 16-25% of the total pesticides produced worldwide, even though the crop itself only covers about 2.5% of the world's total agricultural land.
Pesticides can be toxic to fish, birds, and insects that benefit the environment. It can also contaminate drinking water and soil, which can be detrimental to human health.  
Organic cotton is the better choice because it's grown without pesticides, so none will be in your tampons either.
titanium dioxide (dioxin)
Dioxin is an environmental pollutant with links to endocrine disruption and cancer. Dioxin was found in tampons when the wood pulp used to make rayon was bleached using chlorine gas. However, the FDA has put a stop to this process.
Thus, dioxin is only found in small amounts in tampons. Truthfully, more research needs to be done to know if this is safe yet. Tampons made from organic cotton are still the safest bet, as there's no rayon.
fragrance
Conventional tampons may contain fragrances or organic compounds with strong smelling odors. The ingredient "fragrance" is usually just a cover word for potentially 100s of various synthetic scents and ingredients.  
Fragrance has been known to cause allergies like coughing and sneezing. The safety of fragrances in tampons hasn't specifically been studied, but fragrances are often irritating to vaginas, resulting in inflammation, itchiness, pain, and even infections.  
The vagina is a self-cleaning machine, and it shouldn't smell like a field of roses. Organic tampons that are fragrance-free are the safer choice.
bpa
Bisphenol A (BPA), is an industrial chemical that has been used to make certain plastics and resins since the 1950s.
The Environmental Protection Agency (EPA) notes that BPA can imitate the body's hormones and interfere with the production of, response to, or action of natural hormones.
BPA is often found in many old-school tampon applicators, so it's important to look for organic tampons either without applicators or with BPA-free applicators.  
what is the healthiest tampon to use?
The healthiest tampon to use is one made from organic cotton. These are made without pesticides, fragrances, dioxins, or any other unnecessary harsh chemicals.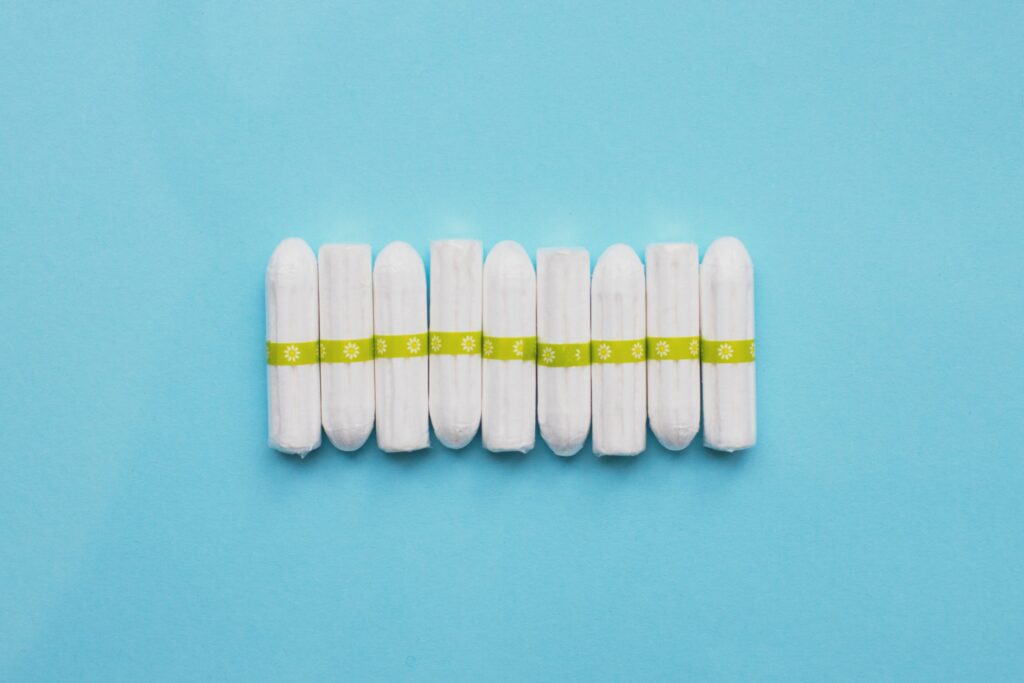 the best organic tampons
Here are some brands that are making organic cotton tampons and get the Going Zero Waste seal of approval.
I've compiled a list of the best organic tampon brands on the market. All the tampons listed below are made from organic cotton and have BPA-free applicators or no applicator options. Some of them can even be composted after use. Many of the brands listed also give back to communities or the environment somehow.
I've gone ahead and highlighted some key features of each brand, but it isn't an exhaustive list. Be sure to check out their websites for more information.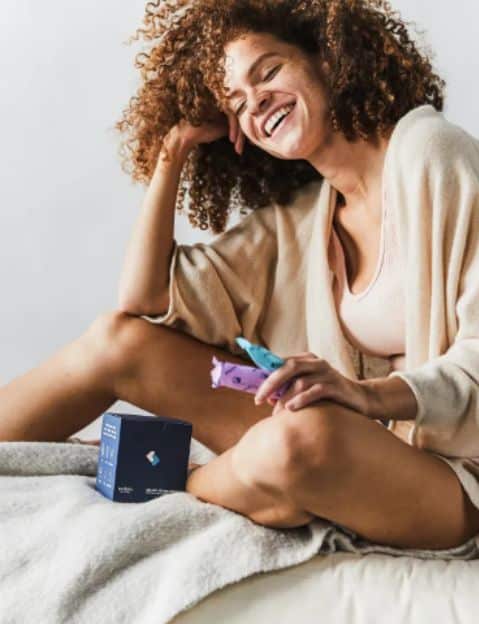 100% organic cotton tampons
Plant-based compact applicator
No synthetic additives or fragrance
Hypoallergenic
1% of every purchase goes to 1%4Women fund
---
Organic cotton tampons
B Corp
BPA-free plastic applicators
Made without pesticides, dioxins, fragrance, chlorine
With every purchase, they provide pads & health education to a girl in need
---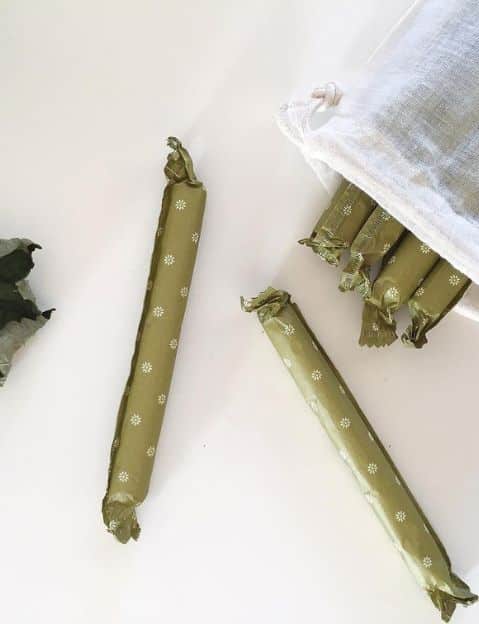 100% organic cotton
easy-glide cardboard applicator
Contains no additives, plastics, or harsh chemicals 
Low impact dyes or inks
Compostable tampon and applicator
---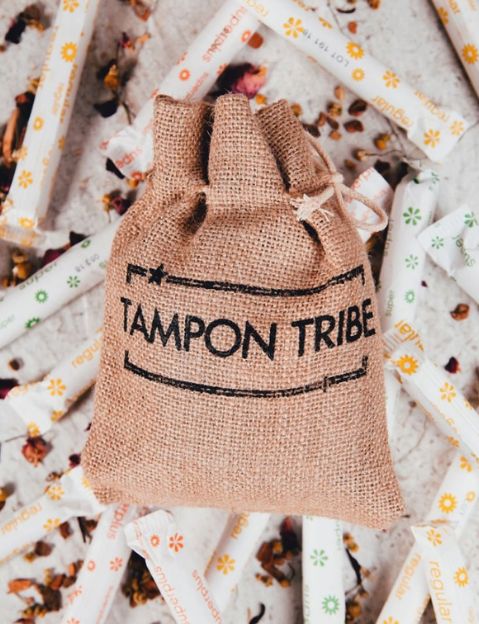 100% GOTS certified organic cotton
Biodegradable applicator
Safe and fair labor
For every pack bought, they donate a pack to those in need
Comes in a reusable jute bag
---
100% certified organic cotton
BPA-free plastic applicators & biodegradable cardboard applicator options
Individually wrapped in paper wrapper
8 hour leak-free protection
Partners with #HappyPeriod and I Support The Girls to give back
---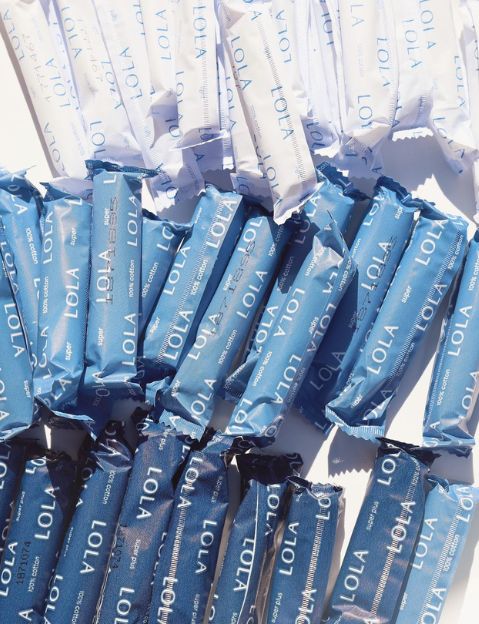 100% organic cotton tampons (tampon + string)
BPA-free compact, cardboard, and no applicator options 
Hypoallergenic
Expands in all directions to protect against leaks
Free from synthetic fibers, fragrance, chlorine bleach, chemical additives, + dyes
---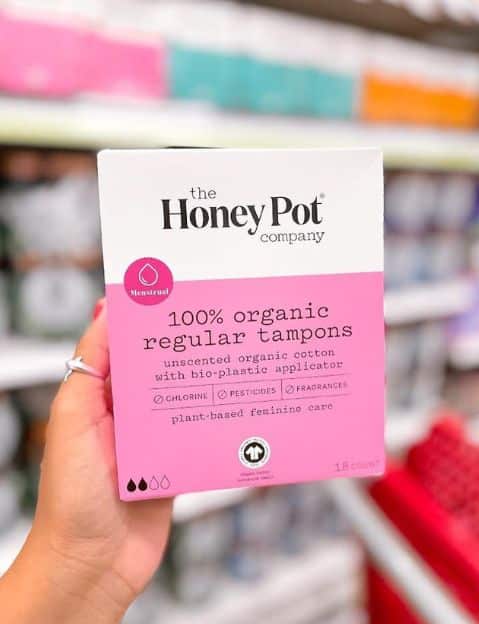 100% Organic cotton tampons
BPA-free applicators
Black-owned brand
Donates 2% annually to organizations that support menstruating humans 
---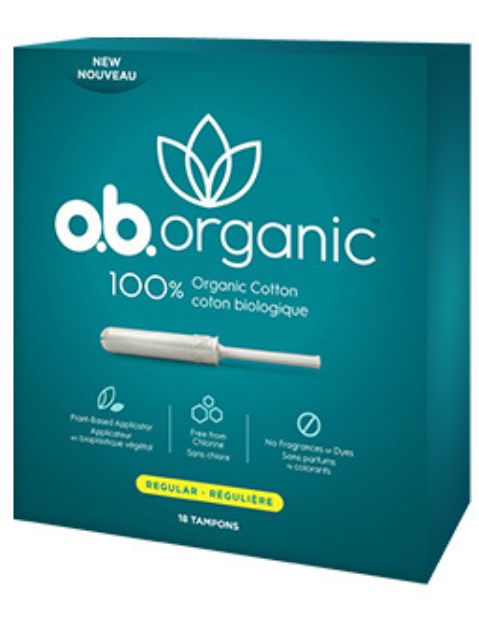 100% certified organic cotton from tip to string
Plant-based applicator + no applicator options
Free from chlorine, fragrances, and dyes
---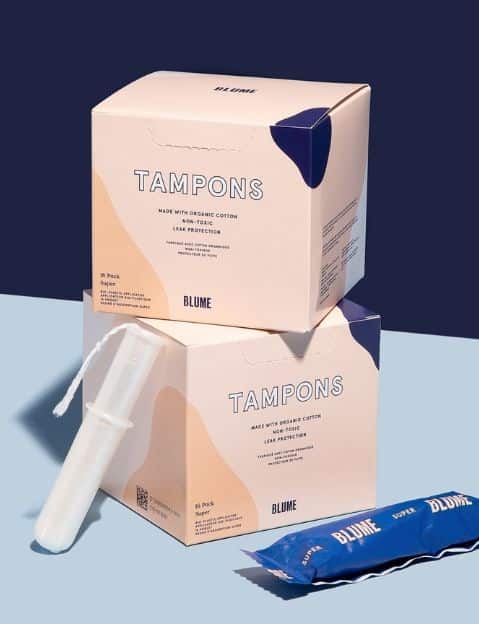 100% organic cotton tampons
Woven for maximum absorbency
Biodegradable and hypoallergenic
BPA Free + FDA Approved
100% chemical free
---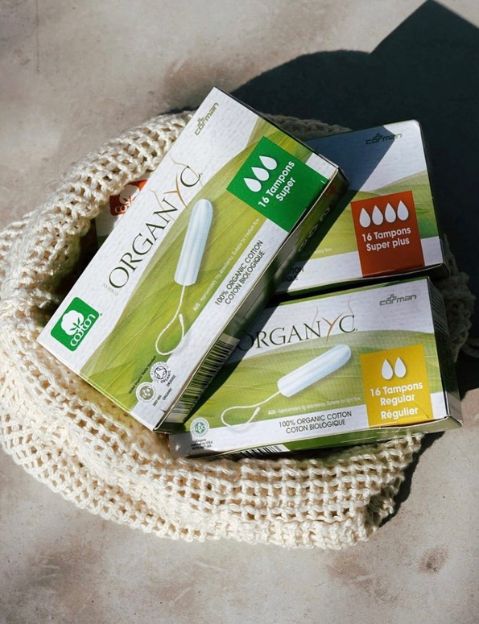 100% Organic cotton tampons
Bio-based, cardboard, and no applicator options 
Light to super absorbent options
faqs
do you bleed less with organic tampons?
No, you don't bleed less with organic tampons. Organic tampons and conventional tampons have no effect on the menstrual cycle duration or heaviness. 
do organic tampons work as well as traditional tampons?
Yes! There's nothing in the materials used in traditional tampons that makes them work better than an organic option. All of the materials used in a traditional tampon are simply to make them cheaper to manufacture and produce, whereas natural tampons focus more on health and sustainability.
So, what do you think of these sustainable tampon options? Let me know which is your favorite in the comments!