My Minimal(ish), Zero Waste Bathroom Tour
February 27, 2018 | Kathryn Kellogg
Last Updated on April 9, 2020
I'm so excited to take you on a tour of my minimal (ish) and zero waste bathroom. It's not very large and there's not too much stuff in it, but without further adieu…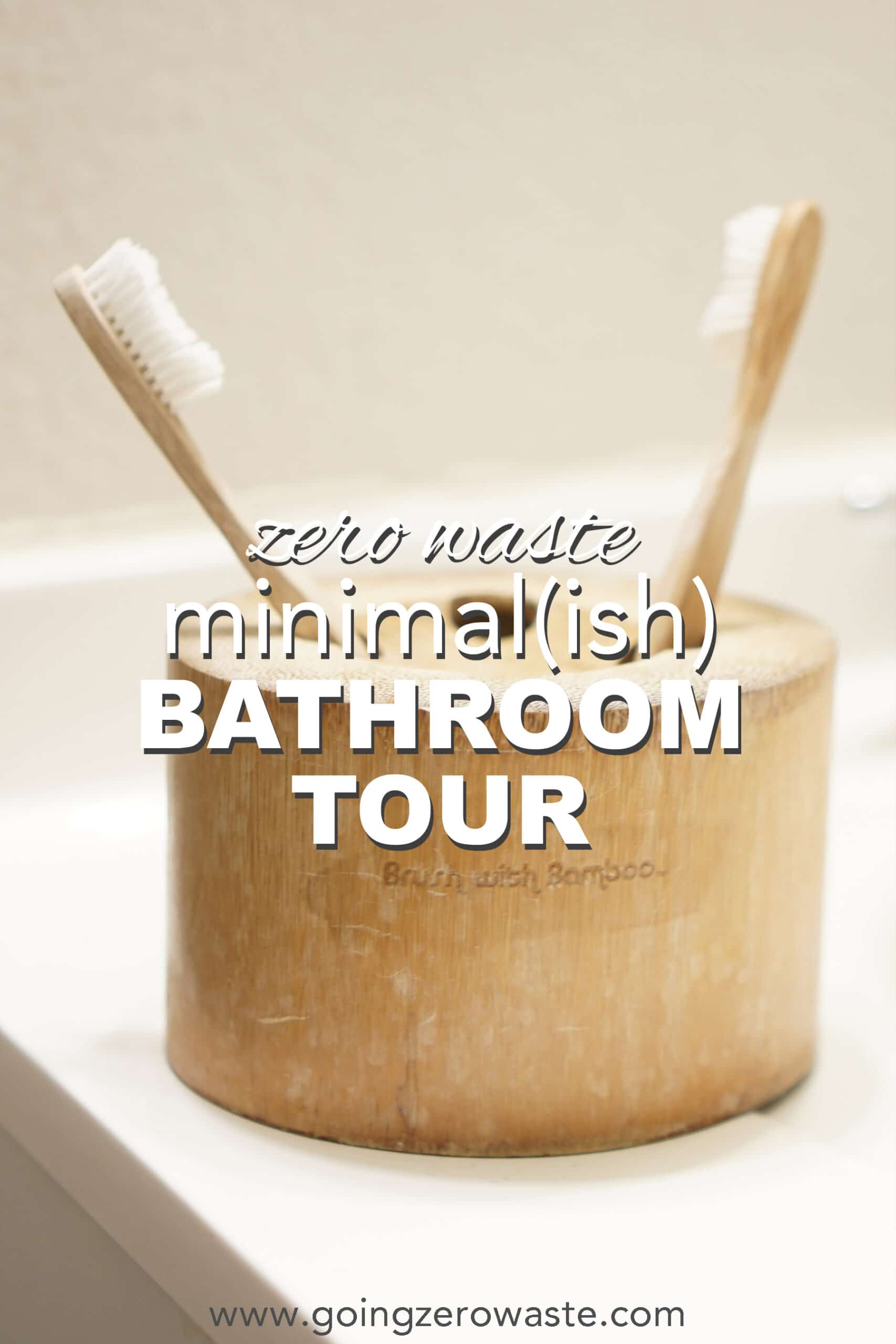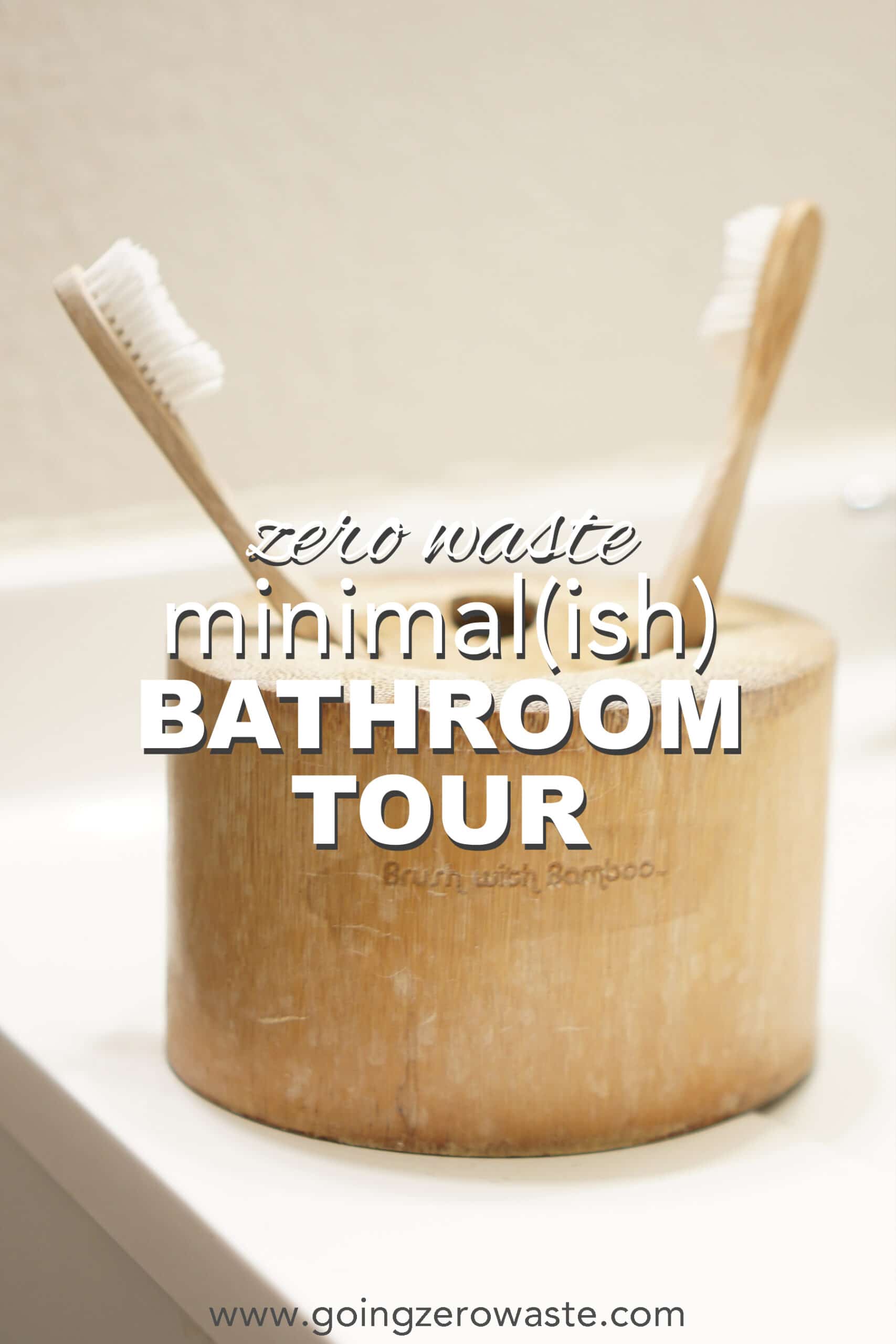 When you walk into the bathroom, our shower/bath combo is on the right. On the left you see our wicker hamper, and I upcycled our bathroom trash can into a smaller hamper for my delicates.
My favorite painting in the whole house hangs in the bathroom because it didn't really fit anywhere else in the house. We bought this majestic depiction of the Seine at Goodwill for $13.
I love second hand shopping.
Behind our shower wall is the toilet where we have our bidet attachment, of course! In front of the toilet we have our vanity and medicine cabinet.
Several of the links below are affiliate links. If you click them and decide to purchase the item, I receive a slight commission for referring you.
Top row starting left:
An upcycled yogurt jar holding Justin's nose trimmer, my eyelash curler, stainless tweezers, and a stainless pencil sharpener
An upcycled yogurt jar holding my makeup brushes and Kjaer Weiss mascara (more information on zero waste makeup)
Marie Veronique tinted sunscreen (I wear this everyday, and it's lasted around 5 months)
Tata Harper toner and face lotion for blemish prone skin (Has helped my skin congestion a lot!)
Rahua hairspray I bought for my wedding day
Floss threader to get between my dental hardware. I have a permanent bar on my bottom teeth to prevent shifting. I was given a packet at the dentist. They are reusable, but once it goes it will be going in my trash jar.
Middle row starting left:
Bottom row starting left:
Blade bank to put old blades. (For more on how to recycle blades see this post)
Replenishing oil cleanser from Marie Veronique
Olas mouthwash (I honestly prefer my homemade mouthwash!)
MCMC Maine perfume I bought for my wedding
Justin's cologne… (no idea what it is… I don't think he's ever used it… but I'm not allowed to get rid of it. I respect his stuff. 🙂
Justin's electric razor which has some crazy warranty… 10 years I think.
Under the sink: There's a box to collect empties and a dehumidifier.
There's also this metal rack. In the top drawer, I have a pink box full of hair ties and bobby pins and my boar bristle hairbrush.
I also keep all of my products in wait. I'm getting the last drops out of many of my products so new products are eagerly awaiting their chance to be used.
In the bottom drawer, I store our water flosser, old tooth brushes for cleaning, and lots and lots of cords. Charging cord for the flosser, Justin's razor, my curling iron, cord for the dehumidifier, etc.
For a detailed list on my shower essentials see this post here.
I hope you enjoyed my bathroom tour! I certainly love skin care. I try not to overdue it. I have a rule (that I don't always stick too) that I have to fully finish one product before moving onto the next.
For instance, if I wanted to get a new face mask, I can't buy one until I finish the one of the ones already in my cabinet.
It prevents me from making any unnecessary waste and prevents me from spending a lot of extra money. 
This definitely isn't a perfect zero waste or minimal bathroom, but it's perfect for me. There's still some plastic which I'll recycle.
Glass isn't perfect either. Even though it has a much higher recycle rate than plastic, it's still super energy intensive. 
There is no perfect zero waste solution for everything right now, so I'm just doing the best I can. I balance DIY with bulk ingredients and store bought based on my available time to DIY and trying to clear my skin.
If you've had skin problems, you know how frustrating it can be to try product after product looking for your magic cure. I think I've finally found my perfect skin care routine, but I'll keep you updated!
Let me know if you have any questions in the comments below.