Meal Prep Week Three
August 21, 2016 | Kathryn Kellogg
Last Updated on April 7, 2020
I didn't write a meal plan post last week or last, last week because we were doing a fridge and freezer cleaning. It's where we try to eat everything available! We did a pretty good job. The meals aren't very pretty, but waste not, want not.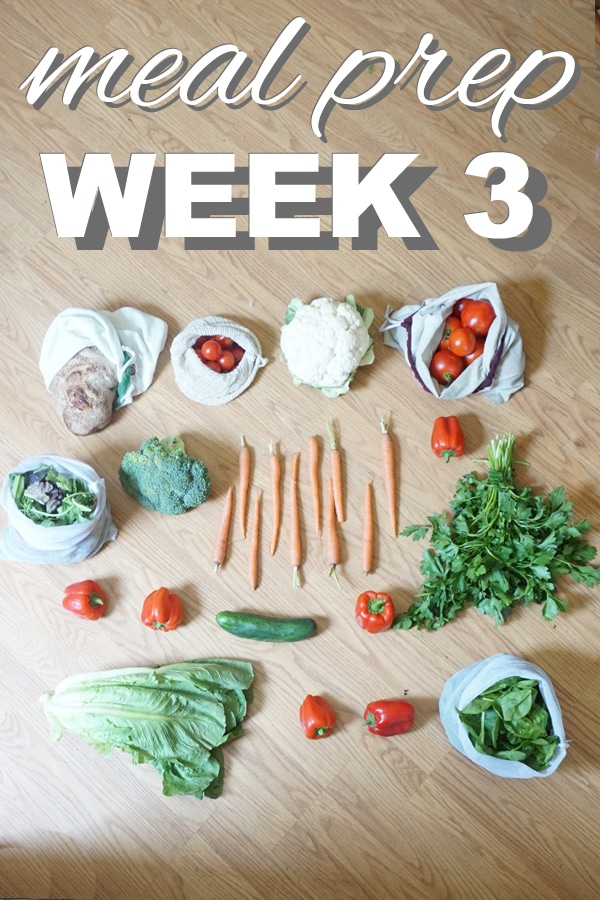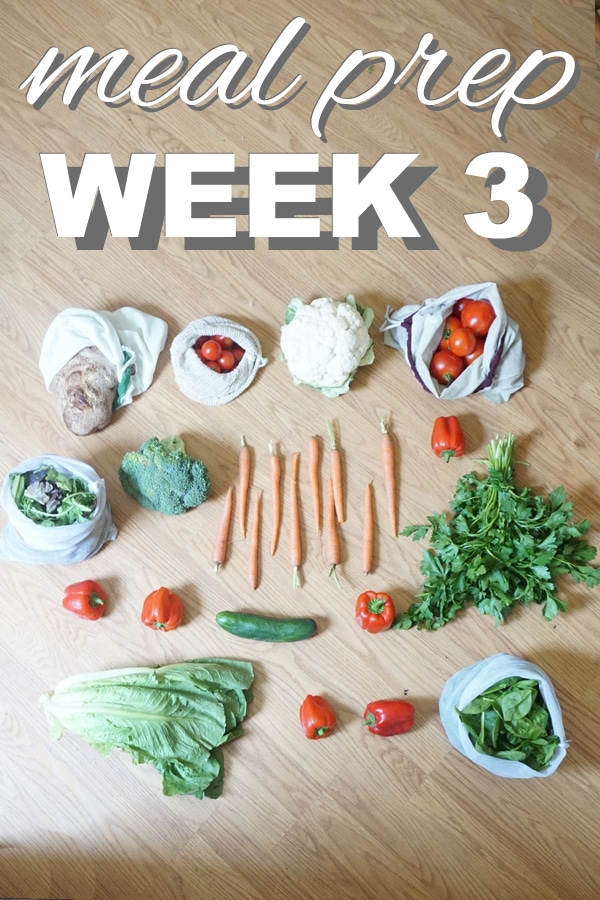 This week Justin is going back to school. Which means I will now be going to work by myself. (For those of you who didn't know, Justin and I used to work together.) So, I'm fully prepping just my breakfasts and lunches for the week. Justin is on his own – sort of? He'll just be making his own sandwiches, but I'll still be making him a batch of chocolate chip cookies.
I still don't think I've quite found my rhythm with these posts yet. But, I really like doing them! And, still plan on making these a weekly thing. I found a lot of searches in my search bar for week three. Sorry, you've had to wait so long.
So, this week, I did a whole bunch of real time meal prep posts through instagram stories. I plan on making that weekly thing too – but with quieter music. You're welcome.
inventory:
Since we had a whole clean out your fridge/freezer week we didn't have much. There's a little bread left in the freezer. We had some tortillas and tortilla chips. We have eggs and not much else.
budget:
TOTAL
We still aim for $250 a month or $60 a week. Some weeks we spend a little less others we spend a little more. Especially because we do meat and bulk shopping only once a month.
BULK
Next week I'm doing my bulk run in Berkeley. I plan on picking up chocolate chips, pretzels, cheddar whales, pasta, and brown sugar. And, SALT. Please – someone – ANYONE. Don't let me forget the salt! My goal is to spend under $50.
BUTCHER
This week we also did our monthly meat run. It was a little bit more expensive than planned. We aim for $50- $75 a month, but I think we came out at $90. Justin really likes deli meat. And, if possible, I'd rather buy it from our farm. That way I know it's organic and pasture raised. So, I bought a little ham butt. It's in the oven right now, and I'm going to use my mandoline to slice our own "deli" meat. We'll see how it goes.
We store the meat in the freezer as soon as we get it. Justin buys about 5lbs of meat for the month. The farm was running a special on ground beef. Pastured organic meat is expensive. But, it is worth it. Eat less meat, and eat it as natural as possible.
FARMERS MARKET
My goal is to spend under $35 at the farmers market. I've been buying bread recently instead of making my own. Which has been really nice. I also haven't spent almost any money on food the past week due to cleaning out the fridge so we're really low on produce.
shop:
BUTCHER
$24 – 3lbs of Ground Beef
$22 – 2lbs of Chicken Breast
$30 – 2lbs of Ham
$14 – 1lb of Carne Asada
TOTAL: $90
FARMERS MARKET
$6.85 – Organic Wheat Bread
$2.00 – Organic Romaine
$2.00 – Organic Spinach
$2.00 – Organic Salad Mix
$2.00 – Organic Red Peppers
$4.00 – Organic Tomatoes
$1.00 – Organic Carrots
$1.00 – Organic Cucumber
$1.00 – Conventional Parsley
$2.00 – Organic Broccoli
$1.25 – Conventional Cauliflower
TOTAL: $23.10
It kinda all came out to a wash. According the budget app on my phone where I keep track of this on a monthly basis we have one more week of shopping and almost $100 more dollars to spend. Maybe I'll go crazy in the bulk section!? CHOCOLATE COVERED EVERYTHING.
plan:
BREAKFAST
K – Green Smoothies: Spinach, Strawberry, Banana, Almond Milk
J – Bagels: We buy a dozen bagels in bulk for $5 at Safeway. We keep them in the freezer.
LUNCH
K – Garden Salads: Salad Mix, Romaine, Parsley, Chickpeas, Carrots, Cucumber, Tomato, and Radishes. (except I forgot the radishes) I keep olive oil and balsamic vinegar at work
K – Crust of Bread
J – Ham Sandwiches: Ham, Romaine, Tomato, Cheese, Mayo.
J – Cheddar Whales, Pretzels, or Carrot Sticks with Chocolate Chip Cookies
J or K – Leftovers
DINNER
The left side is K and the right side is J
Veggie/Pepperoni Pizza
Fried Cauliflower/Fried Chicken and Waffles
Mushroom/Chicken Caesar Salad
Veggie Nachos or quesadillas or fajitas if Justin has chicken leftover
Veggie Shepherd's Pie with lentils
Mushroom Bolognese Lasagna
Veggie/Reg Burgers
prep:
This week was full of prep! I prepped all of my breakfasts and lunches in about an hour and a half. It would have been a lot quicker if I weren't trying to insta story the whole thing. I prepped 5 green smoothies and 5 salads and 3 soups! I only drink about half a jar of soup at lunch.
I will probably be making really similar meals in the coming weeks. But, we'll see! I was thinking of making a zucchini soup. What did you prep for the week ahead? Any recipes you feel like sharing?