5 Reasons to Love Lomi + How to Use It
September 17, 2023 | Kathryn Kellogg
Last Updated on October 4, 2023
Did you know in the US alone, we waste 40% of all food produced? Of that, more than half happens in our homes.
This can happen for a number of reasons, but mostly because people get confused by expiration dates, they buy too much food, they purchase something and forget about it, or they simply don't know how to properly store something.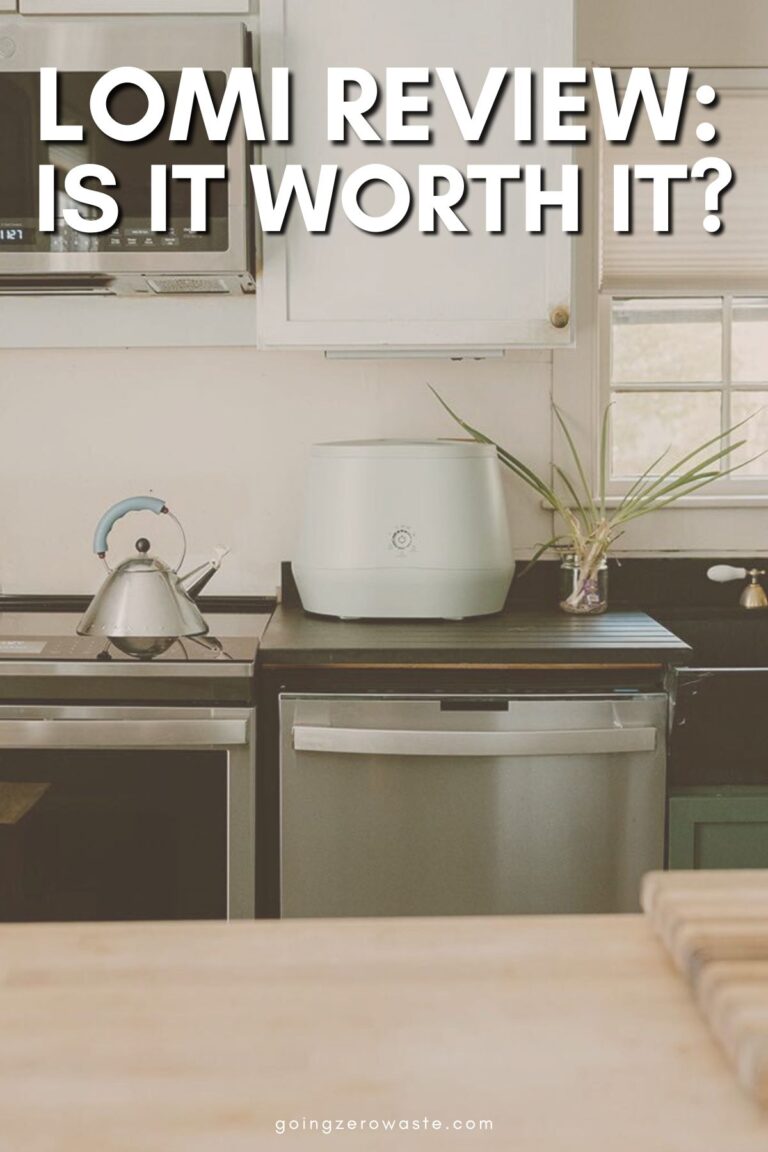 This post was sponsored by Lomi. All thoughts and opinions are my own; for more information please see my disclosure policy.
Food scraps don't break down in landfills because landfills are designed for storage, not decomposition.
There's no oxygen in a landfill so organic matter like paper, wood, and food scraps are stuck in a limbo state releasing methane. Methane is a gas 30x more powerful than carbon which is far more devastating to the climate because of how effectively it absorbs heat.⁠
One solution to this problem is composting, which transforms your food-waste into nutrient-rich soil.
methods of composting:
Composting is the natural process of recycling organic matter, such as leaves and food scraps, into a valuable fertilizer that can enrich soil.
The problem is only 8% of Americans have access to food waste pickup. Curbside composting programs collect food scraps, food-soiled paper, and leaf/yard waste and turn it into compost. Think of it as recycling, but for your food scraps.
There are several different methods of composting, such as:
Enclosed bin – Sits on the ground, has a lid, and is aerated along the tops and sides to help with decomposition.
Backyard compost tumbler – Raised off the ground, a fully sealed container which can be rotated to mix the composting materials.
Vermicomposting – The use of earthworms to convert organic waste into compost.
Bokashi composting – An anaerobic fermentation process that relies on inoculated bran to ferment kitchen waste.
Curbside composting – A program, similar to curbside recycling, that collects food scraps, food-soiled paper, and leaf/yard waste and turns it into compost.
Trench composting: Go into your backyard, dig a hole around a foot deep, put your food scraps in and cover it up.
Electric composters: An appliance that can turn your kitchen scraps into nutrient-rich dirt like Lomi.
Also, local farmers market and community gardens will typically be happy to take food scraps off your hands, if they have a food scrap drop off program set up. Double check this by reaching out to someone in charge.
You can also find someone in your vicinity who already composts using ShareWaste and will happily take your food scraps.
For more information, be sure to check out my other composting blog posts below:
what is lomi?
One of the things that sets Lomi apart is that it's a home solution that takes all your food scraps (yes, even animal products) and transforms them into valuable nutrients in under 24 hours.
Yes, Lomi transforms your food scraps in under 24 hours into nutrient-rich dirt. Lomi is a Smart Waste Appliance that breaks down your food scraps using heat, abrasion, and oxygen. It does this through heating and grinding your food waste.
You can better get to know Lomi by understanding the components that make up this Smart Waste Appliance:
Bucket: It has an aluminum bucket designed to process your food waste and Lomi Approved bioplastics. This is dishwasher safe.
Filters: There's a back filter and a top filter that are made from activated carbon to trap moisture, remove gases from circulation, and reduce food rot smell. These are refillable.
Lid: The lid is designed to stay locked in place while a cycle is in progress.
All these components come together to make Lomi, which can transform your food scraps, and Lomi-Approved bioplastics, into nutrient rich plant food in mere hours. This is a great way to ensure food scraps don't end up in landfills.
Here's what can go into your Lomi:
Fruits and vegetables (think strawberry tops, carrot + potato peels, etc.)
Plant trimmings and yard waste
Animal products (like eggshells, meat scraps, soft shells, dairy, etc.)
Grains (like wheat, rice and corn)
Lomi Approved Bioplastics (like Pela Case)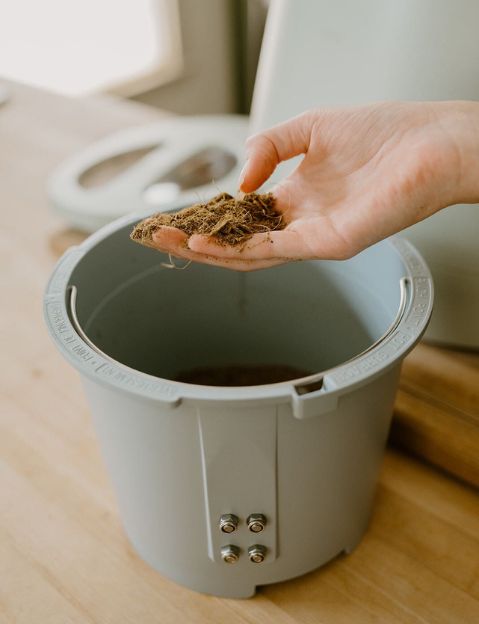 can process lomi-approved bioplastics
As mentioned earlier, Lomi can process Lomi-Approved Bioplastics. Such as Pela Case, a compostable phone case, and even the packaging that comes with the Lomi and Lomi accessories like charcoal and filter refills.
Most people don't have access to industrial composting facilities that can break down bioplastics. Without access to this, most of these bioplastics just end up in a landfill where they can last for centuries and release methane (similar to food scraps).
Here's a full list of Lomi-approved products and packaging that Lomi can break down. All Lomi Approved products have passed Lomi's rigorous research and testing process, including verification that they will not release toxic chemicals or harm the environment.
To process Lomi-approved bioplastics, make sure you choose the "Lomi Approved Mode" setting. It will take about 5-8 hours to transform your scraps and bioplastics into usable Lomi Earth.
easy to operate
Lomi is easy to operate and requires minimal maintenance. It has three modes, all of which serve a different purpose (more on that below).
The default mode is Eco Express, but you can change modes by simply pressing the button for 2-3 seconds.
Here's what each mode means and how long it will take to process your materials:
Eco Express: This is the fastest mode to break down food scraps; it processes materials in 3-5 hours and should only be used with food scraps.
Lomi Approved Mode: Use this when adding Lomi-Approved bioplastics and products, along with packing materials; it processes materials in 5-8 hours.
Grow Mode: Best for gardeners that want to retain maximum nutrient value in Lomi Earth; It processes materials in 16 to 20 hours and should only be used with food scraps.
Once you know which mode to put your Lomi on, things get super simple from there on out.
Here's how Lomi works:
Step 1 – Put all of your food scraps, coffee grounds, and any Lomi-Approved Products into Lomi.
Step 2 – Select the mode that best works for you. Push the button and Lomi works to break down your waste. It will only take hours to break down.
Step 3 – What you're left with is nutrient-rich Lomi Earth, which can be used in several ways (we'll get to that next).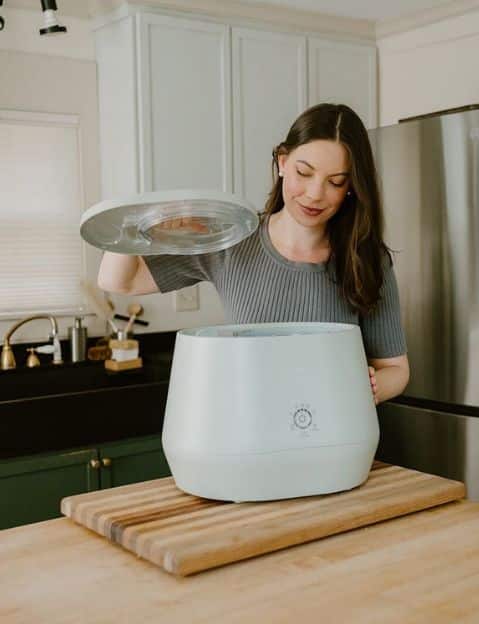 who is lomi right for?
Curious if Lomi is right for you? Whether you're limited on space, love plants, or just want the easiest way to compost, it can seamlessly integrate into your lifestyle. Using it just twice a week can reduce your waste footprint by 50%!
And 180 million pounds of food scraps have been diverted from the landfills with units already sold.
plant lovers
If you're big into houseplants, or have a garden, this may be your favorite reason to love Lomi. Lomi creates nutrient-rich Lomi Earth (aka pre-compost) which is rich in microbial cultures and organic matter. This is perfect to use on plants of all kinds, lawns and gardens, as it will help them flourish.
When Lomi is done doing its thing, just take the Lomi Earth that's left and sprinkle it onto your lawn, garden or houseplants. You can get a big bag and save it up over time if you prefer to work with bigger batches.
For the best results in the garden, consider choosing Grow Mode, as this will retain maximum nutrient value in Lomi Earth.
people without access to industrial compost
Are you someone who doesn't have access to an industrial composting facility? Lomi may be the best choice for you.
Industrial composters can handle a much wider range of organic matter, including things like bioplastics and bones, that can't be processed in home compost bins.
But Lomi can break down certain animal products, like meat scraps and dairy, which makes life a lot easier for people without access to industrial composting.
apartment dwellers
If you have an overall smaller space, like in an apartment, Lomi may be right for you. You can put it on a countertop, or place it on a sturdy display table.
You do need ample countertop space, so be mindful of this before you get a Lomi. Lomi is 16″ in width, and 12" in height.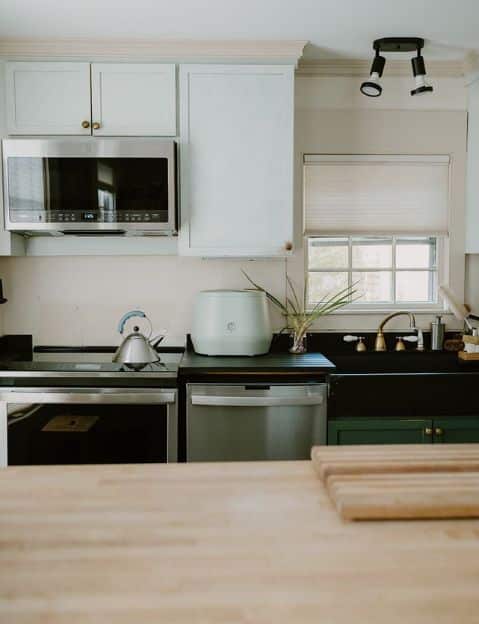 beautiful + functional design
As a bonus the Lomi Bloom is a beautiful appliance designed to seamlessly fit into any kitchen space. It comes in three colors white, black, and sage green – which is the one I have!
With Lomi, there's no fussing: You just place it on a countertop, and let it do its thing. It's functional, simple and accessible. Basically all you need to do is place your food scraps in and run the cycle.
Each time you run a cycle with Lomi Bloom you can also earn points just by connecting your device, every time you run a cycle, refer a friend, or place an order. You can redeem your points for free products and special discounts from Lomi and other great eco-friendly brands.
Here's a few more of Lomi Blooms offerings:
In-app usage guide, shop, and support
Bluetooth and Wi-Fi enabled
Over-the-air software updates and improvements.
Faster, more responsive Lomi Cycles
Tracking your household's carbon impact
Earning reward points for simply running Lomi Bloom
Real-time troubleshooting information
Would you consider using a Lomi in your home? Let me know in the comments.
And, a huge thank you to Lomi for sponsoring this post. Be sure to visit https://lomi.com/ to learn more about Lomi and start reducing food waste today.