5 Delicious Ways to Use Celery Leaves
October 26, 2021 | Guest Post
Last Updated on March 8, 2023
Celery leaves are my least favorite part of my least favorite vegetable — celery! I mean… is it anyone's? But, no matter my personal feelings, I can't deny how important celery is when it comes to developing flavor. It's a centerpiece of the holy trinity used to make the foundation of many meals through a soffrito, mirepoix, and more. 
Are celery leaves edible? Yes, actually! Instead of throwing out those frilly tops, use the whole vegetable to liven up any dish! There are many ways you can use celery greens to add unexpected flavor to your food. I'll show you five easy recipes with celery: in a morning shake, as an herbal substitute, added to beans, in homemade soups, or with your eggs.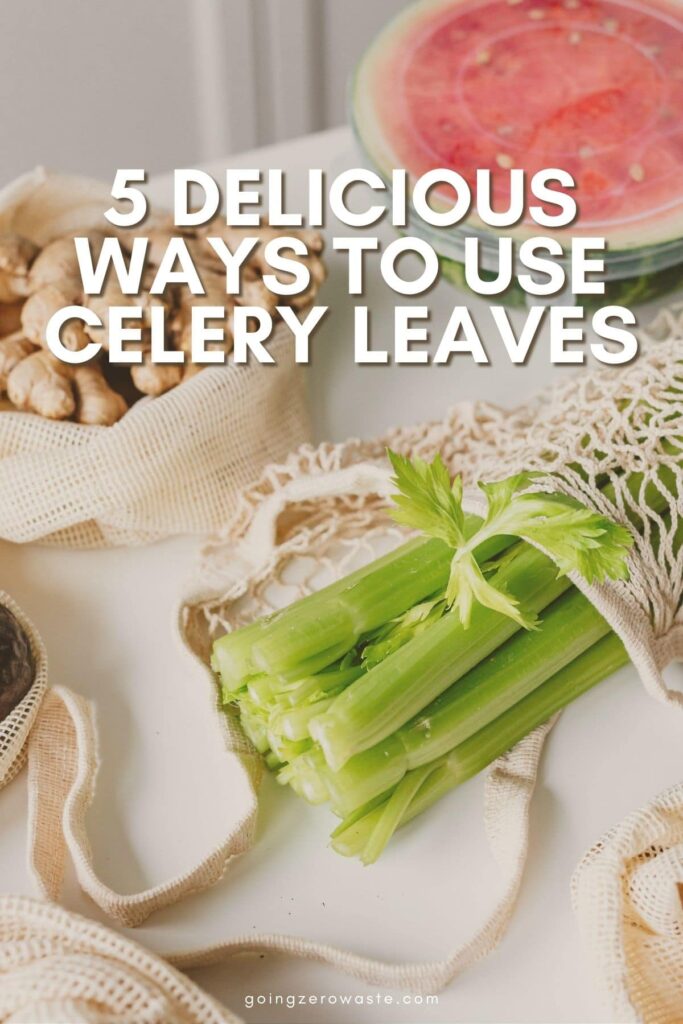 are celery leaves edible?
Most people just use the heart of the vegetable — the long stalks often sold bundled together at the supermarket — but the celery leaves hold SO MUCH FLAVOR and are totally edible!
So if you feel like your grocery store is skimping on the leaves, head to your local farmers market. You should be able to find plenty of celery greens for really kicking this aromatic up a notch. So much so, that I think even Emeril Lagasse would say, 'Bam!'
Cooking with celery leaves, while not exactly common, is a great way to reduce food waste and season any appetizer or entree.
On a global scale, the U.S. wastes around ⅓ of all food grown for human consumption. We are one of the top contenders in the world when it comes to the amount of food wasted daily. Even something as simple as using every part of a vegetable will help cut down on food waste. And who doesn't want that?
what to do with celery
When it comes to homemade meals, we're looking for recipes that are easy to follow with a list of easily accessible ingredients. These recipes with celery will show you what to do with celery in ways that are delicious and wholesome.
Before cooking, you need to know how to prep the leaves! Every stalk has outer and inner foliage, which taste completely different. The more intense flavor lies in the outer layer, which is dark green. These can be tough and have a thicker texture than the rest of the vegetable.
You'll want to use these guys in dishes where texture won't mess up the overall taste of the dish. A few great dishes to include the outer leaves are:
Soups
Stews
Sauces
Purees
The inner layer is a lighter green and has a more delicate texture. They're so tender that you can even eat them raw with the stalk itself.
When wondering what to do with celery, consider using the inner leaves in salads or as a garnish. Their flavor is stronger than the stalk, so make sure you're not going overboard or it could be too much of a bite.
recipes with celery leaves
There are so many great recipes out there to choose from. I've tried a plethora of them before settling on what I think to be the best of the best!
celery greens breakfast shake
Who doesn't love a healthy, filling breakfast shake? You can include all kinds of ingredients to make your morning a little tastier, and a handful of greens will kick your morning meal up a notch!
Celery leaves are greatly nutritious, making them the perfect addition, especially on those get-up-and-go mornings. Store them in the freezer, then pop them into the blender along with your choice of extra veggies and fruits.
Many people are also straight juicing this vegetable — low in calories and sugar, it's chock full of potassium and vitamins A, K, and C. If you can't get past the overwhelmingly green taste, adding just the leaves into your morning shake still makes for a healthy and balanced meal substitute.
herb substitute
If you start thinking about these leafy tops as a substitute for other herbs, the possibilities are endless. As long as they're finely minced — especially the fibrous outer ones — you can add them to dishes like salsa or pesto. 
Puree the leaves with a handful of toasted nuts and parmesan cheese, and you've got a delicious homemade pesto you can spread on garlic bread or add to a risotto!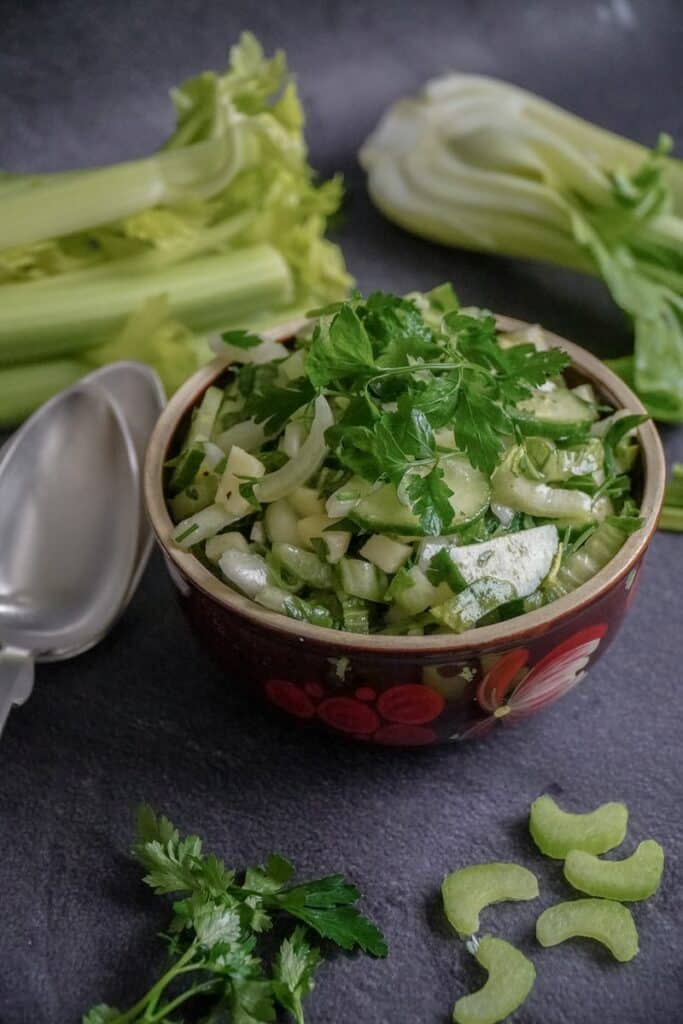 beans and celery
What sounds like an odd combination is actually surprisingly tasty. Buttery and creamy, corona beans pair beautifully with the inner celery leaves. This recipe is so easy, anyone could make it!
Simply toss the finely diced greens with the beans, then drizzle with a little lemon and olive oil. Add a sprinkling of salt and pepper — paprika for the fancy ones — and voila! The end result is *chef's kiss*. 
green soup
Ever had green soup? Well, you're about to! Affordable and full of flavor, celery soup is sure to become a fall family favorite. Plus, it's gluten free! And who doesn't like a good gluten free option?
This soup would be the perfect start for Christmas dinner — I know the Grinch would approve. 
Pro Tip: To make the soup extra tangy and rich, use sour cream. Serve with a slice of toasted bread and you have the perfect dinner for a blustery day!
Eggs
This dish is all about that subtle, herby crunch. And we love a good crunch when it comes to an omelette.
You'll need just one stalk and the inner leaves for this recipe. Add an extra sprinkle on top as a garnish and an added kick of flavor.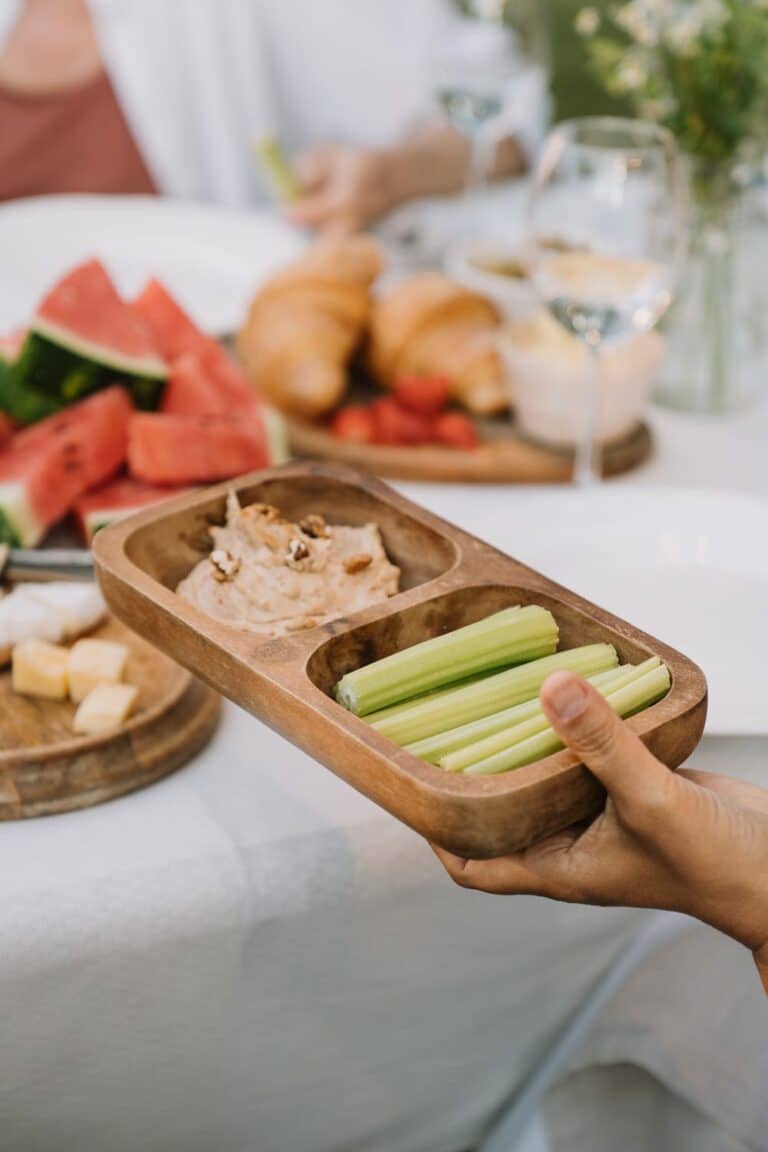 regrow your celery from scraps
One of the best ways to eliminate food waste in your home is to regrow food from scraps! This process is giving me "Little House On The Prairie" vibes, but hey, the Ingalls knew their way around a zero waste lifestyle.
Follow these simple steps to start your own mini vegetable garden with celery:
Step 1: Cut off the bottom 1-2 inches of the stalks. Wrap and store in the fridge.
Step 2: When you're ready, take the bottom in a shallow dish filled with ½ inch of water, being careful not to disturb the roots at the bottom.
Step 3: Place the stalk bases on a windowsill with plenty of sun and water every 1-2 days. The more water you give, the more flavorful the plant will be!
Step 4: As the celery begins to grow new shoots, peel off and discard the outer layers that are starting to brown and decay. 
Step 5: Once roots have started to grow, your vegetable is either ready to repot or transplant outside. You can also stop the process here by adding your newly grown stalks and leaves to soups, salads, or your morning omelette!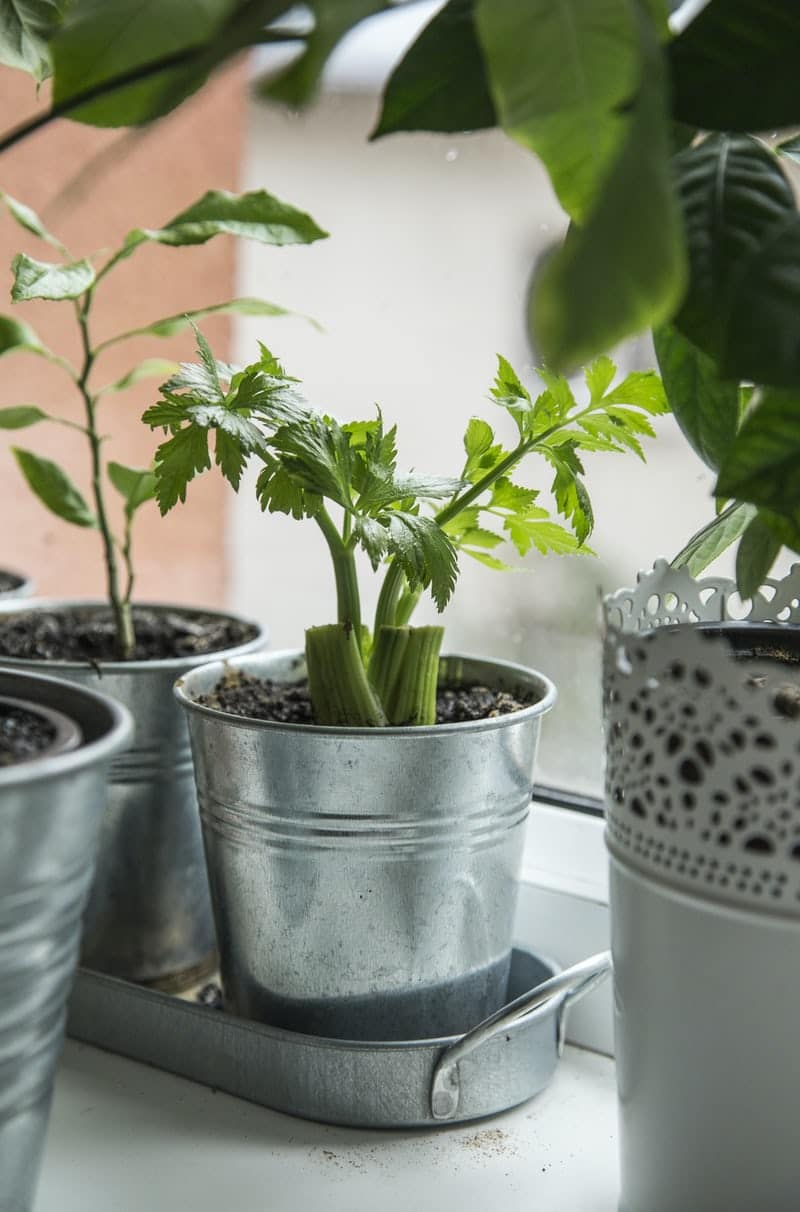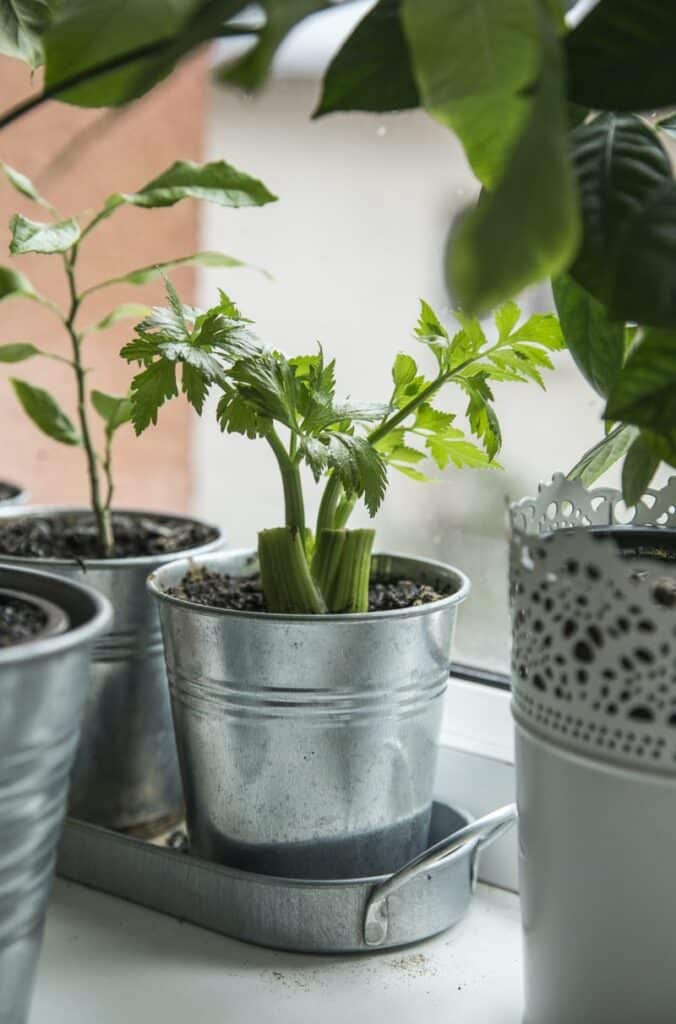 faqs
Is celery good for you?
Most definitely! There are so many benefits. Celery is a natural anti-inflammatory and will go a long way in helping you stay hydrated throughout the day.
It also helps to remove toxins and wastes from your body naturally. Pulse, there are a plethora of antioxidants and vitamins present in the green veggie.
Is celery flavorful?
Yes and no. The stalks themselves don't hold much flavor, which is why they go great with a variety of dips.
Since we've answered the question are celery leaves edible, the solution is to use the leaves. The leafy tops are way more flavorful and should be used sparingly for certain dishes to avoid being the only flavor present.
Why do celery leaves turn yellow?
A nutritional deficiency. If the leaves start to turn yellow, they may taste bitter, so best to stick only to what's green!
Is celery good for your skin?
Yes! Rich in vitamins, A, B, C, and K, plus a healthy dose of folate, celery goes a long way in helping skin look glowy and fresh.