6 Reasons Canning is Part of a Sustainable Lifestyle
February 3, 2017 | Kathryn Kellogg
Last Updated on April 7, 2020
Spring canning season is right around the corner. I asked my friend Jenny, a canning pro from thedomesticwildflower.com, to chat about what makes canning a sustainable choice.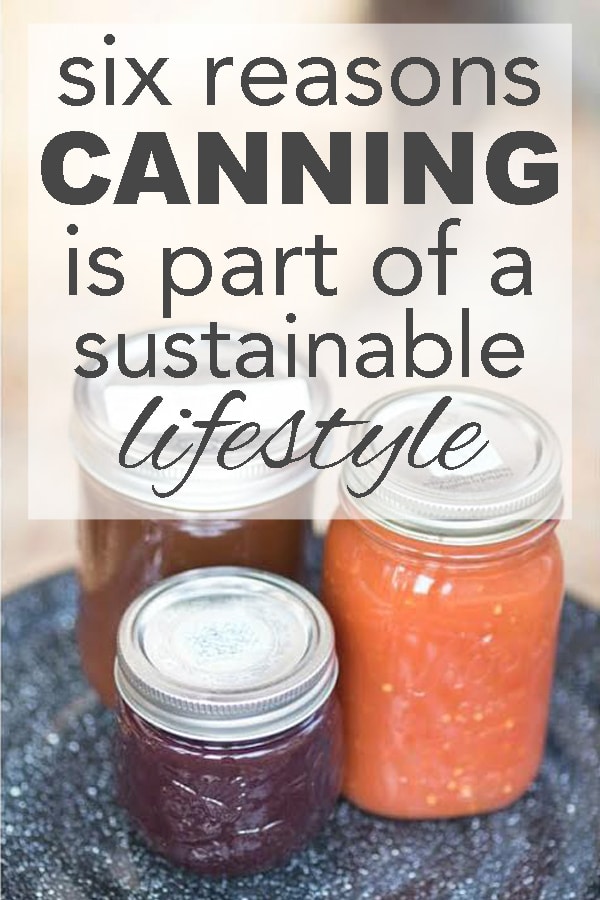 Canning reduces both food and packaging waste. It gives you control over your diet. It frees you from reliance on commercially produced foods, and it is far more delicious than anything you could buy in a store.
sustainably eat out of season:
Canning preserves food to be enjoyed when it's out of season. Typically, eating out of season involves food grown many, many miles away, even in another hemisphere which isn't very sustainable.
Eating tomatoes in the winter or citrus in the summer is not in line with the natural growing season here. Canning allows you to enjoy summery tasting strawberries even while it's snowing, without the guilt of flying it half way around the world.
related: 15 ways to save money on real food
tools that are meant to be reused:
Mason jars are made from sturdy glass. They're designed to be submerged over and over in boiling water.
Mason jars are either regular mouthed or wide mouthed. No matter your jar, one of those lids will fit.
My greatest complaint with plastic tupperware is the lack of interchangeable lids.
It bears mentioning that jars are infinitely useful beyond canning. I use them for drinking any and all beverages, in my lunch box, storing bulk goods like coffee beans and sugar, and household items like crayons.
related: 13 unexpected uses for a mason jar.
developing a healthy relationship with food:
Canning teaches you to save fresh produce for later. It brings you several steps closer to the farm where it was raised, if not to the very berry patch, farm stand, or orchard.
Many informed, conscious people have no idea what produce is in-season. They don't know when or where it was cultivated.
They don't know how far away it was grown, how much fuel it took to get to the market or the upwaste stream involved.
If you buy a can of peaches, even the politically correct "organic" kind, you don't know the farming practices. How much of the peach was wasted when cut from the pit or peeled? Were the remains composted?
When you can your own food you have control over those answers.
greater accountability:
Food you preserve is less likely to be wasted. Purchased jam could easily be tossed in the trash with a serving or two left inside. But, homemade jam? That you made yourself? Never!
Not only are homemade products tastier, infinitely healthier, and endlessly customizable to your tastes and dietary preferences – it involves a personal investment.
Having that connection and spending quality time with your food, brings more value to the product.
shelf stability:
Canned food is shelf stable for up to a year. It doesn't require any refrigeration, special vacuum sealed bags, or freezer space.
related: My Five Rules for Personal Sustainability
practicing mindfulness:
Canning is a mindful activity. If you take the time to preserve a batch of tomato sauce, you will reflect upon the quantity of tomato sauce you ate and enjoyed the previous year.
You'll consider where you sourced the tomatoes. What ways you'd like to improve upon the recipe.
What is the best jar size? What is the best technique to use? How often should you can?
Thinking and developing a real connection with your food is so utterly different from buying your food in the grocery store pre-made. Be mindful of how your food got to your plate.
BONUS – it makes a great gift:
No need to tie a jar of preserves up with unnecessary wrapping paper; it looks beautiful just as it is. Canning is a lost art that takes time and effort to execute. It tastes wonderful, is healthful and free from mystery ingredients.
Pro tip: a glug of white vinegar in the processing water makes the canning jars extra shiny for gifting.
Jenny's blog has been a great resource for my canning experiments this year.
If you are interested in learning more about canning she has a free beginners course available! And, a great introductory blog post here.
I know that I've said this every year I've had this blog, but this year I'm going to plant a garden.
I'm going to do it in real life, and not just in my mind. I do eventually dream of a day where I can live out my homesteading dreams. I'm going to can so much delicious food with all of these 100s of mason jars I have lying around.
Have you canned food before? Do you have homesteading goals for this year?