How to Have an Eco Friendly BBQ
June 18, 2019 | Kathryn Kellogg
Last Updated on May 7, 2021
HAPPY SUMMER EVERYONE! It's basically official right? Summer solstice is right around the corner.
Not that it has to be summer time to have a cookout, if you're reading this for a family cookout in November, more power to you!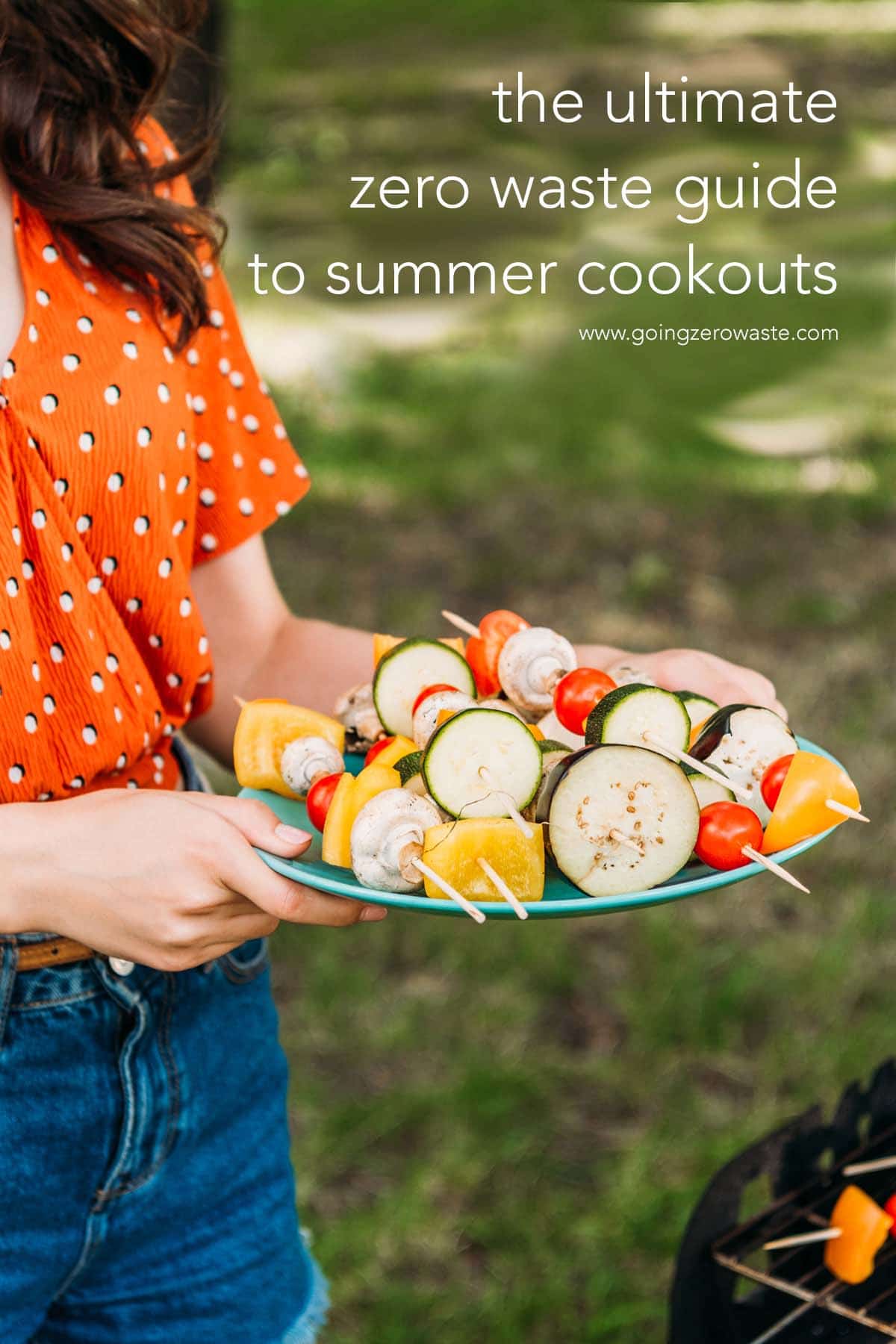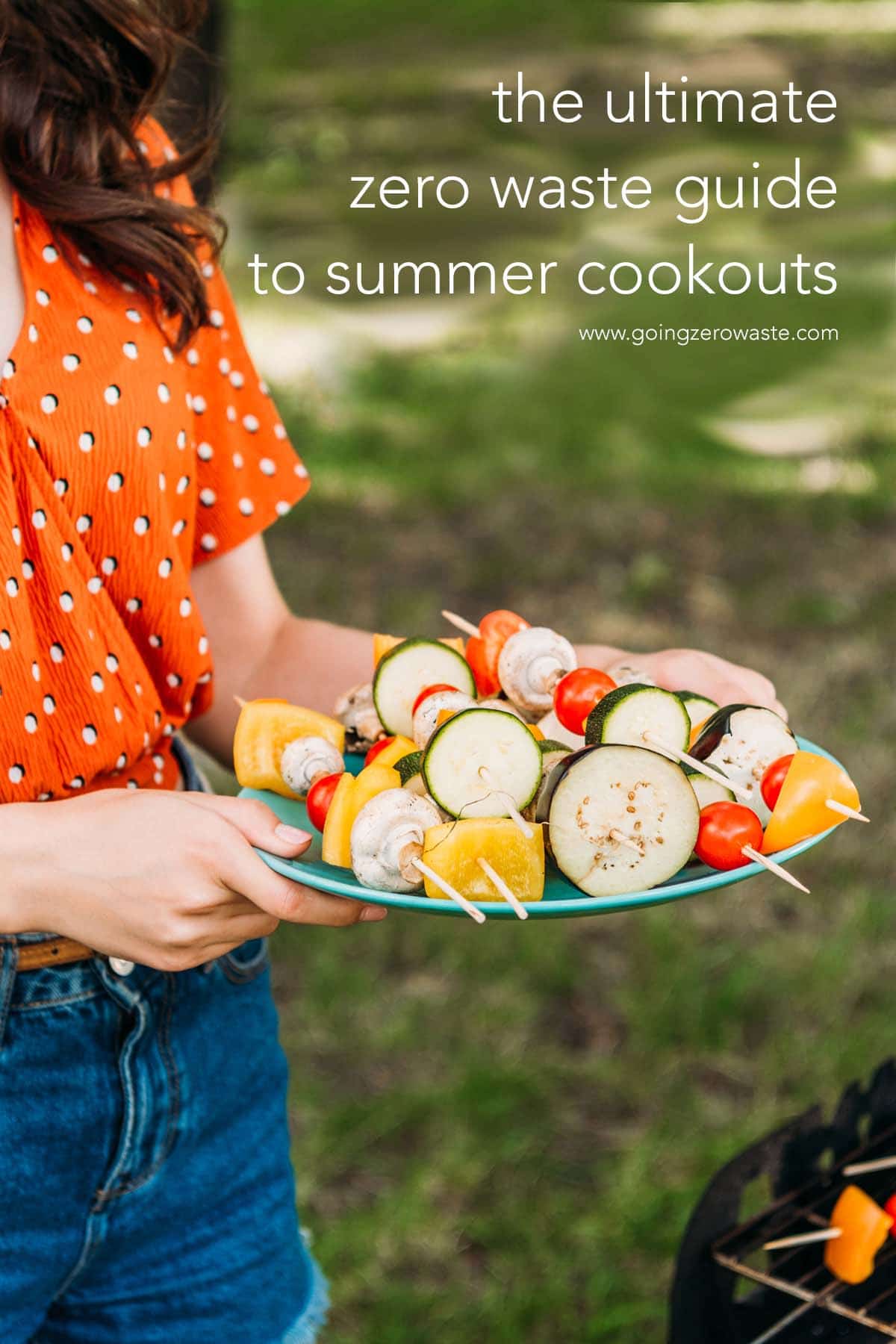 But, since I'm publishing this in the summer and I'm going to assume you're reading it during the summer… we're just going to continue with a SUMMER theme.
I love summer. It's my favorite season. I have SO much energy in the summer. I'm like the energizer bunny.
When the sun comes out early in the morning I'm itching to start my day – oh and those late summer evenings… there's nothing better.
Man, I just want to get a snow cone right now.
Also, something I've noticed is there aren't any snow cone mobiles in California!
We had snow cone mobiles everywhere in Arkansas and I miss them. I miss you Hawaiian Ice!
I digress, this post isn't about how much I love summer, warm weather, and snow cones… It's about throwing the most eco-friendly, zero waste cookout EVER.
And, I've got you covered, I've thrown many a zero waste BBQ in my day.
In fact, since Justin and I got married at city hall we threw a BIG backyard BBQ to celebrate with all of our friends and family and it was an absolute blast.
1. borrow:
If you need more tables, chairs, games, cups, plates etc.
Instead of running out to get more, I urge you to ask your guests if they have any you can BORROW.
I promise, they will be more than happy to lend them and this will save you a ton of money!
It's also way more eco-friendly to use materials that already exist in the waste stream than it is to buy brand new.
2. choose reusables:
A key area of waste at BBQs is all of the disposables. People tend to lean into the disposable plates or red solo cups at parties, but I would love for you to switch to reusable items!
Now, we've talked about my mom and her meticulous party planning, yeah?
Since it isn't the safest thing to have kids by the pool with a bunch of breakable plates and glasses, growing up we had a set of BBQ plates which were all plastic.
They were reusable and made of melamine. We also had reusable plastic cups of course if you'd rather avoid even reusable plastic they make a stainless steel pint cups and plates.
Now, I know what you're thinking, isn't that going to be A LOT of dishes?
Yes, but I threw a backyard bash with 60 people in attendance without a dishwasher.
Just when my friends asked if they could do something to help, instead of turning them down, I asked if they'd help wash a few dishes.
They were more than happy to do that!
I had a clean kitchen and a zero waste party with very little cleanup!
Of course, if you have a dishwasher, start your party with an empty dishwasher and then load up and the end of the night.
Press a few buttons and when you wake up, you'll have clean dishes!
3. decorate like mama earth:
When it comes to decor stick with what your mama gave you… mama Earth, that is! I love to dress up my parties with fresh flowers.
The morning of my big parties, I like to go down to the farmers market to pick some fresh sustainable blooms.
If you're curious as to what classifies a flower as sustainable, be sure to check out my post How to Choose Sustainable Flowers.
I also like to light candles and put them in lanterns, use old mason jars, and upcycle old tins.
I think fabric bunting that you reuse year after year is adorable and festive too!
4. entertainment:
Ah, yes, but how do you keep these guests entertained?
I tend to create a Spotify playlist to play while the party is in full swing, and I rented a few corn hole boards and horseshoe games for everyone to play in the backyard.
This is another thing that would be great to ask friends about.
I bet a few of them have some backyard party games they'd be more than happy to let you borrow.
5. food:
And, then we get to the food.
My number one recommendation is to go heavy on the veg!
When people typically think about BBQs they think about meat.
But, I've got to tell you – grilled vegetables are the BOMB.
I give you all my favorite grilled veggies in this post Zero Waste BBQ and I go in full detail about how I threw a party for 60 people without creating trash in my Zero Waste Wedding part one… including how I hauled my crockpot to the butcher.
6. attending bbqs:
This is a fun little bonus! When I'm attending BBQs, I actually bring my own stainless tumbler so I don't have to use any disposables. I'm always complimented on it.
I sometimes include a small stainless steel plate and a to-go set of cutlery that I wrap in a cloth napkin.
Have you thrown or attended a zero waste BBQ?