DIY Sugar Scrub
July 16, 2016 | Kathryn Kellogg
Last Updated on February 16, 2022
DIY Sugar Scrub will leave your skin feeling smooth and luxurious. It's simple and made with eco friendly ingredients. Homemade sugar scrub also makes a fantastic gift idea too!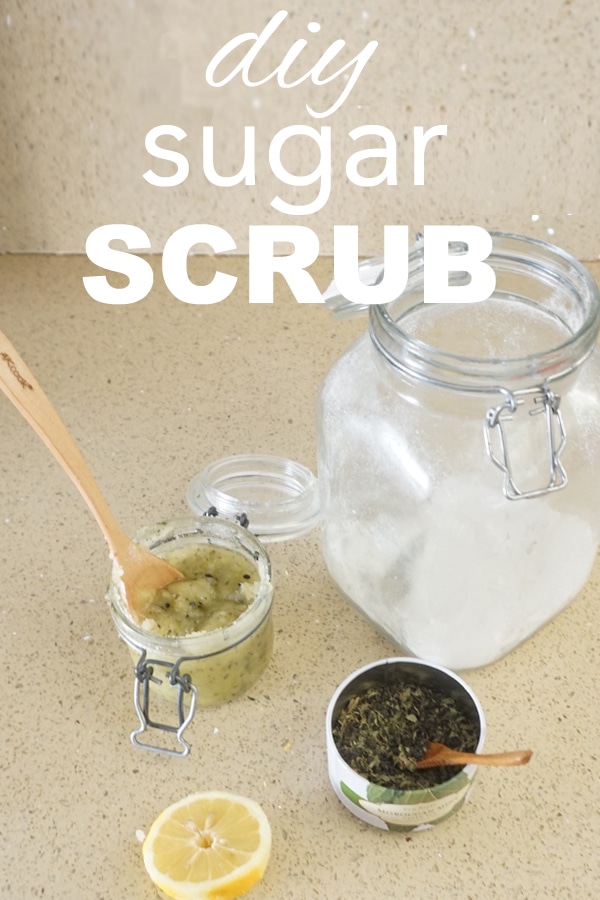 This sugar scrub recipe is easy and is much better for your skin than commercially prepared products! DIY body scrub is non-toxic, smells great, and exfoliates your skin. It contains sugar, raw honey, lemon zest, lemon juice, and oil.  Keep reading to learn how to make sugar scrub as well as how to use sugar scrub.
why you should make DIY sugar scrub
Exfoliation is important. I wonder how many times I use that phrase on the blog. "______ is important." A lot of things are important, but I learned about exfoliating the hard way.
I think I've learned about skincare the hard way in general. I had it really easy in high school.
My skin was perfect without even trying, but as we discussed in my charcoal face mask post, things changed in college.
So, I've gone through a lot of trial and error. And apparently, if you don't exfoliate, dead skin cells clog your pores. Ew.
Lesson. Learned.
I bought something based on the recommendation of a roommate, but I'm pretty sure it was in almost everyone's college shower caddy – St. Ive's Apricot Scrub. Ahhhh, yes. College memories. I'm sure many of you have used this product.
During this phase, I crossed over into the realm of over-exfoliation. There's a fine line people. 
reasons to throw out your store-bought sugar scrub
So, let's talk about some ingredients….
Water, Juglans Regia (Walnut) Shell Powder, Glyceryl Stearate SE, Propylene Glycol, Sodium Laureth Sulfate, Zea Mays (Corn) Kernel Meal, Cocamidopropyl Betaine, Cetearyl Alcohol, Cetyl Alcohol, Triethanolamine, Glyceryl Stearate, PEG-100 Stearate, Prunus Armeniaca (Apricot) Fruit Extract, Cetyl Acetate, Carbomer, Polysorbate 60, Ceteareth-20, Acetylated Lanolin Alcohol, PPG-2 Methyl Ether, Phenethyl Alcohol, Glycerin, Methylisothiazolinone, Fragrance, Titanium Dioxide.
The apricot scrub is full of highly abrasive and comedogenic ingredients. I can't find one decent ingredient on this list.
Walnut shell powder will cause tiny tears on your skin causing horrible inflammation. When pores are inflamed they swell, which closes the top. It completely cuts off all oxygen leaving a breeding ground for bacteria.
Propylene Glycol is toxic in high doses.
Corn Kernel Meal is basically cornstarch. Would you like to rub cornstarch on your face? Definitely comedogenic.
You get the picture. I'm not a huge fan of this product. Especially when you can make something cheaper and better for your skin.
But, at least, AT LEAST it didn't have microbeads. Do not, I repeat, DO NOT use anything with microbeads.
A. It tears your face up.
B. It's micro plastic and it goes into the ocean where fish gobble it up. Our water filtration systems cannot remove microbeads. If you have anything with microbeads in your house, do me a huge favor and throw it away. Yeah. Yeah, I said it.
THROW IT AWAY. It. Is. Important.
Don't exfoliate every day. I exfoliate twice a week. And, after exfoliating I balance my pH with a rose water or aloe toner. Then I just add a touch of moisture with a homemade face cream that is to die for!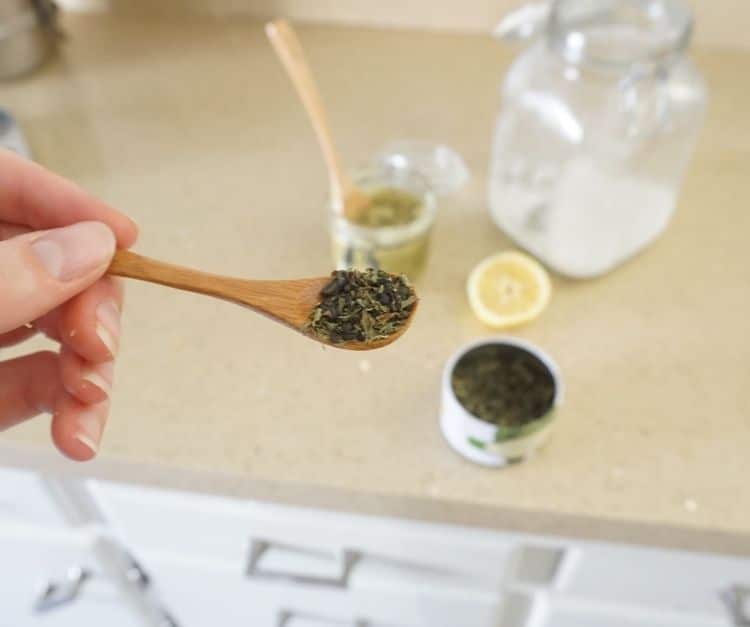 sugar scrub recipe ingredients
Sugar is the exfoliant. It also helps your skin retain moisture. You're going to want a very fine grain like classic white sugar or brown sugar. Brown sugar is best for those with sensitive skin because it's the softest.
Raw Unrefined Raw Honey really helps to balance this scrub. It's not only a powerful anti-bacterial like green tea it's also a moisturizer and helps neutralize your pH which is very important when we get to the more acidic ingredients.
Lemon Zest this really doesn't do anything except make the scrub smell/taste amazing…. I mean you shouldn't eat this, but if you happen to lick your lips while you're scrubbing away – it's freaking delicious.
Lemon Juice is pretty acidic, but is high in vitamin C. It's used as an astringent in this scrub. It will help lighten scars and even your complexion. It will also help tighten skin and brighten. Either my skin is translucent or my capillaries are too close to my skin, but no matter what I need some evening; because my skin can be pink and splotchy. This really helps even things out.
Sweet Almond Oil is high in vitamin E which is very soothing. It's also antibacterial and the best oil for dry skin. It provides great moisture and won't clog your pores. There's also enough acid from the lemon to cut the oil so your skin doesn't remain oily after you wash the scrub away. It's definitely a great addition to any DIY body scrub.
how to make sugar scrub
1 Cup of Sugar
1/3 Cup of Sweet Almond Oil (or Olive Oil both high in vitamin E)
2 Tablespoons of Raw Unrefined Honey
The Zest of 1 Lemon
The Juice of Half the Lemon
2 Tablespoons of An Optional Add-In*
*Additional add-ins:
Dried Rosemary: Grind it very fine. Rosemary improves circulation and kills bacteria.
Dried Green Tea: A fabulous anti-inflammatory that helps reduce redness.
Crushed Rose Petals: Contains high amounts of vitamin C and smells amazing.
Mix all of the ingredients in a small jar. Make sure you zest the lemon before you juice it.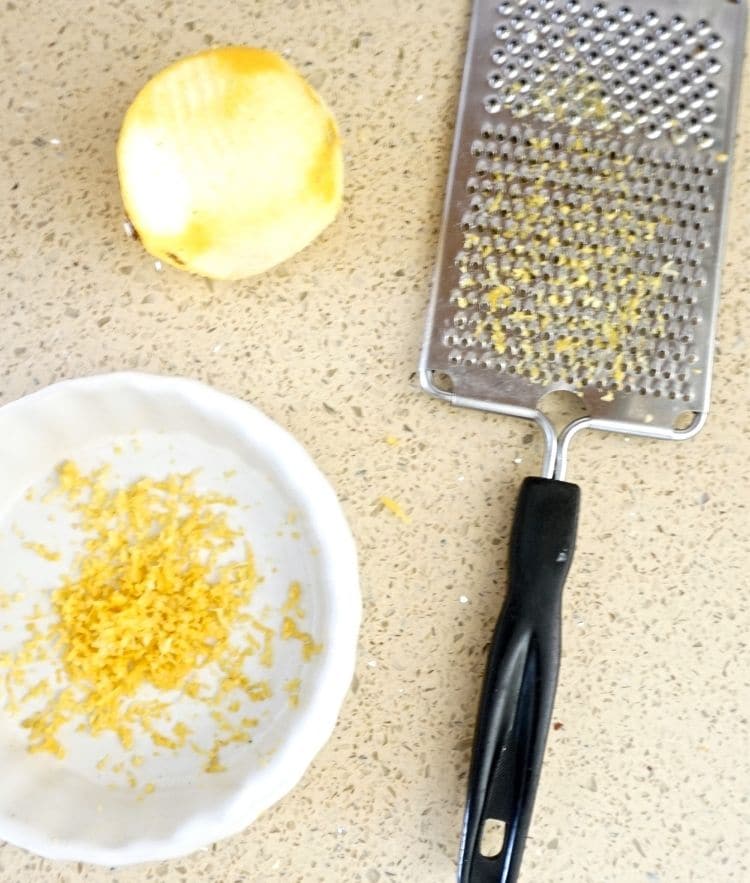 how to use homemade sugar scrub
Splash your face with warm water. Take a tablespoon of your scrub and gently massage in circles.
The warm water on your face will start to dissolve the sugar so it will lose part of its abrasiveness. After about a minute, rinse your face thoroughly. Make sure to use a toner to balance your pH.
It's that simple. It only takes a couple of minutes to whip up!
how should you store DIY body scrub?
Due to the lemon juice and zest, it's important that the DIY sugar scrub is kept in the fridge. This sugar scrub recipe typically lasts 1-2 months if kept cool. If you notice a rancid odor, then it's started to go bad and needs to be thrown out.
If you don't add the lemon juice or zest, the sugar scrub will last up to 6 months. The lemon reduces the shelf life and you could add a few drops of essential oils if you would rather.
do I need to use white or brown sugar?
The beauty of this homemade sugar scrub is that you can use white or brown sugar. They both work equally well and will exfoliate your skin. You could even use a combination if you want.
is DIY body scrub vegan?
No, due to the honey this DIY sugar scrub isn't vegan. However, you can omit the honey entirely to make it vegan.
related articles