Food Safe Storage Containers and More: 8 Ways to Store Food without Plastic
November 19, 2018 | Kathryn Kellogg
Last Updated on August 15, 2023
Food safe storage containers are a must-have for any kitchen — especially around the holidays or other big gatherings. Any time a lot of food is made, a lot of food needs to be stored.
Non plastic food storage is actually way easier than it seems, even with the boundless amounts of plastic Tupperware you can inexpensively buy at the store. Aside from not contributing to plastic waste, opting for plastic free food storage has health benefits. Plastic can leech all kinds of harmful chemicals into your food, so I always opt for non toxic food storage containers whenever I can!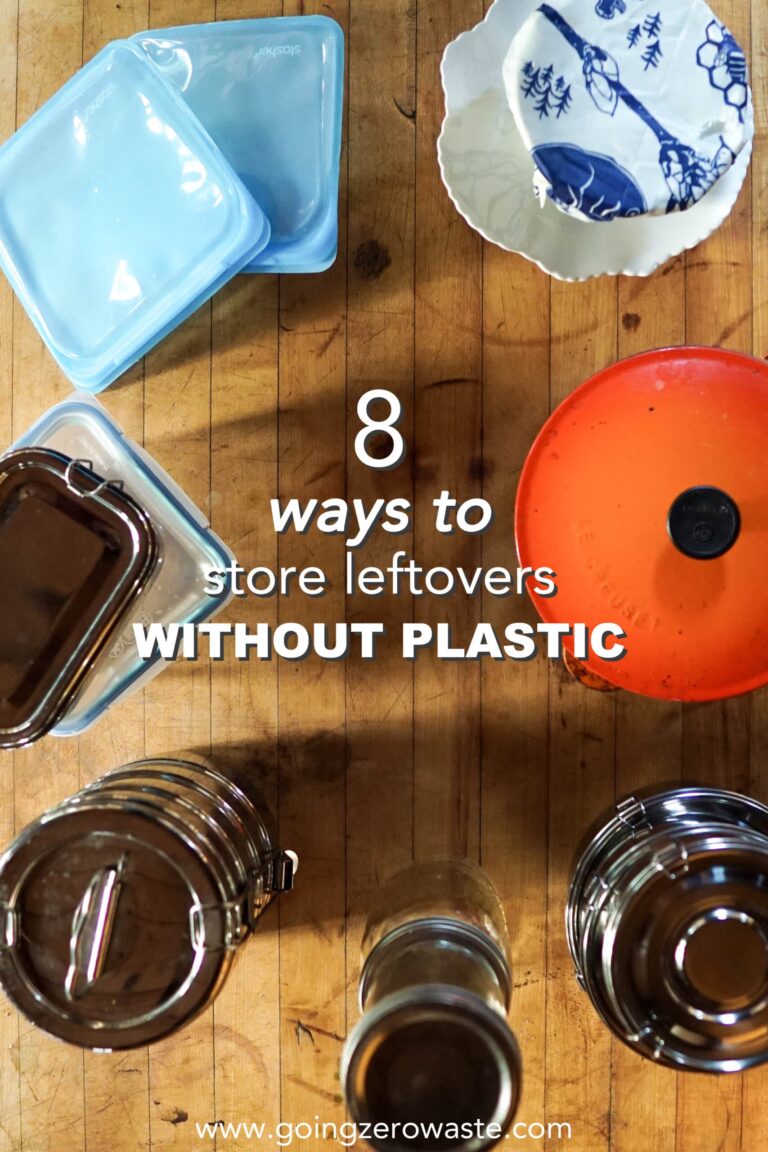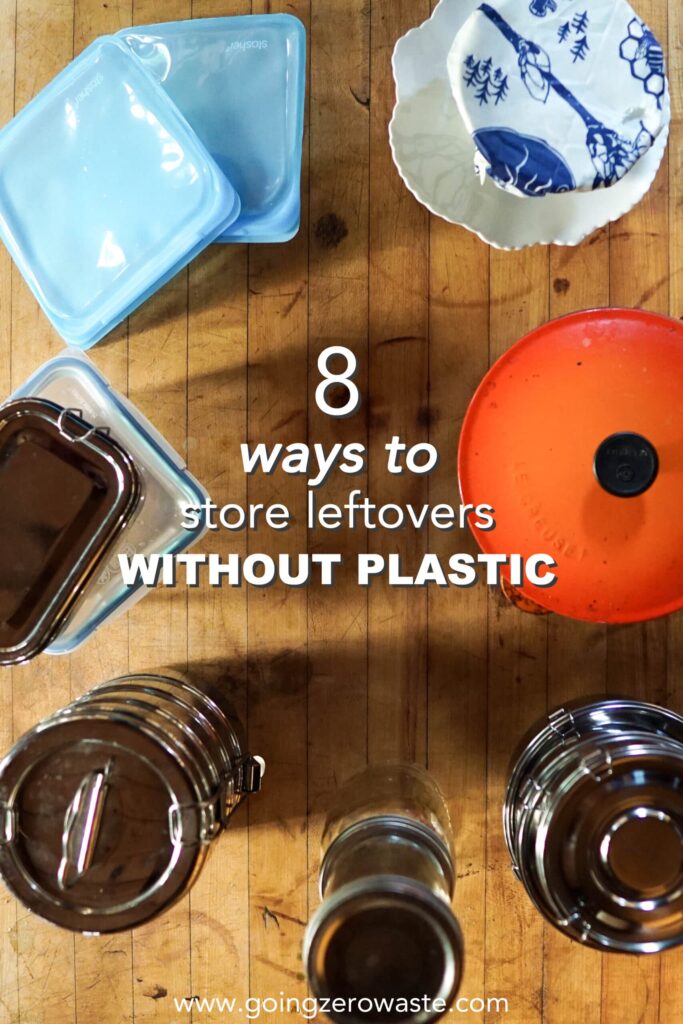 food safe storage containers
The week after any big holiday is the best. Plates are piled high, full of mashed potatoes, stuffing, or other holiday staples.
I've hosted Thanksgiving for the last four years now, and I LOVE it! I love waking up early to set the table, chopping veggies while watching the parade on TV, and then sitting down to a delicious meal.
You can get my entire Zero Waste Thanksgiving Meal Plan!
I find that holidays are pretty easy to keep zero waste if you focus on lots of fresh, local produce. The problems don't start to arise until after the meal is over…. how on earth are we going to store all of the leftovers!? EEK!
Even more of a conundrum…. how are we going to send home leftovers?
Whether you're attending a holiday gathering or you're the host, I've got some tips for you! These alternative, food safe storage containers are safe, convenient, and zero waste!
glass storage containers
1. serve in your mixing bowls:
If you're hosting, think about serving the food in mixing bowls with lids. I have this set of four glass mixing bowls with lids*. This unexpected glass storage container works from beginning to end in your food prep.
The mixing bowls are simple glass bowls so they're perfect for serving and storing. They seamlessly move from preparing food to serving food and then storing all your leftovers.
They're aesthetically pleasing and can pass for serving dishes, unlike many other mixing bowls.
I try to place all of my leftovers in glass containers so I can see what's inside. If I store leftovers in containers where I can't see what's inside, I tend to forget about it and let the food go bad.
2. snapware:
It's no surprise that I love my pyrex snapware containers!* I talk about them all the time, and I use this set daily.
Snapware is just incredibly functional. They're freezer and oven safe, giving you a myriad of options. They're also leakproof, so I can easily take lunch with me on the go or get takeout without creating any waste.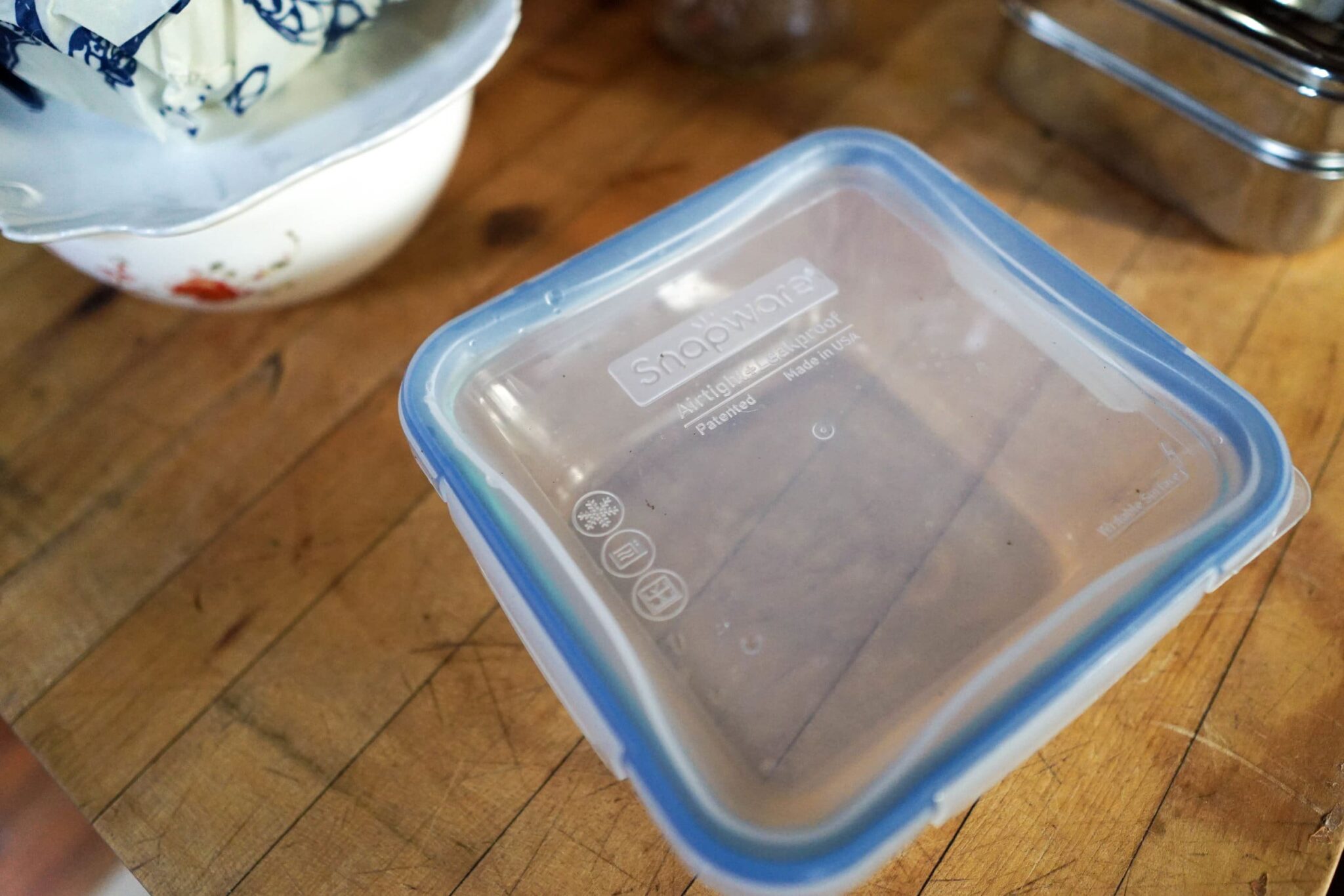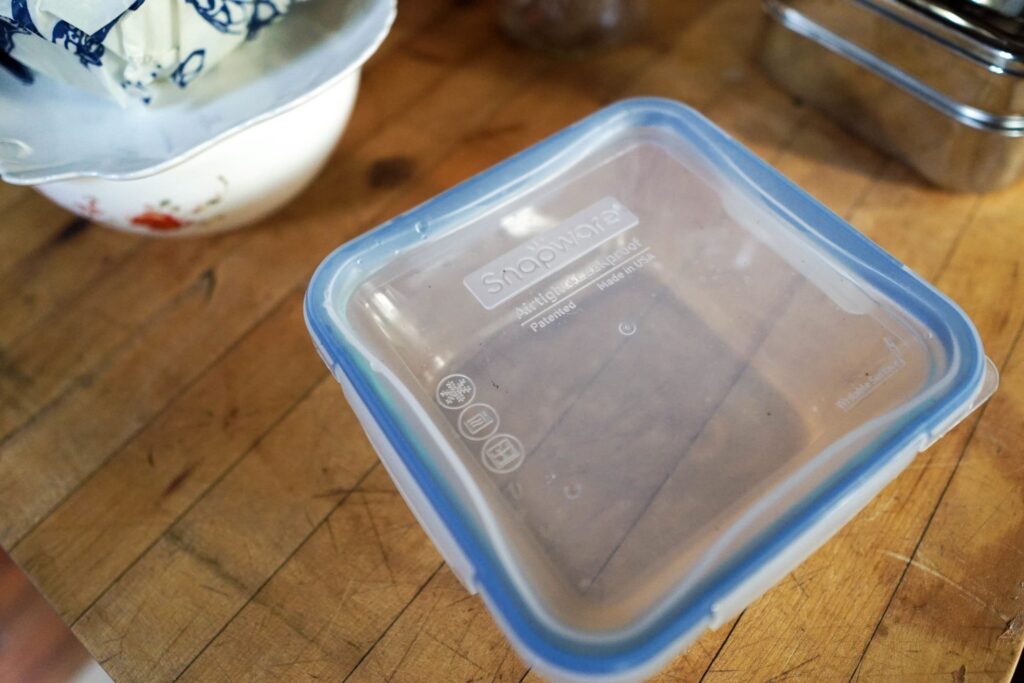 3. you've been hoarding mason jars for a reason:
Mason jars* have to be the handiest of all kitchen items. I use them for everything!
This glass storage container is inexpensive, stackable, microwaveable, and leakproof — plus, they're pretty easy to find second hand and often come with food you might buy anyways like salsa or pasta sauce.
RELATED: 13 Unexpected Uses for a Mason Jar
I store a lot of my leftovers in mason jars because they're so easy to come by. During the year, I save all of the glass jars I get when grocery shopping to send leftovers home with people.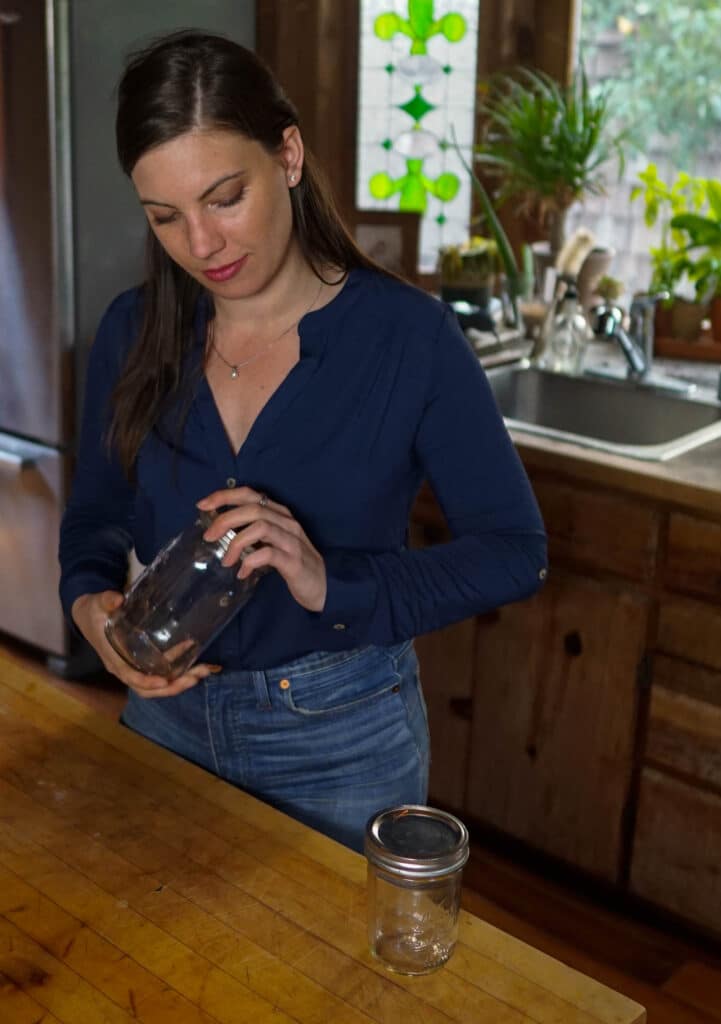 non plastic food storage
4. tiffins:
I LOVE my tiffins, but they're not the most ideal non plastic food storage for leftovers because you can't see what's inside of them. However, when holidays roll around, it's time to break out the BIG tiffins.
When I see these tiffins, I know there are leftovers or takeout inside. It's a four tiered tiffin* perfect for parties, leftovers, takeout, or even a large lunch!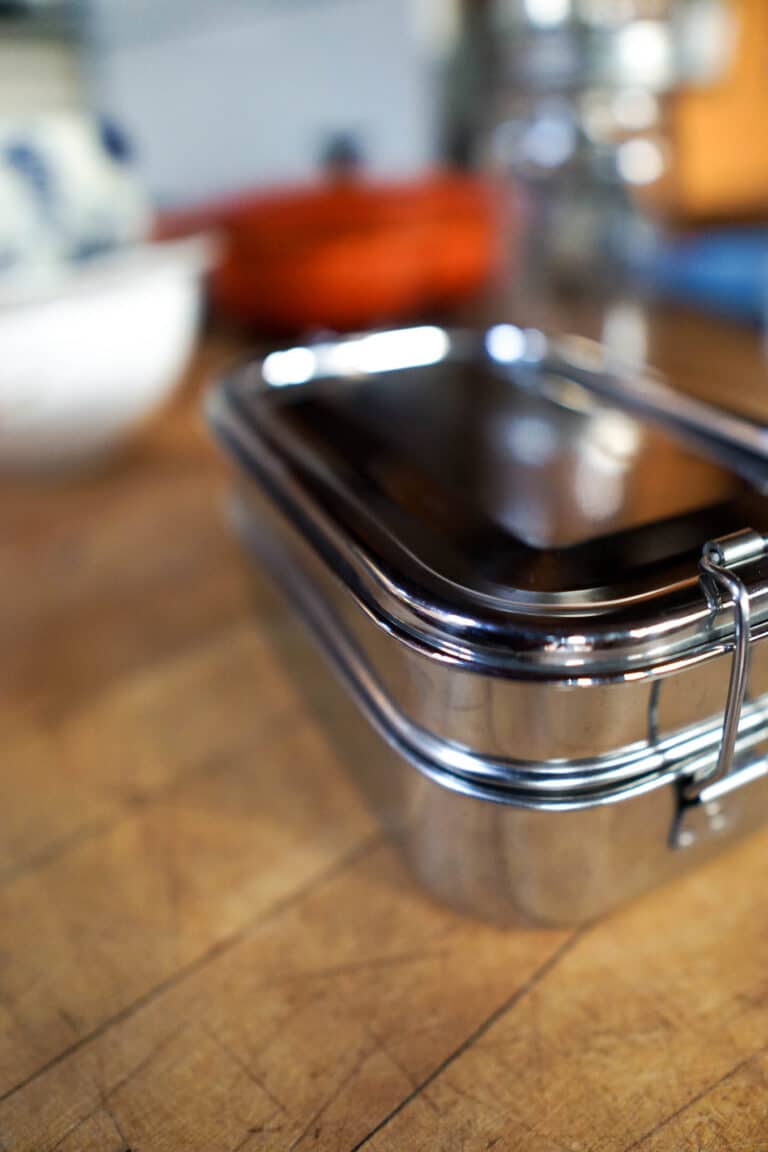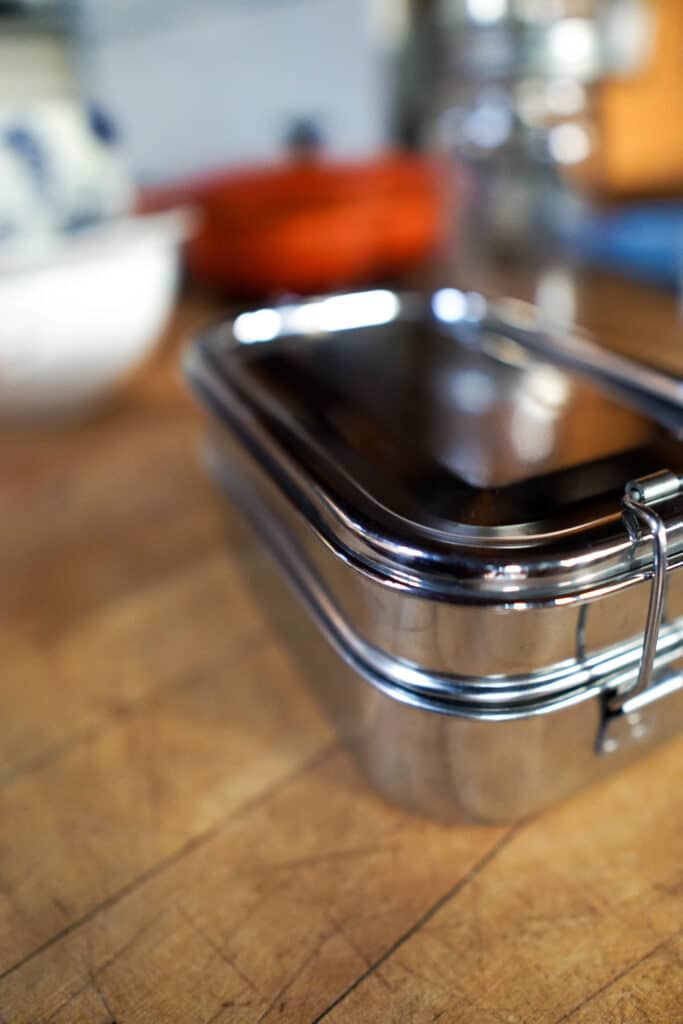 5. if it's got a lid:
It really doesn't get much easier than putting the lid on it.
If you've been cooking anything in a pot and have some leftover, just plop that lid right on the pot and store it in the fridge. I've even stored leftovers in my Crockpot and salad spinner.
If it's got a lid, and it's made out of food safe materials, it's viable as a non toxic food storage container.
plastic free food storage
6. beeswax wraps:
You know when you load up a plate full of leftover goodies, but you just can't finish? So, you put plastic wrap over the plate and put it in the fridge to heat up at a later time?
Nix the plastic wrap and cover it with a beeswax wrap*! Beeswax wrap is far superior because you can rinse the beeswax wrap and reuse it over and over again. It's hands down one of my favorite plastic free food storage solutions.
Beeswax wraps also work great for wrapping up leftover bread or covering large pie dishes.
7. put a plate over it:
If you have a bowl, you can place a plate over it, and it acts just like a lid! Voila! It's an instant and easy way to store small portions of leftovers.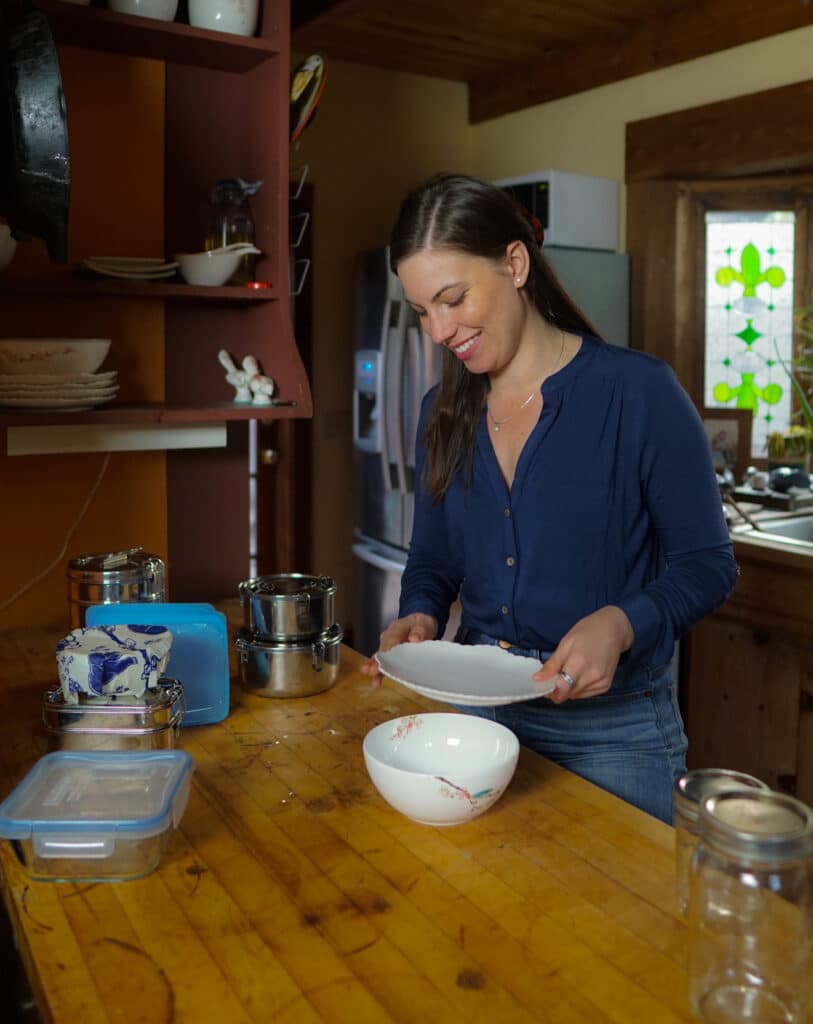 8. silicone bags:
I have a drawer full of Stasher bags* that I especially love for the freezer since they lay flat, unlike mason jars.
The bags work great for storing leftovers like rolls or roasted veggies. While you could put mashed potatoes or gravy inside, I'd probably save that for a jar unless you were going to be freezing it.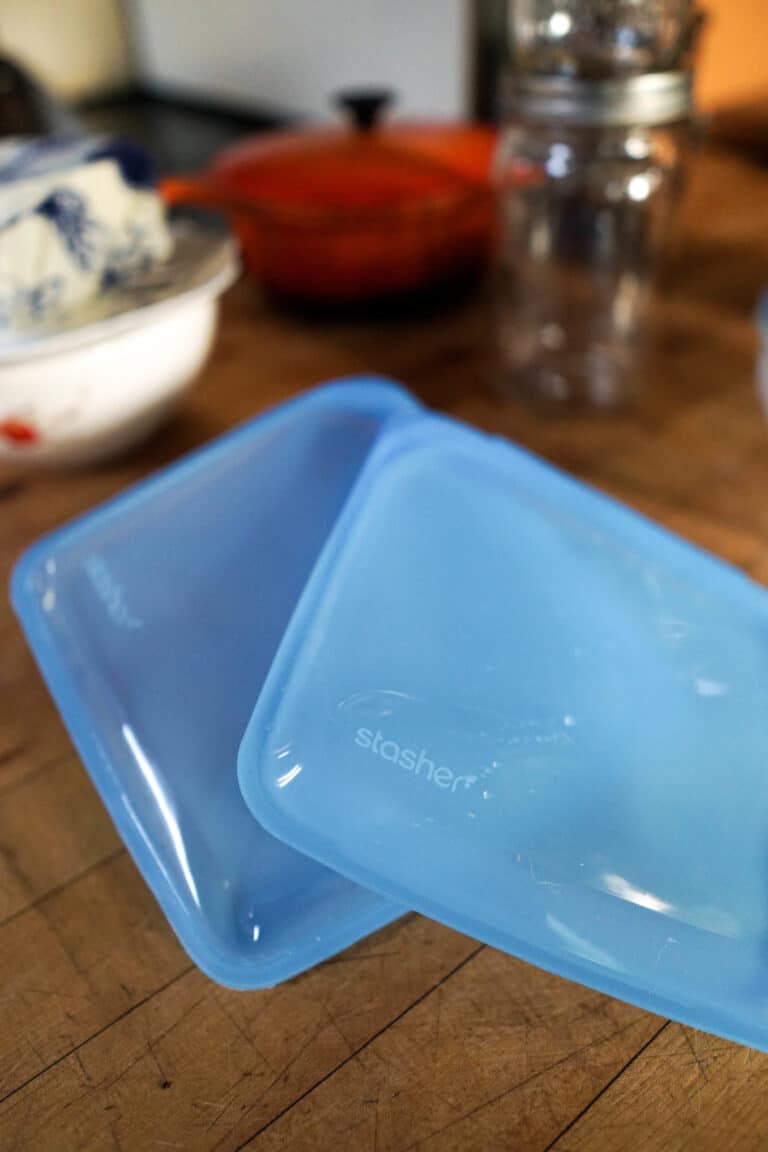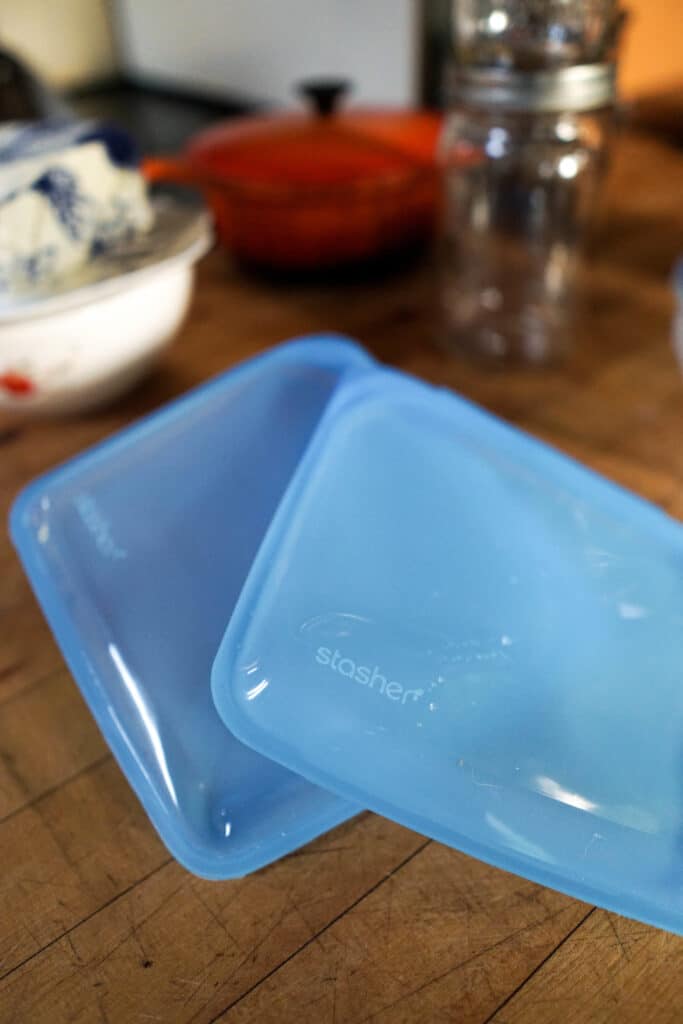 faqs
what if i don't have enough food safe storage containers for everyone?
If you're afraid you won't have enough, you can always call your friends and family and ask them to bring a Tupperware container or two to your house to load up on leftovers when the party is over. This is nice because then you don't have to worry about getting your food containers back.
how can i always be prepared with non toxic food storage containers?
Always stash one or two leftover containers in your bag or in your car. I personally love this nesting set! Then it won't matter if it's takeout, leftovers at a friend's, or a big party — you'll always be prepared with your own food safe storage containers!
What are some of your favorite ways to store leftovers?
This post contains affiliate linking. It's denoted with an asterisk. This means if you choose to purchase one of these items I will make a slight commission for referring you. You can read more on my disclosure page.