The Best Tips For Moving: The Ultimate Eco-Friendly Guide
February 24, 2022 | Ariana
Last Updated on February 24, 2022
Looking for the best tips for moving? You're in luck: Between being a military brat and an actor, I excel at packing boxes and never fully settling into a place. ⁠
This time is a bit different though because Justin and I bought a house! We recently moved from California to Maine and I'm excited to establish roots here.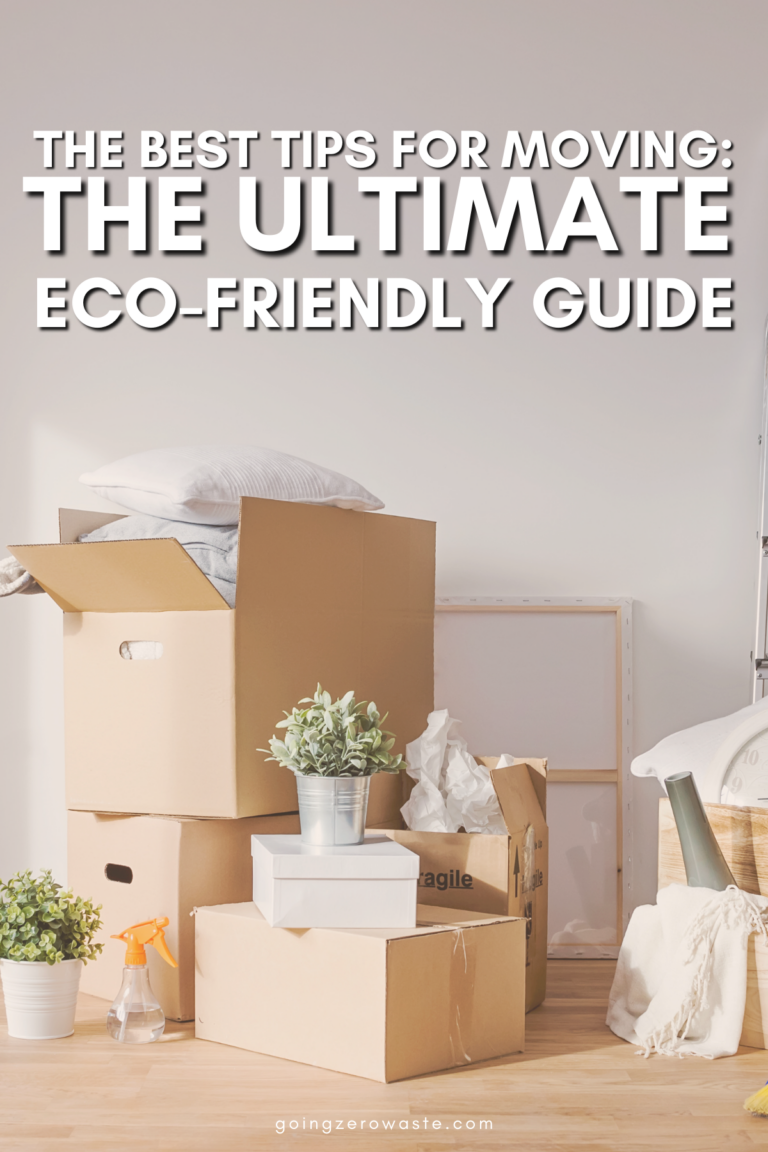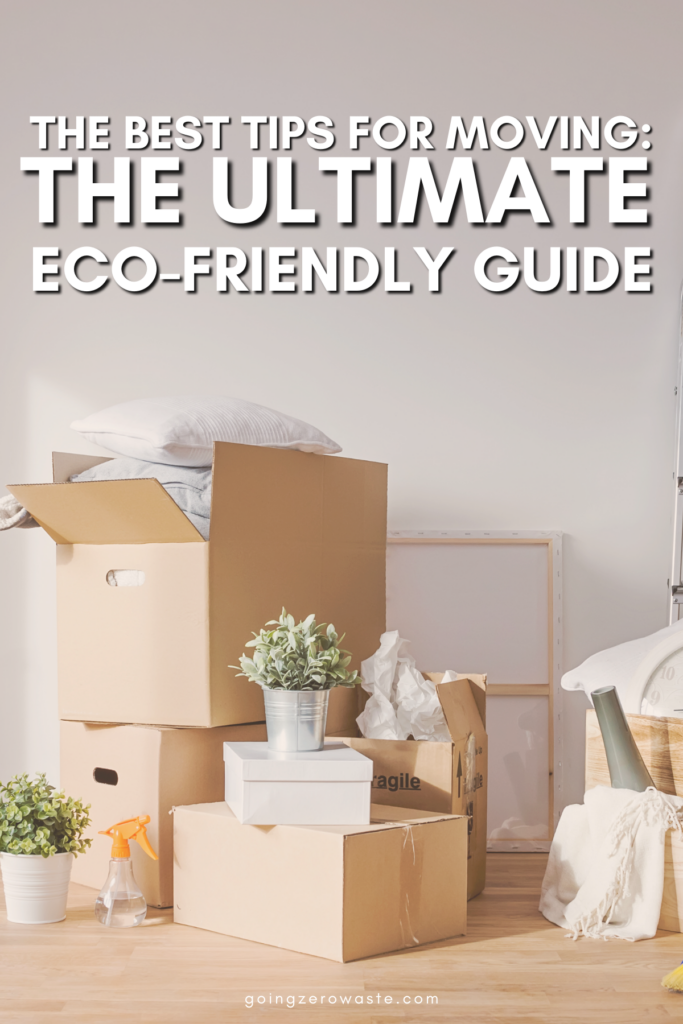 Suffice it to say, moving can be both wasteful and strenuous. That's why I decided to whip up the ultimate eco-friendly guide to moving, packed with my best tips.
I cover everything from sustainable moving companies, to scoring used cardboard boxes, to upcycled packaging materials. Here are the best sustainable tips for moving.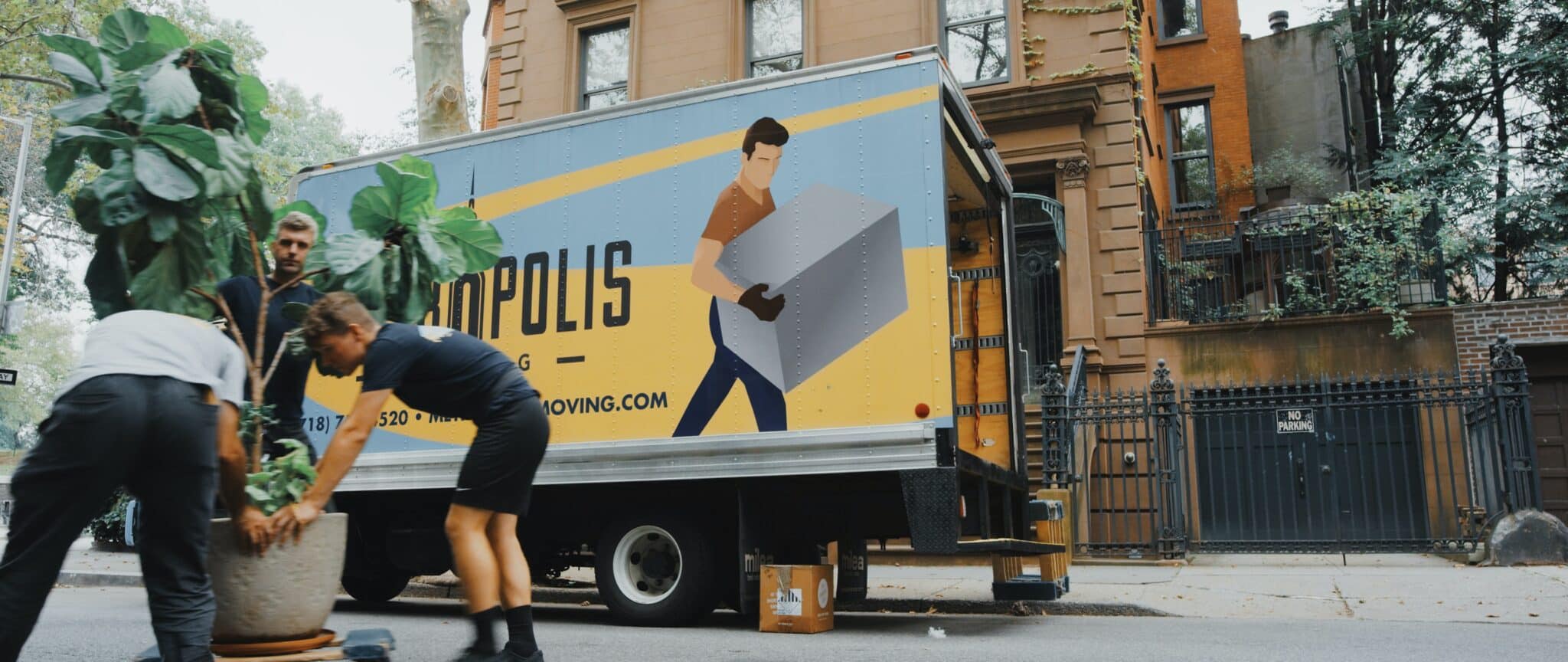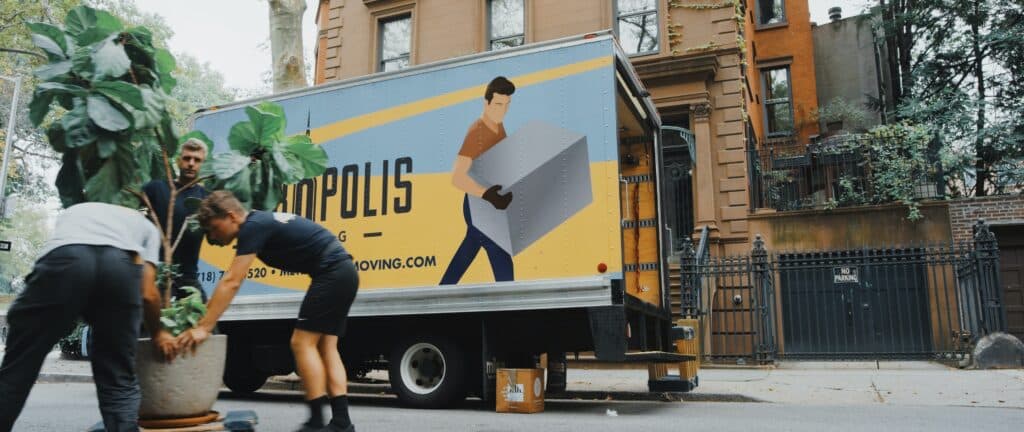 moving companies
Need a hand moving all your furniture? One of my best tips for moving is to definitely hire a moving company – they will make your lives so much easier!
Better yet, eco-friendly moving companies go out of their way to reduce waste and lower their emissions as much as possible.
They do this through the creative ways they eliminate waste, taking more efficient routes, and even using trucks that utilize biofuel rather than gasoline. Here are some companies worth looking into.
eco movers out of seattle
Eco Movers does both local and long-distance moves using reusable moving boxes and recycled packing materials. They try to avoid using tape and instead like to use large rubber bands. They've saved over 70k cardboard boxes, but also offer Eco Boxes, reusable plastic totes that you can rent out as long as you need.
gentle giant in somerville, mass
Gentle Giant moving services does local, long-distance and commercial moves. They reuse and recycle moving boxes and packaging supplies whenever possible. Plus, they use oxo-biodegradable bubble wrap, biodegradable peanuts, and FSC-certified products.
rabbit movers in nyc
Rabbit Movers is a moving company that specializes in art handling, storage and (of course), moving you to your new home. They make this process greener by utilizing biodiesel fuel, using reusable bins, and wrapping fragile items in biodegradable bubble wrap. Plus, they're working on a new solar and wind powered office, and a partnership with the EPA and Build It Green!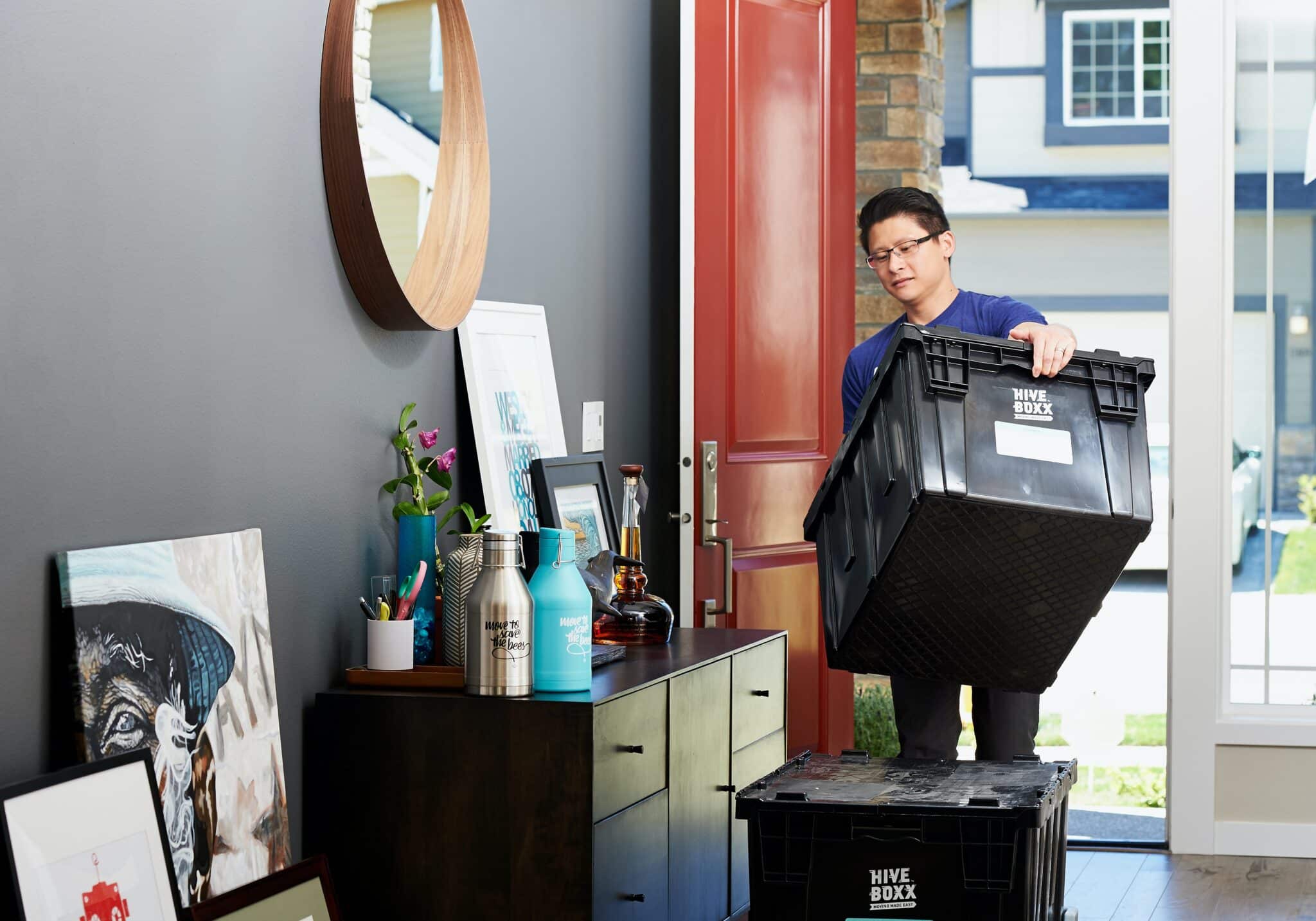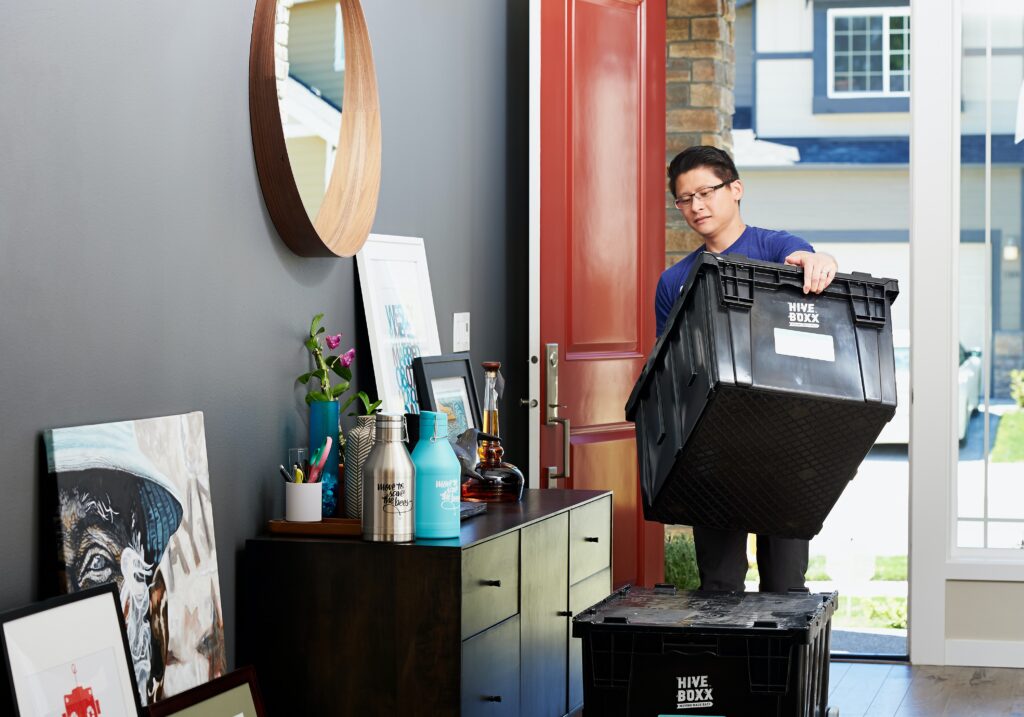 moving boxes
Typical cardboard moving boxes often require you to use plastic tape which can be wasteful and expensive. Lets not forget most people don't know what to do with all those cardboard boxes after a move.
There are several creative ways to pack your valuables and reduce waste on a move. These are a few options you can consider that help the planet, save money, and keep your peace of mind.
moving box rental services
One sustainable option is the rent moving boxes from companies that bring the boxes to you, then take them back (meaning you don't get stuck with them!). I love this option because it helps support a more circular economy and makes sure the boxes get reused several times. Plus, it's tape free!
Here are some companies that offer rentable boxes.
gorilla bins
Based in New York City, Gorilla Bins offers these sturdy plastic bins with free delivery and pickup to Queens, Manhattan, and Brookyln. You can choose how many bins you get depending on which package you choose – from 20 to 60 bins. They offer 2 week rental, but you can extend it if you need more time to unpack.
rent a green box
Based in Greater Los Angeles area, Rent a Green Box offers reusable boxes available in three different sizes. You can choose which size box works for you and your needs best, which cuts back on cost.
Also, they utilize zero waste moving practices by using plastic-free packaging options to cushion your valuables, such as recocubes (the replacement for petroleum foam padding), geami (replacement for petroleum based bubble wrap and Styrofoam wrapping), and expandos (replacement for petroleum based Styrofoam packing peanuts and foam wrapping).
frogbox
Frogbox services Seattle, Boise, and Canada areas with their rentable moving boxes and additional moving gear. They utilize eco-friendly packaging materials like recycled bubble wrap, biodegradable mattress, chair and sofa covers, and recycled packaging paper. You can also rent additional moving supplies like zip ties and dollies to make your move easier.
other rentable moving box companies: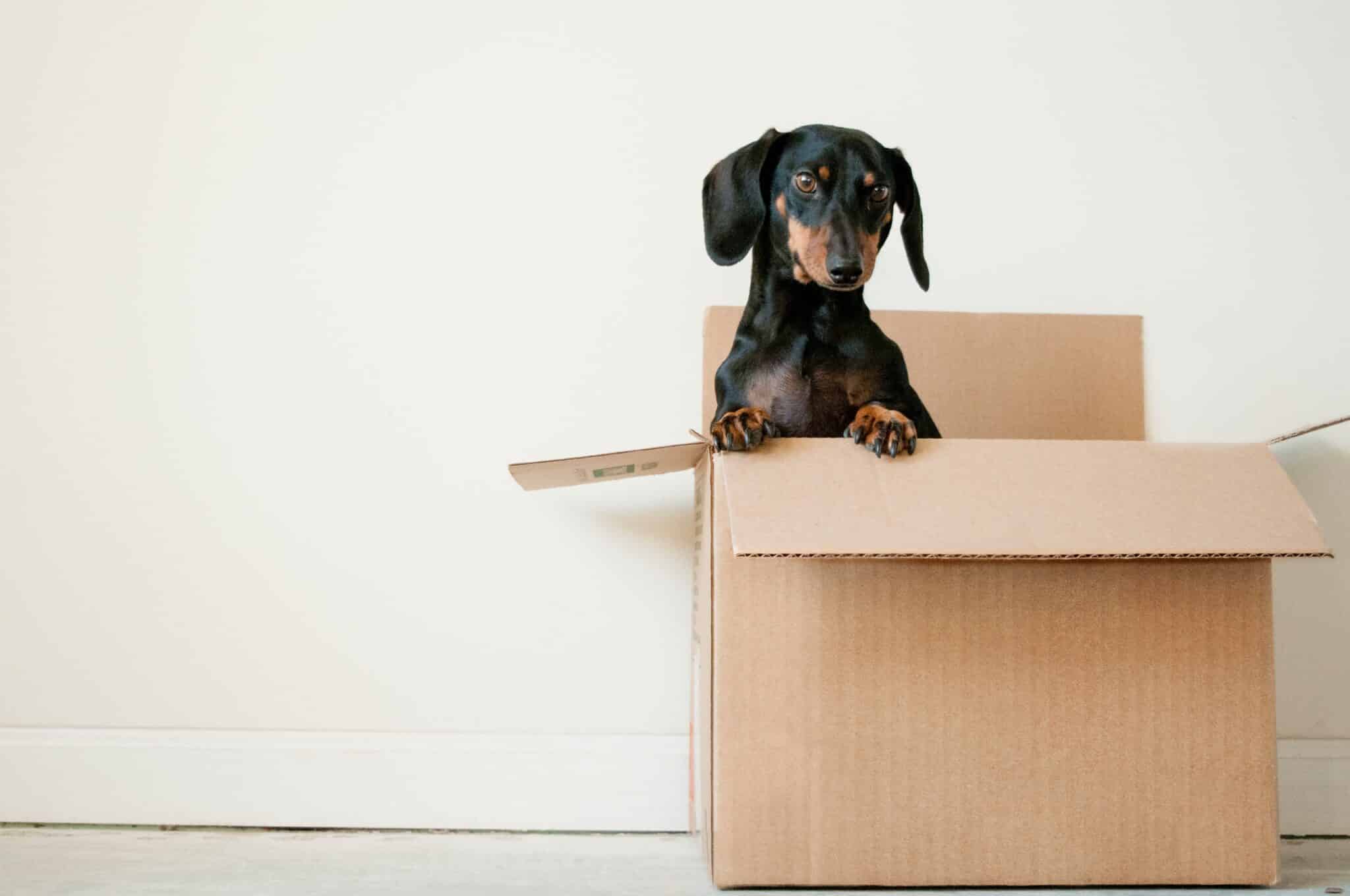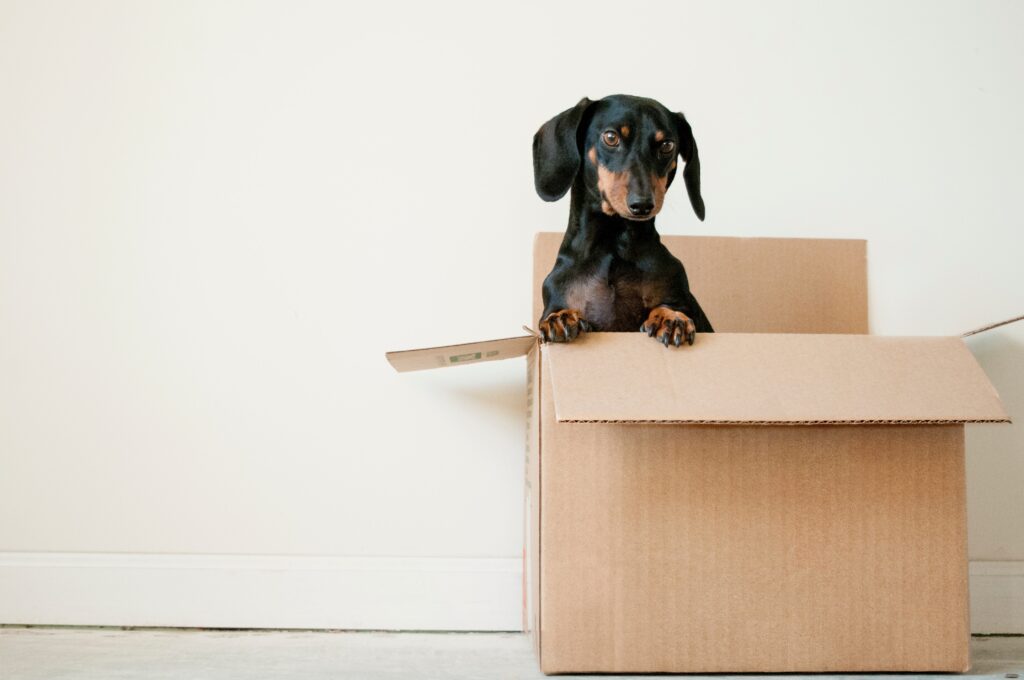 used boxes
You can always find used cardboard boxes to pack your valuables without spending money. Search for them at your recycle bin, local stores and restaurants.
Most of these places will be happy to get the boxes off their hands and won't charge you a dime for them. Just make sure to start collecting these in advance so you aren't forced to buy some at the last minute.
upcycle your items for packaging materials
Did you know you can use sheets, shirts, towels, and socks to secure items in upcycled boxes? I even used two hats to secure one of my smaller items – an aromatherapy humidifier. Don't be afraid to get creative and use what you have to cushion your belongings.
Have breakables? Strap a helmet on them (I did this with my piggy bank and it worked!). You can also use salvaged packaging from deliveries you receive in the mail – why not put that unwanted bubble wrap to good use after all?
storage bins
If you plan on moving again in the near future, it might be more cost-efficient to invest in storage bins you can reuse over and over again. You can always resell the boxes when you're officially done with them to local buy and sell groups.
Check at local department stores for sturdy, weatherproof storage bins you could use. IRIS Weathertight Storage boxes are a good option that will last the test of time.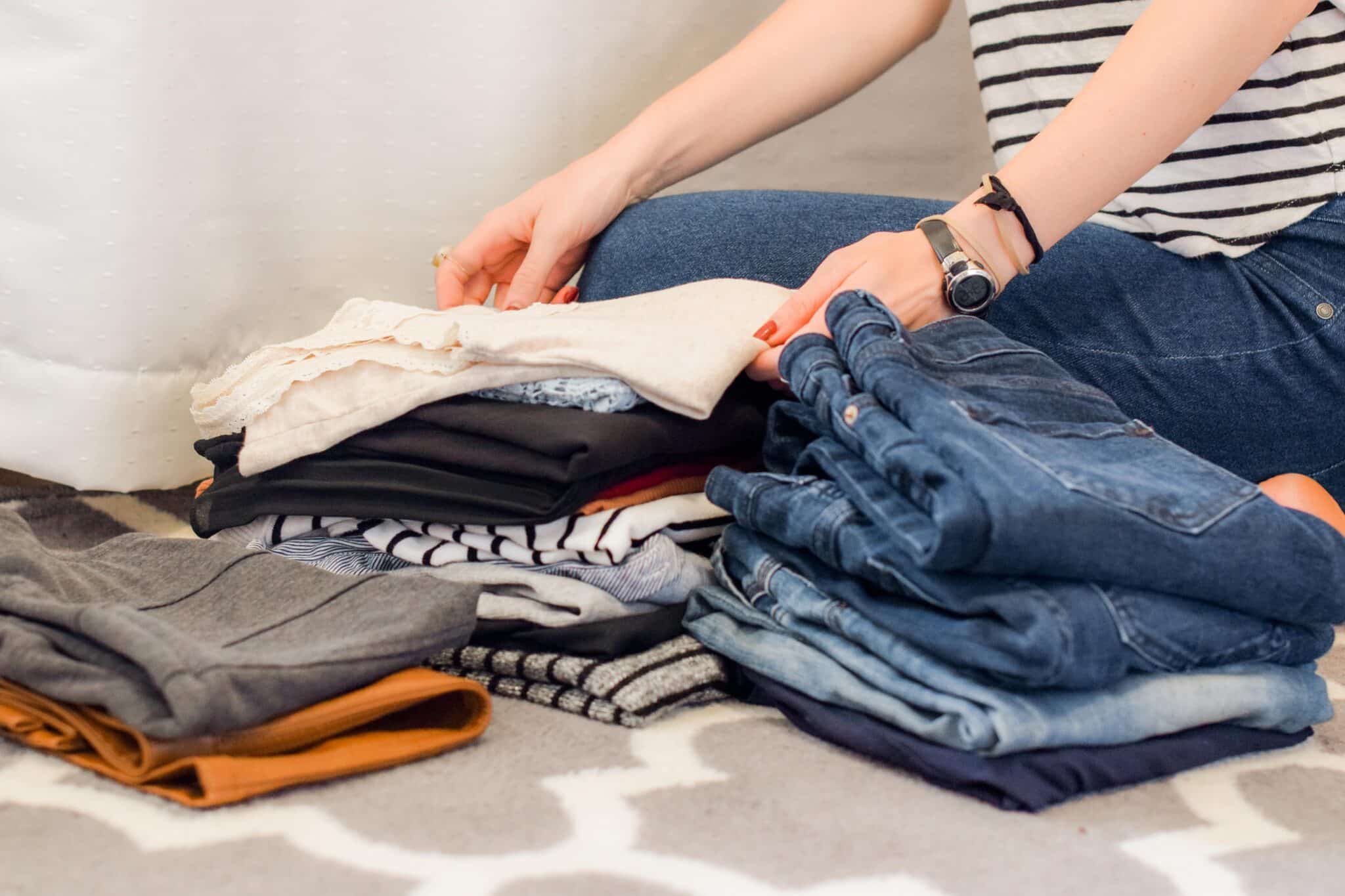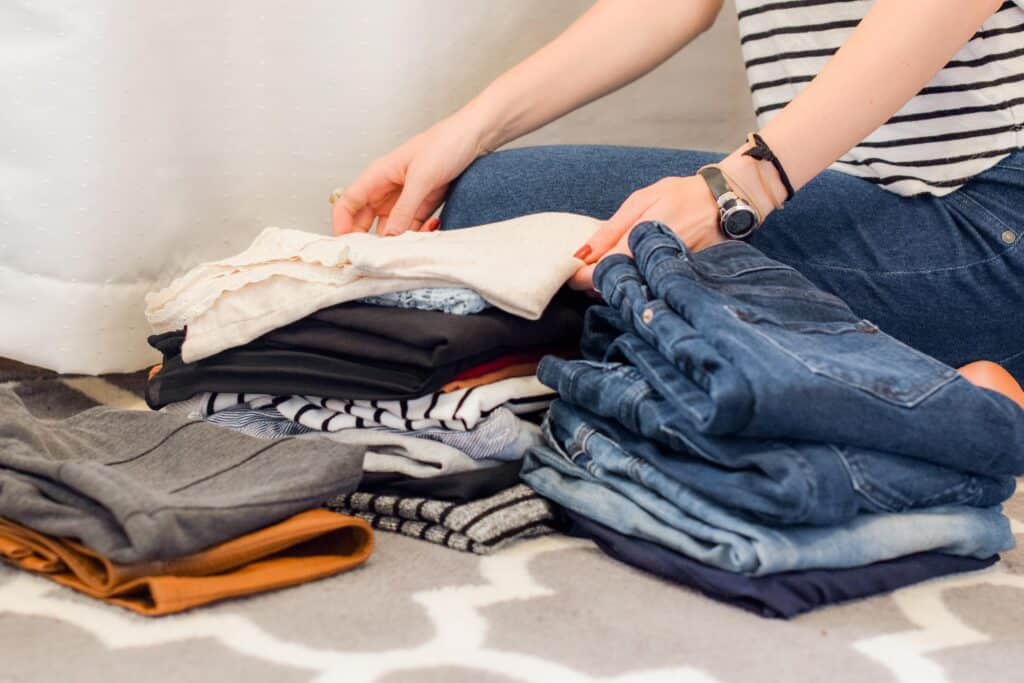 sustainable decluttering
One of my best tips for moving? Decluttering.
During a move, you'll probably find a lot of items lying around your home you haven't used or needed in a while. Ask yourself when the last time you used it was and be honest – if it's been over three months, it's probably better off with someone else.
I recommend selling items you no longer need first, as this will put some money in your pocket. Facebook marketplace is a good resource for this.
You can also gift items to your friends and family. This is great because you know who will be getting the item and that it'll be in good hands.
If you have to donate your items, I recommend looking into specific places to donate rather than just generic thrift stores. Thrift stores often get overloaded with items and they don't always actually get used.
Have a surplus amount of art supplies? Donate them to an art center or art teacher. Too many books? Gift it to the library. Giving items where they're needed is a better use of resources.
You can also donate some items to hospitals, nursing homes or even your place of work. Have a coffee machine that's still working but you just never use? Look into getting it setup in your office's lounge.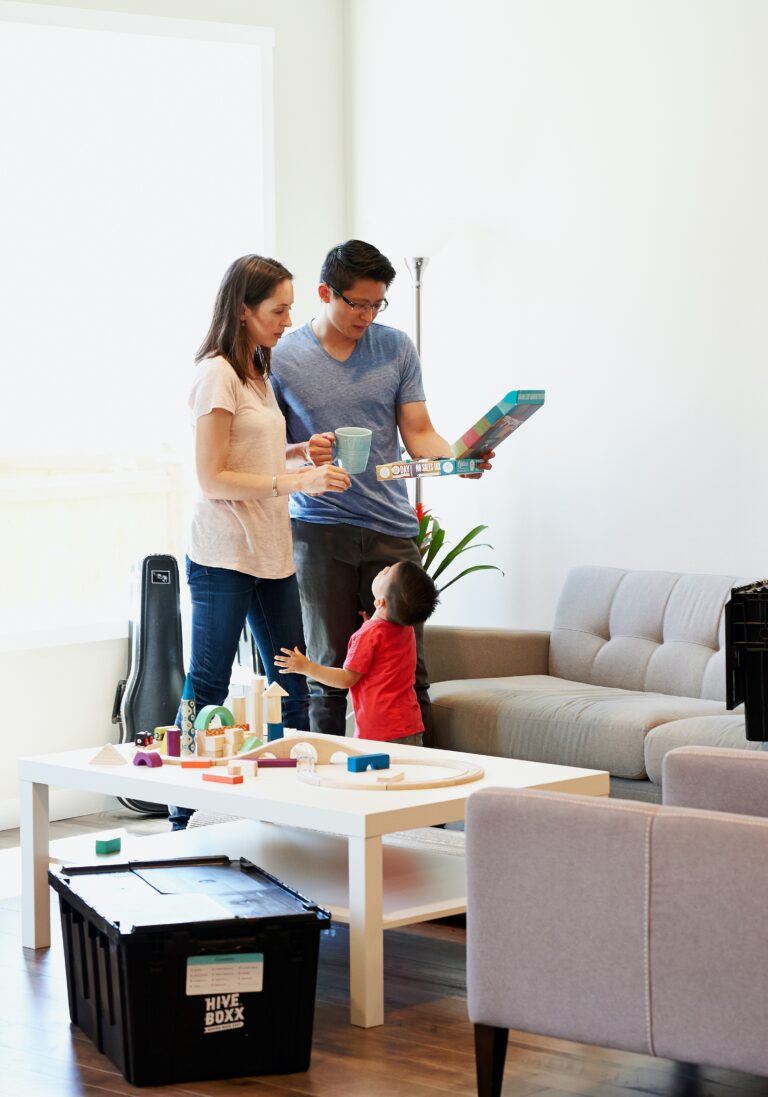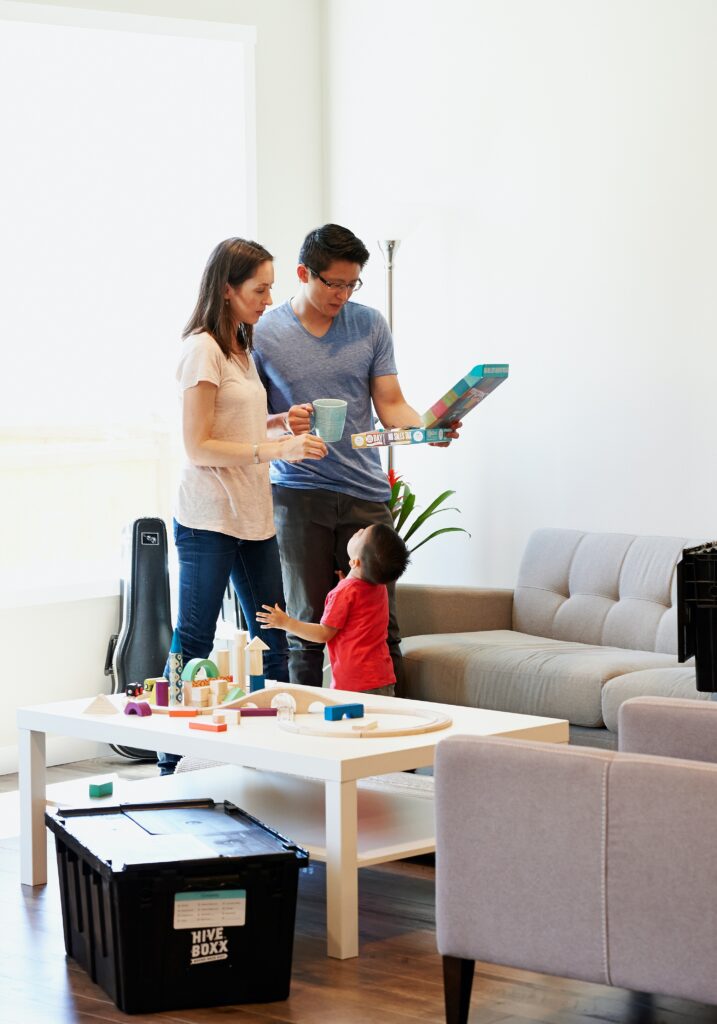 sustainable moving hacks
Here are my go-to tips for moving for each area of your home that will help you reduce waste and save a buck.
kitchen
Most kitchen appliances, like toasters and microwaves, will probably need some extra cushioning in their boxes. You can use dish towels, rags, and kitchen mittens you also want packed away to offer some extra protection and padding. Towels, blankets and sheets also make great packaging materials.
Have an appliance you don't need or use anymore? Gift it to a loved one who wants it instead! It's one less thing to worry about on your move to pack.
For fragile items like cups and plates, make sure to wrap them in newspapers and salvaged packaging paper when you can.
bathroom
There are probably several small items in the bathroom you want to pack with you. I suggest using any makeup or toiletry bags you have on hand to fit as many items in as you can. Treat it like you were if you were going on a trip somewhere.
If you're packing any mirrors with you, I suggest wrapping them in a soft bath towel. Secure it with twine or rope you have on hand, then put it in a storage bin or box.
As for hairbrushes and hair care items, make sure they're kept in a secure bin – you can also wrap these in bath towels if you feel they need the extra cushioning. Especially if you're afraid of something breaking or coming loose.
Keep tiny items like pins and clips in an upcycled tin or jar and make sure to store it in a toiletry bag or somewhere secure.
closet
You can actually use some of your older clothes to help cushion your fragile valuables. But for the clothes that you need to pack, check and see if you have a duffel bag lying around you can use or a suitcase already on hand. This will reduce cost and waste.
You may be able to even keep some clothes in dresser drawers if you're transporting your dresser as well. You can also reuse shoe boxes or garment bags you already have.
For clothes that need to be hanged, check out the rentable box companies I listed above – like Gorilla Bins and Frogbox – some of them offer wardrobe boxes where you can keep your items hanging and protected at the same time.
living spaces
Big items like couches, beds and TVs sets are all very heavy and usually require some protection during a move. That's where having an eco-friendly moving company comes in handy – these companies will happily load up your furniture for you so you don't have to lift a finger. Check out Eco Movers, Rabbit Movers and Gentle Giant.
You can also use eco-manufactured furniture covers from Zee Green Bags – they're formulated with less plastic, made using renewable energy, and are recyclable at their end-of-life.
Frogbox also offers biodegradable furniture covers that you can add to your purchase if you wind up using their rentable moving boxes.
Also, this is a good time to donate any furniture you no longer want or need, especially if you plan on getting new stuff at your new home. I recommend seeing if a family member wants it first, and if not, sell it – giving it to a thrift store should be your last option.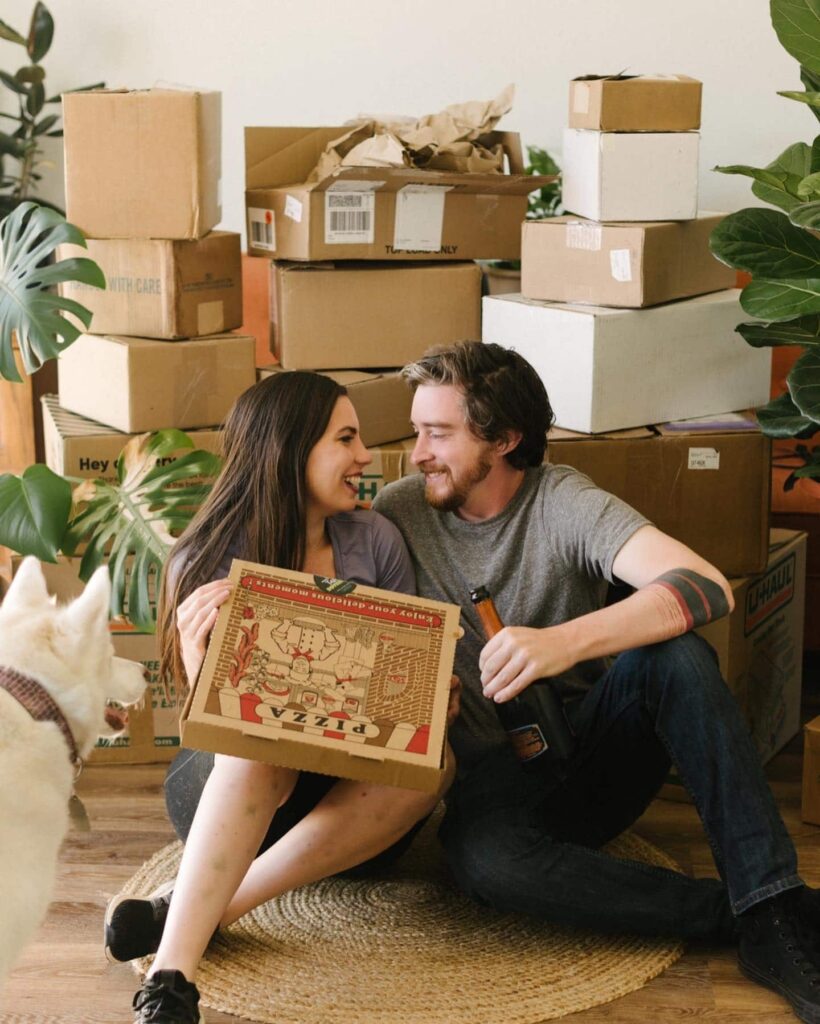 moving checklist
Out of all my tips for moving, I cannot tell you how important this one is for your sanity – a checklist of goals is vital!
A checklist will help ensure you remember everything and make moving a bit less stressful. If you follow none of my other tips for moving, let this be the one you do.
Here I've listed all the things you should make a goal to do. Jot them down, or bookmark this page and come back to it to have a hassle free move!
make a packing list
The packing list will be everything you want to take with you on your move. Separate them into categories like clothing, essentials, makeup, toiletries, furniture, etc. Check things off as you pack them.
organize any important documents
Make sure you have them all in one secure place, like a folder or storage bin.
measure your furniture
This is so you know what can and cannot fit through your doors and windows.
gather any moving supplies you may need
If you're going to use salvaged packaging boxes from stores and recycling bins, make sure to start saving these at least 8 weeks before you move. Make sure to label the boxes with what you want packed inside them, ex: "kitchen: dishes." Also gather eco-friendly packaging materials like salvaged packaging paper and newspapers – save them for later.
start researching moving companies
Do you want help with your move, or are you going to do everything yourself? Check out the eco-friendly movers I listed above.
create a room by room inventory
Take pictures of your items, especially your valuables. This will help you track anything that may go missing, get damaged or stolen.
sell or donate unwanted goods
Start decluttering sustainably as soon as possible, ideally no later than 8 weeks before your move.
make sure to request time off work for your move from work
Take at least three days off in advance. Some jobs require you put in time early.
look into rentable moving boxes or reusable storage boxes
Consider reserving a storage unit if the home you're moving into is limited in space.
contact your internet, phone, utility and home security providers
You'll want to arrange for services at your new home.
fill your prescriptions ahead of time
You don't want to be stuck without any of your medications on a move, especially if you have to change doctors or pharmaceuticals.
make sure to change your address
Not everyone will know you're moving – contact banks, PO boxes, insurance companies and doctors offices to let them know of your address change. Give your friends and family your new address too.
update your drivers license, auto insurance, and car registration
Tell them your new address as well – this is vital and important for identification purposes. Ideally, do this 2 weeks before your official move date.
disassemble big furniture items
Do this at least 1 week before you move. Not everything will be able to fit through your doors and windows.
collect all keys and hand them over
Who needs the keys? Be it the new owner, real estate agent, or new tenant, make sure they get into the right hands.
pack a moving kit and make travel arrangements
Make sure to take some healthy snacks, water and phone chargers with you. It's important to know how you'll be getting to your new home too – will someone be driving you, or are you driving?
get cash
Make sure to tip your movers! I recommend 15%–20% of your total bill for large moves and 5%–10% for small moves.
on moving day – wake up on time, remember to eat, and clear a path for anyone helping you
Ordering a pizza or having donuts out is a good idea, be it friends or a professional moving company helping out. Make sure to check the paperwork if you hired movers so you don't get caught in a moving scam.
sign the movers inventory list
Ask the movers to give you a copy of their official inventory. This is important in case something "disappears" during transit and you have to file a claim.
move, settle in, and don't unpack everything in one day
Take time to unpack the essentials and don't forget to go shopping for groceries. You also might want to clean your new home too before unpacking. Focus on setting up the kitchen, bedroom and bathroom first.
So, what do you think of these tips for moving? Did I leave anything out? Comment your tips for moving below!