5 Eco-Friendly Bedroom Office Combo Ideas
October 8, 2020 | Kathryn Kellogg
Last Updated on November 17, 2022
These bedroom office combo ideas will look fantastic while allowing you to take advantage of your entire space.
These guest bedroom office combo ideas are great for small spaces, large spaces, and anything in between. Ideal for homes that don't have a dedicated sustainable office or anyone who wants to have an eco office/bedroom.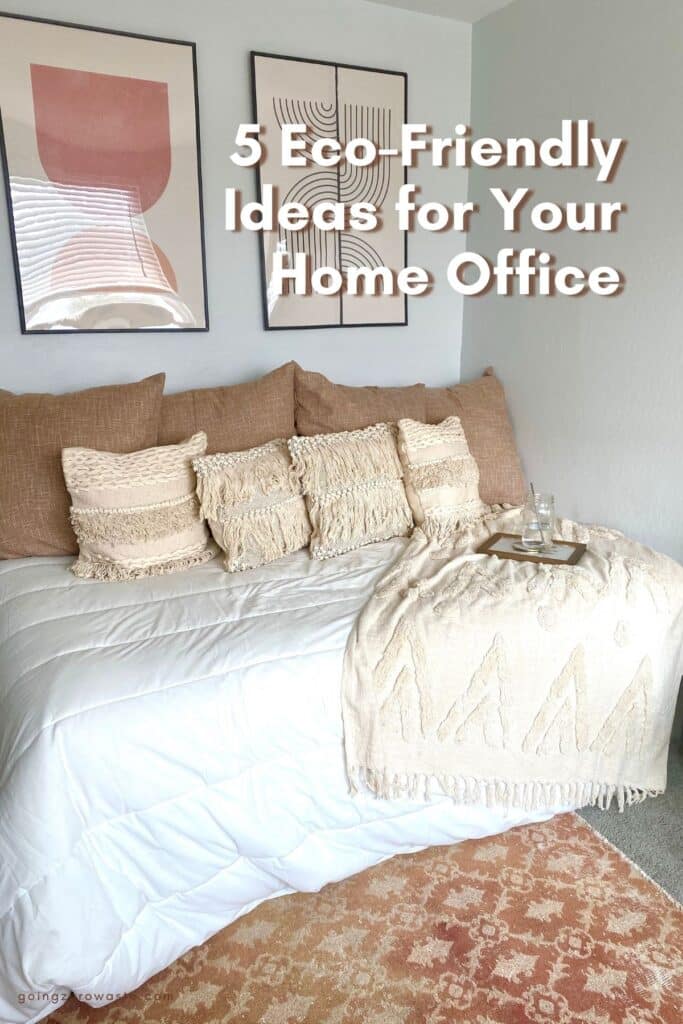 This post was sponsored by Etsy; all thoughts and opinions are my own. For more information, please see my disclosure policy. 
guest bedroom office combo ideas
As many of you know, Justin and I recently moved. In our old space, my sustainable office was a large, open concept area that was used for workouts, reading/lounging, and dancing—lots of dancing. 
Our new apartment is about the same size as the last place but far less open concept and my office has become a guest bedroom combo. 
Now, don't get me wrong, I'm not complaining. I'm super grateful to have an eco office space and a functioning guest room that's not a small shack in the backyard.
But, when these very separate, defined spaces came together, the vibe of the room didn't work, so I wanted to create a space that felt more like me! 
With more of us working from home I wanted to show you how I made a budget-friendly, sophisticated upgrade to my eco office featuring handmade items from Etsy.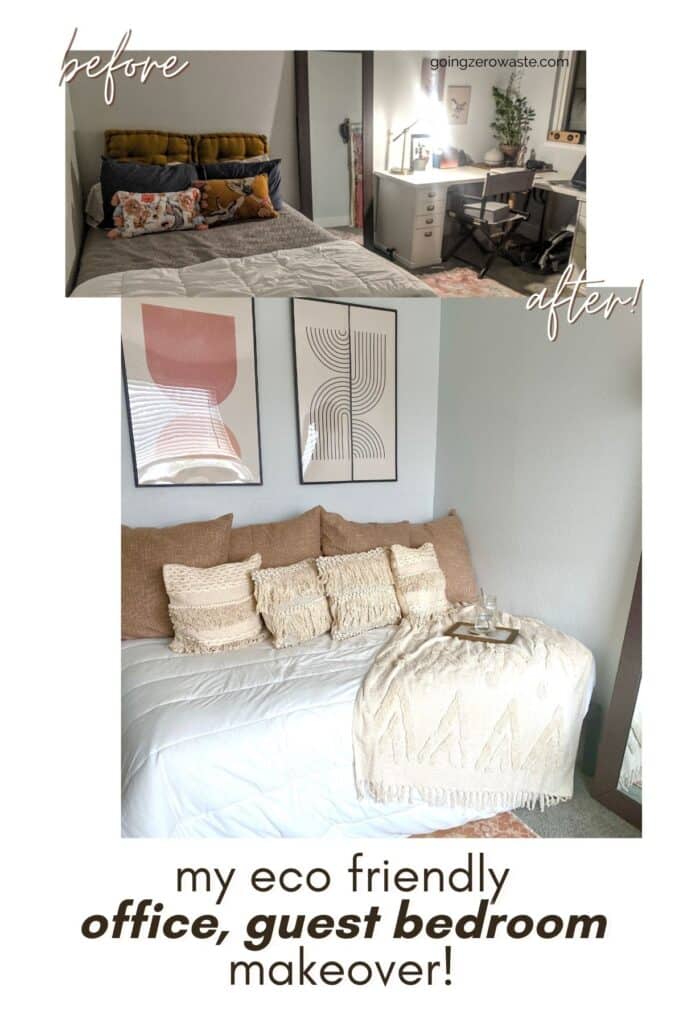 sustainable office & bedroom combo
A lot of my decor is secondhand, and while the quirky finds using bright pink, yellow, and blue worked in the old space, it didn't quite work here. 
And, using my floor pillows as temporary euroshams – didn't work. 
Since I spend a lot of time in my home eco office, I wanted to create something full of all the things I LOVE – white, tan, and orange, lots of texture, and plenty of house plants! The more houseplants, the better.  
There's a huge selection of eco-friendly and sustainable home goods on Etsy made by artisans, crafters, and makers, so I knew I could bring my guest eco office ideas to life… which is mostly based on this commissioned pet portrait of Nala. 
I feel good about supporting small businesses through Etsy as well as Etsy's commitment to sustainability. They're the first major online shopping marketplace to offset 100% of carbon emissions from shipping!
sustainable office ideas
Okay, time for us to dive into these awesome guest bedroom office combo ideas so you can have the eco office/bedroom of your dreams!
1. analyze your needs:
The first thing I did when trying to make my new eco office/guest room work for me, was make a quick list of my TOP priorities for the room. I need something that's going to look good on camera, a place to get work done, a place to relax while writing, a guest bedroom, and a place for dressing up!
looks good on camera: 
My room is on camera A LOT between Instagram Stories, TikTok videos, and zoom meetings – this room is always being featured for public viewership, so I want to make sure it pops on camera. 
This means my desk needs to face the window, so I have good natural light for all of my videos.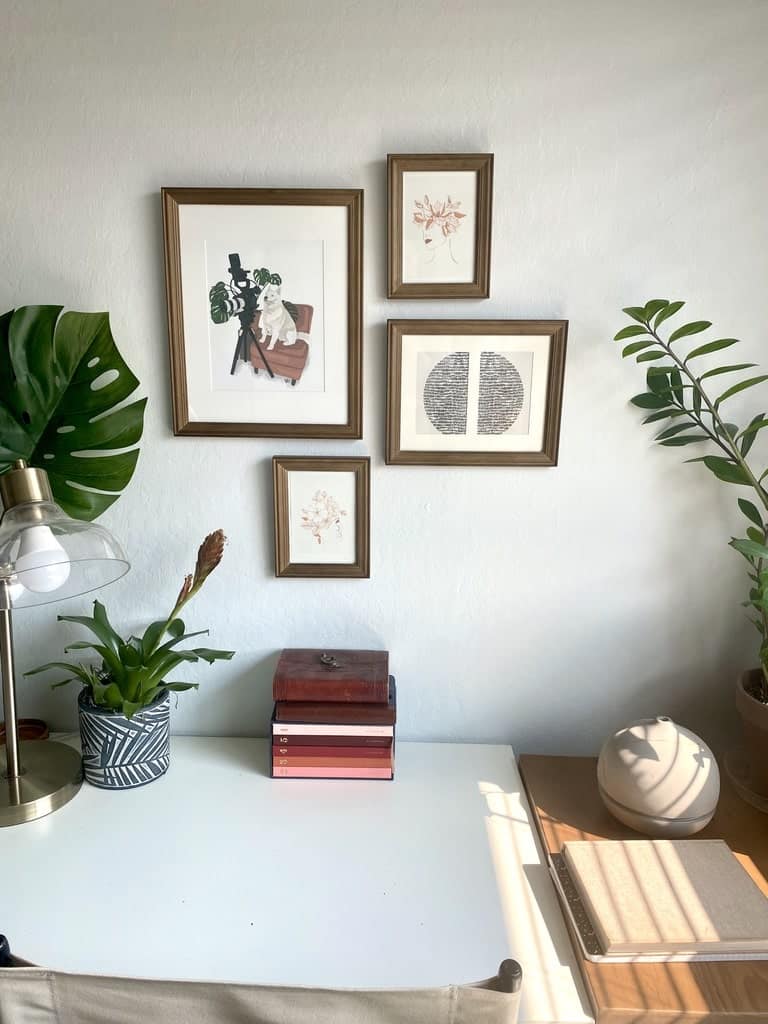 guest room:
My office doubles as a guest room, but since we rarely have guests over, I want the bed to look more like a couch or a daybed. 
Now, I have no desire to buy a large piece of furniture, so I cheated it with a ridiculous amount of AMAZING pillow covers from Etsy to create a couch like snuggle spot. 
It's beautiful and functioning for a guest to stay the night, and also perfect to nestle into for a writing session AKA where I am sitting as I write this blog post.
dress-up / prep area:
Now, we've already determined that I'm on camera often, so having a big mirror and a clothing rack full of costumes, wigs, and hats for the characters I play on TikTok and YouTube is a must! 
All I know is that younger Kathryn would be VERY proud of adult Kathryn for still having a costume closet. Speaking of which… I need to get my mom to send me my cape for a new TikTok video I want to do…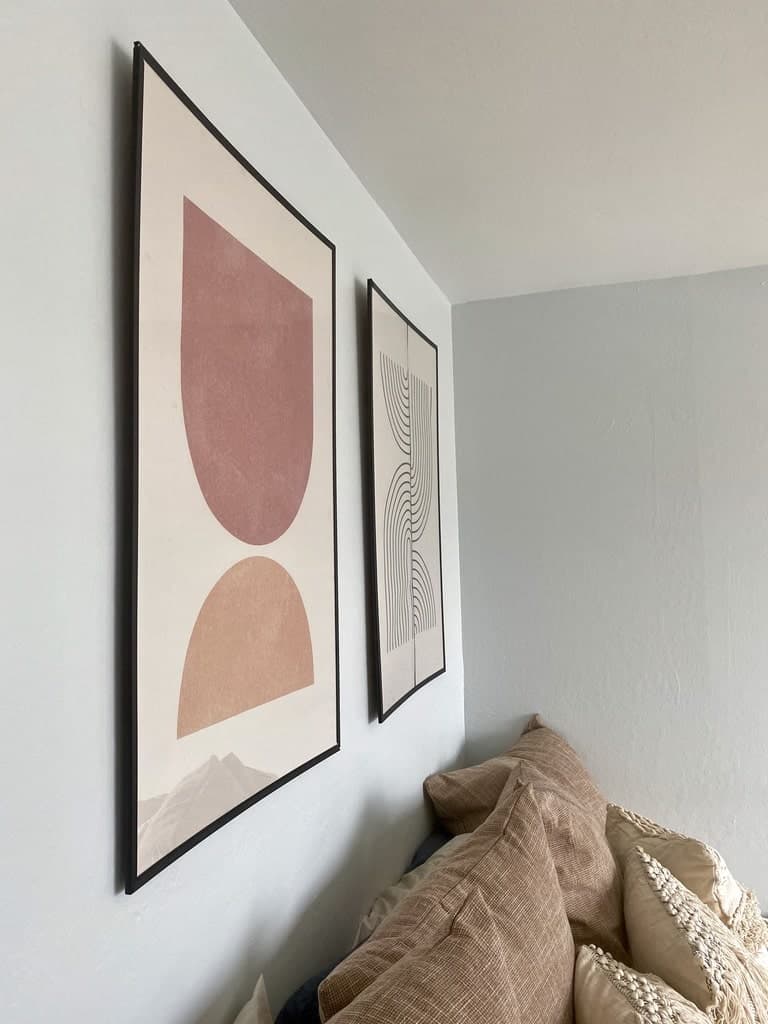 2. reuse and repurpose:
Obviously, one of the most eco-friendly things you can do is find different ways of repurposing what you already have. 
The throw pillows I wasn't super crazy about? Instead of buying brand new pillows, I simply bought new covers for my existing pillows! It's a great way to save resources.
The folding director's chair I've had at my desk since college? It didn't need a replacement; it just needed a little updating with a new cover. 
Before you run out and buy anything, even if it is secondhand, double check and see if there's something you can spruce up and repurpose what you already have in your house!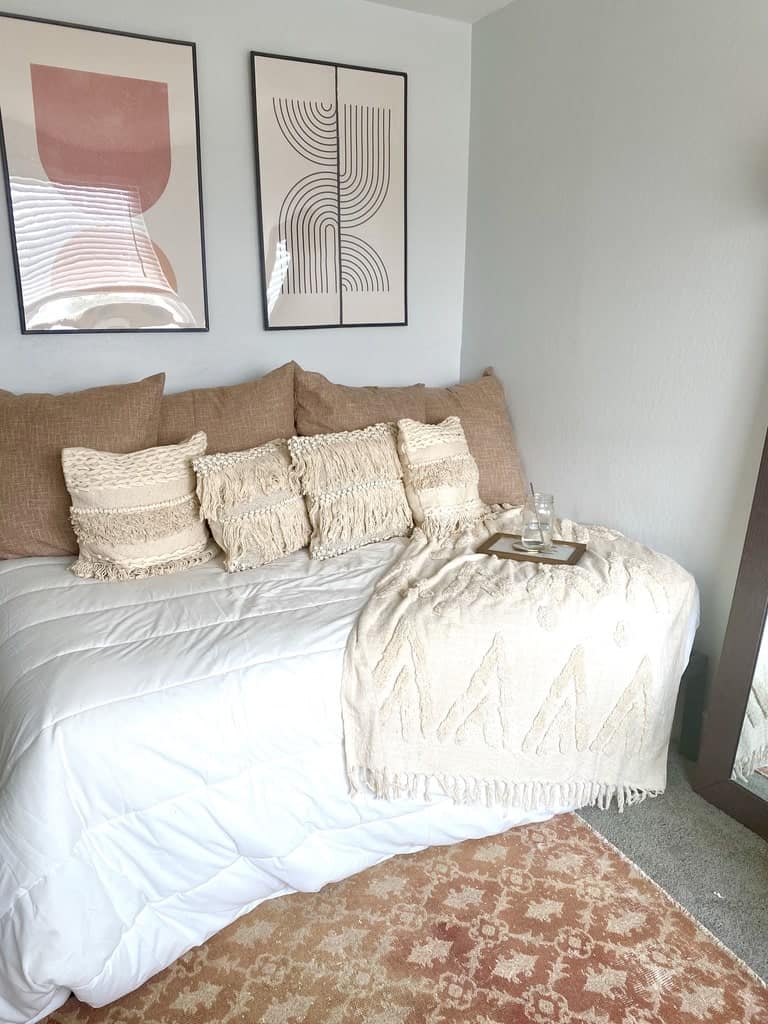 3. shop secondhand:
Once you've analyzed your needs for your eco office/bedroom, it should become pretty obvious the areas where you're lacking and might need a new piece for optimum functionality. 
Maybe you're in desperate need of a clothing rack to hang all of your costumes and hats, a standing desk, or trying to find an inexpensive way to turn your existing bed frame into a daybed.
Instead of running out and buying something new, you should check the secondhand market. Etsy has an amazing selection of secondhand furniture pieces and homewares. That could easily fit into your new space.
I really wanted a rug for my space, and I found the perfect secondhand rug from an Etsy seller who specializes in Vintage Turkish Rugs!
The seller offers many of these beautiful old rugs as is and then also upcycles and turns some into unique throw pillows.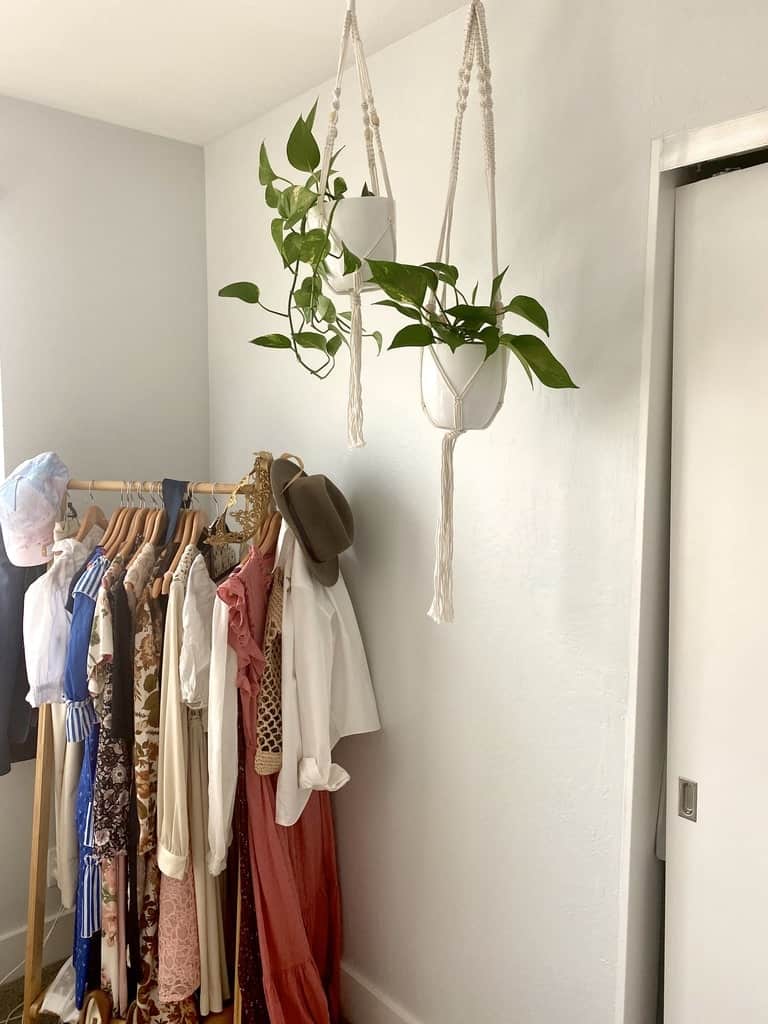 4. support artisans:
Another thing I like about shopping through Etsy is that I can support local artisans and small business owners.
When I was younger I used to pour over the Etsy blog reading every single one of their handmade wedding blog posts and dreaming about all the crafts I would create for my own wedding.
Turns out, I'm not super crafty and don't really have the patience for that sort of thing, but I'm still super passionate about supporting the people who are!
I ordered several prints from artists and had them printed on some old paper stock. My mom actually owns a small print shop in Arkansas and had some old paper lying around she used for my prints.
I had her ship them to me for my birthday (along with that cape) and I think these prints really pulled the room together.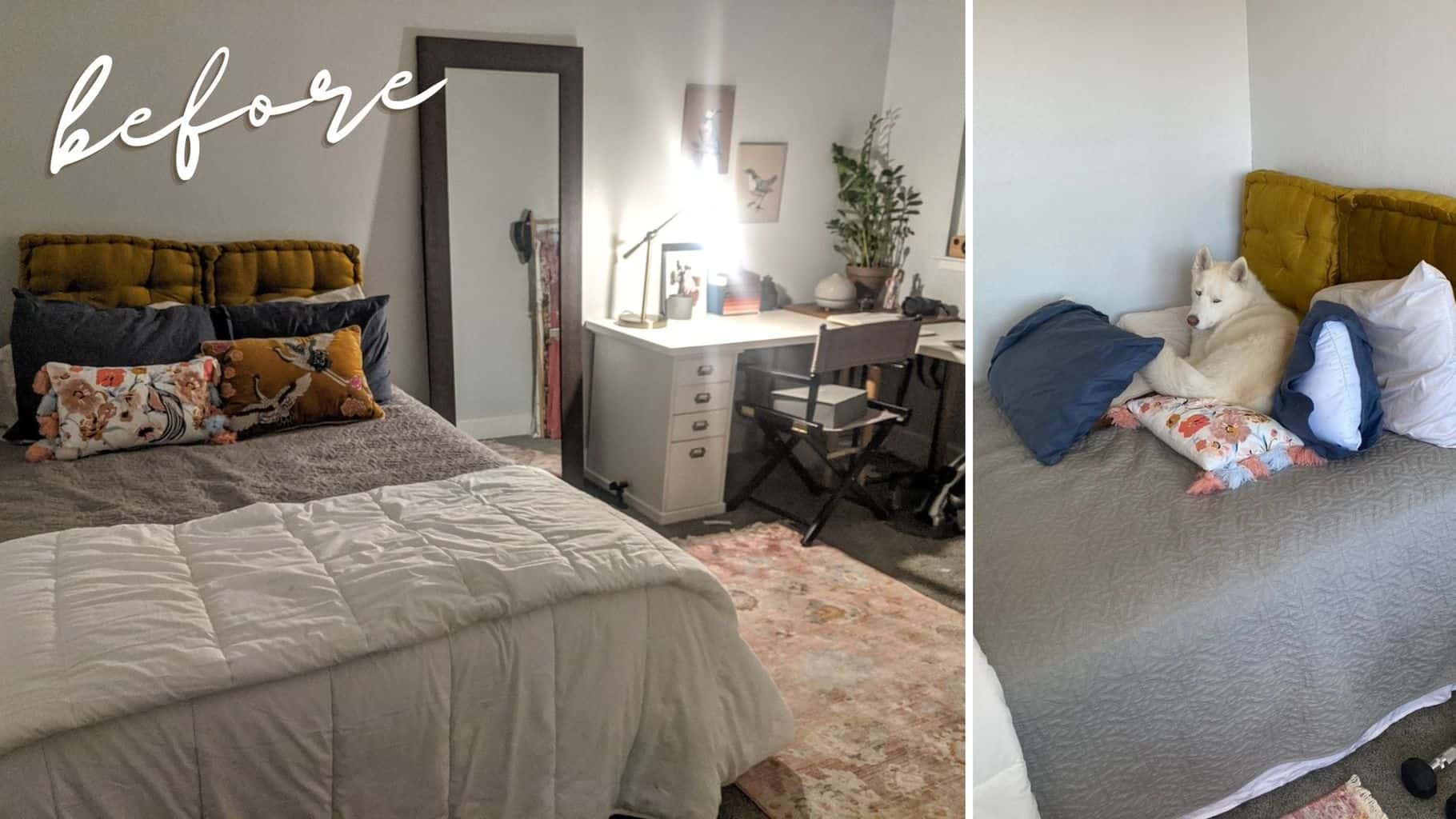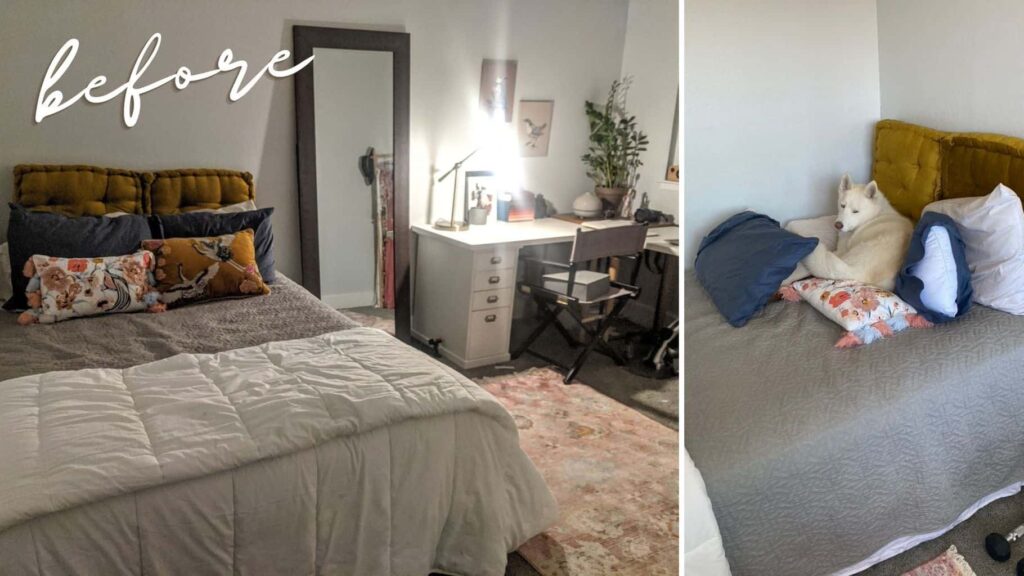 5. highlight the things that make you happy:
I have a few incredibly sentimental pieces that make my heart super happy.
I think we all have items like that in our home, and since I spend so much time in this space, I really wanted to highlight them properly and put them on display. 
the lantern:
When Justin and I were performing in Pennsylvania, we used to have lunch at a fountain near a candle shop. The owners knew us both by name, and we'd stop in sometimes together. 
For my birthday almost a decade ago, he bought me this quirky little rainbow lantern. And while it's not something I'd normally associate as personal aesthetic, when you put a little candle in there – it's beautiful! 
And, when he gave it to me, he wrote me a letter about how we'd use it to light the way for all of the adventures life has in store for us. 
my diffuser:
Ok, so this is another Justin gift – the guy is really good about buying things, but I actually love it so much because he accidentally broke it! We spent an afternoon piecing it back together with superglue and gold paint.
The repair was inspired by Kintsugi, the Japanese art of repairing broken pottery by mending the broken bits with lacquer dusted or mixed with powdered gold, silver, or platinum.
We definitely didn't do it in the traditional manner, but I love the idea and message behind Kintsugi so much! The goal is to embrace flaws and imperfections. After mending, the broken pieces are stronger, and even more beautiful than when they were whole.
And, I have to say, I love my diffuser so much more after fixing and repairing it. Every time I look at it, I'm reminded that it's beautiful to be broken.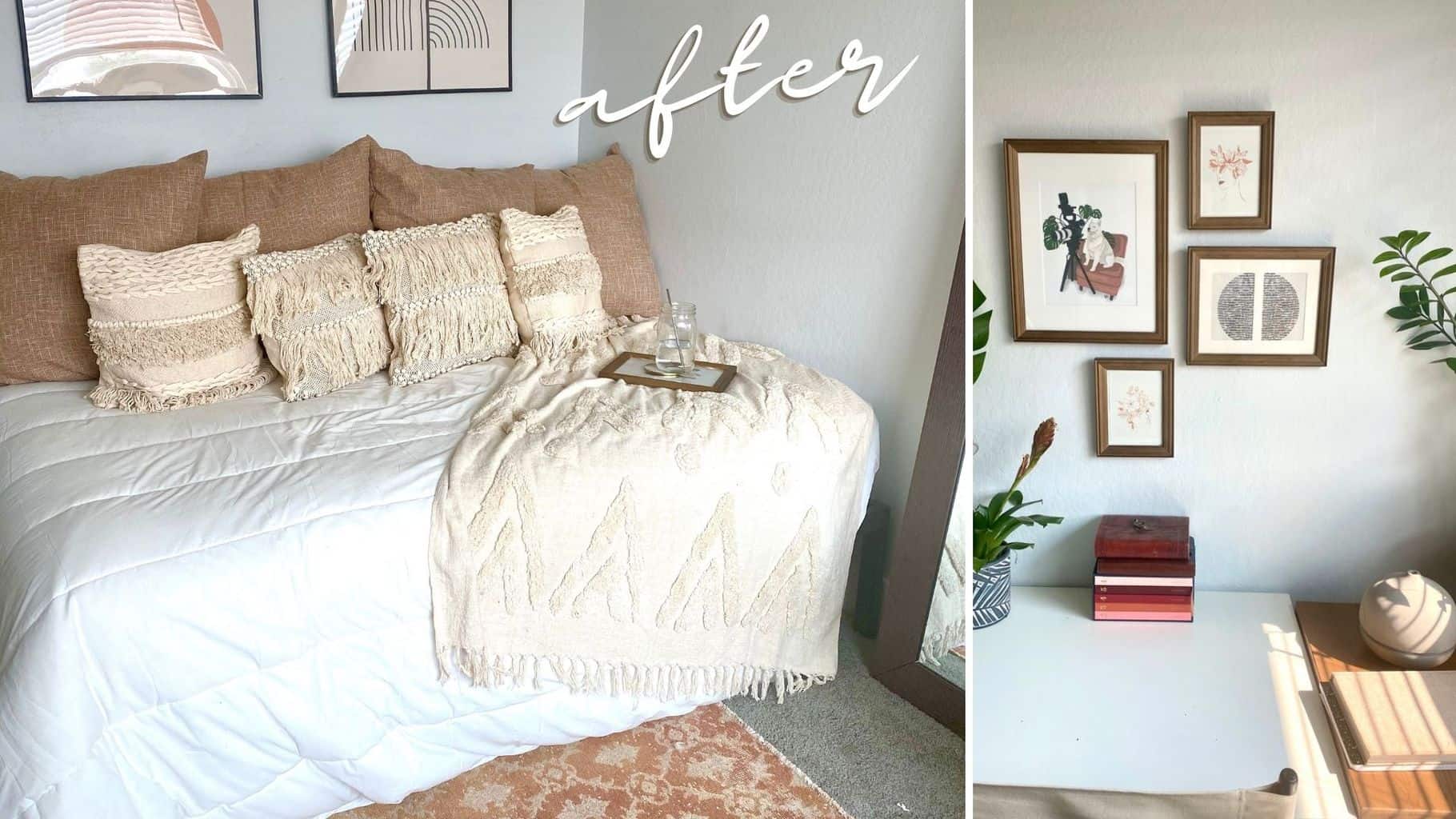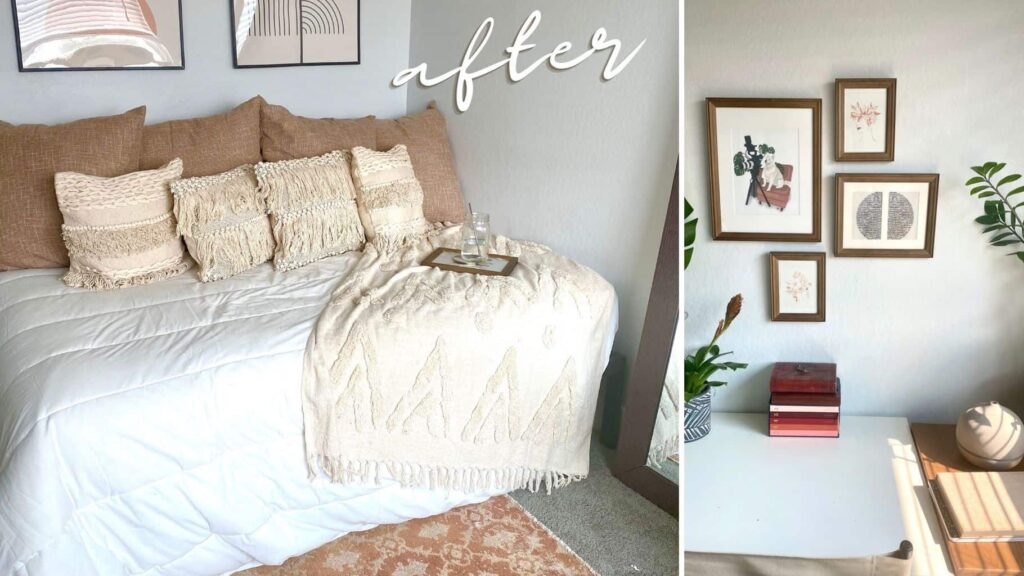 my crown:
And, lastly, proudly hanging on my costume rack – my crown! This was a present from my best friend for my bachelorette/hen party.
I wanted my party to be classy and sophisticated, and knowing that supporting artists and small businesses is important to me, it should come as no surprise that my best friend bought all my stuff, including this crown, off of Etsy!
---
Since we're all spending a bit more time at home now, if you're thinking of sprucing up part of your space be sure to check out Etsy's Everyday Finds where they're always highlighting different artists and craftspeople.
A huge shout out and thank you to Etsy for sponsoring this post!