5 Sustainable Reasons to Choose Dusa Jewelry 
August 5, 2022 | Ariana
Last Updated on August 5, 2022
The right ring or necklace can really bring an outfit together and complete a look. But to me, there is nothing dreamier than wearing a handcrafted, ethically made piece of jewelry.
When I purchase jewelry, I like to choose classic, timeless pieces that will go with an assortment of outfits in my closet. This helps me avoid impulse purchases and choose higher quality pieces that could even become heirlooms.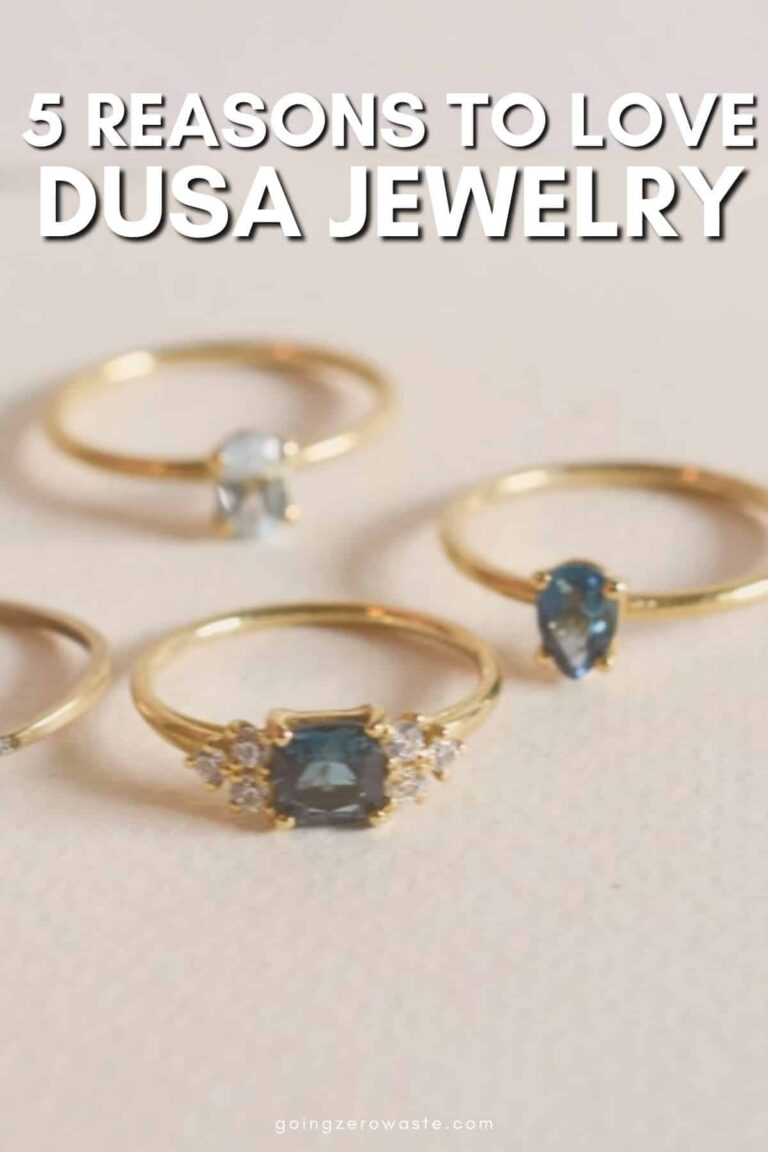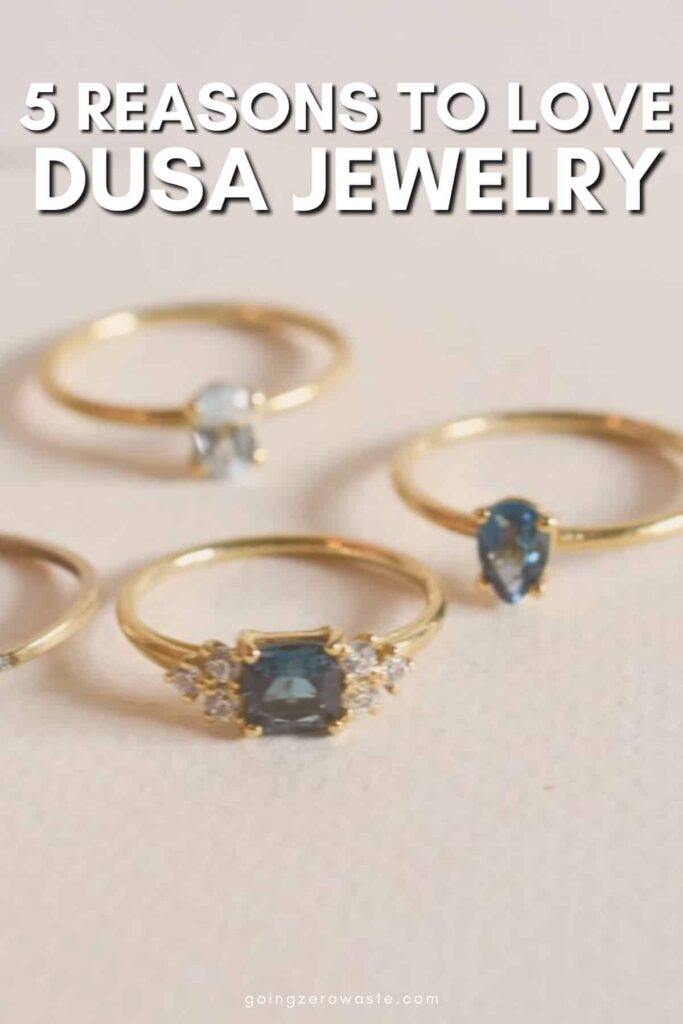 This post was sponsored by Dusa Jewelry. All thoughts and opinions are my own; for more information please see my disclosure policy.
It's also important to consider the environmental and social impact jewelry pieces can have: Many of the metals, gems and diamonds are mined and contribute to toxic waste, violence, deforestation and biodiversity loss.
Gold mining companies alone generate about 20 tons of toxic waste for every 0.333-ounce gold ring. And I'm sure you've heard of "blood diamonds" which fuel civil wars and enslavement.
These are just a few reasons I always try to choose sustainable jewelry brands when I'm in need of a new piece.
Enter Dusa Jewelry, a small, woman owned business that has thoughtful sourcing, give-back initiatives, fair trade practices and some truly stunning pieces.
I was gifted a few of their pieces and I'm in love with the quality and timeless nature of them. If you're a jewelry lover like me, here are 5 sustainable reasons to give Dusa Jewelry a try.
planting trees
It's important to look for companies who give back. That shows they're not just in it for the profit, but also care about the welfare of people and planet.
Dusa Jewelry is a One Tree Planted donor, which means they donate 1% of their yearly profits and plant trees around the world. One Tree Planted is a 501(c)(3) nonprofit organization.
One Tree Planted works to plant trees where they are needed. Whenever possible, they plant trees native to the area, to prevent any invasive species from taking root, and ensure the trees flourish for years to come.
This is essential work because living trees are major carbon sinks for carbon dioxide that's driving climate change when it enters our atmosphere. Due to forest fires, logging, droughts and floods, tree planting initiatives are vital to the preservation of carbon sequestering forests.
Planting trees also creates clean air and water, higher quality soil, and contributes to biodiversity. That's why I'm so happy to see Dusa Jewelry is helping contribute to this.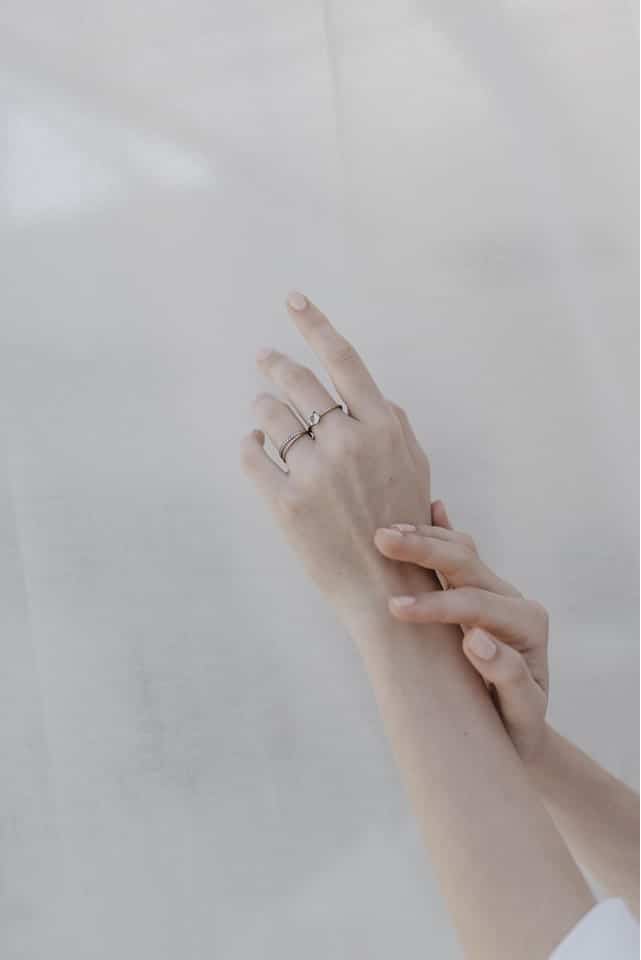 sustainable materials
Dusa Jewelry also makes sure to use sustainable materials in all their rings, necklaces, bracelets and earrings.
Specifically, Dusa Jewelry will go out of their way to use recycled gold. This is important because it helps reduce waste by using something that's already been produced, instead of seeking out virgin materials with a higher carbon footprint.
The production of virgin gold produces waste which is usually a gray liquid sludge laden with toxic heavy metals. Many gold mines dump this waste directly into natural bodies of water.
It's estimated 180 million tons of toxic waste from mines are dumped each year. By choosing recycled gold, there's no need to mine it and contribute to this practice.
Dusa Jewelry uses old jewelry and broken pieces of gold, as well as buying recycled gold grains.
In fact, if you have any old gold pieces that are no longer being worn, Dusa can recycle this on your behalf and offer you a gold credit to apply to your next Dusa purchase. This service is only available for local customers but soon it will be available worldwide.
Along with more sustainable gold choices, the diamonds Dusa uses are conflict-free and purchased from accredited diamond suppliers. They source local stones when possible.
For example, the gemstones from the Gemma Collection are made in Brazil and are traceable from a family of miners whom Dusa has a warm relationship with. They have a factory with fair conditions for its workers.
In addition, they use lab grown diamonds. They're grown with green energy inside a lab and don't have to be mined, which means they have a significantly smaller impact on the environment. Also, yes, they are still 100% real diamonds.
Dusa also works with precious heirloom stones to keep previously loved pieces in circulation and reduce waste. If you ask Dusa for a customized piece, you have the option of giving Dusa old jewelry and asking them to incorporate stones from it into your new piece.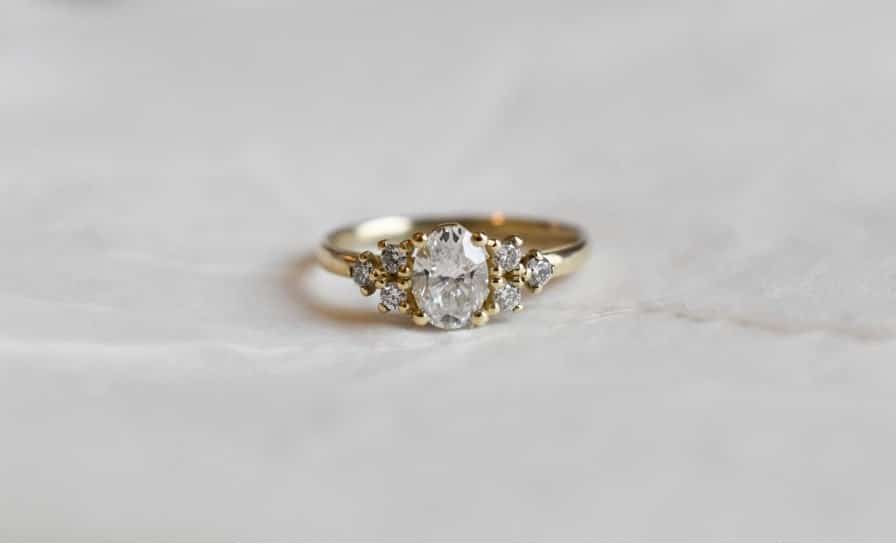 fair trade
Dusa creates fair trade products, which ensure the workers make a living wage and have safe working conditions. They work with a locally owned manufacturer in Tel Aviv to ensure both the quality of the jewelry and the lives of the people crafting it.
Likewise, Dusa only works with vendors with high ethical standards and knowledge of the supply chain. This means the gold they use is regulated and certified by the Israeli standards institute.
With these regulations, gold is sourced from a Fairmined Certified Mining Organization. This ensures the artisanal mining organizations meet high standards at all times.
Dusa's stones are all conflict-free and cut and polished in Israel and Brazil. This ensures their stones don't fuel violence and tyranny, nor are the diamonds sourced through slavery.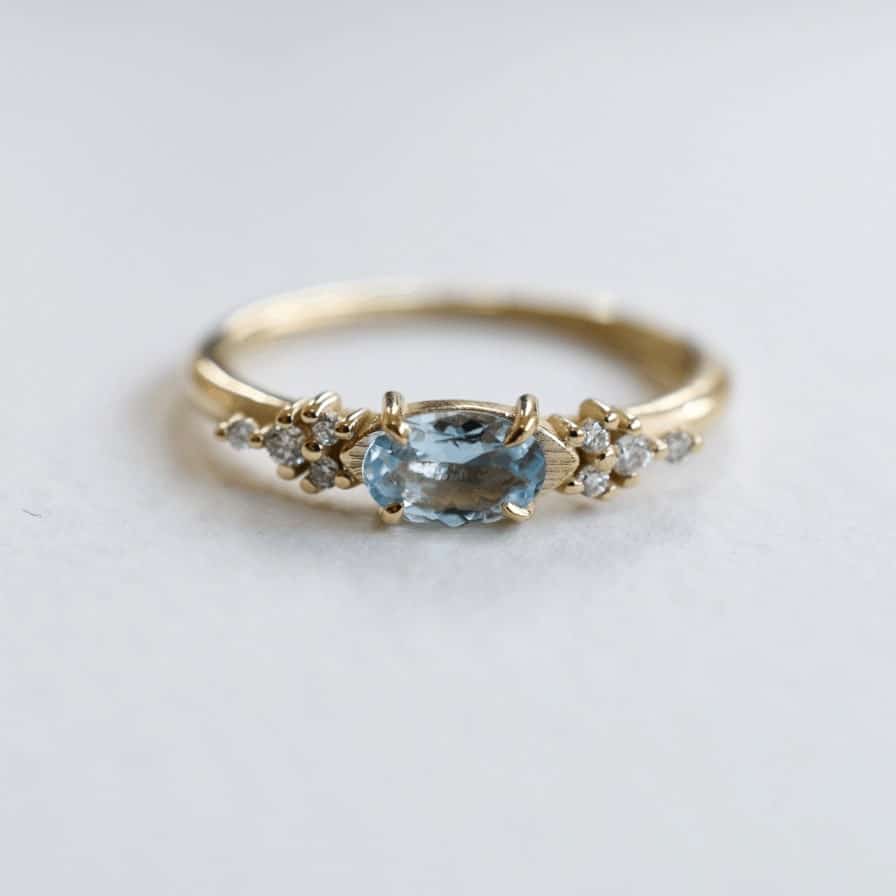 green studio practices
Dusa's goal is to use green technology to power their studio. For now, they're making moves to reduce their carbon footprint, like carbon off-setting their couriers and selling online which avoids construction expenses.
They're also striving to use only recycled and biodegradable packaging. Dusa uses compostable mailers for all national shipments.
All of Dusa's jewelry is packaged in FSC certified products or FSC mix 70%. They utilize paper, cardboard, cotton and linen over plastic and synthetic packaging where possible. All jewelry is beautifully packaged and ready to be gifted as is.
Also, all their studio supplies, from scrap metal to studio paper, is recycled when possible.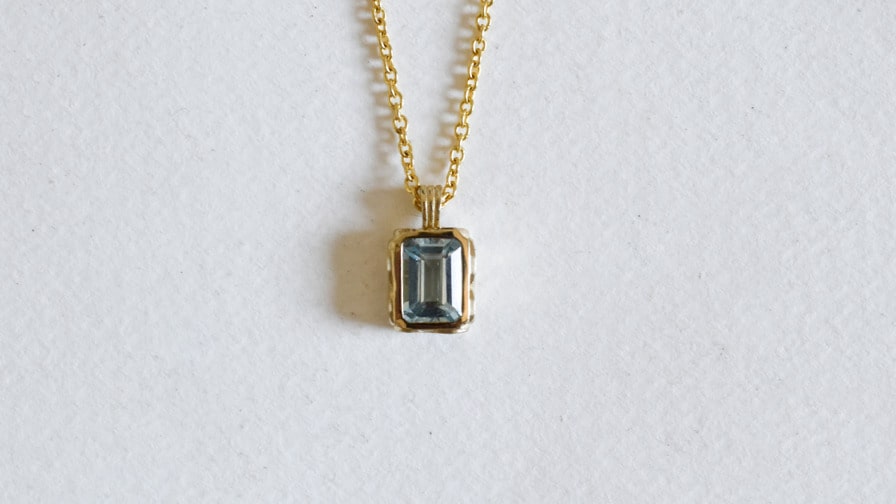 handmade
There's something primal and beautiful about handmade pieces. They require time and ensure quality over quantity. As an additional bonus, handmade pieces provide jobs and boost local economies.
Dusa's pieces are hand carved, cast and polished in their Center Tel Aviv workshop in Israel. They work with local jewelers to support traditional jewelry techniques and skills.
Handmade pieces also yield to more unique designs. Some pieces are one of a kind, making them even more precious.
Dusa actually offers custom design options, which only further personalizes your jewelry. You can even send in any vintage pieces you have (like your grandmother's ring) which can be repurposed using metal or stone.
If you want, Dusa will even sit down with you and design a one-of-a-kind piece from scratch. This will create a modern heirloom that will last a lifetime – and then some.
For worldwide customers Dusa provides a video meeting, so it's very easy to talk to them and show them references even if you live outside their country.
So, which of these pieces would you try? Let me know in the comments below.
And, a huge thank you to Dusa Jewelry for sponsoring this post. Be sure to check out their website to see more of their beautiful, ethical jewelry.