75 Consumable Gift Ideas
December 5, 2017 | Kathryn Kellogg
Last Updated on October 5, 2022
These consumable gift ideas are perfect for your friends or family members that supports zero waste and living an eco friendly lifestyle.
These sustainable Christmas gifts are useful and are things that many people need. You'll find edible gift ideas, as well as toiletries and other consumable gifts.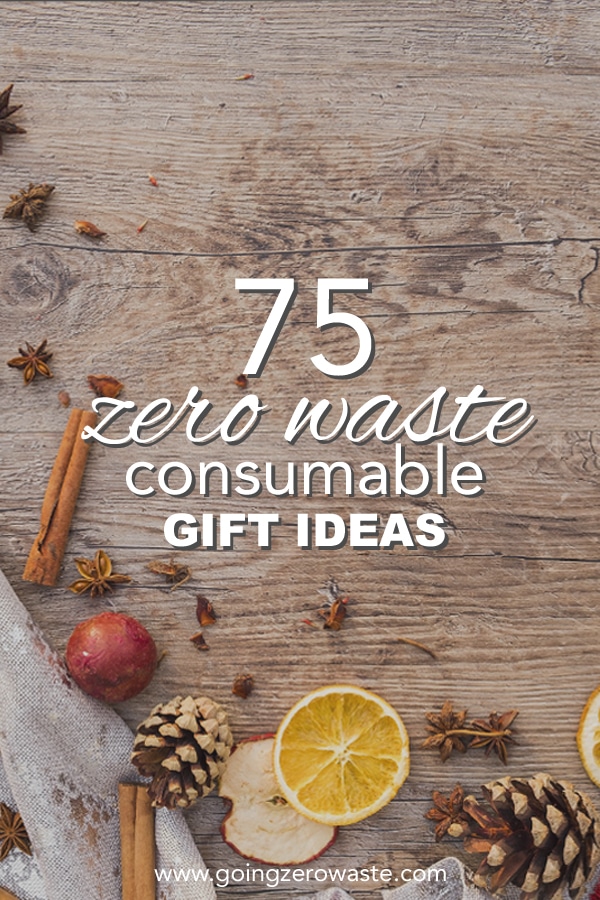 consumable gift ideas
I remember, as a kid, loving to receive and open presents. I also remember dreading putting all of my spoils away. 
My room was always packed with stuff. I had to rearrange after every holiday to make room for my things.
I remember the most favored gifts were consumable gifts. I've always been a pretty diehard fan of consumables.
After all, the chocolate never lasted long.
Consumable gift ideas are great because sometimes you just want to give someone a real, concrete gift. There are some people in the world you want to give a gift to, but you don't want to spend an hour or two with them.
I totally get that!
If you are looking for experience gifts, make sure to check out my list of 50 priced low to high.
Here are 75 consumable gift ideas to help you give something that will be used up this holiday season. 
best edible gift ideas
The first batch is filled with the best edible gift ideas we could find! Most people love to get consumable gifts centered around food, so we wanted to start with them tasty treats.
coffee beans bought in bulk
fresh fruit
candy from bulk bins in a mason jar
growler of beer
nice bottle of liquor
home cooked meal
eco friendly christmas gifts
Consumable gifts don't necessarily mean you have to eat them! That's why we wanted to find some great sustainable Christmas gifts that are consumable too. Each of these gifts is useful, and anyone who enjoys eco friendly Christmas gifts will love them.
---
frequently asked questions
how do I gift wrap consumable gifts?
Depending on what gifts you are giving, there are lots of options for eco friendly Christmas gifts. Jars, boxes, and other items you have around the house can make fantastic gift wrapping options. For more check out my article on gift wrapping.
would these gifts be good for other occasions?
Absolutely! These consumable gifts are great for any time of year. Birthdays, anniversaries, and just because! Keep this list close and use it anytime you are struggling to find the perfect gift.
What are some of your favorite consumable gifts?
This post contains affiliate linking. It's denoted with an asterisk. You can read more on my disclosure page.