5 Tips for Digitally Detoxing and Why You Should Give it a Try
December 10, 2019 | Kathryn Kellogg
Last Updated on May 6, 2021
I digitally detoxed for the first time last year and it was one of the best decisions I've made in my entire life.
I know, I know that sounds extreme, but I'm not exaggerating.
At the end of last year, I was tired, completely burnt out and severely lacking in creativity so I decided to temporarily pull the plug and reset.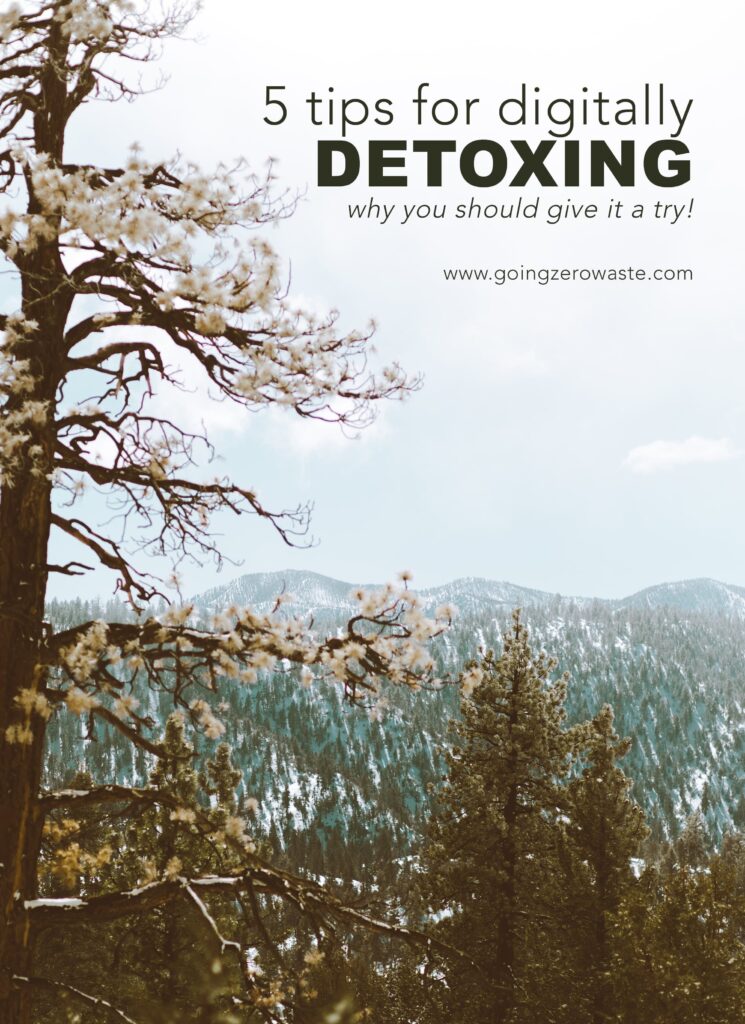 ---
I'm super excited to share this post with you because it was sponsored by tentree. All thoughts and opinions are my own. For more information please see my disclosure policy.
---
Unplugging to spend some time enjoying nature, lounging around the house, fostering other creative hobbies, and spending time with my friends and family is exactly what I needed to start anew.
And, I can't think of a better sustainable brand than tentree whose cozy pieces transition perfectly through all of those activities.
Beyond just being a quality, ethical and sustainable clothing, brand tentree plants 10 trees for every purchase.
Their pieces are also VERY giftable. So if you're looking for a last minute gift or two, not only can you get something perfect like this beanie or mittens, you can give back to mama earth too!
If you're interested in getting any goodies you can use the code 'GOINGZEROWASTE15' which is valid from Dec 10-31st to get 15% off!
Tentree pieces come with a small coin so the recipient of the gift can log on to the tentree website and see where their trees were planted! How amazing is that!?
To date tentree has planted more than 35 million trees!! Yes, you read that correctly 35 MILLION trees and counting.
These trees have been planted in Canada, United States, Nepal, Madagascar, Haiti, Senegal, Indonesia, and Cambodia.
Not only are these trees providing clean air and absorbing carbon, they're also helping to build local economies.
Over 80% of Madagascar had been deforested so
tentree wanted to help fix it.
Did you know mangroves are some of the richest carbon sinks in the world? In fact, mangroves can sequester four times more carbon than rainforests!
The loss of mangroves not only affects habitats and wildlife, but it also creates erosion problems and desertification.
Tentree started working with locals to reforest their mangroves as well as plant fruit trees to provide food for local villages.
The goal is to fully restore the mangroves to help avoid erosion and restore the coasts so wildlife can inhabit them once again
.This is only one of their many projects.
Check out all of the other amazing ways tentree is working to plant trees and help communities.
I'm so inspired by the work tentree does and I'm extra excited to be working on this post with them because getting outside and enjoying nature is one of the best ways for me to recharge. See tip 4 for more info!
my first detox:
Last year I realized that I have never and I mean not-even-on-my-honeymoon NEVER taken a break from creating content since I started GZW in 2015.
GZW was my creative outlet.
I exercised my creative muscles by writing, take photos, etc. And, because I love doing it so much I didn't think I could burn out.
How could I burn out on my creative outlet??
Well, in case you didn't know you can absolutely burn out doing something that you love.
So I decided to take a 3-week break last December. No emails, no blog posts, no videos, no Instagram.
And, it was amazing.
I was less worried about "HAVING TO CREATE" and going through the motions of doing it that I actually got to let my mind dream and play.
I had space and time to allow my creativity to flow.
During the break is when I got my idea for the oh-so-popular Good News Friday series I run on Instagram each week.
Now even if you're not a digital creator (my full-time job outside of GZW is managing social so I spend way too many hours on Instagram…) or a creative, there's still a lot of benefits in taking a week or a few weekends off from social media.
1. living without a lens:
When there's a moment I want to capture, I start looking at the angles, shape, framing the lighting and I'm immediately taken out of the moment because I'm so focused on how to capture it that I'm not in it.
During a digital detox you don't have to think about any of those things! It's so much easier to stay in the moment because you're not thinking about it through a camera lens.
You're not trying to show this moment to anyone, you just get to be in it and enjoy it.
It's really interesting how photos affect our memory. This study found that if you truly want to remember something, you shouldn't take a photo of it.
Instead, I try to take mental pictures think Jim and Pam's wedding day from The Office.
I just tell myself I want to remember this moment. I try and asses how I feel, what I feel, what the room smells like, and what everything around me looks like making it probably my most present moment of the day.
2. stronger connections:
My husband thinks I'm always on my phone.
And, while I'm not ALWAYS on my phone, I'm on my phone a lot.
I'm a social media manager for pete's sake, my job literally entails A LOT of scrolling.
And, because the bulk of my job relies on my phone that means the bulk of my work travels with me wherever I go.
So, whenever there's a down moment, whether I'm on the bus or train or the person I'm with gets up and goes to the bathroom, what's my default move?
Reaching for my phone and WORKING.
I swear it's a disease.
The inability to feel boredom disguised through the righteous act of "working".
During my detox, I realized how dependent I am on my phone (security blanket) and how odd I felt in the world without it.
After the initial break, I am so much better in real life.
I don't feel the need to HAVE TO HAVE my phone.
I am quite content to look out the window on the train or around the room when I'm alone at the breakfast table.
I don't feel the need to scroll.
If you're constantly receiving information, how can you expect to dream, create, and think?
Most of my best ideas come to me when I allow my brain space rather than turning it off by mindlessly scrolling.
3. delete your apps:
Seriously. When you want to take a few days off delete your email app, your twitter, facebook, and instagram.
Poof. The temptation is gone.
Can you re-download the app if you really need to?
Of course, but it's far less tempting than just "sneaking a peek really fast…" which turns into 20+ minutes sucked into the social media void.
4. get outside:
One of my favorite quotes is "unplug to recharge," and that's exactly what a digital detox feels like.
It's unplugging from the hustle and bustle of what society tells you, "You should be doing" in order to recharge with the truly important things in life.
I feel at my best when I'm outside tuned into nature.
I'm convinced there's a deep connection between wanting to save the environment and spending time enjoying and appreciating what it has to offer.
I think that's why so many outdoor brands like tentree have such strong give back messages.
They appreciate nature so much and they know how badly we need to respect our home.
5. my rules:
Feel free to adapt these rules to make them work for you! But, this is what I do to keep my creativity flowing and to avoid burn out. I am honestly feeling SO great this year compared to last year.
Digitally Detox at least one weekend every quarter
Take 2 weeks to fully recharge at the end of the year
Text, phone calls, GPS, and skyping with loved ones is A-OK
You can watch a few movies but don't overdo it on the bingeing
Try and get outside once a day
Foster other creative hobbies
Read but for fun! No reading on work topics i.e. no books on business or the environment.
No social media, no emails, no blog posts, nothin'
my plans:
Since we are coming up on my annual hiatus I wanted to share a few of the plans I have in store.
PLAYING THE NEW NANCY DREW GAME: I've waited 5 years for this game to come out so I will probably sit up in my loft snuggled tightly in this hoodie with the hood up! I love
this hoodie
because it plants trees right here in California to reforest areas that have been destroyed by wildfires.
watch the Great British Baking Show Holiday Episodes
Build the most epic gingerbread house and then eat it! We'll see how well this goes… will definitely be watching the GBBS gingerbread episode for inspiration
Journaling and sketching wearing my favorite
ivy cardigan
as photographed above.
Making lots of tea and snuggling Nala
Taking Nala on lots of walks! This
button up made from organic cotton
transitions so easily from cozy home wear to out-and-about!
Playing the piano, singing, and lots of dancing in the kitchen will probably be wearing some
thick and cozy socks
so I can slide around like Tom Cruise in Risky Business.
Deep cleaning
Throwing a holiday party and wearing these
fancy pants
that feel like pajamas.
Reading a few books, thinking of re-reading some of the Sherlock Holmes canon. Speaking of which is there a podcast that compares Sherlock, Elementary, and other SH shows and movies with the canon? Because I think there should be….
And, did I mention PLAYING THE NEW NANCY DREW GAME!?
So, have I convinced you?? Are you ready to unplug for a weekend?
I want to thank tentree again for sponsoring this post! If you're interested in getting any goodies you can use the code 'GOINGZEROWASTE15' which is valid from Dec 10-31st to get 15% off!