The 11 Best Eco Friendly Yoga Mat Options: Non-Toxic and Sustainable 
July 18, 2022 | Ariana
Last Updated on August 23, 2023
These eco friendly yoga mat brands offer sustainable and non toxic yoga mats! Traditional yoga mats are made with potentially harmful ingredients that can be difficult to recycle. Instead, the following brands offer sustainable materials and ethical practices for a yoga mat you can feel good about.
This post gives you 11 brand options for a non toxic yoga mat, including suggestions for the best yoga mat for hot yoga as well as the best non slip yoga mat. An eco friendly yoga mat is a great way to continue your yoga practice at home without harming the environment — or your health! — from using a mat that is full of harmful and toxic chemicals.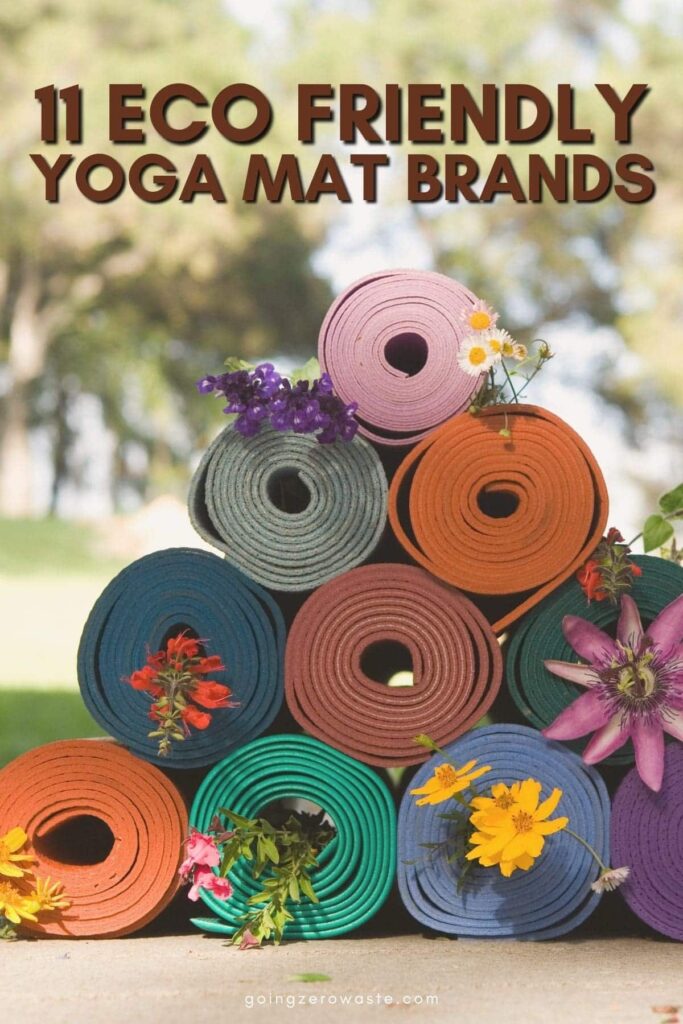 the need for a sustainable yoga mat
Believe it or not, the yoga mat is a fairly new invention that started to catch on in the 1980s. Beginning in India, Yoga was first practiced on grass. Advanced moves required additional padding, so early yogis used deer and tiger skins for most of their asanas.
Now, the conventional yoga mat you'll find in stores is typically made from flexible plastic, aka polyvinyl chloride (PVC). However, this material is questionable due to its environmental impact (more on that later) and is typically hard to recycle.
While in theory PVC can be recycled, there has to be a demand for the raw material, or it won't be profitable. There's also the problem of contaminants like plasticizers, dyes, and dirt from constant use that make PVC yoga mats undesirable to recyclers.
If you do already own a PVC yoga mat, try to upcycle it into under-knee padding for gardening or add it beneath a sleeping bag to further soften a surface. Otherwise, your best option is to choose a sustainable yoga mat.
If you're interested in finding green yoga mats, there are a lot of options to choose from. I've rounded up the best sustainable yoga mats on the market. Just keep in mind, using what you have is always the best option!
the harm yoga mats cause
Many conventional yoga mats are made from plastic, specifically polyvinyl chloride (PVC) — aka plastic resin #3, which is hard to recycle.
The Environmental Protection Agency (EPA) calculates that 910,000 tons of PVC waste are generated annually, but less than a quarter of 1 percent is recovered for recycling.
PVC is chemically manipulated during production to get that flexible plastic the industry loves. Unfortunately, these additives and PVC's inherent chlorine content complicate the recycling process for this plastic.
These chemicals usually include phthalates, which have a controversial background and may have adverse health effects.
According to a recent study, chronic exposure to phthalates can adversely influence the endocrine system and the functioning of multiple organs. This may cause negative long-term impacts on the success of pregnancy, child growth and development, and reproductive systems in both young children and adolescents.
While occasionally using a PVC yoga mat isn't so bad, you might want to choose a different material if you're able to — like natural rubber, jute, organic cotton, or cork.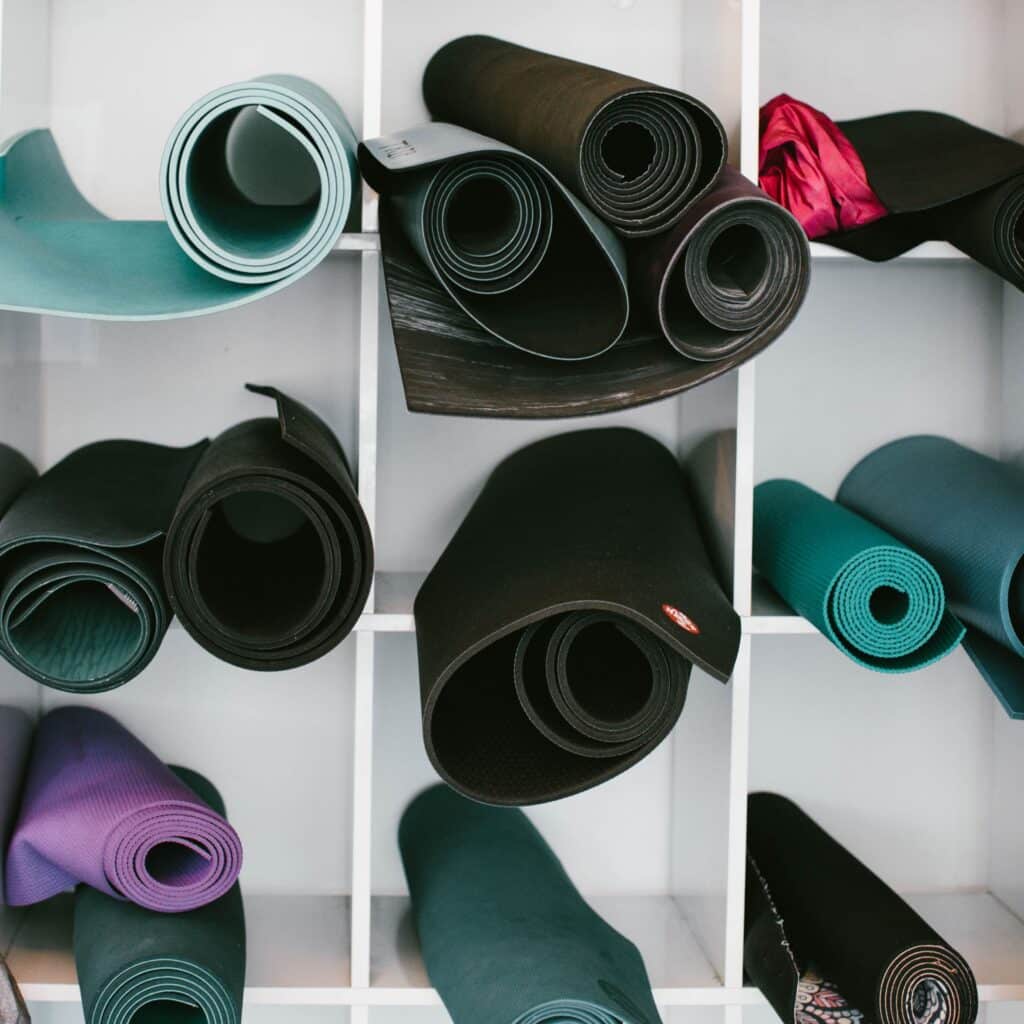 can you recycle yoga mats?
Not every recycling facility is capable of recycling PVC, so you'll have to double check what your local recycling laws say. You can do this by visiting your local .gov or searching Earth911's database.
It's worth noting that PVC isn't always a profitable material to recycle either — and recycling is a business, after all. If no one is interested in buying the raw material, recycling facilities will lose money and deem the material worthless.
There is a recycling program — Manduka's LiveON program — where you buy a new Manduka mat and choose to add the LiveON program to your purchase. When you receive your new Manduka mat, just place your old mat in the box and attach the included prepaid shipping label (they will accept any brand of yoga mat).  
The mat will then go through a process of downcycling, where it gets recycled into other products like carpet padding, soles of shoes, or animal shelter bedding.
You can also try upcycling or donating your old yoga mats. Reuse them on a picnic or at the beach, upcycle them into child safety flooring, or try donating them to a local retirement community (many of which run yoga classes and can use more mats). Local artists might also accept them for use in art projects.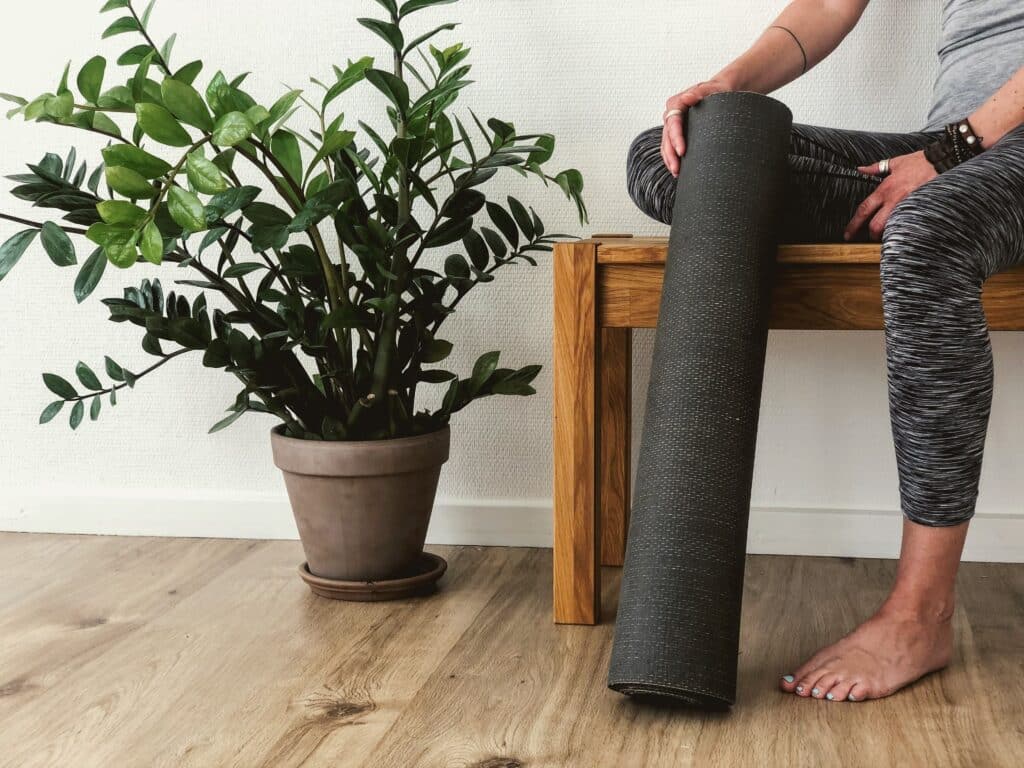 what is the most eco friendly yoga mat material?
The most eco friendly yoga mat material is one that's made from natural or recycled materials. The best material for you will depend on your personal preferences, the ground area you're working with (carpeted floor? outdoors?), and the types of exercises you'll be doing.
Many of the brands listed later in this post have yoga mat options suitable for both indoor and outdoor practice.
Also, if you like to feel the floor beneath you, opt for a thinner mat. If you need a little extra support, a thicker mat is best. However, keep in mind it's just a matter of preference.
For hot yoga, materials like cork are great — they're odor-free, to begin with, due to the breathable surface. Cork naturally inhibits bacteria, mold, and fungal growth for continuous hygiene protection.
Some examples of sustainable materials for yoga mats:
Jute: Jute is extracted from the bark of the white jute plant (Corchorus capsularis), and to a lesser extent, from tossa jute. Yoga mats made with all-natural jute are typically good for hot yoga, and they are often blended with Polymer Environmental Resin (PER) for extra grip.
Natural rubber: Harvested straight from rubber trees, Manduka's eko line of yoga mats feature 99% latex-free, non-Amazon harvested natural tree rubber.
Natural cork: Natural cork comes from cork oak forests, where the tree is never cut down, and the bark grows back. Scoria, Yoloha, and Urbivore all use cork in their yoga mats.
Organic or recycled cotton: Organic cotton doesn't use pesticides or fertilizers that may pollute waterways and damage soil. Recycled cotton ensures the resource-intensive cotton crop doesn't go to waste through reuse. Oko Living, Abhinehkrafts, and Brentwood Home use organic or recycle cotton in their mats.
Recycled plastic: Recycled plastic has a smaller carbon footprint than virgin materials. Sugamats makes yoga mats from recycled wetsuits, which otherwise would be landfilled.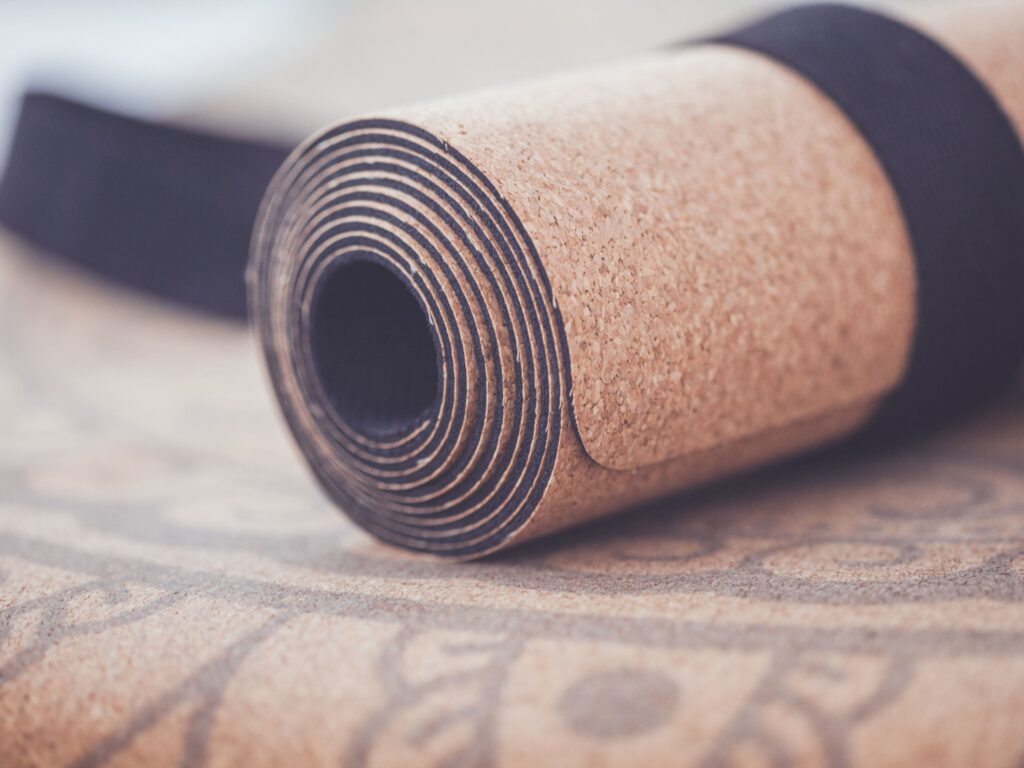 cork: a sustainable and non toxic yoga mat
People often wonder if cork is eco friendly. The answer is yes, cork yoga mats are environmentally friendly as long as they're made from natural cork. Natural cork comes from cork oak trees predominantly grown in Portugal. These cork oak forests are hotspots for biodiversity and home to several endangered species like the Iberian Linx.
Natural cork is harvested skillfully by hand by removing the tree's bark. The tree is never harmed during this process, and the bark is allowed to grow back and regenerate. The harvesting process can be repeated about every nine years for over 200 years.
Plus, cork oak forests are vital carbon sinks, which help fight climate change. A well-managed cork forest can absorb over 20 million tons of CO2 each year.
For these reasons, purchasing a yoga mat made from natural cork is an environmentally friendly option — though there are several other sustainable materials too, like organic cotton, natural rubber, recycled plastic, etc.
non-toxic and sustainable yoga mat brands
These 11 yoga mats get the going zero waste seal of approval. All of these brands offer yoga mats without PVC, and most of them give back to the planet through tree planting, recycling programs, and more.
I've gone ahead and highlighted some key features of each brand, but it isn't an exhaustive list. Be sure to check out their websites for more information.
To keep your mat clean, I recommend checking out my DIY yoga mat cleaner spray! It's easy to whip up and non-toxic.
Also, if you're a yoga enthusiast, make sure to stock up on some Tiger Balm. It's handy to have if you accidentally pull a muscle or get sore after a workout. I always keep a spare in my gym bag!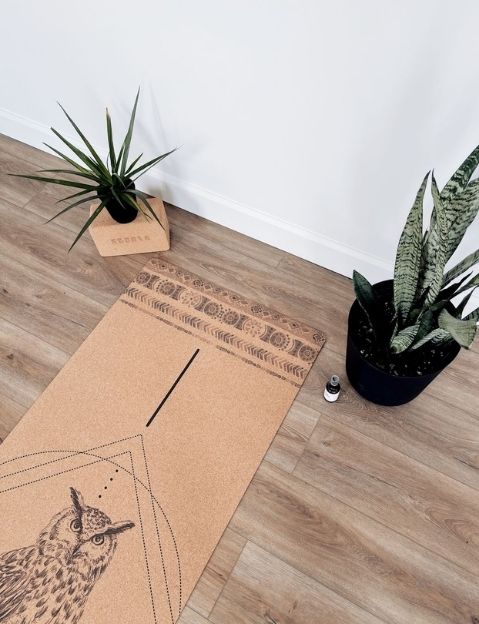 1. scoria
Made from natural cork and sustainably harvested rubber
Vegan and cruelty-free
Low impact dyes
Portion of proceeds goes to Right to Play, an organization that empowers Indigenous youth
/ SHOP SCORIA /
---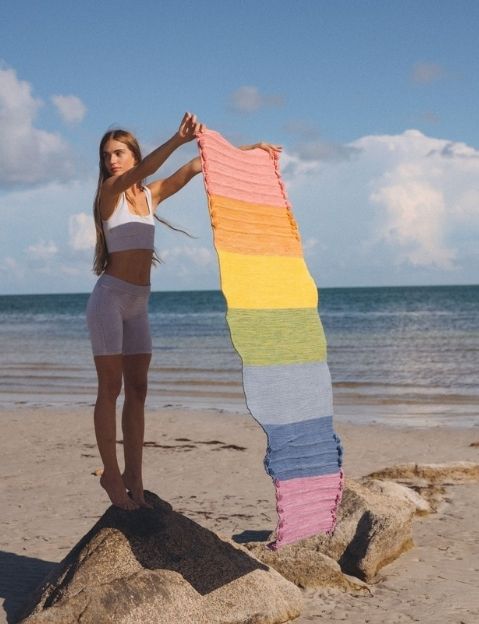 2. oko living
100% GOTS Certified organic cotton
Dyed with medicinal Ayurvedic plant dyes
Non-slip natural rubber backing
Ethically handwoven in India
/ SHOP OKO LIVING /
---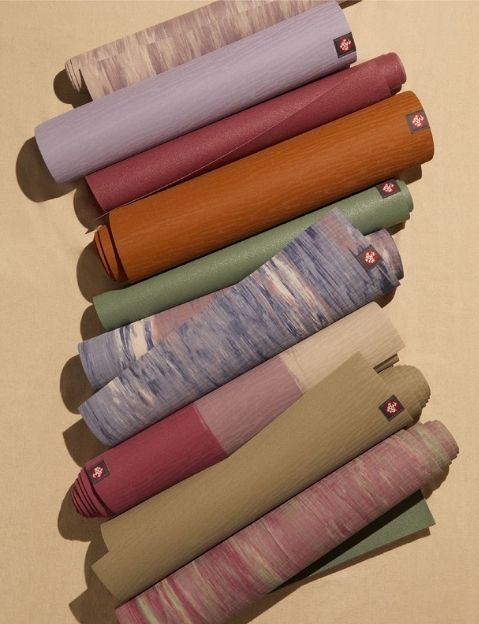 3. manduka
EKo mat series made from sustainably harvested, non-Amazon tree rubber
Biodegradable materials
No PVC or harmful plasticizers
Recycle your old yoga mat through their Live On program
/ SHOP MANDUKA /
---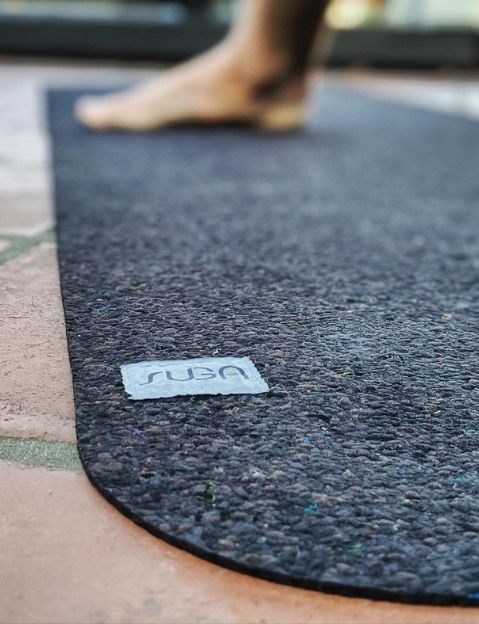 4. sugamats
Made from recycled wetsuits
Ship them your old wetsuit to be recycled, get a 10% discount
Sugamat C2G: if anything happens to it, just send it back, and they'll send you a new one on them
Made in the USA
/ SHOP SUGAMATS /
---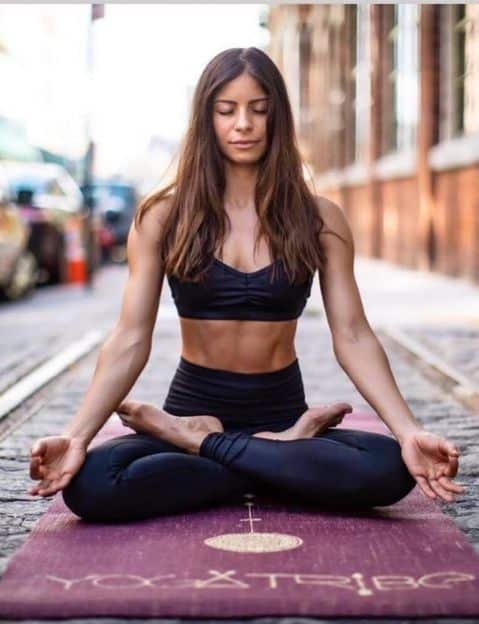 5. yoga tribe
Natural tree rubber and jute yoga mats
1 year replacement manufacturer's warranty
Eco and compostable packaging
Free shipping to NZ on orders over $100
/ SHOP YOGA TRIBE /
---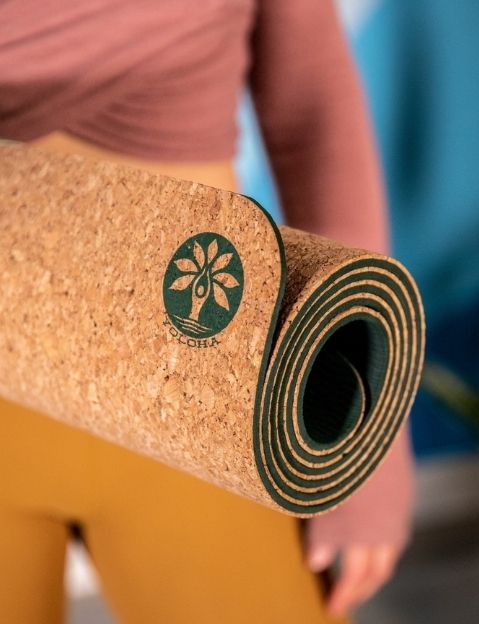 6. yoloha
Sustainable cork surface
Plant foam made from 55% sugarcane
Carbon neutral shipping
Vegan and cruelty-free
Youth, veteran, and health care worker programs
/ SHOP YOLOHA /
---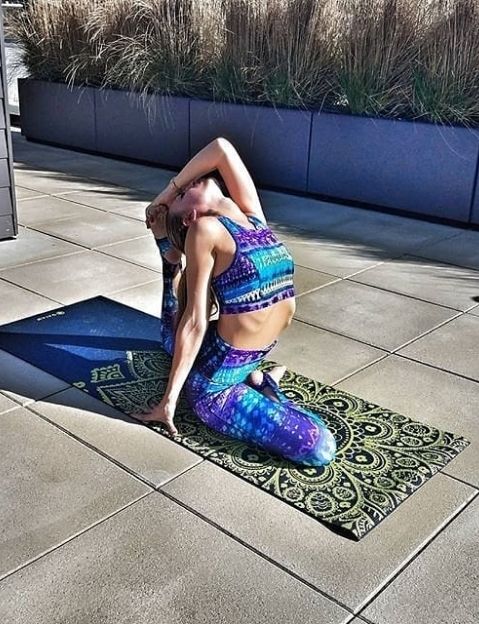 7. gaiam
Eco friendly yoga mat options available
Made with recycled, natural and sustainable materials like jute, cork, and natural rubber
Ideal for hot yoga
/ SHOP GET GAIAM /
---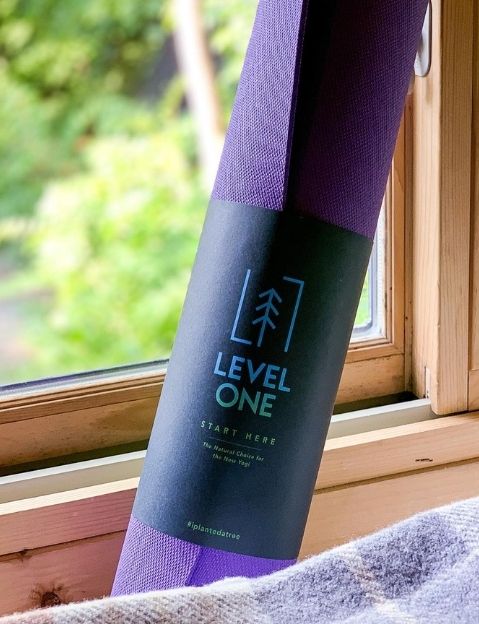 8. jade yoga
Made from natural rubber tapped from rubber trees
No PVC, EVA, or other synthetic rubber
Made in the US
Plants a tree for every mat sold
/ SHOP JADE YOGA /
---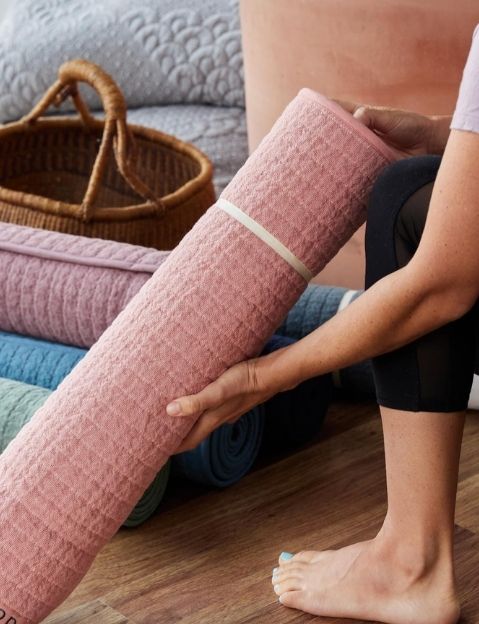 9. brentwood home
GOTS certified organic cotton yoga mats
Non-slip base of FSC certified natural latex
Climate Neutral partner, to reduce and offset emissions
Vegan and cruelty free
---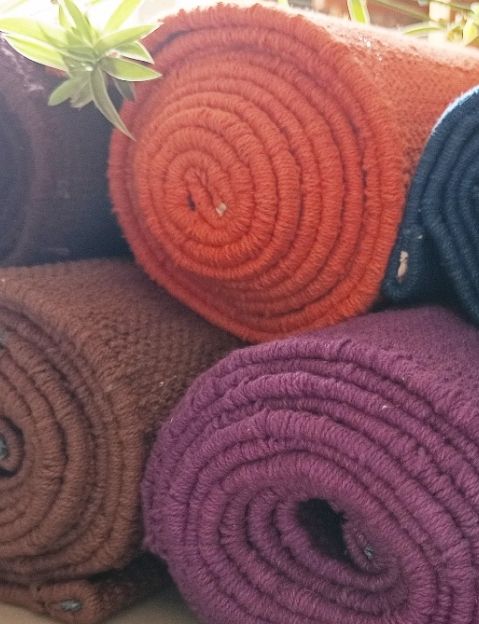 10. yogakargha
Handwoven yoga mats from natural fabric like organic or recycled cotton
Unique natural fibers like banana, grass, and wool options
Natural rubber coating for anti-skid option
/ SHOP YOGAKARGHA /
---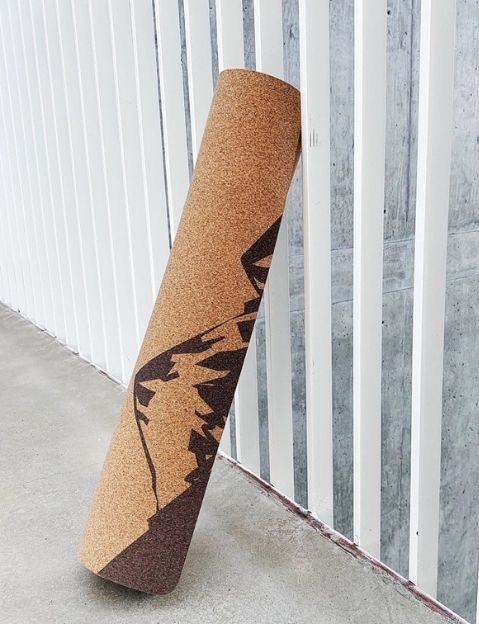 11. urbivore
All natural, non-toxic cork yoga mats
Little to no waste in production process
Each purchase plants a tree
/ SHOP URBIVORE /
faqs
which of these options is the best yoga mat for hot yoga?
As stated above, the best yoga mat for hot yoga is one that uses a material such as natural cork. Of the above brands, I'd suggest Urbivore or Gaiam. Scoria and Yoloha would be great candidates for your hot yoga practice as well.
which brand offers the best non slip yoga mat?
The best non slip yoga mat will have a backing on it made to keep it steady while you're on it. YogaKargha, Brentwood Home, or Oko Living are my suggestions if you practice on a smooth or slippery surface and need something with some staying power.
So, would you give one of these sustainable yoga mats a try? Let me know in the comments below!