14 Sustainable and Ethical Underwear Brands for Everyday
June 19, 2018 | Kathryn Kellogg
Last Updated on July 7, 2022
Ethical Underwear doesn't have to be ugly! It can look sexy, feel good, and do its intended job all while being the best sustainable underwear out there.
Choosing sustainable bras and underwear is better for the environment and you can feel comfortable wearing them. I'll discuss 14 ethical underwear brands that are comfortable and look good too.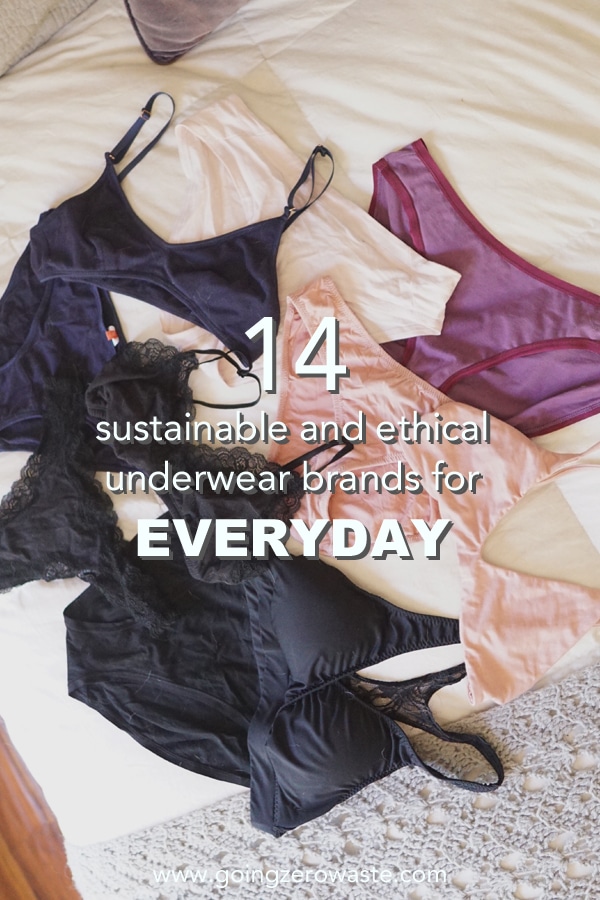 ethical underwear
I have been on the hunt for sustainable underwear for quite some time, and I figured I must not be the only one. 
I don't even think I'm that picky, but I've struggled finding the perfect sustainable bras. I'm a 34A/32B. I don't need a ton of support, but a lot of the options out there provide very little support. 
I can't imagine wearing many of these with anything larger than a C cup, and while I don't need a ton of support, I do want my bras to provide shape.
Since my boobs are small, I want them to be rounded and fill my clothes. I don't want padding, I'm not trying to make them bigger. It's important that they don't become smashed into non-existence. I also don't want my bras so thin that I might as well not be wearing a bra. If my bra is so thin that it doesn't prevent nipping…. then why am I WEARING ONE!? 
I also try to avoid underwire as I find it really uncomfortable, but it's not a complete deal breaker. 
sustainable bras and underwear
Another problem I've encountered is color. There are a lot more options in black… but I don't wear a lot of black tops.
I prefer to wear light colored tops (having a white husky has dictated my wardrobe into much lighter colors), and I can't wear a black bra with a white shirt.
Sustainable bra and underwear shopping has mimicked many of my shopping experiences in the sustainable fashion realm. I've found a lot of ethical fashion designers cater to a shapeless, edgy or boxy, minimal aesthetic.
If that's your aesthetic, you have hit the jackpot!
This post contains affiliate linking. For more information you can read more on my disclosure page.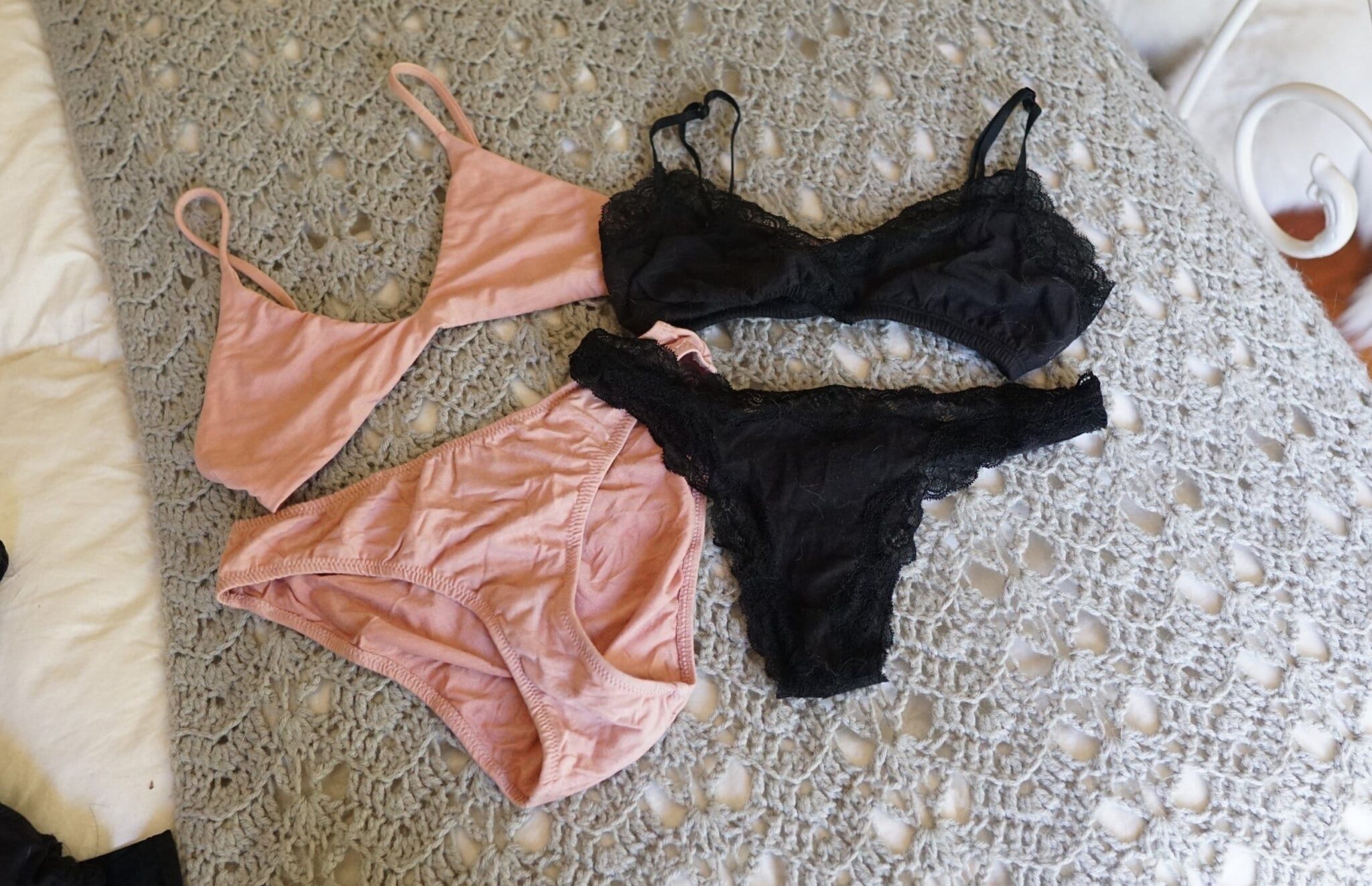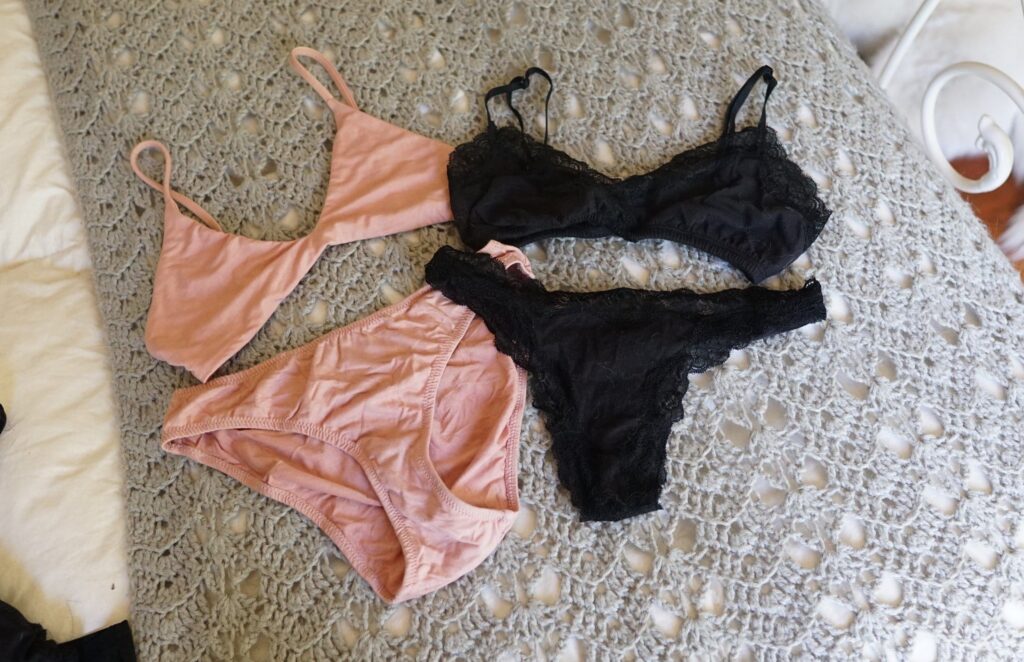 feminine best sustainable underwear
Bland is not my style at all! My style is feminine, preppy, and playful. I'm pear shaped which means most of the minimal, androgynous styles don't flatter me, and I really, really like to wear things that flatter my shape.
(If you like feminine pieces/pear shaped/etc I will be posting more about the shops I like!)
Now, this round up isn't only about bras, it's also about undies too, but most of the undies I've tried have been great!
It's pretty hard to go wrong with undies. I just like to have sets. It's important for my undies and bras to match or at least coordinate.
When my ethical underwear goes together I am a much more productive human. 
top things to consider when buying sustainable underwear
So these are the main things to look for when shopping for ethical underwear: 
Comfort
Support
Provides shape
Ethically Made
Sustainable Fabrics
Price Matches Quality
Packaging
1. Majamas
This is the set I have in Heavenly Pink.
Comfort: I've pretty much worn the bra for 6 months non-stop. It says "padded" in the title, but it's really just a shaping insert like you find in bathing suits. 
Support: It is very supportive. It reminds me a lot of a sports bra with shape. While I don't think I'd run a marathon in it… I could if I needed to. 
Provides Shape: YES! The shaping inserts make a world of difference. I've actually taken the shaping inserts out and added them to tank tops with a shelf bra to prevent nipping. 
Ethically Made: Made in the USA!
Sustainable Fabrics: I really love their commitment to sustainable fabrics. They make sustainable cotton underwear! Plus, they use modal, tencel, and recycled poly.
Price Matches Quality: With how much I've been wearing this bra, it has held up extremely well. The cost is also incredibly reasonable. 
Packaging: No plastic!
The only thing I wish is that Majamas made a style that wasn't so sports bra like. Something with a thinner strap!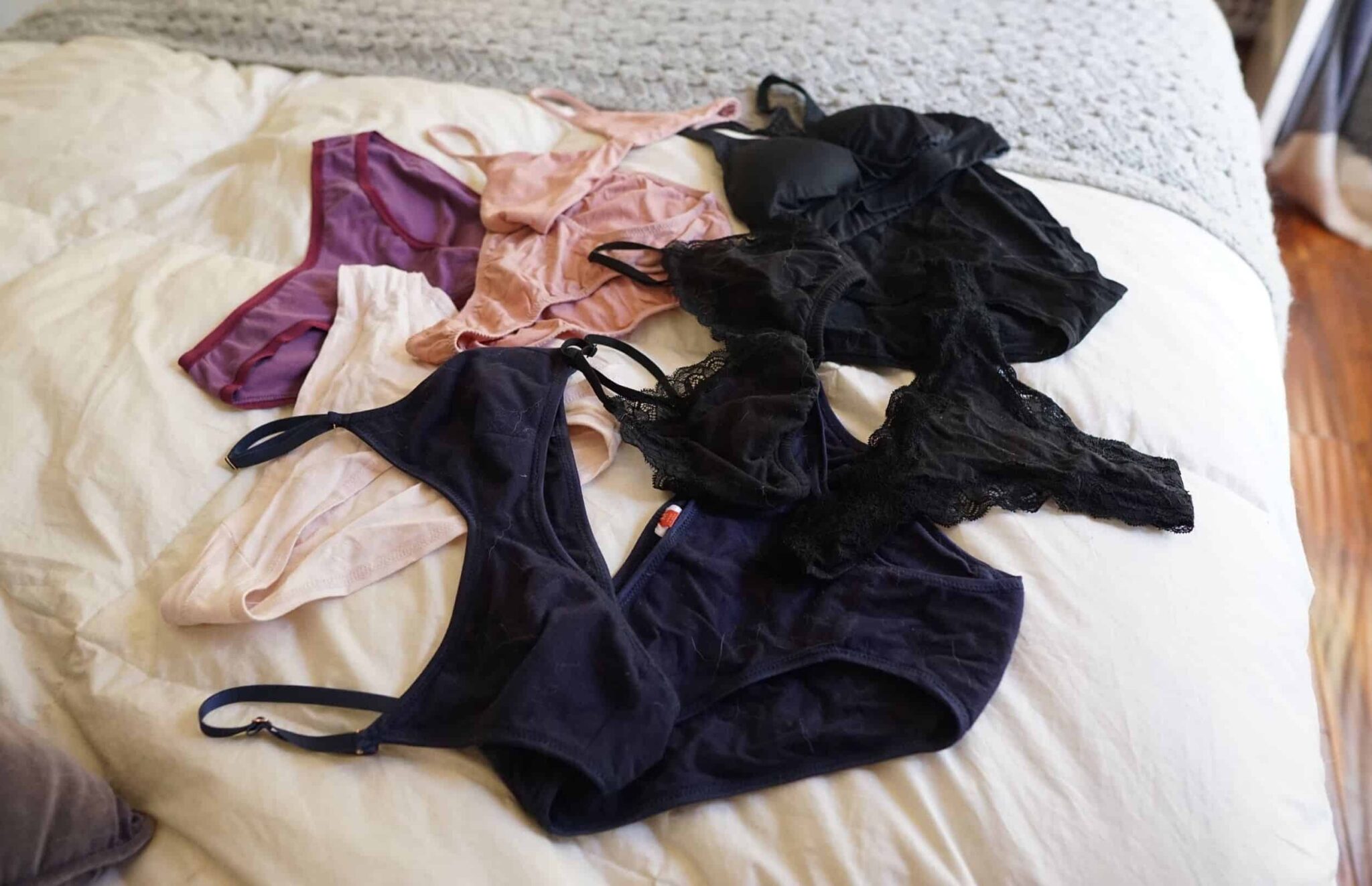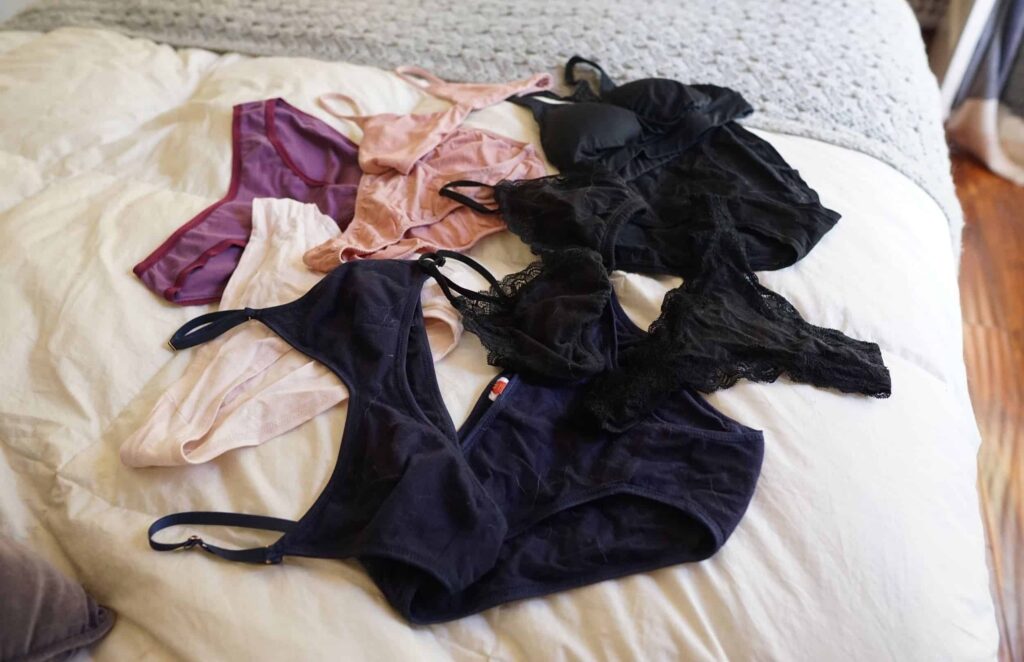 2. Brook There:
This is the set I have in Midnight
The Organic Cotton Triangle Bra
Comfort: This set is really, really comfortable. Borderline no bra comfy. I only wish I had gotten a lighter color.
Support: This bra is surprisingly supportive. I love that it has adjustable straps! 
Provides Shape: This bralette is double lined which provides shape and no nipping. 
Ethically Made: Made in the USA, and I love that they are committed to finding US milled organic cotton. 
Sustainable Fabrics: They mostly make sustainable cotton underwear and use silk. 
Price Matches Quality: The quality of both these pieces is great.
Packaging: Came in an eco enclose made from 88% recycled poly, but inside of the bag there is no plastic. 
I love this set because it's very much like the little black dress of ethical underwear. They can be super casual, but also very sexy. Which could also be the midnight color. 
3. Hara:
This is the set I have in Pink
Comfort: These bra and undies are very, very soft. They are both comfy kinda like pajamas. 
Support: Eh…. it's not that supportive. The straps are really thin and aren't adjustable. 
Provides Shape: The bralette is really thick so it does provide shape and no nipping. 
Ethically Made: Made in Bali, Indonesia. They are really committed to ethical production allowing the tailors to work in their homes and spend time with their families. 
Sustainable Fabrics: They use bamboo which can be a nasty fabric, but they use a non-toxic solvent and plant based dyes so there are no harmful chemicals present in the final product. 
Price Matches Quality: The quality in both of these pieces is great. I like to have multiple pairs of undies for the same bra which makes this one a little spendy, but after several washes, they still look like new.
Packaging: Came in a DHL bubble mailer which was a little disappointing, but there was no plastic in the packaging! 
This is the best sustainable underwear and is so freaking soft. I hope that they come out with a bralette that had a thicker band around the bottom for a little more support!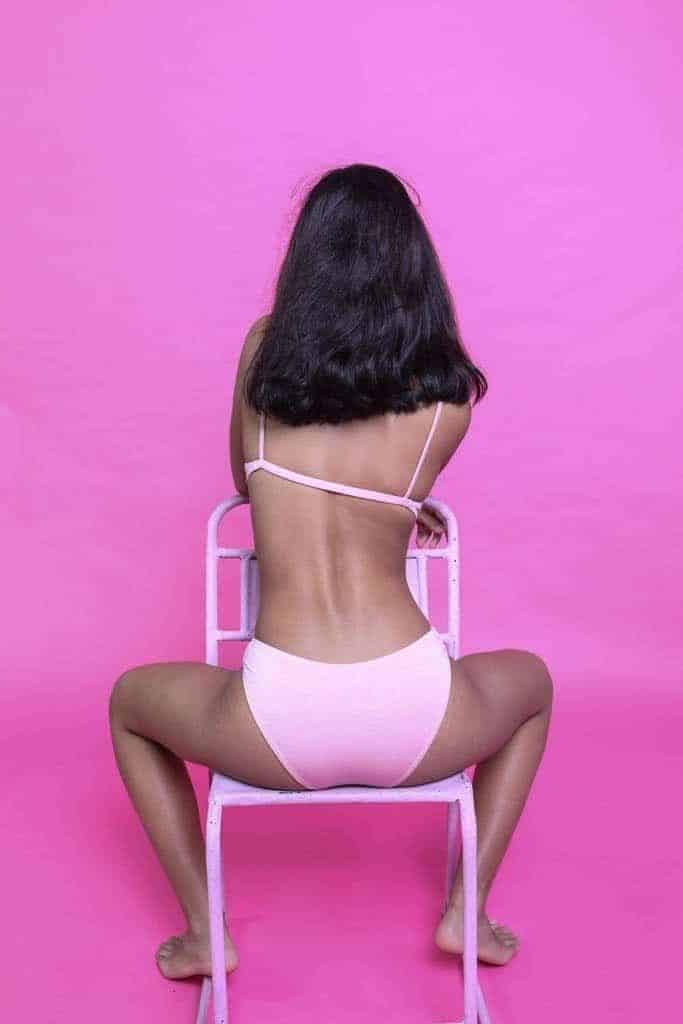 4. Only Hearts:
This is the set I have in Black
Comfort: The panties are fine, but good heavens this bra was not for me. 
Support: There is no support and the elastic is so uncomfortable and consistently rides up often riding up over my boobs
Provides Shape: There is no shape in the bra. 
Ethically Made: Only Hearts is ethically made in New York. 
Sustainable Fabrics: They use local, deadstock and certified made in green textiles.
Price Matches Quality: Such a great deal for the organic undies! 
Packaging: I ordered from Azura Bay and it came in a box with no plastic packaging! 
Only Hearts is a fabulous company and their quality is great, but I picked the wrong bra. Here are a couple I would have tried instead  Second Skin Racerback* / Second Skin Underwire*.
5. Sokoloff:
I have a very fancy lingerie set by Sokoloff but it was so high-quality, I had to list the everyday set I'm lusting after. 
Organic Cotton Cut-Out Bralette
Comfort: The fabric looks like it would be soft and comfortable. 
Support: This set looks very supportive. The pair of undies I have from Sokoloff was very supportive, but it did have an underwire.
Provides Shape: Looks like it would provide shape. 
Ethically Made: Made in Canada! 
Sustainable Fabrics: They use organic cotton, organic bamboo, local mills and natural dyes. 
Price Matches Quality: I love the fancy set that I got for Valentine's Day this year The quality is exceptional. 
Packaging: I ordered from Azura Bay and it came in a box with no plastic packaging! 
6. PACT
I did not try Pact's bralettes, but I did try their ethical underwear. The company wrapped each pair of undies individually in plastic, which I know can be difficult to avoid, but the box was full of plastic bubble wrap which I think is a bit overkill since they aren't fragile.
After wearing their undies for a couple of months they stretched out, but not uncomfortable to wear.
7. Boody:
Comfort: This is one of my new go to sustainable bras. I wish they'd make one with spaghetti straps. This is so smooth and streamlined. It's everything I want in a bra. Easy to put on, comfortable and goes with most of my shirts. It's like a sports bra, but way less bulky.
Support: It's very supportive!
Provides Shape:  It also has thin shaping pads in it to prevent nipping.
Ethically Made: All of their factories are WARP certified which adheres to a strict ethical standards.
Sustainable Fabrics: They use bamboo which is OEKO-TEX certified.
Price Matches Quality: The quality has been great! Bamboo Viscose is a really soft material that can tear easily, but so far I have loved the quality!
Packaging: They come in boxes that are typically plastic free, but a few of my boxes were plastic wrapped.
One of my favorite things about the company is they offer different shades of nude sustainable underwear!
8. White Rabbit:
They have some fantastic sustainable underwear and bras, but unfortunately, their website doesn't seem to be working.
Comfort: The Madison t-shirt bra is the bra you want if you're looking for a normal, underwire adjustable strap bra. I was not a huge fan of the Ann bralette but it was comfy!
Support: The Madison t-shirt bra is very supportive. The Ann bralette's cup placement was really odd.
Provides Shape: The madison t-shirt definitely provides shape with it's molded cups and underwire. The Ann bralette has the cups in the wrong location. It was way too high up so I had to remove the thin padding from their "pockets" so it would lay correctly, but without the thin pads there'd be no shape.
Ethically Made: Made in Mexico.
Sustainable Fabrics: Rayon from Bamboo
Price Matches Quality: I'm really happy with the quality of the product. It seems constructed very well minus the misplacement of the cups on the one bralette, which honestly could have been a fluke.
Packaging: The bras came wrapped in tissue, but the undies still arrived in the plastic pouches, but they are phasing them out.
9. WAMA:
WAMA currently only has underwear, but they have ethical underwear for both men and women.
Hemp Hipsters in Black / $20.00
Comfort: The hipsters are very comfortable, and I would classify them as cheeky.
Support: N/A
Provides Shape:  N/A
Ethically Made: They manufacture in China the world leader in hemp textiles. Their factories ensure quality working environments and fair wages. A WAMA team member is based in China to guarantee transparency, conduct audits, and provide clear communication.
Sustainable Fabrics: They use a mix of organic cotton and hemp which is naturally anti-bacterial and anti-microbial with anti-odor properties. The natural fibers make these undies breathable and they get softer with each wash.
Price Matches Quality: The undies are thick, and very well made. They won't stretch out easily and can see them lasting for a very long time
Packaging: They came unwrapped in an eco-enclose mailer.
My only complaint is that they don't offer more products. I'm hoping they'll expand to different shades of nude and create matching bras! A sports bra styled in this fabric would be AMAZING. I hope they'll keep me updated with new products launching soon.
---
tl;dr / the final report:
Bras I'm grabbing for most often: Boody
Plot Twist: I've also stopped wearing a bra with a lot of my outfits and just use Nippies by Bristols 6. They're reusable, provide shape, and prevent nipping. Everything I've wanted PLUS I don't have to wear a bra.
---
Other Sustainable and Ethical Undie Brands that I haven't tried, but are on my list.
Let me know if there are any sustainable undies that you love that I should add to the list!