15 Zero Waste Makeup Brands
January 26, 2018 | Kathryn Kellogg
Last Updated on June 8, 2022
If you've been a reader of Going Zero Waste for a while, you know much I love a good DIY! I used to make my own makeup all the time, like this lip to cheek, this eyeliner/mascara combo, and this powder foundation.
But, life gets busy and the reality is that you might not have time to DIY everything! As my workload has grown, my DIY time has unfortunately decreased significantly.
So, I went on a hunt for the best zero waste makeup (or very low waste) brands that are made with safe, earth-friendly, high-quality ingredients.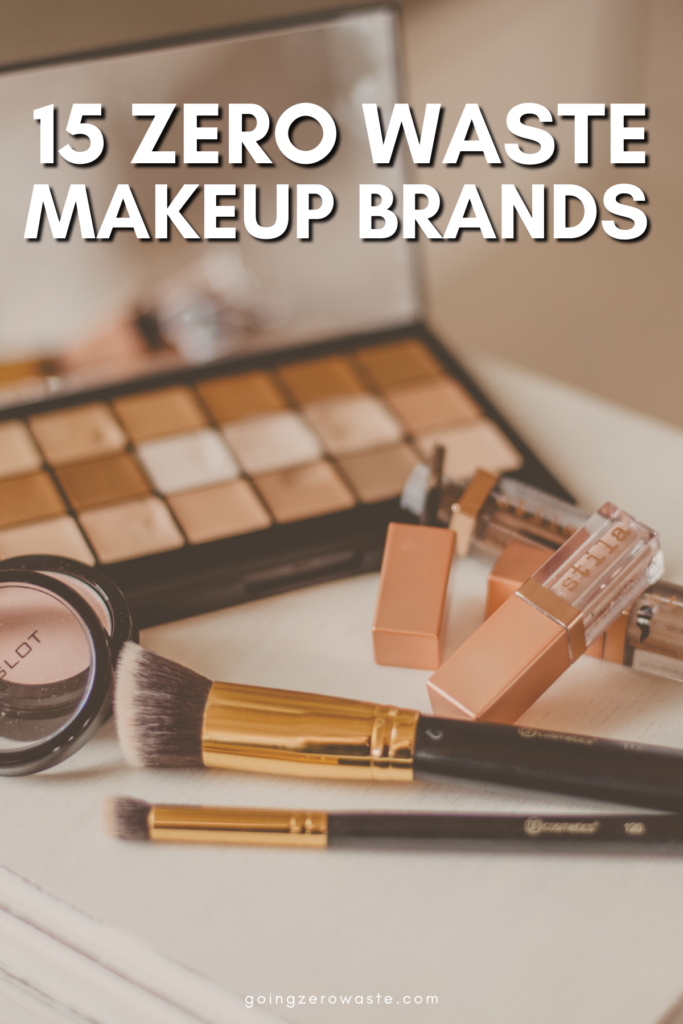 Most of these brands are more expensive than what you'd get at the drugstore (although there are a couple really budget-friendly ones!), but the fact is: you don't want to be wearing that stuff anyway! Cheap, conventional makeup is known to be packed with potentially toxic synthetic substances that can mess with your hormones and have significant long-term negative health effects.
Personally, I don't want to mess with that—I'd rather spend a little more to invest in higher-quality products with natural ingredients and just buy less of it!
I should give you a disclaimer that not all of these brands are perfectly zero waste. But I do know that the brands below are prioritizing minimalistic, recyclable, and compostable packaging wherever possible.
I also can't guarantee what sort of packaging is involved with online orders.
I have always bought my makeup in-store at Credo Beauty so I don't have to deal with extra packaging, but I know not everyone has access to a clean beauty store near them.
If you're worried, you could always reach out and ask before ordering—some of the brands below have noted that they will reduce their packaging even more upon request.
A few other hot tips before we get to the list:
First, if you live in a humid environment and/or don't go through makeup very quickly, I would recommend skipping the bamboo packaged products since they can get moldy!
You do NOT want to be putting products with invisible mold spores onto your skin.
Second, if you're finished with your old mascara wands, you can put them to good use by sending them to Wands for Wildlife!
Third, let's talk quickly about zero waste makeup remover. Usually, a regular old cotton washcloth and some coconut oil or face cleanser will do just fine!
If you're looking for a little something extra, these hemp and organic cotton makeup removal pads with this makeup remover is also a good option. And if you're someone who's constantly smearing things that need to be fixed with Q-tips, try a NakedSwab!
Lastly, just a heads up: many of the links in this post are affiliate links. For more information, please see my disclosure policy.
[ RELATED: DIY Makeup Brush Cleaner and My Favorite Zero Waste Skincare Products. ]
Sustainable Makeup Brands
---
---
---
---
---
---
---
---
---
---
---
---
---
Those are my top 15 zero waste makeup brands! To learn more about the products I use every day check out my Low Waste Makeup Capsule Collection.
Which ones would you add to the list?
If you liked this blog post check out: