Zero Waste at Special Events
October 28, 2016 | Kathryn Kellogg
Last Updated on September 11, 2020
Special events are, well, special. They typically involve a lot of details out of your control. They involve clothing you don't normally wear and accessories not conducive to carrying around a plate or cup all evening.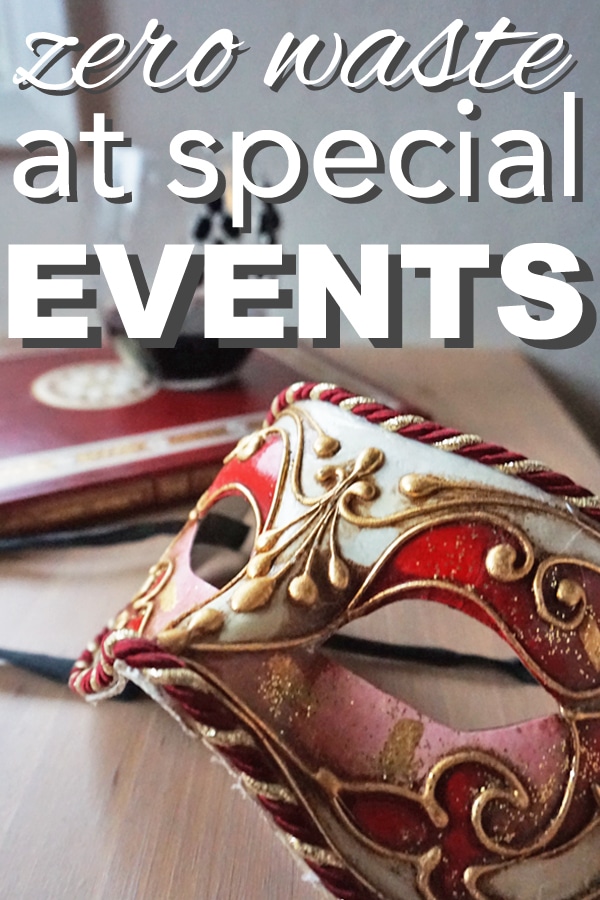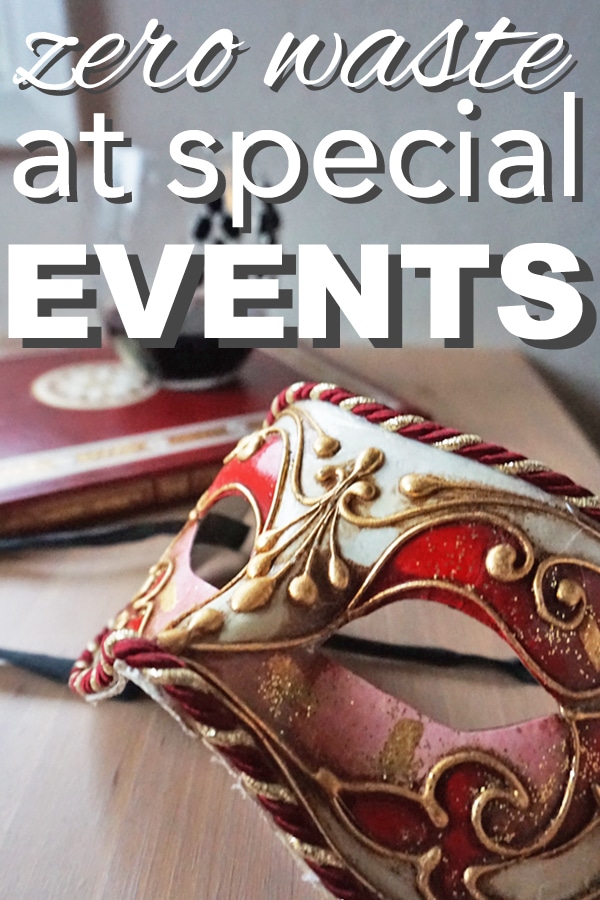 Although, getting older has resulted in attending less formal events. In high school, you have homecomings and proms. Unless of course, you go to a small Baptist high school. Then you have banquets; because Jesus does not approve of dancing. Shake your nay nay somewhere else.
In college, you have all sorts of parties – especially if you rush. My srat hosted 80's night, a crush dance, lots of mixers and bi-annual outings that typically involved some form of nice dinner. Compounding on that, I was dating a politician, which entailed A LOT of semi-formal/formal events, fundraisers, galas, balls – you name it. Maybe the helps to put the 200 dress scenario in perspective?
Either way, it was still wayyyyy too many dresses. And, as my mother pointed out yesterday, I still have dresses with tags hanging in my closet at home. Sorry, mom!
For my birthday, Justin bought me tickets to the masquerade ball at Buena Vista Winery. It was a great birthday present! It was an experience rather than a thing and a place for us to spend quality time together! A perfect present, that brought up a lot of questions.
for more zero waste present ideas, check out my gift giving guide
Dress? Shoes? Bags? Masks? Nails? Suits? Reusables?
My head was swimming with questions. Having moved into a more minimal mindset and lifestyle, I don't keep formal wear on hand.
If I lived, like I had previously, I would probably keep 3 cocktail and one full-length dress in rotation. But, I haven't been to a formalish event since I DON'T EVEN KNOW.
With three weeks to go, the hunt began. First stop a formal wear, since these things typically need to be altered.
suit:
thrift shop:
There are a lot of suits at the thrift shop. But, they are not very stylish or meant to fit a slim build. Maybe that's just where I am?
consignment:
Consignment stores are very popular with lots of women's clothing, but not many for men. Justin and I loved "Twice!" an online consignment store with tons of options for men, but they sold out to eBay.
I asked Justin for his opinion. He said, men don't get rid of clothing like women do. When we find something we like, we keep it. Which is probably a pretty good explanation.
rental:
Of course, we could have rented a suit, but it didn't seem like I good idea. A man needs a good suit whether it be for a job interview, formal event, or a wedding.
purchase:
We wound up purchasing a suit. I think it's a really timeless suit, and there will be several events to wear it to in the future. I apply the flow chart from this post to all my purchases. There are three events I can think of off the top of my head he could wear this.
Masquerade Ball
NVFF Gala
Progressive Christmas Dinner
I also made sure it was ethically made with an all natural fabric. It was an expensive suit, but it should last Justin at least a decade.
masks:
This comes next because the dress and suit have to coordinate together, but they also have to coordinate with your mask. Now, if your bedroom back home isn't Phantom of the Opera themed – you might be out of luck. Good news, mine is.
I have about five masks back home and two of my favorites came to California. You know, always be prepared for a masquerade. AMIRIGHT!? Nope, just me… alright. (my 14th birthday party was a masquerade "ball" thanks mom and dad. You're still the coolest!)
However, if you're searching for a mask, I would ask some friends or check out eBay.
dress:
thrift shop:
Yeah… right. While I firmly believe there are some real gems hiding in the thrift store, most of the dresses have poofy shoulders and far too many sequins. Although consignment and eBay are a fabulous place to look!
borrow from a friend:
We talked about this in our Halloween post. Don't underestimate your friends closets!
your own closet:
I am very fortunate to have worn a lot of formal dresses in my day. So, with a quick call back home, my mother sent me three dresses to choose from. She sent me my senior banquet dress. Which is hilarious that I thought I could still fit into a dress from high school.
Dress meet hips.
I wound up settling on one of my friends dresses… that I should have given back to her four years ago. So, Moriah.. I can give this back to you when I come home for Christmas. Sorry about the delay!
If you borrow a dress from a friend, dry clean it and get it back to them immediately! Don't be like me.
rent it:
While I don't think renting is always viable for men. It's definitely a fabulous option for us!
Who wants to wear the same dress to every event?
Dress styles change a lot more often than suits.
Different occasions call for different dresses.
I definitely stalked Rent the Runway and am considering ordering from them next year; because we're definitely going back.
nails:
Getting your nails done really isn't necessary. You can easily file and buff your nails at home to make them look nice.
But, I really wanted to get my nails painted, so I did. I regret it a little. But, I still had a lot of fun getting it done. And, REALLY enjoyed having them painted. It was definitely a really nice treat.
I don't own nail polish remover. You can have the salon take it off or borrow some remover from a friend. If you're doing it yourself, I would use an old rag to remove the polish rather than a cotton ball.
I wouldn't recommend painting your nails monthly, but every once in a while it's a nice treat.
reusables:
Everything up until now has been in your control. But, now things get tricky.
Thankfully, most nice events have reusables. Even my high school banquet had real plates and glasses.
I was nervous about the event; because, more and more people are switching to disposables. Who wants drunk people holding real glasses? Thankfully I didn't hear a single break at the event. I think the amount of broken plates and glasses at events is very, very small.
The food was buffet style hors d'oeuvres. They had tongs to pick up your food and place it on a cocktail napkin. But, a lot of people were forgoing the cocktail napkin and placing it right in their hands. No one wanted to carry around a paper napkin all night.
The napkins were unbleached. Most wineries compost, so I assume they were going to be composted. At least we can hope!
The wine was served in real glasses too!
We lucked out with a truly a wonderful event, and I cannot wait to go back next year.
things I'd do different:
Next year I would rent a dress and not paint my nails. I'd also get in line for the fortune teller a lot earlier, and I'd bring along more friends.
So, friends: who wants to come next year!?
Have you encountered any wasteful formal events? What do you think could be improved?