Tips for a Zero Waste Road Trip
July 28, 2017 | Kathryn Kellogg
Last Updated on April 8, 2020
This blog mostly focuses on things I've actually experienced. Recently, I've received several questions from readers about things I'm fairly clueless about like road trips/living on the road and home renovations.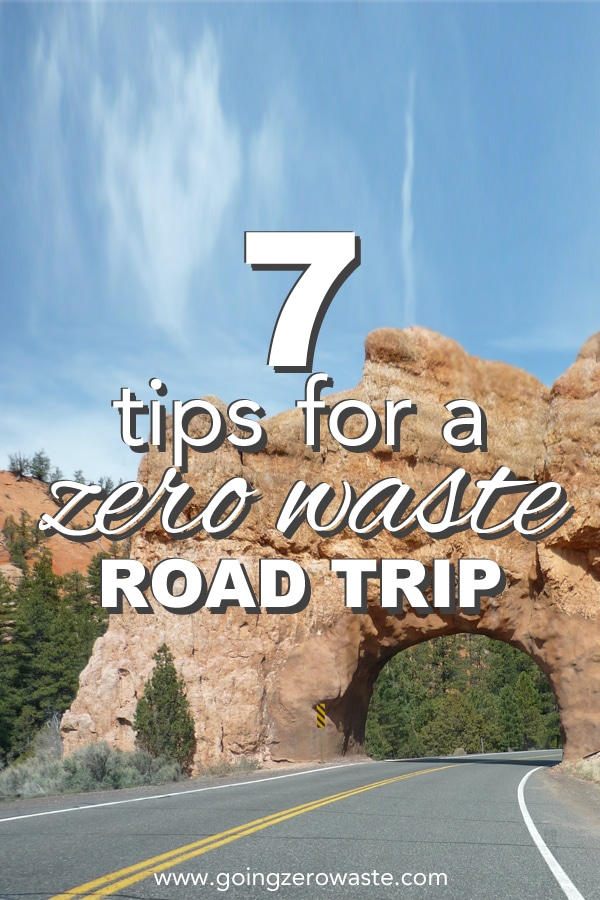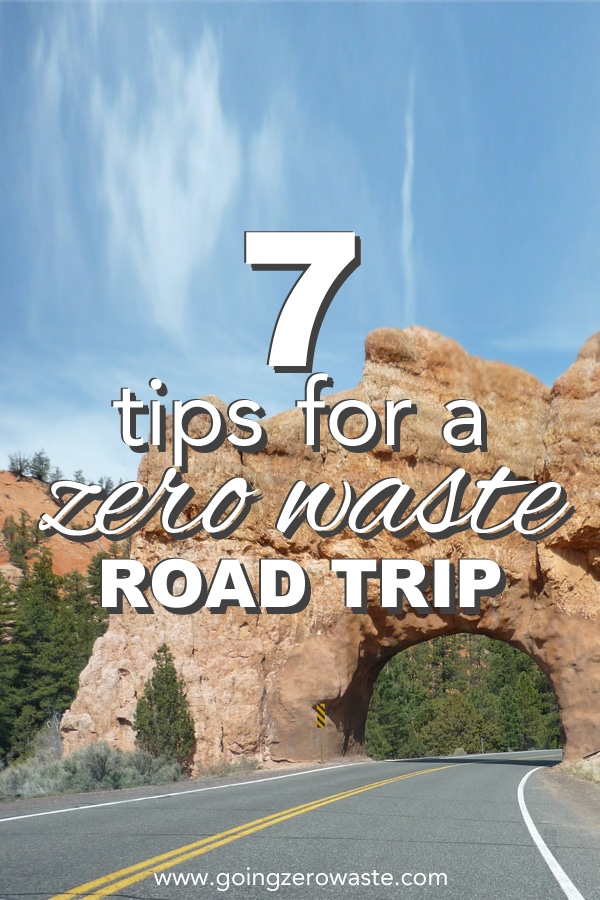 These are all awesome questions, that should totally be addressed! I love getting creative and thinking outside of the box and outside of my personal life. After all, who lives life exactly like me?? Probably no one.
The closest thing I've done to a road trip was moving out to California four years ago. And, even then, it was all about getting there. No room for fun. We drove 24 hours straight. Stayed two nights in a hotel, and drove another 8 hours to our final destination – Suisun City. Glamorous.
We were moving, had no jobs, therefore, no spending money. I think I've blocked most of that trip out of my mind. So, we're going to play a little make believe…. what would I do, if I were going on a road trip now?
1. snacks:
Bring on the cooler. The cooler is your friend. Snacks are my first love, and let me tell you gas station food is tempting. It's bad for you, comes with a lot of unnecessary waste, but it's tempting none-the-less.
When you've been driving for hours, you're hangry, and all you want is to sink your teeth into something sugary or salty – make sure you have a stocked cooler.
Also, make sure that your snacks aren't completely dependent on refrigeration. A cooler will keep things cool, but it's nice to have hearty snacks that will keep over a couple of days. Here's what you'd find in my cooler.
RELATED: 5 Recipes for Quick and Easy Zero Waste Snacks
Apples
Peanut Butter
Bread
Hummus
Veggie Sticks
Jelly
If all else fails, I can always make myself a PB&J or PB&banana sandwich. Apples in peanut butter is a really filling snack. Maybe even throw in some chocolate chips. You can mix the chocolate chips in with the peanut butter to satisfy your sweet tooth.
Snacks that don't need to be refrigerated would be…
Roasted Chickpeas
Oatmeal
Nuts
Granola
These items can easily be purchased from bulk bins and are very satisfying. Oatmeal makes a great, easy filling breakfast. Roasted chickpeas satisfy your need for something salty and crunchy.
RELATED: The Ultimate Guide to Zero Waste Grocery Shopping
2. toiletries:
When you're road tripping, you don't have liquid restrictions like with flying. At the same time, you probably don't want to lug around an entire bottle of shampoo. I would still decant my shampoo and body wash into my own travel tubes.
RELATED: How to Make a 4-1 Soap Bar
I'm always a little worried about the body products hotels stock. After all, what if I have a reaction? I wouldn't want to be on vacation when that happened. I'd rather just stick with what I know.
I use Plaine Products and they have aluminum travel sizes which are so cute!
If you do forget your soap and shampoo, use the hotels. Just make sure to bring the leftovers home, so you can use it on your next trip. If you open it, don't waste it!
Also, something I learned on my honeymoon. You need to bring a small bottle of dish soap too. This way you can wash your reusable containers* in the hotel. I like to travel with Dr. Bronners* because it can be used for everything!
Need to wash some undies – Dr. B. Need to wash your body – Dr. B. Need to wash your dishes – Dr. B! The multi-tasking travel accessory everyone needs.
3. food:
Man cannot live on snacks alone.
Sometimes, all you want is a delicious hot meal. When you're on the road that often consists of fast food, fast food, and more fast food. Which means packaging, junk, and more packaging.
First, look for a sit down restaurant. Maybe try a diner? They're typically open late and serve food on real plates. If I were still in the South, I would definitely stop at a waffle house… Mmmmm waffles.
No diners or sit down restaurants around? My favorite fast food restaurant is Subway. I've eaten there a couple of times since GZW. Did you know their paper sandwich wraps even say, "Please Compost"? And, you know what that means… the cookie sleeves are compostable too.
I can easily get a toasty, loaded veggie sub satisfying my hot meal requirement. Just make sure you ask for the sandwich without the plastic bag and without the napkins. Because you have a stack of cloth ones in the car…. am I right!?
No Subways? Gas stations also have several self serve areas. Like hot dogs or donuts or other foods in display cases. You can easily grab these foods with tongs and place them in your own containers.
If you do wind up at another fast food option be observant of what comes in paper. A lot of things do, like burritos from Taco Bell or a hamburger from Wendy's. That paper can all be composted.
The best way to avoid unwanted plastic waste is to carry your own cup. Most fast food restaurants are super stringent about bringing your own container for food. (Not all are, it doesn't hurt to ask!) But, drinks aren't a problem especially if the ounces are clearly marked.
RELATED VIDEO: Zero Waste Takeout
You should also be able to get drinks from the drinking fountain at gas stations in your own cup. Make note of the ounces on the cups and fill up your reusable bottle. Let the cashier know the ounces in your cup, and everything should be fine!
If for some reason they say no to you using your own cup, go toppless and strawless.
4. compost:
You are probably going to wind up with some organic waste. Whether it be a banana peel, an apple core, or a subway wrapper. Keep a small, sealed bin in your car for food scraps to compost when you get home.
RELATED: The Ultimate Guide to Backyard Composting
If it's going to be sitting in your warm car for a couple of days, make sure it has a tight seal, and maybe put it in the trunk. If all else fails, you can always bury it at a rest stop.
Also be on the look out for composting options whether they be local farms, garden clubs, grocery stores, or composting bins offered by the city.
5. be prepared:
Like with most things in living a zero waste lifestyle, the key is being prepared. Make sure you have a reusable water bottle*, a set of reusable containers*, cloth napkins*, and anything else you think you may need. It probably wouldn't hurt to throw in a reusable bag* too.
RELATED: Two Zero Waste Travel Essentials
Luckily, you're driving! You can keep all of this in a nice little pack in your trunk. I like stainless steel because it's almost as lightweight as plastic, and it's super durable! You don't have to worry about it breaking.
6. use technology to your advantage:
Almost everyone has the internet in their pocket these days. You can use your phone to look up places to compost, search for restaurants with real plates, even find grocery stores with bulk bins.
RELATED: How Zero Waste is Technology?
Take a couple of minutes to browse google or yelp, to see if you can find any waste free solutions.
7. offsets:
Of course, if you're going to be traveling in a vehicle for an extended period of time, I have to mention offsets. Purchasing offsets is a great way to make your trip a little more eco-friendly.
RELATED: Zero Waste at the Airport
While it's best to reduce the amount you travel, it's not always feasible.
---
Have you tried to reduce your waste while on a road trip? What were some of your successes? Did you encounter any difficulties?
This post contains affiliate linking. It's denoted with an asterisk. This means if you choose to purchase one of these items I will make a slight commission for referring you. You can read more on my disclosure page.