15 Swaps for a Successful Plastic Free July
July 18, 2021 | Kathryn Kellogg
Last Updated on August 18, 2022
Happy Plastic Free July! Every year, 8 million metric tons of plastics enter our oceans. Plastic has been found in more than 60% of all seabirds and in 100% of sea turtle species.
Humans also consume plastic unwittingly: Every week, we unknowingly eat a credit card's worth of plastic, and for the first time ever, plastic is also showing up in human placentas.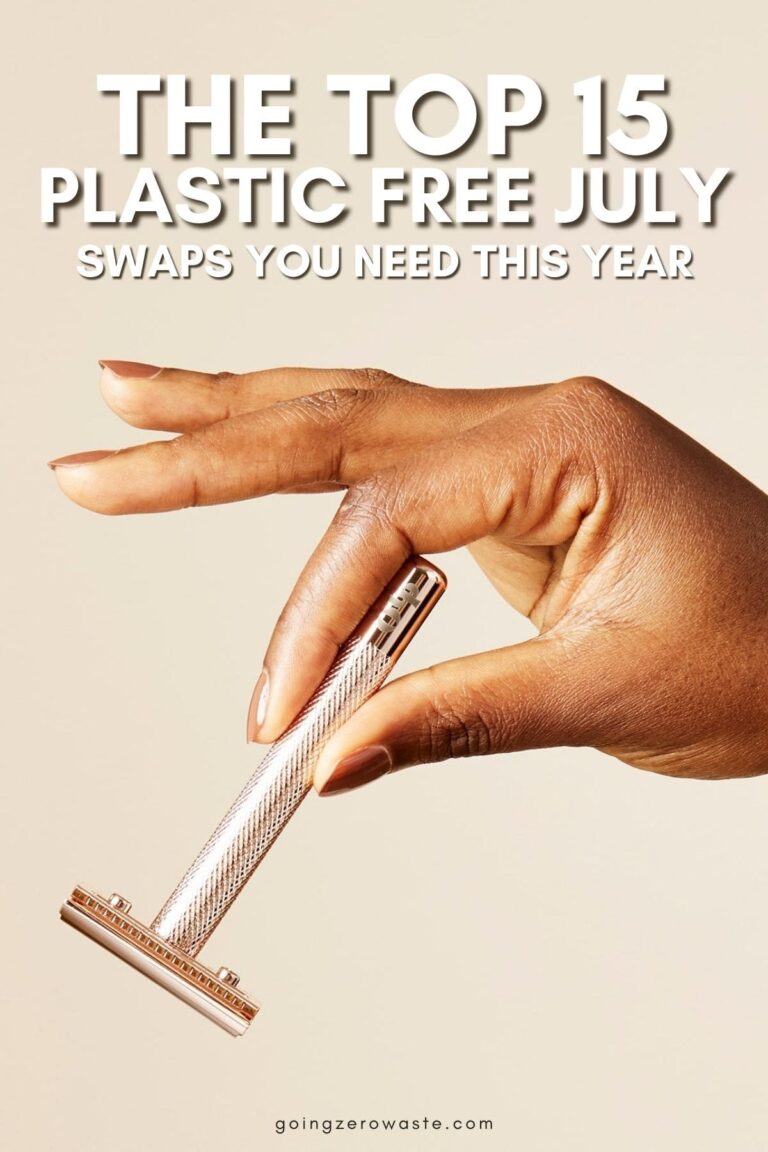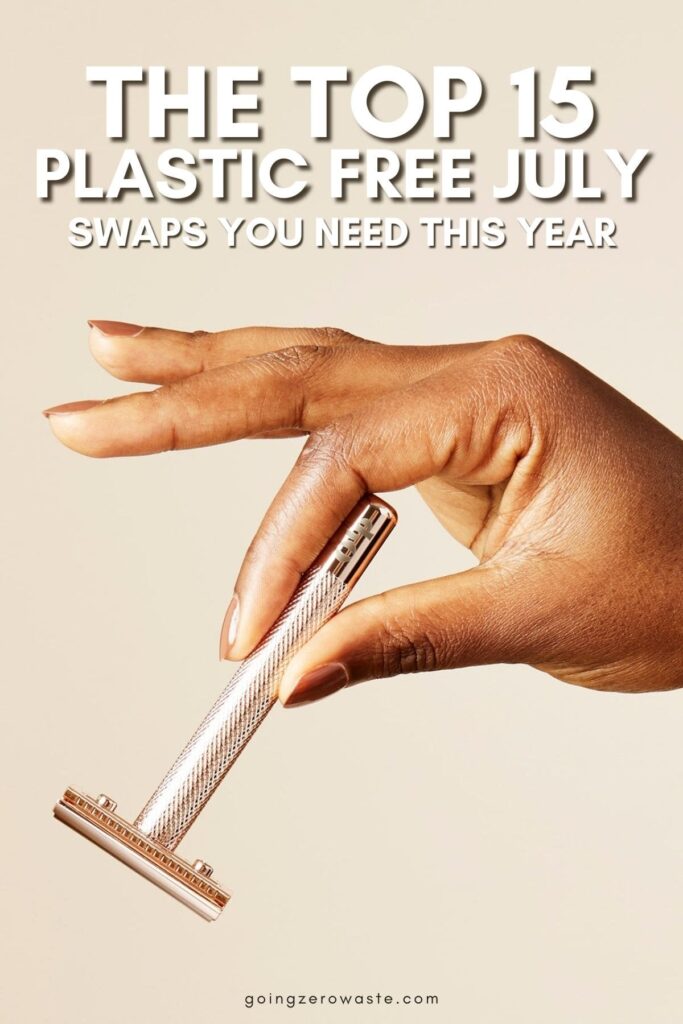 This post was sponsored. Some of the links below are affiliate links. For more information please see my disclosure policy.
Plastic is everywhere, and that's why Plastic Free July was founded. It's a movement that encourages people to deep dive into their single-use plastic and find ways to reduce it.
I think this Plastic Free July is a great reset after 2020, but many of us still have limited options when it comes to buying everything 'plastic-free.' From closed bulk bins to bringing our own cups to the coffee shop – there's a lot oof limited options. So, I hope this Plastic Free July we can look at an even bigger picture.
Where is plastic made? Who's bearing the brunt of that pollution? What can we do to reduce plastic at a larger scale rather than just individual?
I hope a lot of people will look at the Break Free From Plastic Act that's currently on Capitol Hill. Wouldn't that be amazing to see that pass this month?
what is plastic free july?
Plastic Free July is a global movement that started in 2011 that encourages millions of people to reduce their plastic waste for one month, and beyond. It's a challenge you pledge to complete, and you get to choose where you're doing it (at home, a workplace, etc), what level you're at (beginner or advanced), and how long you'll do it (1 day or from now on).
Once you make the pledge, Plastic Free July has helpful resources you can check out to get started on your journey.
You can also take my zero waste challenge: Every day over the course of a month, you'll receive one challenge where I'll present the problem, give the solution, and have action steps for you to implement.
why is plastic bad?
Actually, plastic isn't bad. What's bad is when we use it in a single-use fashion. Plastic was made to last forever, so we should treat it that way.
Since its initial production, over 8.3 billion tons of plastic has been created. Of that, only 9% has actually been recycled. The other 91% has been landfilled, incinerated or entered our environment.
Certain plastics can also release chemicals like dioxins and phthalates over time. Dioxins are highly toxic and can cause cancer, and phthalates are most known for interfering with the hormone system, especially the male reproductive system.
Over time, plastic can leech these chemicals into our water or food if it's being used to contain these items.
For this reason, it's best to avoid single-use plastic whenever possible. However, tossing out all your old plastic items (like Tupperware, a plastic broom, a plastic hairbrush, etc.) is counterproductive. Use it until it's no longer usable and can't be fixed – then replace it with a plastic-free alternative that will last you.
If storing your food in Tupperware bothers you, you can always repurpose it for other things, like holding jewelry, playing cards, paperwork, etc.
how can I get plastic free in july?
If you want to participate in Plastic Free July, I recommend first doing a trash audit to see where your trash is coming from. This will help you see what eco conscious swaps you'll need to make.
Here are some simple things to tackle first:
You don't have to do everything overnight, and you also don't have to break the bank. Just do what you can – little acts add up. Here's how to go zero waste on a budget with $50 or less.
15 eco friendly items for this plastic free july:
If you're looking for a few ways to reduce your use of single-use plastics, I've rounded up a few eco-friendly brands that are focused on sustainability, plastic reduction, bolstering plastic reduction and reclamation, as well as limiting any excessive packaging!
As a bonus, I also have a few discount codes you might be interested in. I've highlighted a few of my favorite features of each brand, but it isn't an exhaustive list so be sure to check out their websites for more information.
reducing plastic in the bathroom:
---
---
---
---
reducing plastic in the kitchen:
---
---
---
---
reduce plastic on the go:
---
---
---
around the home:
---
---
---
Are you participating in Plastic Free July this year?