My Zero Waste House Tour
March 3, 2017 | Kathryn Kellogg
Last Updated on April 7, 2020
This is a mini-tour. If it's ever not raining on a weekend, I'd like to add a video tour to this post too. I also wanted to take some time and chat with you about life. This blog is very "How-to" and very informative. I don't feel like I have many opportunities to just talk.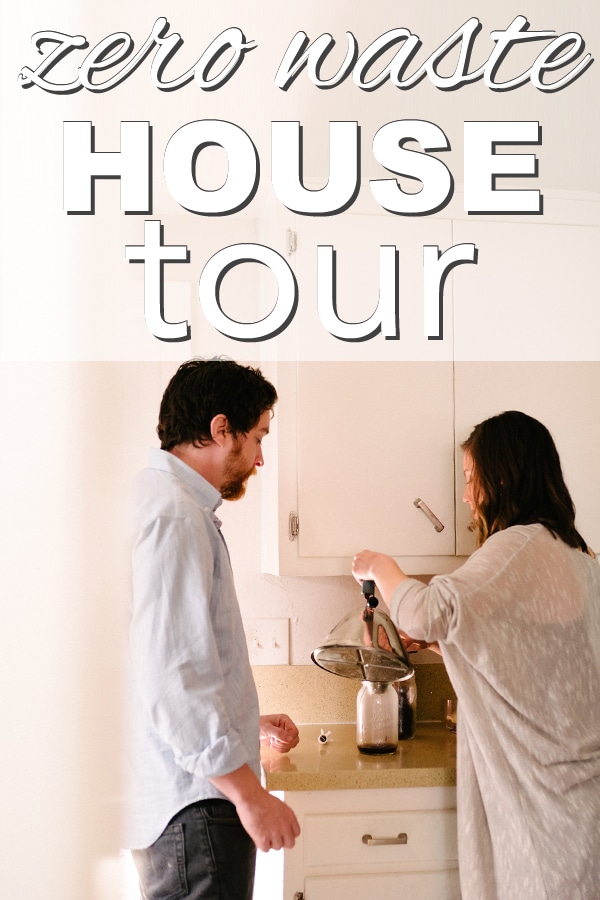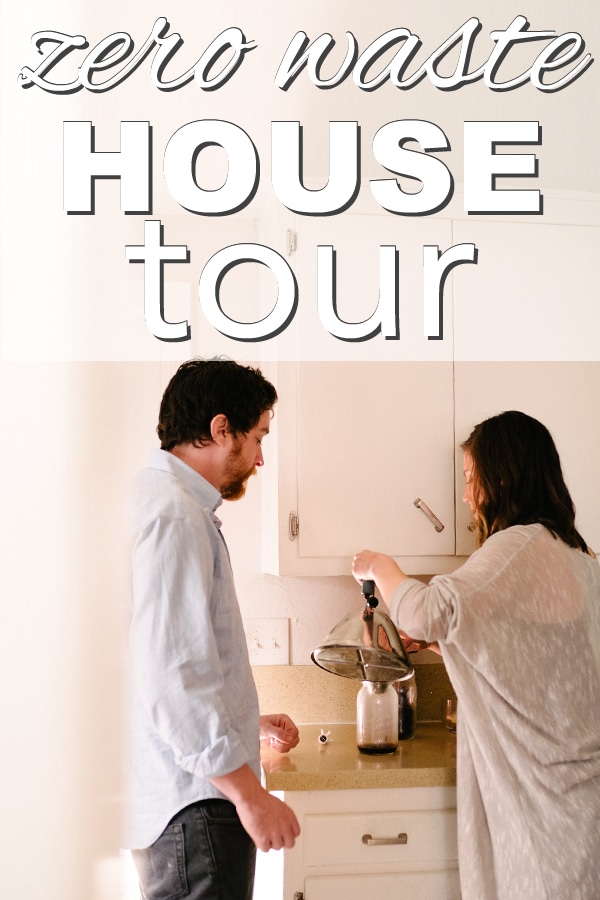 Today we're going to talk. This post is a little more about me. It's a little more behind the scenes and a little less zero waste. This home tour also happens to be my engagement photo session, with some (less glamorous) photos I snapped peppered in. You'll clearly be able to tell which is which – don't worry. Thanks to Allison for taking some wonderful shots.
This shoot is really special to me because we'll probably be downsizing to a 350 sq ft tiny-ish home. I am very excited to document the journey. But, this was the first place that felt like ours. I love this place. I love our stuff. It was all carefully selected and retrieved. 99% of it is second hand and it took A LONG time to get to this point.
It's our little home and each piece has a story and is special in some way. I finally feel like our house is complete, and now it's time to move. But, such is life, and this isn't the story I want to tell.
I want to tell you our story. FYI – it's gross. Not like ewwwww gross. Like, that's so cute I want to vomit, gross. Cool? Cool.
The year was 1588. Yes, 1588.
I was a fishmonger/wannabe pirate and he was the town beggar. And, yes that is a Globe Theatre replicate behind us.
We lived in actor housing and our rooms were across the hall from each other. We met at a toga party and fell in love on the shire. The shire is what the cast called the faire grounds.
He's from Maine and I'm from Arkansas. Being from two different places, you wouldn't expect us to have the same favorite restaurant. But, we totally do. It's this obscure chain called Mellow Mushroom.
Mellow Mushroom was the first pizza joint where I could get vegan cheese. *Life Changing* After we found that out, we googled the nearest Mellow Mushroom. The closest one was 3 hours away in Washington D.C.
So, we did what any sane person would do…. we jumped in the car and got dinner at Mellow Mushroom.
We traveled quite a bit while performing. We've kind of been all over the map. We went to D.C., NYC, Ocean City, Gettysburg, Lititz (coolest small town in America), Philly, Orlando, St. Petersburg, Little Rock, Las Vegas, and then finally California.
While performing, things went from casual to not so casual. Justin asked me to come with him to California after our contract was up. My parents thought I was crazy, but I said yes.
After our contract was up we drove around a little bit. We visited his mom in Florida, and then we visited my mom in Arkansas.
In Arkansas, we plotted our big move out west! By big move, I mean whatever fit in our cars. We drove 24 hours straight from Little Rock to Vegas. IT WAS AWFUL.
AWFUL.
My mom, as a surprise, gave us a hundred dollar bill to blow when we got there, and it wound up being counterfeit. Our room flooded as soon as we got there, and it took forever before we could get into our new room. The whole trip was a mess, but it was still so much fun because it was an adventure.
After two nights in Vegas, we hauled out to California. No jobs, no place to live, pretty much nothing but each other.
Eventually, we found a place to stay, we found good jobs. We got a dog. I started a personal project called Going Zero Waste. Justin went back to school. We got engaged, and we're getting married in May!
My life went in several directions I never saw coming, but I'm so happy. This has been such a crazy adventure, and I'm ready for the next chapter whatever that may be.
I can promise you there will be a wedding update coming, a video tour of my home, and probably a lot of posts about downsizing. Definitely a 900 sq. ft. before and a 350 sq. ft. after post!
I would love to hear if there are any posts or videos you'd like to see on the blog?