Hive Review: Is Grocery Delivery Eco Friendly?
January 24, 2022 | Ariana
Last Updated on January 25, 2022
In 2020, grocery delivery services became wildly popular, and I feel like it's going to stay that way because – let's face it. It can be pretty convenient. But, it brings about the question: 'Is grocery delivery sustainable?'
And, the answer, like most things in sustainability, 'It depends.' Don't you love that? Very rarely is there a straightforward answer because there are so many factors to consider. I'm going to go over a few of the pros and cons of delivery service as well as look into how grocery delivery can be more sustainable, how grocery stores can be more sustainable, and one brand who's doing a great job of bridging the gap.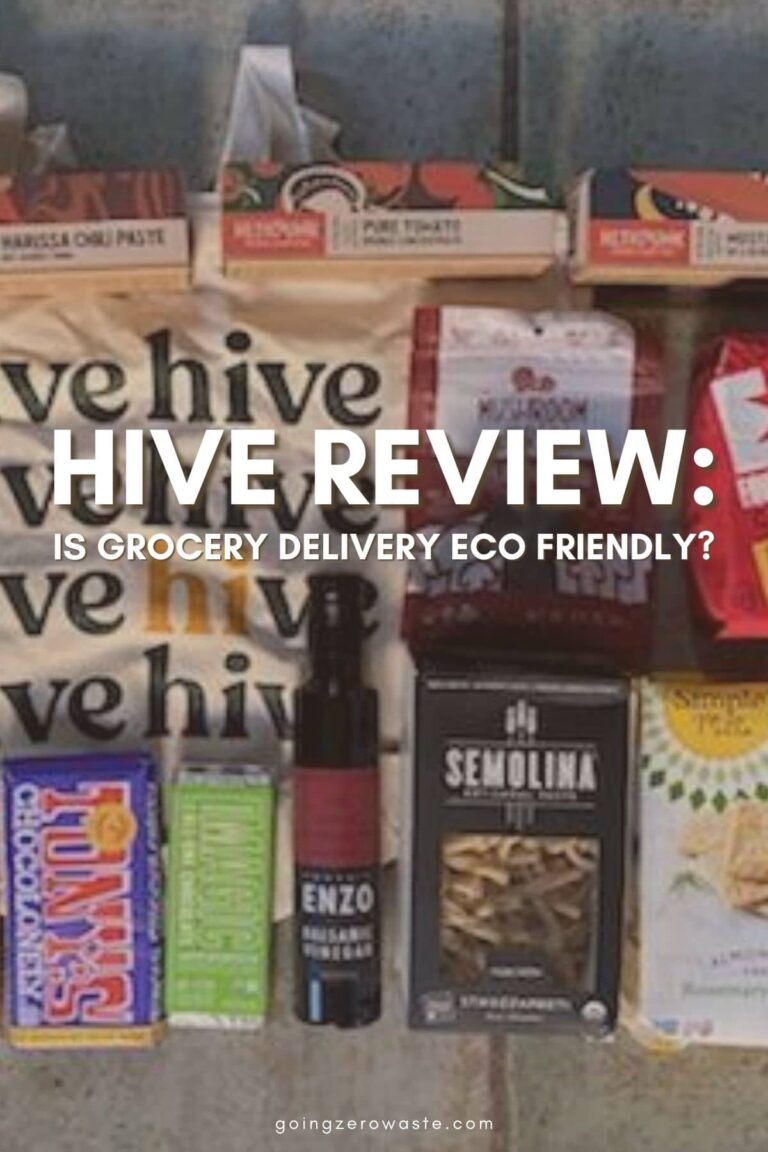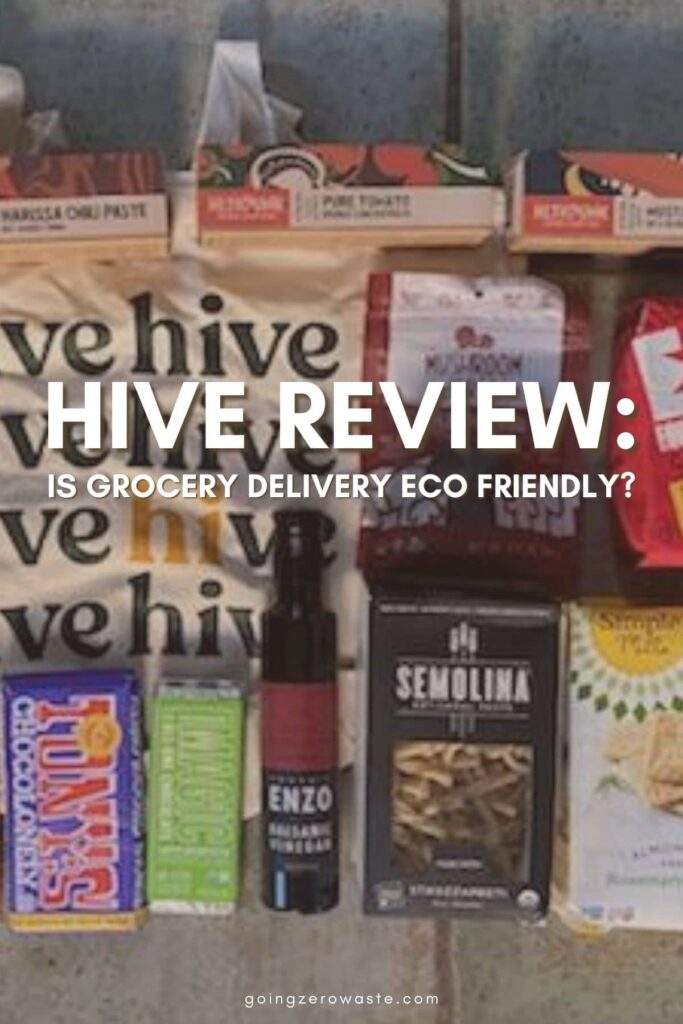 This post was sponsored by Hive. All thoughts and opinions are my own; for more information, please see my disclosure policy.
Hive kindly gifted me $75 of store credit to try out their grocery delivery service. Like several sustainable marketplaces, they offer a tool to sort by your values. This helps you pinpoint the products you're looking for whether that's dietary or causes you'd like to support. 
But, is shipping groceries or having groceries delivered sustainable? Would it be better for our local grocery stores to start stocking these products instead?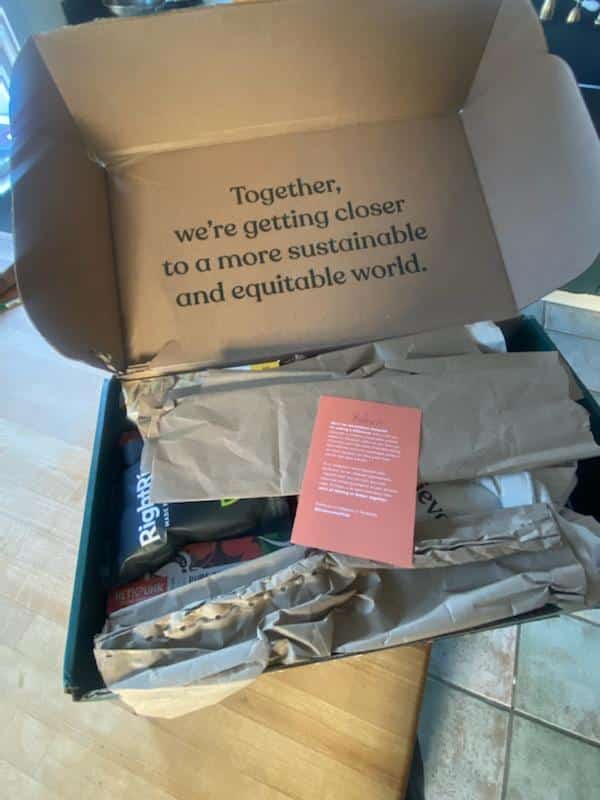 pros of grocery delivery services:
If done correctly, grocery delivery can be very eco-friendly, lowering your overall carbon emissions. A recent study done by the University of Washington that found greenhouse gas emissions for grocery delivery in the Seattle area were 85% to 95% less than individual household trips to the store.
Grocery deliveries are optimized to do multiple orders at a time, and it's the same with shipping companies. The trucks and routes are optimized to be as efficient as possible and hit many homes in a day.
But, no matter where you're shopping it's important to note what you're buying is often far more impactful than how you're buying it. You'd have to avoid all plastic food packaging for approximately 11 years to have the same impact as one year without meat, according to a 2013 study.
Opting for a vegetarian, vegan and/or more plant-based diet is one of THE most impactful changes you can make. Even if you're not ready to go all the way, experimenting with the "flexitarian" diet can still help. Emissions from livestock agriculture are so high, producing 20% to 50% of all man made greenhouse gas emissions.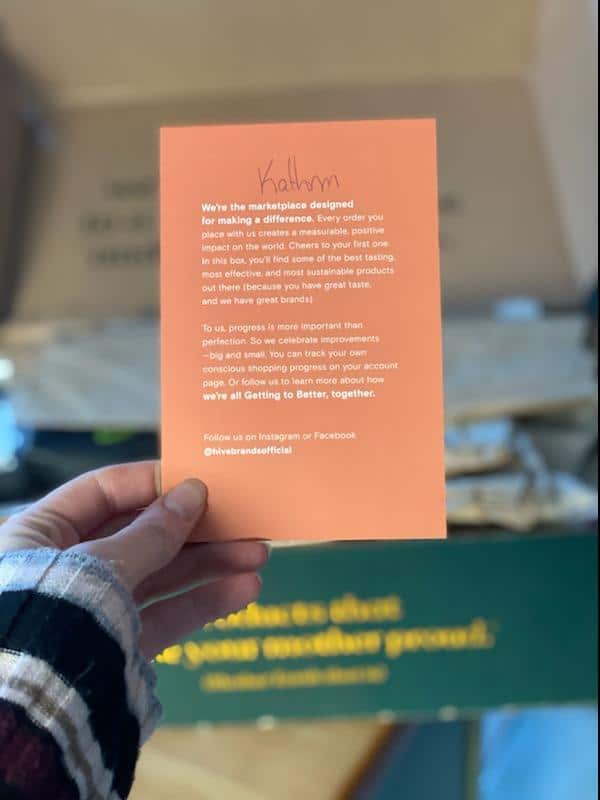 cons of grocery delivery services:
One con when using a standard grocery delivery service like Shipt or Instacart is that your picks may be at the hands of your shopper. Your shopper might arrive at the store with your detailed shopping list, only to find that the organic produce you selected or the fair trade coffee you prefer isn't in stock. So, the shopper picks something else at their discretion. And, you might not be overly happy with their choice.
Another downside of grocery delivery services is the excessive amount of plastic waste it can create whether that's plastic bags at the checkout or plastic wrapped produce. While you might choose to bring a reusable grocery bag every time you shop, your shopper has to use the stores disposable bags during checkout.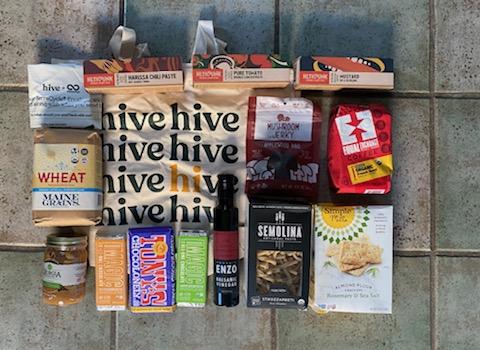 what it was like shopping at Hive:
I ordered some of my groceries online during 2020, and I'm sure I'm not the only eco conscious person to do so. It was pretty convenient having them dropped off on my doorstep, but I didn't love all the waste.
I mostly shop in-store now, but missed having access to more sustainable products like I had online. Eco-friendly options at my local supermarket pretty much end at fair trade coffee.
Hive is working to fix many of these problems with a rad selection of products that give back, carbon neutral shipping, plastic-free packaging, and even a terracycle bag so you can have some product packaging, like chip bags, recycled properly.
Each of the brands Hive stocks must meet their strict criteria, aka the High Five. Here are the standards each brand listed on their site has already passed: 
Ingredient integrity – Every ingredient in a product needs to be traceable and made with sound practices.
Recyclable packaging – 99% of product packaging they carry is recyclable, compostable, or TerraCycle-able (who they've partnered with – more on that below).
Low carbon footprint – Hive looks for brands who are calculating their carbon footprint and practicing offsets.
Committed to social good – Hive chooses brands committing to diversity and inclusion practices, and supporting social causes.
Rave-worthy – Aka, it's got to taste great. They only carry brands they've tried and were delighted by themselves.
Hive also considers the end-of-life of every product on their product pages. There's a "when you're done" section that explains how to recycle, compost, or dispose of each part of the product (including lids and seals).
Be sure to lookout for the TerraCycle logo on an item. This means some part of its packaging needs to be recycled throughout Hive's TerraCycle program, be it the whole packaging or just one small plastic piece.
You can "opt-in" to get your TerraCycle envelope right in your cart while you shop for just $2 with prepaid postage. As an individual, you have to pay much more to utilize Terracycle services, so Hive essentially is shouldering that cost, making it so more people can recycle plastics that are not accepted curbside.
While Hive doesn't offer fresh produce, always best to get that from your local farmers, they have pantry products, snacks, household items, beverages and pet products. Every brand must meet their High Five values.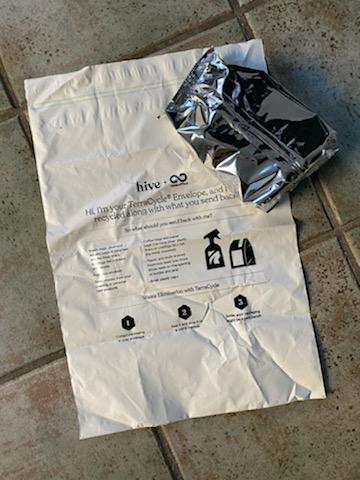 here are a few examples of brands that give back:
The peanut butter I bought from Georgia Grinders isn't only a wonderful small business: They're partnered with The Giving Kitchen supporting struggling Atlanta restaurants, DeKalb County School System's Special Education Department to provide young adults with job skills and training, and The Night of Hope Gala which offers funds and resources to people affected by ALS. This made my purchase even more meaningful as my stepdad passed from ALS last year.
The granola from Banner Roads I really want to try supports research for Usher Syndrome, the leading cause of combined deafness and blindness, by donating a portion of their profits to The Usher Syndrome Coalition for awareness and research.
Equal Exchange, one of my favorite Fair Trade companies, donates 10% of their annual profits to organizations that align with their mission. They also direct grants to farmer cooperatives to work on projects ranging from investing in coffee tree nurseries to creating beekeeping collectives for farmers so they can diversify their crops and income.
how can grocery stores be more sustainable?
Quit throwing out food and sending it to the landfill. They should be donating their surplus instead.
Being intentional in stocking more sustainable brands and focusing on sourcing and end of life.
Offering more plant-based options and encouraging these alternatives.
Sourcing more local foods and supporting independent farmers.
Creating a bulk section and allowing people to use their own containers and bring their own bags.
These are just a few ways that our larger supermarkets could be more sustainable, but please let me know if you'd like to see a whole blog post on many of the issues in our food supply chains.
I think Hive's model is showing what a more sustainable supermarket or grocery shop could look like. I honestly would love to see them branch out into pop ups into the future. It would be amazing being able to read the impact of every product you buy and see that calculated at checkout. What do you think?
But, in the meantime, while I'm daydreaming about that you can check out Hive and get GZW10 to save 10% on your first order.