A Romantic Vegan Dinner for Two
February 11, 2020 | Kathryn Kellogg
Last Updated on May 7, 2021
Valentine's Day is right around the corner!
I wanted to create a romantic dinner for my sweetie so I scoured the internet trying to find a few vegan dinner meal plans.
I wanted something that focused on in-season produce and had at least three complementary courses, but I couldn't find a thing!
So, I decided, if I couldn't find it – I'd make it and help anyone else that might be looking for that perfect plant-based romantic dinner.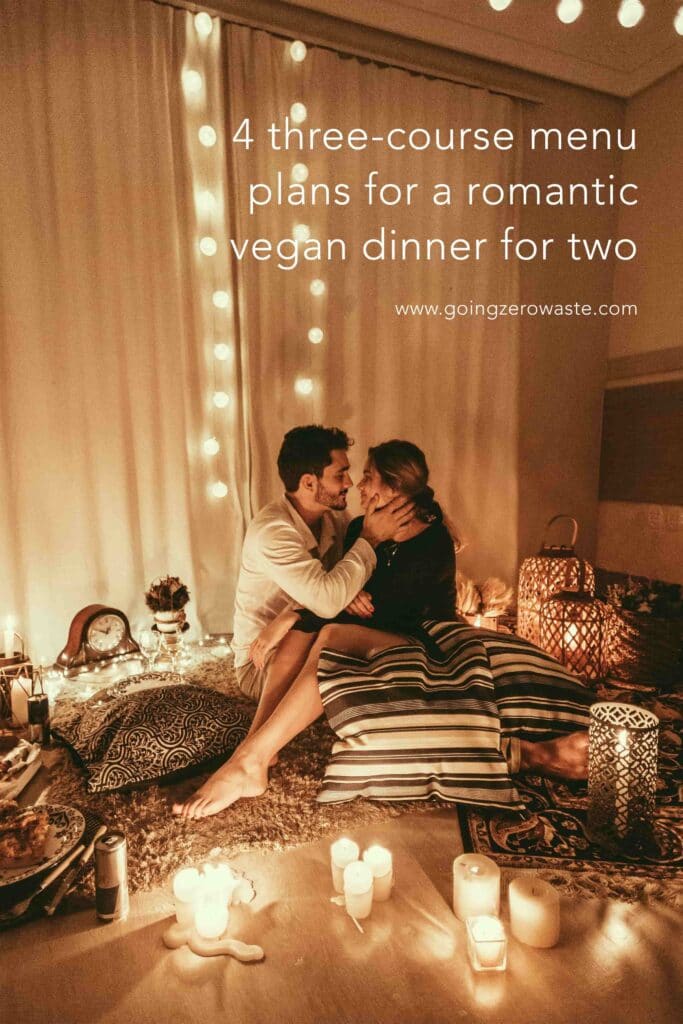 In my mind, three courses is what separates a regular dinner from a romantic dinner.
There's just something extra special about preparing an appetizer and a dessert to go with the main dish. It elevates it from every day to not-so-everyday.
This meal plan is going to be a choose your own adventure!
I'm going to include a few recipes for appetizers, mains, and desserts, but they'll all coordinate together beautifully.
appetizers:
spinach and artichoke dip + crostini:
I have always loved creamy dips and spinach and artichoke is one of my favorites!
This recipe called for the artichokes to be drained, but I personally like to buy artichokes packed in olive oil and I add a little bit to the mixture.
I also like to save that olive oil and use if for cooking other dishes.
I can buy those artichokes in a glass jar or can often find them at the deli section of my grocery store and get them to go in my own mason jar.
Pair this dish with crostini, one of my favorite zero waste snacks! It's so easy to find baguettes without any packaging or only in a paper bag.
Slice them very thin and roast for the perfect cracker substitute. You can get more info my blog post 6 Recipes for Stale Bread.
stuffed mushrooms:
This starter course is one of my personal favorites. I like to buy really small brown button mushrooms cause they're just so perfect to pop in your mouth!
I prefer to half the recipe and only make six. I serve with a side of homemade pesto sauce because I love sauces.
If you make the whole batch and have leftovers, they reheat nicely in a toaster oven.
I also have great luck with finding mushrooms unpackaged in the grocery store.
Bring one of your cloth produce bags so you can stock up and keep things zero waste.
If you're curious about reducing your plastic and packaging around your groceries check out my guide The Ultimate Guide to Zero Waste Grocery Shopping.
photo and recipe from Neurotic Mommy
curried carrot soup:
I think this is my favorite soup of all time! I regularly eat this soup for lunch… I'm actually eating it for lunch right now.
This is the recipe that I use, but with a few tweaks.
I use all olive oil, I add in one peeled and cubed granny smith apple with the carrots, and I just buy regular loose carrots and chop them into smaller pieces, instead of chicken stock I use vegetable stock and instead of sour cream I like to use cashew yogurt!
It's just a few simple substitutions to make it vegan and keep it zero waste. You really don't need to buy baby carrots….
I also like to serve with a dollop of cashew yogurt, a drizzle of oil (I've actually been using the olive oil I've saved from my last jar of artichoke hearts) and then top it with pepitas for crunch!
You could also roast a few croutons which would be excellent! You can find my crouton recipe in the blog post 6 Recipes for Using Up Stale Bread.
arugula and pomegranate salad:
I love this simple salad. The pomegranate seeds makes so festive for valentine's day! I like to substitute the parmesan with homemade vegan cheese.
I also like to regularly eat this salad for lunch, add in quinoa, and falafel bites.
photo and recipe from Serious Eats
mains:
butternut squash risotto:
My husband does not like risotto and tbh, I don't know what's wrong with him.
Risotto has always been one of my favorite dishes to make and I have such good memories ordering it out at one of our favorite Italian restaurants.
So, even though I won't be making this for my sweetie, maybe your sweetie will enjoy one of my favorite recipes.
I love how creamy this dish is and how beautiful it is to look at with the green and orange.
photo and recipe from the Live-In Kitchen
mushroom wellington:
This is a Christmas classic in my house.
But, I personally think making individual wellingtons is more romantic! It's like you made it just for the two of you so you each get a whole mini-wellington to yourself!
This is my favorite of the vegan wellington recipes because it so closely resembles the real thing with the duxelles.
As a kid, I would just eat the duxelles and puff pastry because it was the best part.
photo and recipe from New York Times
cauliflower steak and gravy:
Cauliflower steak and gravy is one of my go-to Thanksgiving mains along with stuffed acorn squash which could also be very romantic for Valentine's too.
But, this cauliflower recipe won it's place in this roundup. Because I'm just a real big fan of cauliflower.
I like how crispy it gets on the outside soft and tender on the inside, and when you drizzle it with that mushroom gravy Mmm. Mmm. Mmm.
Plus an entire head of roasted cauliflower looks really impressive.
I do think this plate would look pretty naked without a side so keep it simple with something like roasted carrots, steamed broccoli, green beans, or some roasted sweet potatoes!
creamy garlic and white wine pasta:
I also had to include one creamy pasta recipe because, to me, nothing feels more indulgent than a creamy pasta.
And, I definitely think Valentine's Day is all about indulging.
This one just looks to be absolutely b-o-m-b and stars one of my favorite (and very underrated vegetables) the humble brussel sprout.
Plus, these bad boys are jusssst starting to come in season. So, talk about perfect timing.
photo and recipe from Minimalist Baker
dessert:
chocolate truffles:
And, now we move on to my favorite, favorite part of the night – chocolate!! I mean dessert.
Now, after you've labored in the kitchen for this romantic meal, why not choose a delicious dessert that you can whip up fast.
These chocolate truffles come together in a jiffy and the only skill you need is to be able to melt chocolate.
I started making these Valentine's Truffles for Justin and few years ago and it's one of my favorite little traditions.
double chocolate chunk cookies:
One of my all time favorites, and I'm craving them super bad right now.
Now, I made these cookies for a cookie swap with my gal pals last Christmas and they were a hit!
They're vegan, gluten-free, and free of refined sugar but OMG they're so good and that's thanks to the Alter Eco chocolate which is one of my favorite chocolate brands.
If you're feeling really strapped for time or burnt out in the kitchen, I'm sure you could even just split a bar of their Sea Salt or Dark Chocolate.
But, these cookies come together really quickly and store really well so you can snack on them all week long.
lemon bars:
Now, I know that there are some people who aren't big fans of chocolate. I'm not sure who those people are, but they're out there. They exist.
Since citrus is currently in season, then what better way to embrace the month than choose something that packs a sweet and acidic punch.
These vegan lemon bars look absolutely divine!
photo and recipe from Nora Cooks
I hope that you've found this helpful in planning your romantic vegan dinner for two! I'd love to know which recipes you've decided on? I will be making the stuffed mushrooms, the creamy pasta, and ending with chocolate truffles.
Check out my other post if you're looking for more tips on How to Have a More Sustainable Valentine's Day.