How to Host the Perfect Cookie Swap
December 16, 2019 | Kathryn Kellogg
Last Updated on May 7, 2021
I am convinced that a cookie swap is THE perfect holiday party for anyone looking to reduce their waste!
No one HAS to go out and buy an ugly sweater, there's no need to create a bunch of trash, and it's SUPER festive not to mention – DELICIOUS.
However, if you're into the whole ugly Christmas sweater thing because, let's be honest, you know I have two in my closet – get them second hand or one that's a good conversation starter about plastic pollution.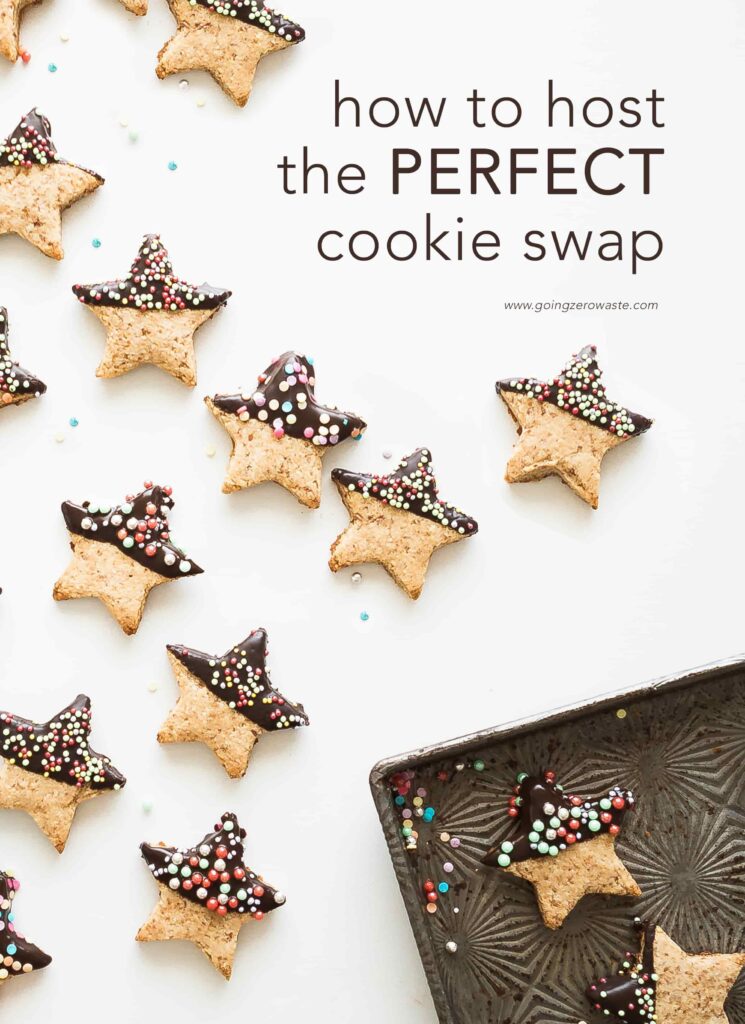 This post was sponsored by Alter Eco! All thoughts and opinions are my own. For more information please see my disclosure policy.
---
Speaking of good conversation starters, are you familiar with Alter Eco?
Alter Eco is my go-to chocolate brand because not only is their chocolate freaking delicious all of their products are made with whole, organic, and Fair Trade ingredients sourced from small scale farmers.
They're a huge player in regenerative agriculture and they're working to reforest the Amazon in Peru. Yes, you can buy chocolate AND help plant trees.
Alter Eco plants trees with their cacao producers in Peru. These trees naturally sequester carbon, regenerate soil, and support biodiversity.
In fact, they have planted over 30,000 trees and offset 14,400 tons of CO2 since 2008 as part of their carbon-neutral standard.
To bump up that tree count a little more, Alter Eco is planting one tree in the Peruvian Amazon for each holiday gift box sold.
They're also a pioneer in sustainable food packaging.
Alter Eco's truffles are wrapped in compostable wrappers and their paper packaging is made of FSC Certified recyclable paper.
Their chocolate bars, my personal fav, are wrapped in aluminum foil and paper both of which are recyclable.
I have a few recipes at the bottom of the post to get you inspired for your very own cookie swap, and if you've never been to a cookie swap, then you're missing out!
My sorority used to host cookie swaps during the holidays and they were SO much fun.
The premise of a cookie swap is very simple. Everyone invited makes cookies or other small hand-held deserts, you bring them to someone's house, and then you swap. Easy peasy.
I will say, I'm not super staunch on the cookie aspect of the party. I say, go wild. Why not include some bark, brownies, or fudge!?
1. send out your invites:
Invites for this kind of party are pretty important, but you can use something like an e-vite or create a Facebook page. In my invites, I like to remind everyone that my household is a zero-waste household and ask that they don't bring any disposable cookie trays.
Most of my friends are avid bakers so there's no need to specify that recipes should be homemade, but that's the fun of the party! You bring a homemade cookie recipe, everyone gets to sample, take some home, and then the recipes are sent out afterward!
So, on the RSVP form ask what type of cookie they'll be bringing and ask them to submit their recipes. Since you're doing this all digitally, you can make a little booklet full of everyone's recipes and email it out after the party.
2. get plenty of storage:
You can ask people to bring their own tupperware containers or cookie jars to the party on the invite, but you might also want to have a few wide mouth mason jars available for guests.
Wide mouth mason jars make for great cookie storage! Mason jars, of course, can be reused over and over again so you don't have to worry about sending your guests home with any trash!
Another option is festive cloth napkins. Tie the corners of the napkin and you have a little bindle your guests can take home and decant into their cookie jars.
3. swap, share, sip, snack:
Next comes the fun part – lots of cookies!!
I like to put out a few other snacks like some fruit, veggies with hummus as well as tea, sparkling water, and what pairs better with cookies than champagne?
I think a cookie swap is the perfect zero-waste holiday party because it's such an easy way to avoid disposables. You don't have to do a bunch of work because everyone is bringing over cookies. You don't need to decorate because the cookies are beautiful and festive! And, you really don't need to do a lot of clean up. Cookies are finger food and the guests will take their platters home with them.
Are you sold or what!? Here are a few of my favorite and festive holiday recipes to get you started!
double-chocolate chunk cookies:
I don't like mint and chocolate together, but I can't deny it's festive. If you're into mint thins, then swap the sea salt bar out for the Crisp Mint Bar!
INGREDIENTS
1 cups of almond flour
1/2 cup of oat flour
1/4 cup of cocoa powder
1/4 cup of maple syrup
1/4 cup of peanut or almond butter
1.5 bars of Alter Eco Dark Sea Salt chopped into large chunks
.5 bar of Alter Eco Dark Sea Salt melted for drizzling
INSTRUCTIONS
350°F / makes a dozen small cookies / 9×13 pan
Add all of the ingredients into a mixing bowl
Mix all of the ingredients together
Scoop out the mixture and form it into a ball
Cut into 12 pieces
Roll each piece into a ball and flatten a little bit
Place the cookies on a cookie sheet
Bake the cookies for 10-12 minutes
Let them cool for a few minutes and then add the finishing drizzle!
holiday chocolate bark:
Bark is one of my FAVORITE easy holiday recipes. Seriously you will be blown away with how easy, festive, and fast this recipe is.
You can use any add-ins you like. I think cherries and pistachios are extra festive for the holidays but I've also done pistachios and pretzels, candied ginger and almonds, the combinations are endless! You could even switch this out for the Alter Eco Crisp Mint bars to make it extra festive.
INGREDIENTS
5 bars of Alter Eco Dark Blackout
2-3 tablespoons of chopped pistachios
2-3 tablespoons of chopped dried cherries
pinch of flaky salt (optional)
INSTRUCTIONS
chop the Alter Eco Dark Blackout chocolate bars
melt the chocolate over a double broiler
once it's melted pour it onto a reusable silicone mat (9×13)
spread the chocolate until it's thin around .25" thick
sprinkle the pistachios and cherries on top
add a sprinkle of flaky salt
let cool and harden up! To speed up the process you can put it into the fridge
pull it out and break it up!
a few other recipes perfect for a cookie swap!
Alter Eco is sold at most Whole Foods and independent grocery stores! It also happens to make a great stocking stuffer so you can pick a few bars up the next time you're at the store.
I wante to thank Alter Eco for sponsoring this blog post! If you make any of these recipes, be sure to tag me and @alterecosf on Instagram!