5 Fall Hiking Essentials
November 13, 2018 | Kathryn Kellogg
Last Updated on September 10, 2020
When the sun starts setting early, you can cue my winter blues. As we approach winter, I lose all motivation to get things done. And, I DON'T EVEN LIVE IN A PLACE WITH REAL WINTER.
Our winters range from 20-60 degrees. Lord, bless me, if I ever move to the East Coast.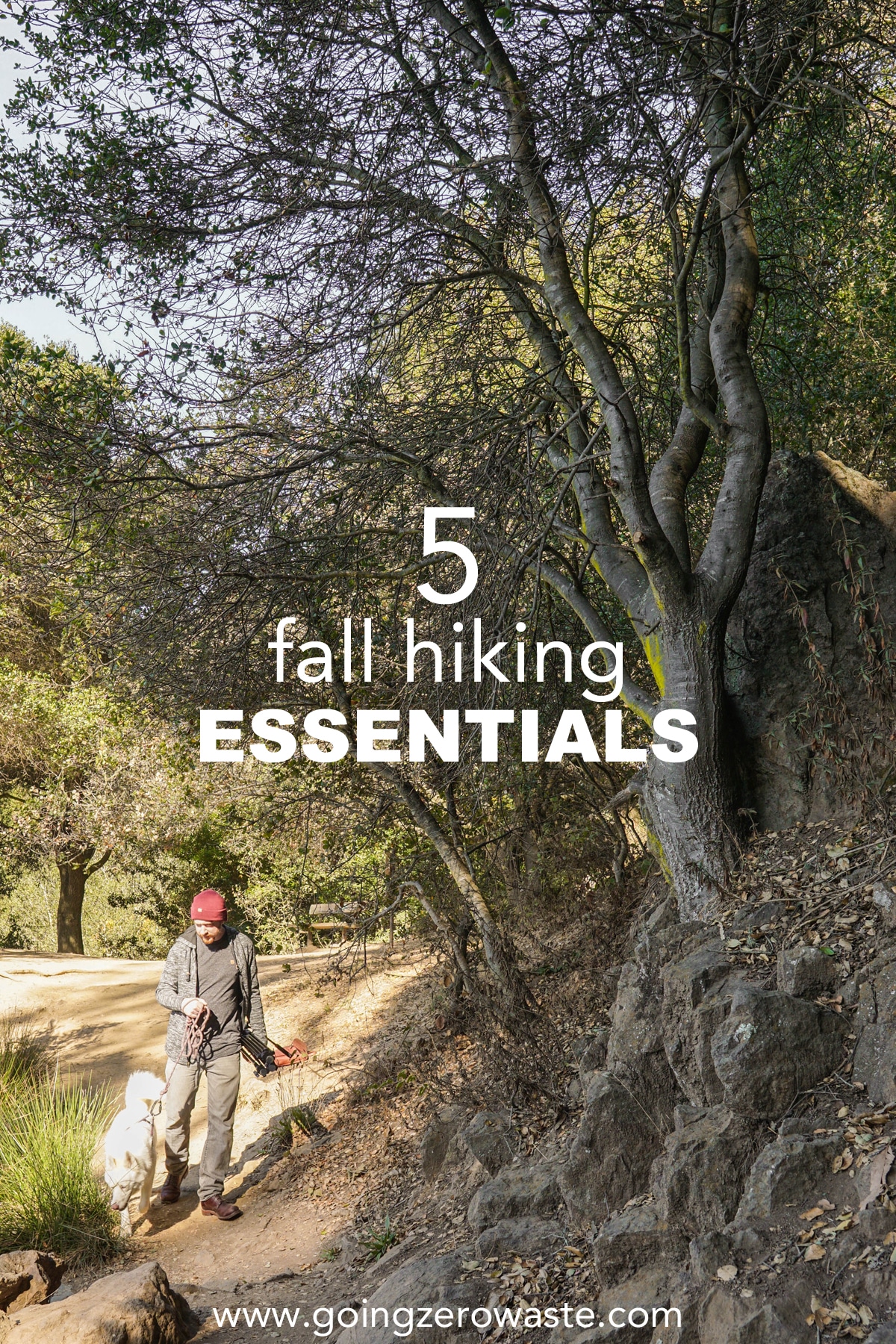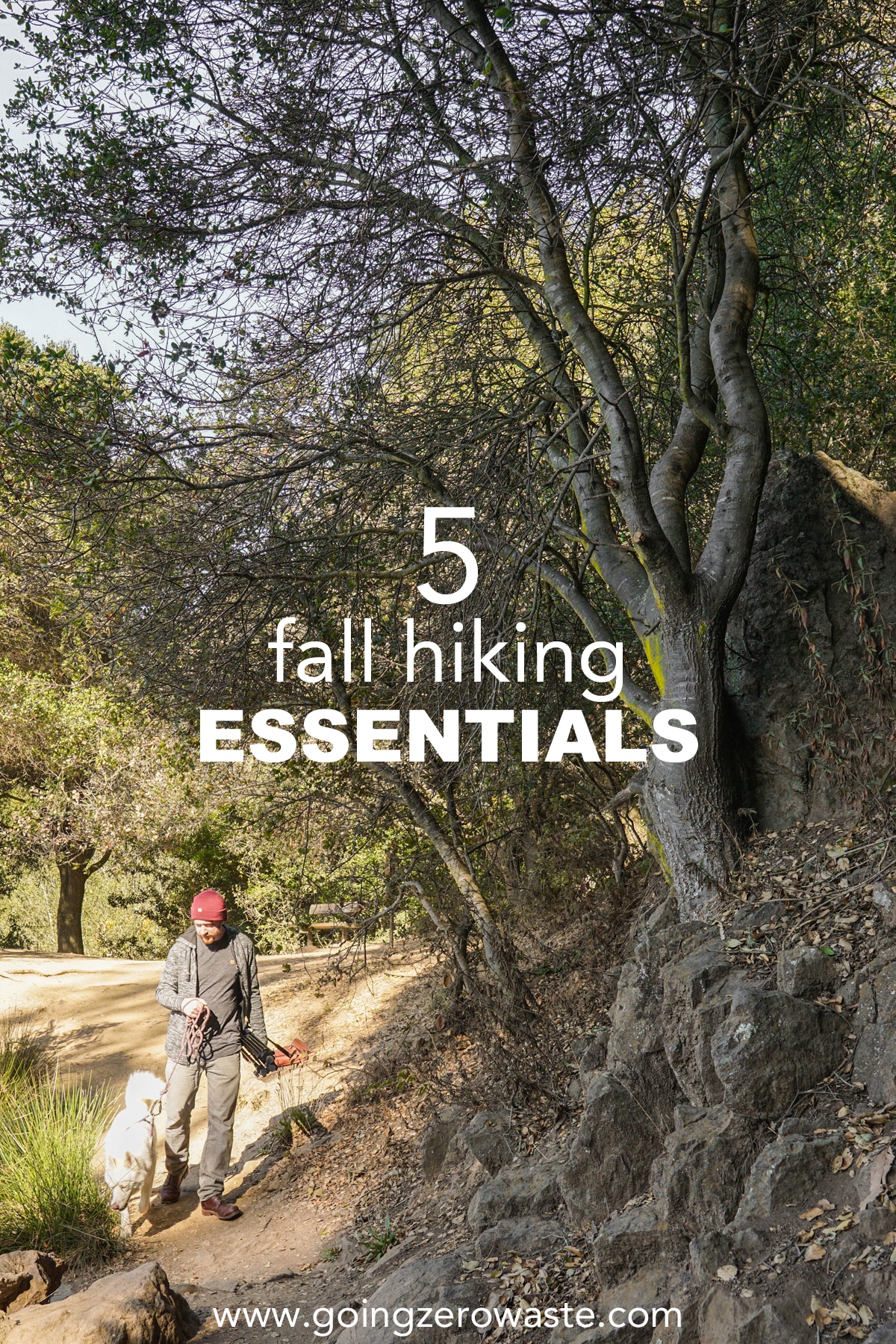 I'm super excited to share this post with you because it was sponsored by tentree. All thoughts and opinions are my own. For more information please see my disclosure policy.
In order to cope with my disdain for fall and winter, I am trying to embrace the seasons and everything they give us – like squash.
Part of living a zero waste or more holistic lifestyle is living with the seasons. While I've embraced that in terms of food (I freaking love squash), I haven't necessarily embraced that on other levels.
This year I'm truly making it a goal to honor the seasons and appreciate them for what they are. One of my goals is to get outside. Rain, shine, fog, cold, whatever the day brings I'm trying to spend more time in nature.
When I'm in nature, I feel so much better. I love being among the trees and away from large swaths of concrete.
So, I wanted to round up 5 of my favorite things for getting out in nature this fall!
Tentree was founded in 2012 with a goal to deliver well-crafted, sustainable clothing and with each purchase 10 trees would be planted.
To date they have planted more than 24 million trees!! Yes, you read that correctly 24 MILLION trees and counting. These trees have been planted in Canada, United States, Nepal, Madagascar, Haiti, Senegal, and Cambodia.
Not only are these trees providing clean air and absorbing carbon, they're also helping to build local economies.
In the past, over 80% of Madagascar had been deforested. The removal of the mangrove trees threatened the wildlife, created erosion problems, and even desertification inland.
They have planted 10 million trees in Madagascar the majority being mangrove trees. These trees capture and absorb more carbon dioxide than any other trees in the world.
But, they also plant fruit trees which provide food to local villages as well as other trees that provide fuel and lumber.
The goal is to fully restore the mangroves to help avoid erosion and restore the coasts so wildlife can inhabit them once again.
This is only one of their many projects. Check out all of the other amazing ways tentree is working to plant trees and help communities.
I'm so inspired by the work tentree does and I'm extra excited to be working on this post with them!
5 Fall Hiking Essentials:
1. easy layers:
Living in the bay area it's freezing in the morning, warm by two, and then by four the fog rolls in and it's freezing again.
Dressing in thin but warm layers is essential for me. I find it cumbersome to carry really thick sweatshirts, so I really like this thinner cumulus sweatshirt.
Under the sweatshirt I'll either wear a tee or a long-sleeve shirt… sometimes both.
One of the things that makes tentree standout is their stellar selection for men. I've picked up a few pieces for Justin, and he wears them everywhere.
He has a little bit of a thicker hoodie the irvin zip and then pairs it with their drifter tees. They're his go-to tees for any occasion not just hiking.
Some of their clothing is a blend with recycled polyester. While I'm not a huge fan of plastic in clothing, if it's going to be there I'm really glad that it's made from recycled plastic bottles.
Tentree is continually looking for new ways to close the loop and incorporate more innovative materials into their fabrics. If you don't have a guppy bag, you can pick one up to help you reduce the amount of micro-plastics that poly products prduce from being washed
But, the majority of their clothing is made with natural fibers like organic cotton and hemp.
Natural fibers are great because they're breathable. It makes it easier to regulate your body temperature so they help you stay both warmer and cooler.
2. the coziest of all pants:
To be honest, you'll find me in these bamone sweatpants
way more when lounging around the house than on the trail because they are so WARM!
I've worn them on one or two colder days, but they're a little too warm for the current season. As we approach colder months, I will be incorporating them more.
I know that most people reading this post it will be cool enough to wear these, so I wanted to include them.
tentree is offering 20% off to all Going Zero Waste readers and is valid until December 5th, one-time use 'GOINGZEROWASTE20' shop now
3. homemade trail snacks:
Trail snacks are must!! I always make sure to bring a full water bottle and a couple of munchies. I think it's nice to sit down and really enjoy the scenery.
I'm a goal driven person. Even when my "goal" is to be in nature, all I want to do is get to the finish line as fast as possible. You feel me?
I want to be at the end! I to be "finished" so I tend to have blinders on, and my body drives me to accomplish that goal.
So, it's really nice just to take a break and enjoy being in the middle. It's kind of a metaphor for how I feel about life.
Just make yourself the nice dinner, sit down, enjoy it, and be in the moment without any distractions. I'd hate to live my entire life running from goal to goal without ever truly enjoying being in the middle…
Because let's be real 98% of life is being in the middle.
My current favorite water bottle is this one because it has a sweet detachable cup I can use to pour water for Nala! I like to store my trail mix in a stasher bag.
My current favorite trail mix:
3 Tablespoons of Almonds

3 Tablespoons of Pecans

3 Tablespoons of Peanuts

3 Tablespoons of Pepitas

3 Tablespoons of Dried Blueberries

3 Tablespoons of Dried Raisins

3 Tablespoons of Chocolate Chips
4. beanies:
When it's windy, I get ear aches. Totally not a fun experience when you're a couple of miles in and you just have to walk all of the way back with aching ears.
You also use 10% of your body heat from your head, so if it starts to get chilly, wearing a hat is a great way to regulate your body temperature when the fog unexpectedly rolls in an hour early.
One of the simplest things I can do to prevent chilly winds from getting me down is wear a beanie. And, to be honest… I'm not a huge beanie person.
But, when I saw this beanie with a pom pom. I just knew it was a must!! I also really like their cable knit beanies. I would love it if tentree started making cable knit ear bands though. I need it.
Justin has always been a fan of beanies, and he's always wearing this organic cotton one because it's so cozy!
As it gets colder, I'll definitely need some of these cozy mittens!
5. nala!!
Is it even worth hiking if your furry friend can't come with you!? I get exercise. She gets exercise. My mental health improves doubly because nature AND puppies.
It's a winning combo y'all.
bonus:
So, there's one thing that's also critical for me on nature walks and it's not so much something I bring with me, but something I don't bring…
I keep my electronics OFF. I have them on my person incase of an emergency, but they're stowed away because I will be checking email, taking photos, listening to a podcast, basically doing something other than what I'm supposed to be doing….
Which is NOT being connected with technology.
I just like to listen to nature.
What are some of your goals for this fall and winter season?
tentree is offering 20% off to all Going Zero Waste readers and is valid until December 5th, one-time use 'GOINGZEROWASTE20' shop now