Allergy Fighting, Cookie Dough Energy Bites
March 18, 2016 | Kathryn Kellogg
Last Updated on September 10, 2020
Summer is so close I can taste it. Shorts, sandals, the beach – I'm so ready. I just have to get through the yellow cloud known as spring.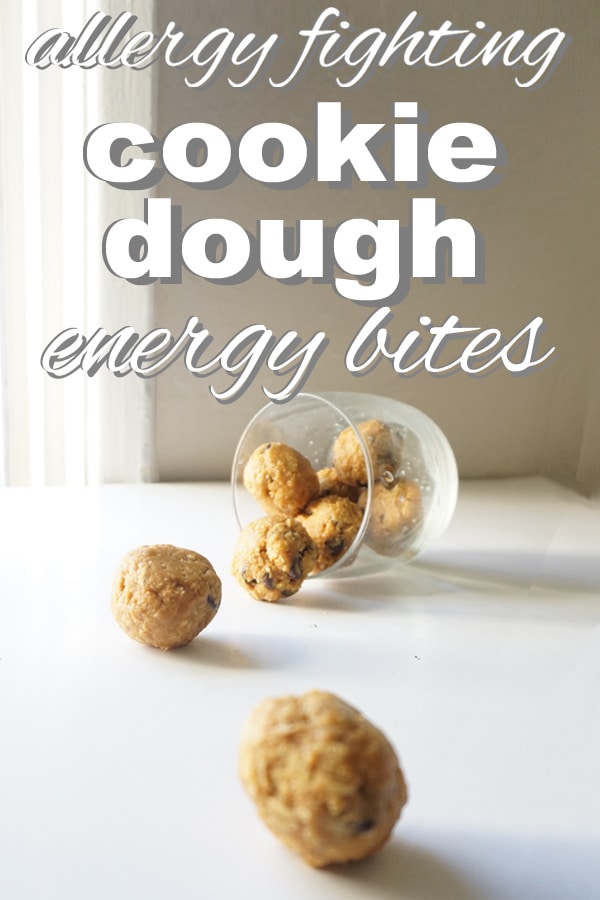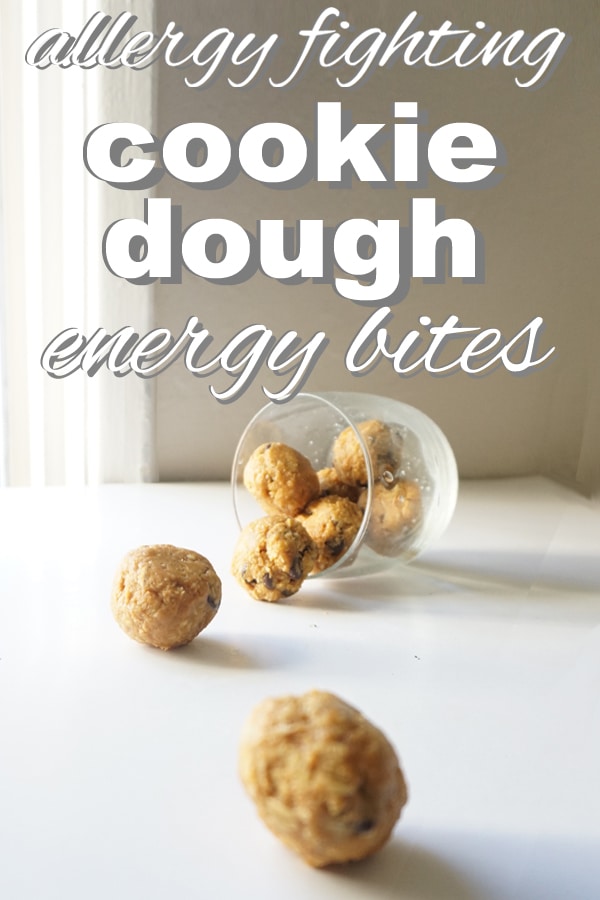 Does anyone else get pounding sinus headaches around 2? Despite all of the headaches, spring is still my favorite season.
It makes me giddy to see blue skies, the day's growing longer, flowers blooming, sun dresses, Easter, baby animals – eek!!
I'm so excited just typing this.
I'm a little late on the energy bites bandwagon, but I am a huge fan!
I love that they're sweet enough to be dessert, they're filling, the protein gives me energy without crashing, and they're so portable! Plus, they're stupid easy to make, and only dirty one dish.
It's not that I dislike doing dishes, I just like to save water – ya know…. zero waste. 😉
Allergy Fighting, Cookie Dough Energy Bites
10 minutes active, 45 minutes inactive
1 Cup of Old Fashioned Oats (bought in bulk at Whole Foods)
2/3 Cup of Unsweetened Coconut Flakes (bought in bulk at Raley's)
1/4 Cup of Ground Flax Seed (Bought flax seeds in bulk at Raley's and ground them in my blender)
1/2 Cup of Chocolate Chips (bought in bulk at Berkeley Bowl)
1/4 Cup of Local Bee Pollen (bought in bulk at Rainbow)
1/2 Cup of Peanut Butter Softened I keep my natural peanut butter in the fridge and it's very hard (bought in bulk from Rainbow)
1/3 Cup of Local Raw Honey (bought in glass)
1/4 Cup of Maple Syrup (bought in bulk at Rainbow)
1 Teaspoon of Vanilla (bought in glass at Oaktown Spice)
Combine all of the ingredients. You can use a spoon, but will probably succumb to using your hands.
It's easier and one less thing to wash. 😉 chill your mixture in the fridge for about 45 minutes.
The peanut butter should harden enough to to easily scoop the mixture out and roll into bite size balls.
You can easily make these vegan by leaving out the bee pollen and using maple syrup in place of honey.
Your honey has to be local and raw to help with your allergies.
Since introducing bee pollen to my diet, I have definitely noticed an improvement in my headaches and allergies.
This recipe is freezer friendly; so, you can also double or triple the batch to save for later!
I really want to try some brownie energy bites next! Have you tried any? What's your favorite recipe?