Perfect, Easy, Homemade Pizza Dough
February 12, 2016 | Kathryn Kellogg
Last Updated on September 10, 2020
Pizza is the way to my heart. Seriously. Words cannot even express to you how much I LOVE pizza.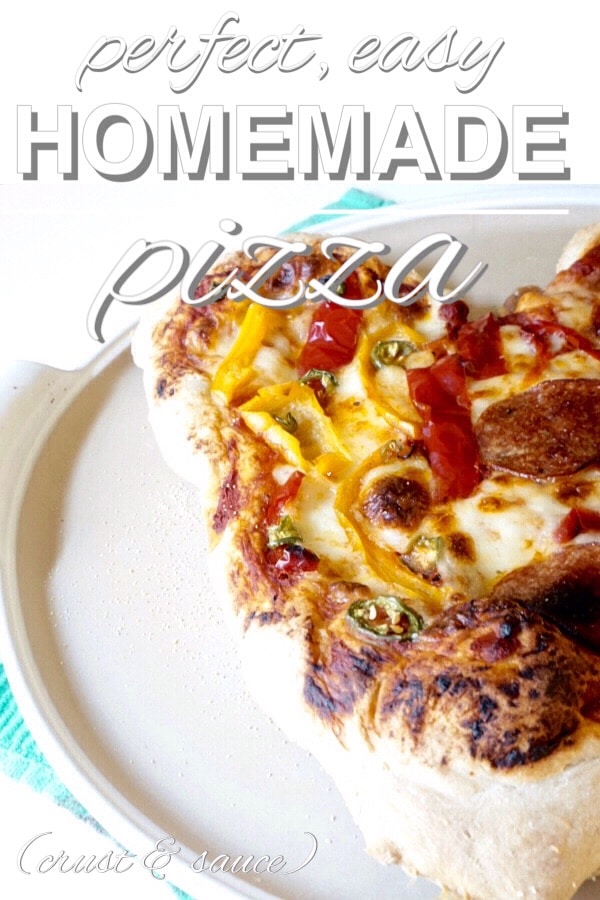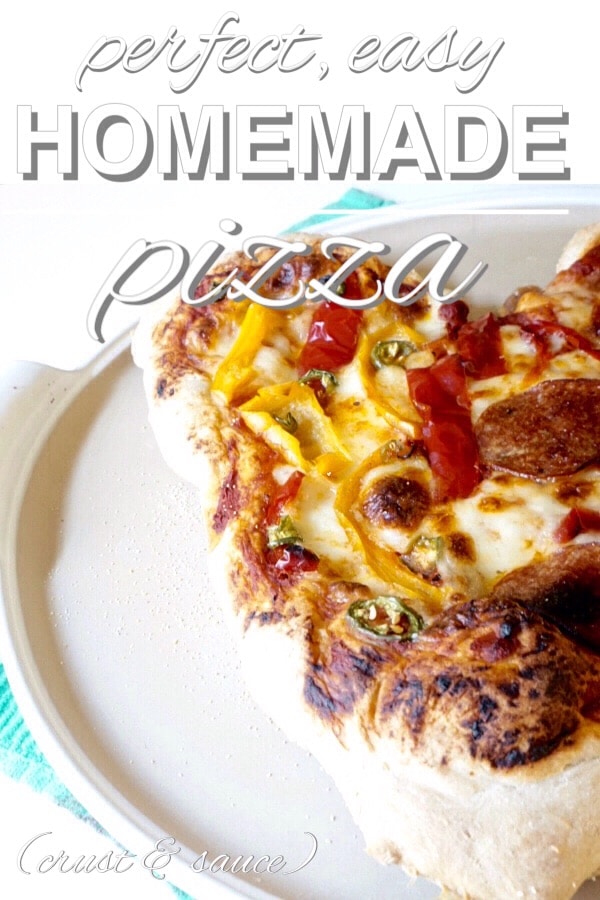 last post we talked about how much I love Valentine cards? I couldn't help myself. I made six adorable digital Valentine cards. I'll share them with you, if you sign up for my email list!
Pizza is also the way to Justin's heart – match made in heaven?
And, while we both have a childhood love for pizza hut stuffed crust, it's not very good for you…. I think we can agree it's probably full of a whole bunch of junk.
And, who wants to pay $20 for a pizza that costs $3.00 to make at home.
Once you finally make that perfect pizza dough, you'll never want to go back to take out. We make pizza once…. OK, twice a week at our house.
We experimented with the recipe for a *long* time. The perfect crust doesn't limp in the center, has a crunch, but is still light and doughy.
We have come to the conclusion that you really, really need a pizza stone. There's just no way around it. And, we happened to both surprise each other with artisan pizza stones for Christmas. So, now we're in constant contest to see who's pizza stone works better. But, that's a different story – here's our perfect recipe.
Pizza Dough
Active time 15 minutes, inactive time 1.5 Hours; 450 degrees
1 Cup + 2 Tablespoons of Warm Water
1 Tablespoon of Yeast
1 Tablespoon of Salt
1 Tablespoon of Olive Oil + More for Brushing Pizza Stone
3 Cups of Flour
1 Tablespoon of Cornmeal for Dusting (Optional)
Combine the yeast and the warm water.
Let it sit for 5-10 minutes and it should bubble.
Add in the flour and salt and knead for 5-10 minutes or three minutes in a stand mixer.
Place in a bowl and drizzle the olive oil all over the dough.
Cover the bowl with a tea towel and let it proof for one hour.
Follow the directions of your pizza stone.
Both of ours have different directions.
After the stone is preheated, if it's preheated, brush the stone with olive oil and sprinkle with cornmeal.
After the dough has risen, punch it down and roll into a ball. I like to stretch my dough.
I will grab the edge and slowly make my way around the dough. This will aerate it and gravity will help form it.
This also saves you from rolling it out with a pin and throwing flour over your counter. The less cleaning the better!
Place the dough on the pizza stone, and top as you like. Bake the dough for 25-30 minutes. Let it cool and enjoy!
I love to use my marinara and a whole bunch of veggies! You can find mozzarella in bulk at the Whole Food's salad bar.
My idea of a perfect night is pizza, sharing a growler, and finishing up with some valentines truffles, chocolate cake, or rich chocolatey brownies.
What's your favorite type of pizza? Would you do Valentine's Pizza?
DONT FORGET!
*If you subscribe to my email list you'll receive SIX cute digital valentines to send to your friends and family!*
After you confirm your subscription you'll receive a follow up email, in the title will be six clickable links for each valentine!