6 Zero Waste Baby Shower Gift Ideas
June 13, 2017 | Kathryn Kellogg
Last Updated on April 20, 2023
These 6 zero waste baby shower gift ideas will thrill your mom-to-be friends! There are a ton of zero or low waste gifts you can give that aren't signing your friends up for cloth diapering, so I've included my favorites in one simple shopping guide.
The internet is full of ideas for baby shower gifts, but not many of them make room for sustainable baby gifts or eco friendly baby gifts. This post includes 6 unique baby shower gifts that will spoil mom and baby as well as benefit the environment. Plus, a tip for staying zero waste at the party itself, which often includes lots of disposables and plastic waste!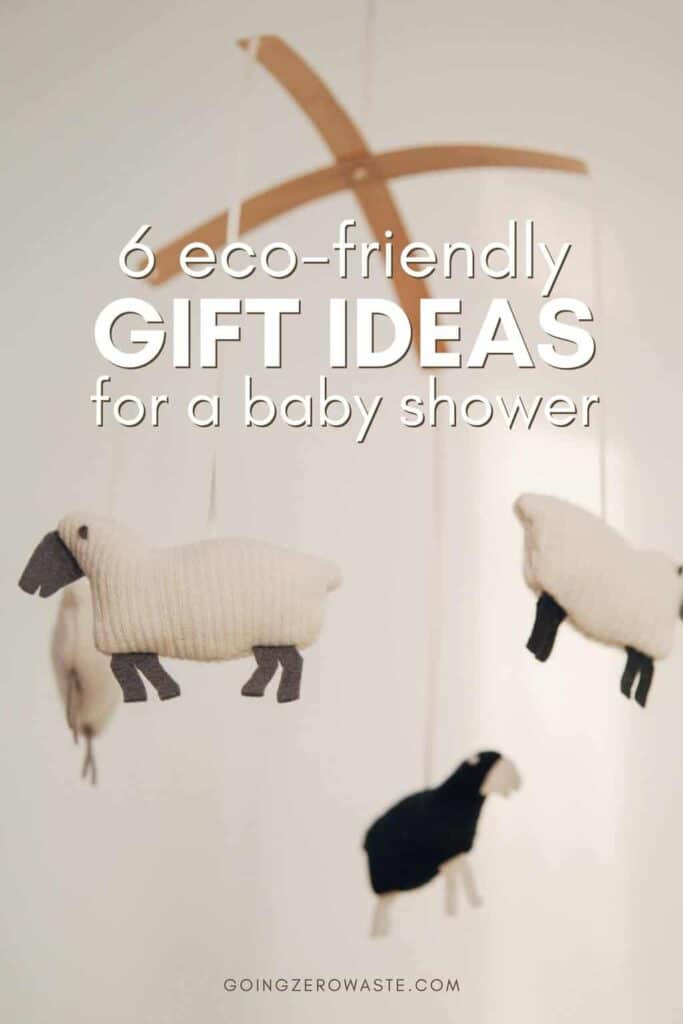 eco friendly baby shower tip
I am officially in the phase of life where all my friends are having babies.
I went to a lovely baby shower this past weekend — my second one this year.
I've gotten in the habit of stashing a small metal plate in my bag (like this one*), and I always have a water bottle on hand (like this one*).
Bringing my own plate means I can easily load up on food without creating any trash, but most of the baby showers I've been to rely heavily on finger food.

I LOVE it when I'm at an event or party with finger food because it's super easy to snack without any plate at all. I excel at hovering around the snack table.
eco friendly baby gifts
Attending the shower is the easy part. Buying the gifts, on the other hand… this has presented a little bit of a challenge.
At the baby shower I attended this weekend, the couple decided to cloth diaper (which is super cool!), but this hasn't been the norm with most showers I've attended.

Upfront, I want to say, there is no judgment here. Of course, I think it's great to use reusables, but I understand it's not feasible or possible for everyone.

Having just moved into a place without a washer and dryer, I'm not sure I could cloth diaper!

My goal with this post is not to shame anyone, but rather provide a few eco-friendly baby gifts if that's what you're looking for.
Almost every baby shower I've been to has had a diaper raffle, and I've seen it done in two ways.
One way is where you buy a pack of diapers — or a cloth diaper if that is the parents' wishes — and the other is simply a fund where you bring cash.
With the blessing of the couple whose baby shower I recently attended, I got them a gift certificate for diaper service which felt like a perfect solution as far as sustainable baby gifts go!
unique baby shower gifts
Of course, no one wants to give a gift that's redundant or has been done a thousand times. These ideas for baby shower gifts are unique, as well as sustainable and useful.
However, sometimes sticking to the registry is best — after all, it's mom literally telling you what she wants and needs as she brings life into the world. You could also look for variations of items on her registry that are eco friendly baby gifts. So keep that in mind, and be cautioned about unique baby shower gifts that may be too unique!
my favorite baby shower gift ideas
So without any further ado, let's get into my favorite baby shower gift ideas.
diaper service as sustainable baby gifts
Diaper service was recommended to me by one of my readers. For the baby shower I attended this past weekend, I knew this was the perfect gift! 
The couple wants to cloth diaper, but they have been a little nervous about all the laundry. The diaper service will drop off 80 cloth diapers. You'll change the baby and place the dirty diapers in the "dirty" bag they provide. 
Once a week they'll swing by, pick up the dirty diapers, and replace them with clean ones. I'm not sure if all diaper services work the exact same, but I'm sure they work similarly. 
I had a super pleasant experience getting a gift card set up with Tidee Didee Diaper Service. Customer service was spot on. They service a large portion of the Bay Area, and their prices are very reasonable. 
If you're hesitant to cloth diaper because of all the laundry, you should definitely look into a diaper service. It's also a great gift to bestow!
books are a classic baby gift
One of the baby showers I went to requested children's books instead of cards. Each book had a sweet little note written to the baby inside the front cover. 
I thought this was a lovely idea. The library is great to check out new books for your little one, but it's also nice to have a couple always on hand.
My only reservation about writing in the books, is some people are deterred from purchasing books with "flaws."
I love buying second-hand books that have notes in them, but some people don't.
What do you think? Would you be deterred from buying a book that had writing in it?
blankets are a must have
A couple of the moms at the baby shower said, "You can never have too many baby blankets." I don't know if that's true. But, what I do know is baby blankets make excellent "wrapping paper." 
Instead of going with traditional wrapping paper, tie your present up with a cute baby blanket or an organic crib sheet.
Growing up, my mom and I would always make sure our wrapping was a present too. Think about putting your gift inside of a diaper bag, a basket, a diaper stacker, or even a sheet set. 
baby clothes
Babies go through clothes really fast. It's really easy to pick up like-new baby clothes at consignment shops or second-hand stores. 
It's also really easy to find adorable, organic, and ethical baby clothing online. Some of my favorite shops are listed below.
cloth diapers
If you know the baby is going to be cloth diapered, buying cloth diapers is a great gift!
If you know the baby isn't going to be cloth diapered, I wouldn't recommend making this purchase.
Cloth diapers use a lot of resources to produce. If you know the couple won't use them, you don't want to drum up those resources unnecessarily.
stick to the registry
I think registries are great. Couples can register for exactly what they want.
So, even if nothing fits into your personal criteria, at least you know that you're buying something the couple will use.
I think an item that is wanted and used is almost more important than having something that's not used — even if it checks all of my ethical and sustainable boxes.
faqs
what are some low cost ideas for baby shower gifts?
Of course, there are a ton of other options! This list only barely scratches the surface. I know some new families would probably even be really excited about receiving a gift card for a home cleaning or some homemade meals.
I've already asked my friend to borrow a few casserole dishes with lids, so when the baby is born, I'll fill them with food and drop them off at their house.
how can i throw my friend a zero waste baby shower?
It's all in the presentation. You can ask your guests to bring their own takeaway containers for leftover cake, put together a gift "display" so they don't bother wrapping, and make your own decorations and food at home! There are lots of ways to make a party zero (or at least low) waste. And as always, the goal is progress, not perfection. So give yourself, and the new mom, a little grace.
Now, I'm not a mother and haven't had a baby shower. If you have, I would love to hear all of your thoughts! What are some of the best gifts you've given or received from a baby shower?
This post contains affiliate linking. It's denoted with an asterisk. You can read more on my disclosure page.