10 Tips for Throwing a Large Zero Waste Event
February 15, 2019 | Kathryn Kellogg
Last Updated on April 10, 2020
This past weekend I went to the Waste Management Phoenix Open a zero waste event for 700,000 people AKA the largest zero waste event in the world. And, when you read 700,000 people it might not seem like that many… but when you're there… with 700,000 people, you realize that's A LOT of people.
700,000 people is larger than the population of many states including Vermont, Wyoming, Alaska, North & South Dakota, Delaware, Rhode Island, Montana, Maine, New Hampshire, and Hawaii.
Now, imagine trying to divert 100% of everything from landfills…. if it sounds pretty difficult, you'd be correct.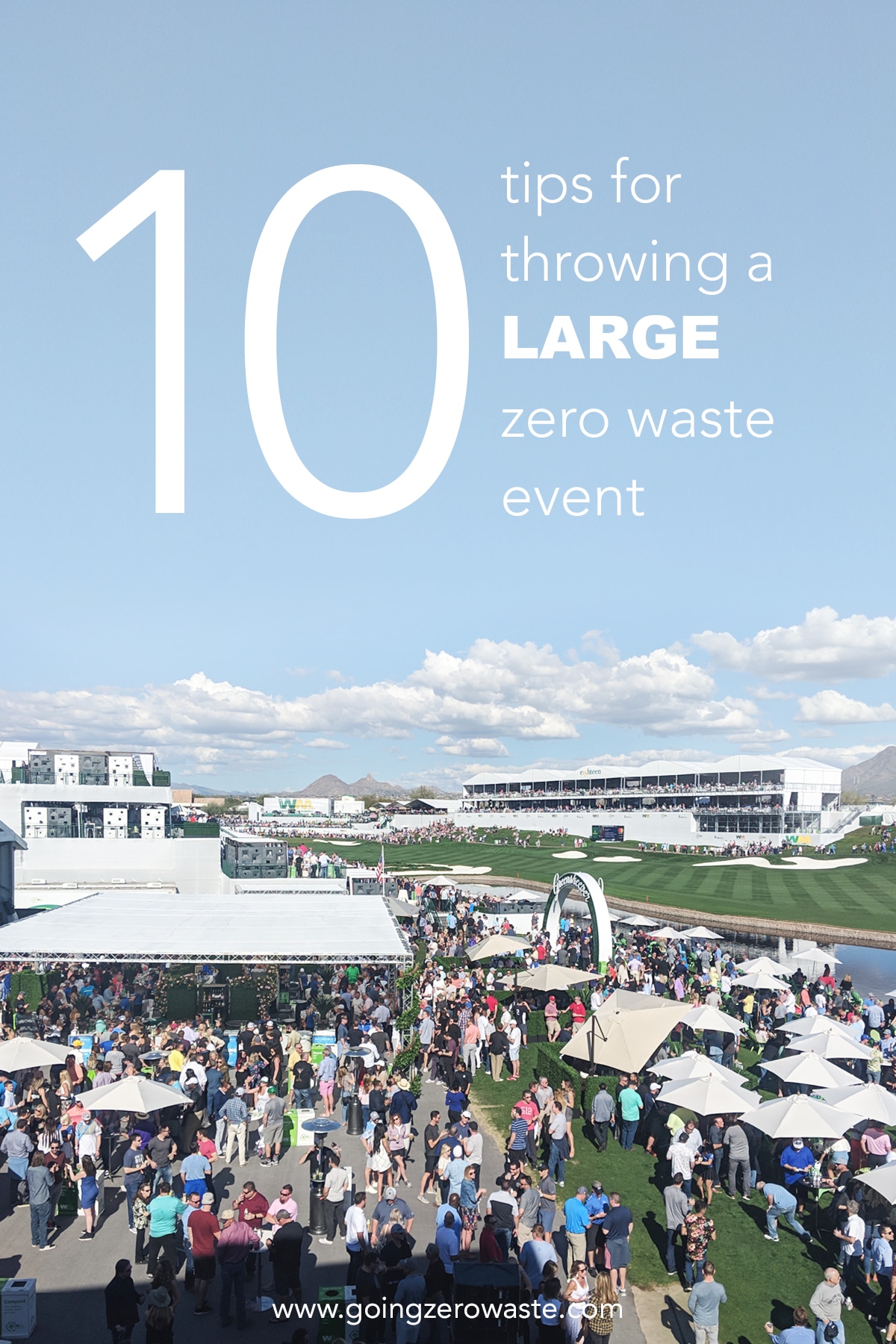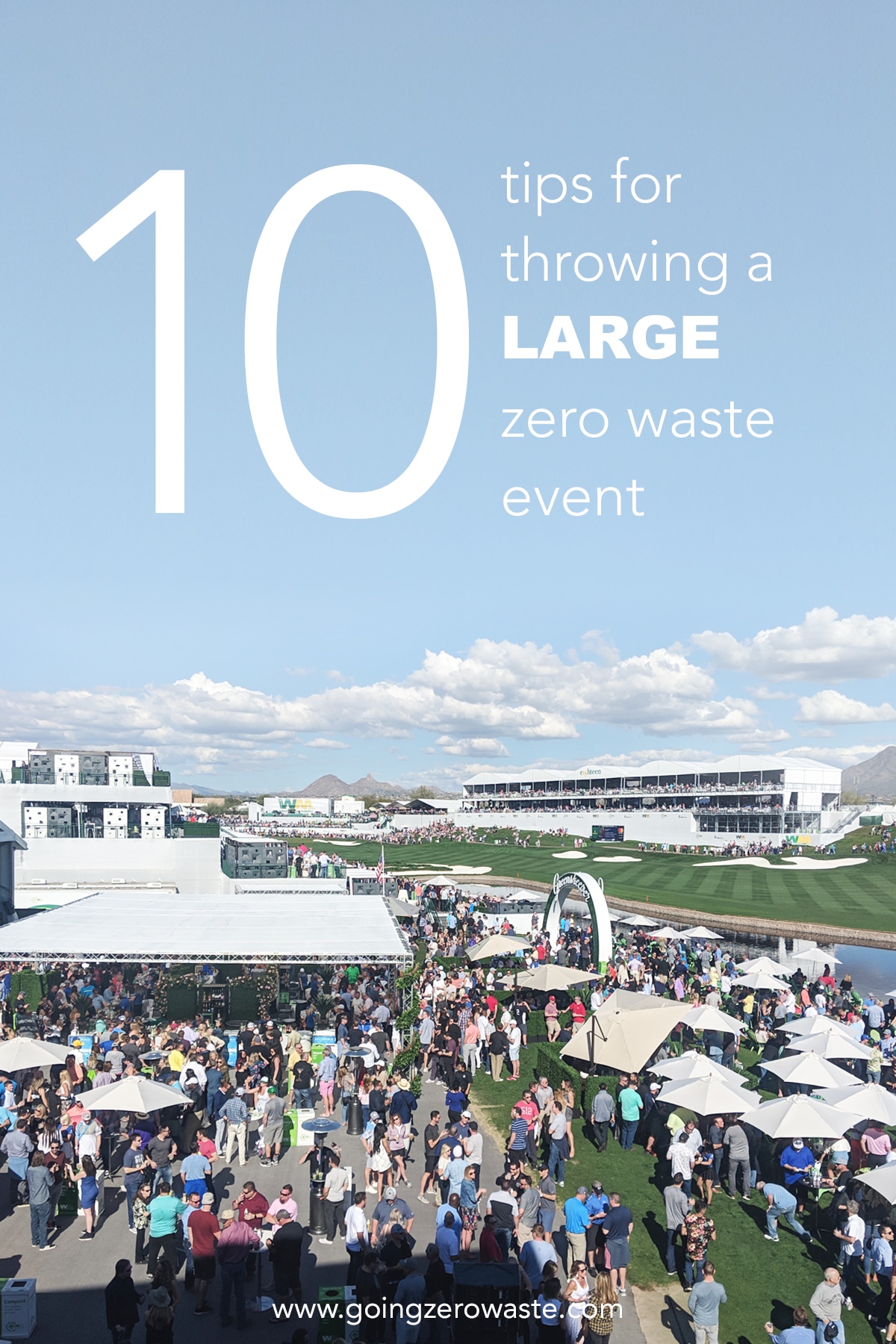 This post was sponsored by the Waste Management Phoenix Open all thoughts and opinions expressed are my own. For more information, please see my disclosure policy.
1. get dirty:
Education is a huge aspect of the Waste Management Phoenix Open. There's lots of signage, a zero waste station, a sustainability forum, and every bin is labeled with what goes inside to encourage and educate consumers.
But, even with what goes in each bin written on the boxes, I watched countless people put their compostable plates in the recycling bin and their aluminum bottles in the compost. When you add a little bit of alcohol, relying on people to sort things properly can get dicey.
So, how do you keep an event like this zero waste? Well, Waste Management hand sorts EVERYTHING. Yep, they rip through every compost and recycling bag to make sure that everything is sorted properly.
2. work with your vendors:
Even though Waste Management doesn't have complete control over the event and what is served, they work with their contracted vendors to make sure their packaging is certified compostable, recyclable, or reusable.
Beyond just educating their vendors, they also try to educate their patrons. And, shout out to Dutch Bros with their refillable and reusable coffee cups!
Waste Management inspects all the booths in the morning to make sure their packaging is certified compostable or recyclable. If the booth doesn't have the right materials, they will shut the booth down until they are compliant.
3. take away the trash cans:
As a patron everything you receive will either be recyclable or compostable so the only two bins placed out at the tournament are for recycling and compost.
There are NO trash bins available to the public for the entire event.
There are some trash bins in the back of house due to laws around food preparation. The caterers have to use things like plastic wrap, gloves, hair nets, etc, but all of that is diverted from landfill and sent to a waste to energy plant.
Total, for the event, they have five waste streams.
compost

recycling

waste to energy

wine bottles

donation
This is the breakdown from 2018, 56% of the waste is recycled, 26% is composted, 9% is donated, and 9% is sent to a waste-to-energy plant.
4. get creative with reuse:
This year, Waste Management implemented a new waste stream specifically for wine bottles. They partnered with a local artist to make drinking glasses out of the wine bottles from the event.
I think it's a great reuse of this material and everyone seemed so happy with how they turned out. They also kept emphasizing how its so much better to reuse than recycle, and that's the kind of thing this girl LOVES to hear!
5. know what happens to the waste:
Now, what I think is the most impressive out of all of this, is the fact they have found domestic markets for all of these items.
They aren't just shipping this stuff off somewhere and hoping for the best. They have found, toured, and insured that what is being recycled is TRULY being recycled.
6. be water positive:
Beyond just being a zero waste event, Waste Management makes sure the Phoenix Open is Net Neutral which means the event is water positive, carbon neutral, and zero waste.
Waste Mangement and the Thunderbirds, a non-profit organization dedicated to helping children and families in Arizona, have helped to restore 200,000,000 gallons of fresh water to eco-systems in need across Arizona.
They also collect all of the water from booths and hospitality centers and recycle it for use in their port-a-lets.
Now, I know what you're thinking, how can a golf course be water positive? And, I get it Phoenix, AZ is a desert.
Having a golf course there sounds incredibly water intensive, but after doing research on the course, the golf course has been supplied with reclaimed and recycled water since the 90s. Check out this post to read more about Golf and Sustainability.
7. use renewable energy:
Every year, the Waste Management Phoenix Open reports it's carbon footprint. To reach their goal of making it a totally carbon neutral event, all of the electricity is procured from APS which is 100% renewable, and it powers the generators, golf car fleet, beverage booths, you name it – it's powered with clean energy!
8. buy offsets:
Since they use renewable energy, the only greenhouse gas emissions that remain are from transport. Whether that's players, vendors, volunteers, glass bottles headed to the local artist, compost, recycling, Waste Management buys offsets for all of it.
9. consider location:
I personally love to see golf courses act as reserves for nature. The TPC Scottsdale, where the Waste Management Phoenix Open is held, redirects 80% of yard waste which is used as part of a pest management program that significantly reduces the need for pesticides. This aids their wildlife habitat preservation program that supports numerous indigenous species like blue heron, bobcats, coyotes, fish, groundhogs, hawks, ospreys, quail, rabbits, snakes, and turtles.
And, just because I think it's extra cheeky, the TPC Scottsdale is built on an old dump. Yep, it's a landfill turned golf course/nature preserve. I think that's pretty cool!
10. get certified:
I'm sure this all sounds great, but wouldn't it be nice if there were a third party to certify all of it?
Well, there's not one, not two, but THREE! I mean this is really just the extra mile – or – er – the 19th hole.
The Waste Management Phoenix Open is UL certified and has been since 2013. They're also GEO certified and have received the Evergreen Inspire status with the Council for Responsible Sport. Making them the first PGA Tour tournament to obtain both certifications and the largest event ever to earn this level of recognition.
Council for Responsible Sport:
The Council for Responsible Sport participated in the "Dialogue on Sport and Climate Action," in 2017. Out of that meeting came the Sports for Climate Action Initiative announced by the United Nations.
The Council helps to identify critical principles for action that will serve as a framework for sporting organizations to help address climate change. So far, 101 sporting events and organizations have earned format certificates in recognition of their climate action leadership.
These are the five principles of the Sports for Climate Action Initiative from their website:
Undertake systematic efforts to promote greater environmental responsibility

Reduce overall climate impact

Educate about climate action

Promote sustainable and responsible consumption

Advocate for climate action through communication
Evergreen Inspire Status:
The Council for Responsible Sport has four different levels of certifications. Baseline Certified Events achieve 45% of total best practices, Silver Events achieve 60%, Gold Events 75%, and then Evergreen events which have achieved 90% or more!
Out of 101, there are only 13 events that have achieved Evergreen Status and the Waste Management Phoenix open holds two of those spots!
GEO Certified:
Now, not only is the TPC Scottsdale GEO Certified so is the Waste Management Phoenix Open. The GEO Foundation is a non-profit organization. From their website, "Inspiring golf to fully embrace sustainability and promoting a shared understanding of issues and solutions, working with and through industry associations and businesses.
"Connecting the efforts and knowledge of the global golf community and recognizing people who are a part of golf's sustainability movement.
"GEO provides three programmes and also administers golf's sustainability assurance, GEO Certified® – the symbol of great golf environments worldwide, available for golf facility operations, for Developments, and for Renovations."
UL Certified:
This certification is not for the faint of heart, and Waste Management has been certified for five years. Receiving UL certification involves tracking and weighing every. Single. Thing. FOR 700,000 PEOPLE.
Everything that is taken off of the course must be weighed and measured for accurate reporting on landfill diversion. From their website, " UL can validate a company's efforts and provide credibility to those efforts with the industry's first standard – UL 2799 – designed to measure and validate zero waste and waste diversion claims.
The UL waste diversion validation program focuses on monitoring and measuring material flows that are not part of an organization's final product. UL offers four landfill waste diversion claim validations to recognize companies that handle waste in environmentally responsible and innovative ways—from energy production via incineration to reuse, recycling and composting.
Materials that are not diverted are considered disposed and go to the landfill or incineration without energy recovery.
UL requires at least 90% diversion through methods other than waste to energy to achieve Zero Waste."
practical application:
If you're throwing a large event, here are some key takeaways.
Make sure to educate your patrons. Have signs and clearly labels bins with what goes in each one.

Work with your vendors, if and try to push them towards more sustainable offerings.

Find creative partners for reuse. If you're going to have a lot of leftover flower arrangements why not donate them to a hospital or nursing home.

Make sure you're prepared to handle the waste in the back of house with proper sorting.

Buy offsets!
Don't forget to check out my notes on the Sustainability Forum. I heard so many amazing speakers and even got to speak for a bit on The Side Bar!
And, don't forget to check out Alden's post for even more tips on creating large zero waste events!