Zero Waste Documentaries
November 14, 2017 | Kathryn Kellogg
Last Updated on September 11, 2020
I plan on writing a huge post about the ten must see documentaries when going zero waste, but today I just want to talk about two of them.
This past weekend I headed to the Napa Valley Film Fest where I got to see Wasted and The Gateway Bug. I also attended cooking demos/seminars with the Culinary Institute of America in relation with both of the films.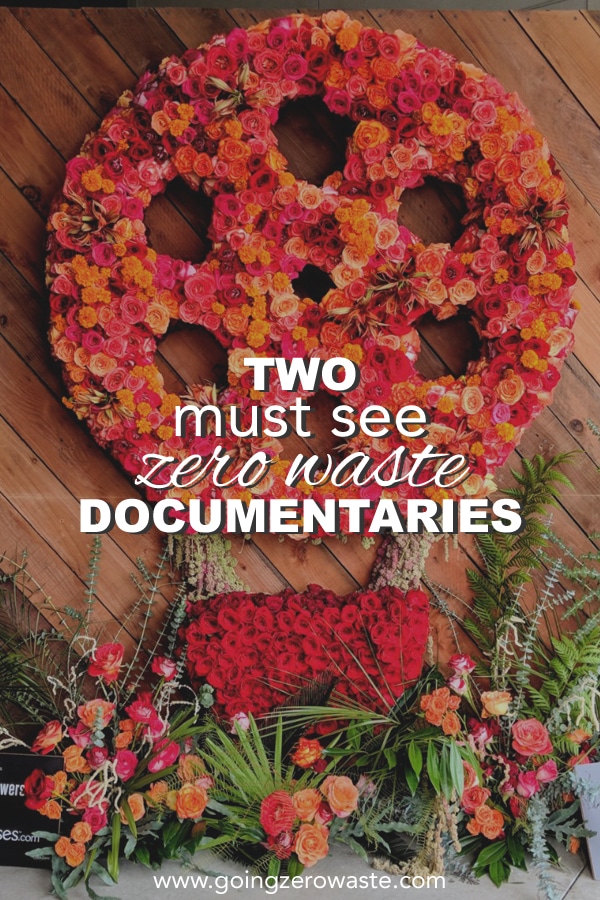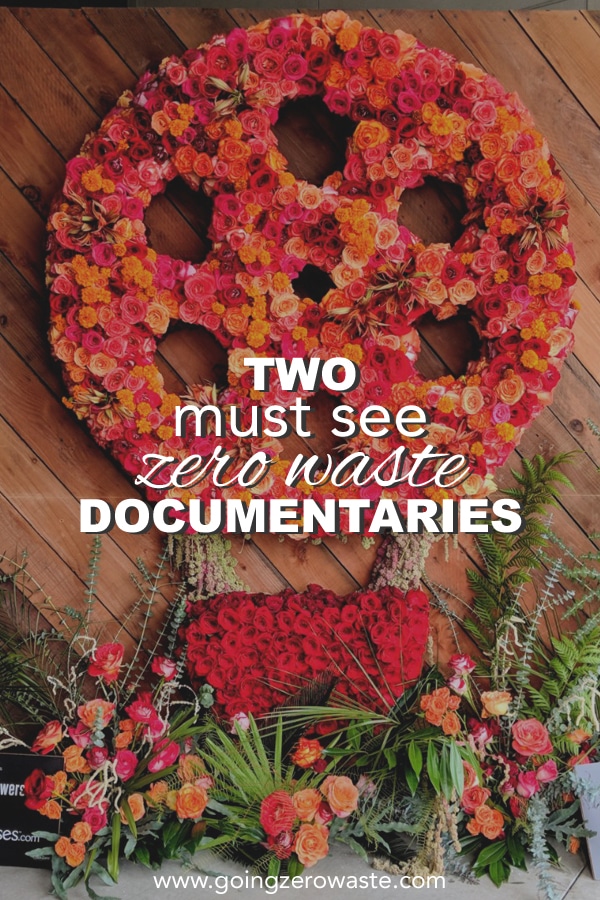 I honestly think I could easily dedicate a post (or two!) to each of these topics.
I remember sitting down to watch Wasted and hearing all of these great facts and figures. I was trying to store them in my head, but I wound up getting out my notebook and wrote down 8 pages of notes!! I'm only going to pick out my highlights though.
a little background:
The Napa Valley Film Fest has been going on for seven years. It runs for 5 days and is spread out over Napa, Yountville, St. Helena, and Calistoga.
The festival is enormous, and I only got to attend a drop in the bucket. There are so many things I wanted to do and see!
Most of the movies I saw were hosted at the Copia which is owned by the Culinary Institute of America. (All the docs I saw were food based… 'cause I'm obsessed with food. 😉
There's also a potential to rub elbows with some pretty cool peeps! I dressed in my best second hand garb to look extra swanky.
---
---
---
---
---
Dress: Sue Wong bought second hand from Sparkly Ragz. Similar*
**As always, the links are only for reference. It's very difficult to find a product page for more information on older, second hand pieces. Please check your second hand stores and second hand websites before purchasing anything new!!**
---
I really want to delve more into my second hand and sustainable wardrobe on the blog, so you might see more and more about what I'm wearing interwoven through blog posts.
Remember that time I started a fashion blog??
keepin' it real:
On Saturday, I started the day off getting coffee for my friends in my own containers. Because, I'm awesome like that.
Related: How to Get Food and Drinks To-Go Zero Waste
At large events there are always a ton of disposables. I kept them at bay by bringing my own water bottle/coffee cup. I went for a double insulated cup*. That doubles for water and coffee.
Most major sponsors of the Napa Valley Film Fest were wineries, and they all serve in real glasses! Stella was another major sponsor, and they served in real glasses too. Grabbing a drink was super easy.
Napa just started offering municipal composting this past year. Which is amazing! But, I think it led to more disposables this year with the justification of composting the remains. I did compost a napkin or two.
I also took some compostable cutlery. I'm going to bury it in the backyard and report back on whether it composts or not. I firmly believe it won't, but we'll find out!
I was also super excited to try out the Impossible Burger at Gott's Roadside Grill. I thought the burger was OK, but while there they served all of their drinks in disposable plastic cups with straws.
I noticed that they had beer served in glass cups. All I had to do was ask for my tea in a real, glass cup. Don't be afraid to speak up! It was a super simple request that easily prevented a plastic cup from heading to the landfill.
wasted:
The Wasted movie was mind blowingly amazing! I cannot recommend this film highly enough. I learned so much new information.
Not only do we waste 40% of the food in America, 90% of it goes to landfills. The video covered the EPA's inverted triangle of food recovery, and walked through each of tiers showing how people and businesses were making each of these tiers work. And, they're not just making it work, they're saving TONS of money.
The movie also covered the Edible Schoolyard Project in New Orleans.
As they were fading out of the scene, the teacher said, "Change a child – change a family, change a family – change the community, change the community – change the nation, change the nation – change the planet."
That statement has really resonated with me. The whole doc encompassed the idea of a closed loop process and flexing our consumer muscle to demand change in the industry (sound familiar?)
Another main theme behind the movie is harnessing the love affair our society is having with food.
We're having a total foodie movement. Now is the opportune time to have the conversation, and turn our food production into something sustainable.
The Wasted cooking demo was hosted by Chef Chris Cosentino who wrote the book Offal Good*. He wrote the book 10 years ago, but a publisher wouldn't touch it for years.
Offal Good is all about cooking with the often overlooked pieces of meat in America.
While I firmly believe a plant based diet is the best way to eat for the planet, if you're going to eat meat. You need to be eating the whole animal.
Chris' journey started when he went to a farm to get a lamb for Easter dinner. After they had slaughtered it, the farmers were going to throw away 45% of the animal right there!
My heart was breaking hearing that story. Chris set out to use every part of the animal, and use it to it's fullest.
His restaurant menu is all about using these "undesirable" parts and making them first and foremost delicious, but also breaking down the barrier and "gross factor".
So many countries eat these odd parts like balls, stomachs, guts, and brains… why don't we?
psychology behind it:
I really liked that Chris spoke about the psychology surrounding the stigma of these "undesirable" cuts.
He links this back to poverty. In poverty, there's so much creativity. When you have less, you're forced to be creative.
He spoke about his grandmother who made Dandelion wine from picking flowers or that they would harvest chestnuts together. They were forced to be creative and to waste nothing.
Similarly in America, in WWII everyone had ration cards. You couldn't buy a lot of sugar, meat, chocolate, etc. After WWII, we had an abundance of these items. People began associating doing without as deprivation.
No one, wants to feel deprived so we gravitated towards our traditional cuts of meat instead of the weird one's we HAD to eat during WWII.
Now, the trick is figuring out how to reopen the conversation. We're wasting SO much food. It isn't right. We need to change the conversation, but how?
Chris offers some great tips for serving up some funky parts. Make it into an appetizer because people are much more likely to be brave ordering an app than a full meal.
Use a play on words/use humor to break down the scary barrier, and don't try and hide it. Don't try and trick people into eating it. Just be honest.
the gateway bug:
Thank's to Chris, I felt pretty brave going into the tasting for the gateway bug. I was ready to try some crickets.
Once again, many countries outside of the US eat insects, but here there's a major "ick" factor. The Gateway Bug started in an MBA class where the students were asked to solve an ecological problem.
The problem they chose was agriculture. So many of our resources like water, grain, and land are used to raise cattle. Crickets have a very, very small environmental impact and are crazy high in protein.
1,000's of crickets can be raised humanely in a very small space. Crickets also eat food scraps! That's right, we can turn our left over food scraps into cricket feed making a closed loop system.
I was a little concerned with how the bugs were killed, but I felt better once Chef Hilary Sullivan explained it. She spent many years as a vegan, before venturing into the world of bugs. She said she struggled getting enough B12 and iron, which crickets are very high in.
Basically, they place the crickets in the fridge which puts them to sleep.
Once they're asleep, you move them to the freezer, where their sleep becomes permanent. It's a very peaceful way to go.
They passed around sandwiches made with cricket flour and fried crickets. They also had meal worm cocktails made with a smoked meal worm.
I tried and enjoyed both! The crickets were crunchy. I would liken them to a corn nut. Not quite as crispy but similarly smokey.
Would you eat a cricket?
---
I'm so excited to see more and more films pop up in this realm!
I think these conversations are so important to have, and I am really starting to see a global conversation and shift around our waste.
I'd highly recommend setting up a screening of either of these movies to spark conversations between your friends or the community. Wasted is available now, and The Gateway Bug will be available in January.
his post contains affiliate linking. It's denoted with an asterisk. This means if you choose to purchase one of these items I will make a slight commission for referring you. You can read more on my disclosure page.