Reusable Shopping Bags Made Easy
July 26, 2016 | Kathryn Kellogg
Last Updated on April 24, 2023
This done-for-you shopping guide makes reusable shopping bags less frustrating and confusing! I suggest the BagPodz reusable bag set for convenient, sustainable shopping.
Taking reusable tote bags grocery shopping is one of the most basic ways to reduce waste and live more sustainably. However, it's also a pain to line your arms with a bunch of reusable grocery bags and walk around the store with them. The solution? A BagPodz reusable bag set that keeps your bags in one, small space to pull out as needed. They really are the best reusable grocery bags!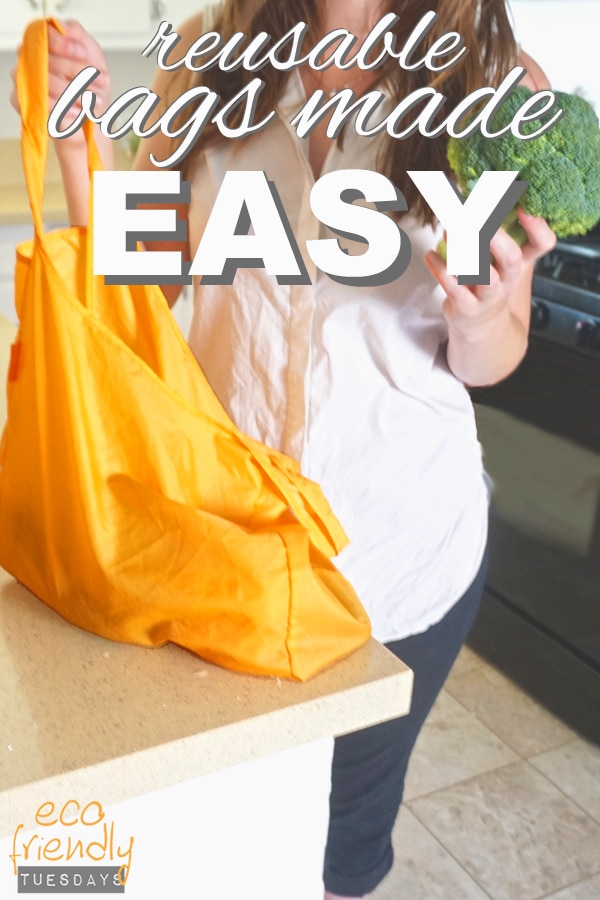 This post was sponsored by BagPodz. All thoughts and opinions are my own. Please see my full disclosure for more information.
reusable shopping bags
Welcome back to another eco-friendly Tuesday! Last time on eco-friendly Tuesdays, we chatted with Chef Charlie Ayers, the first head chef at Google, about fighting food waste.
We've talked about reusable water bottles, we've talked about napkins, we've even talked about handkerchiefs. Almost every key reusable item has gotten a dedicated post except for reusable tote bags. So, today we're talking about the best reusable grocery bags — BagPodz.
bagpodz reusable bag set
For Christmas, my mom bought me BagPodz. I called and thanked her for the thoughtful gift, but I felt like I had way too many reusable shopping bags to begin with.
Being a minimalist and already having an entire drawer dedicated to too many reusable bags, it felt like a silly present. She told me to try them. So, I did — and holy guacamole — Life. Changing. 
My zero waste journey started out with just some checkout stand reusable bags I picked up at Trader Joe's along the way.
And, while they worked, they weren't very sturdy. Definitely not for long term heavy duty use.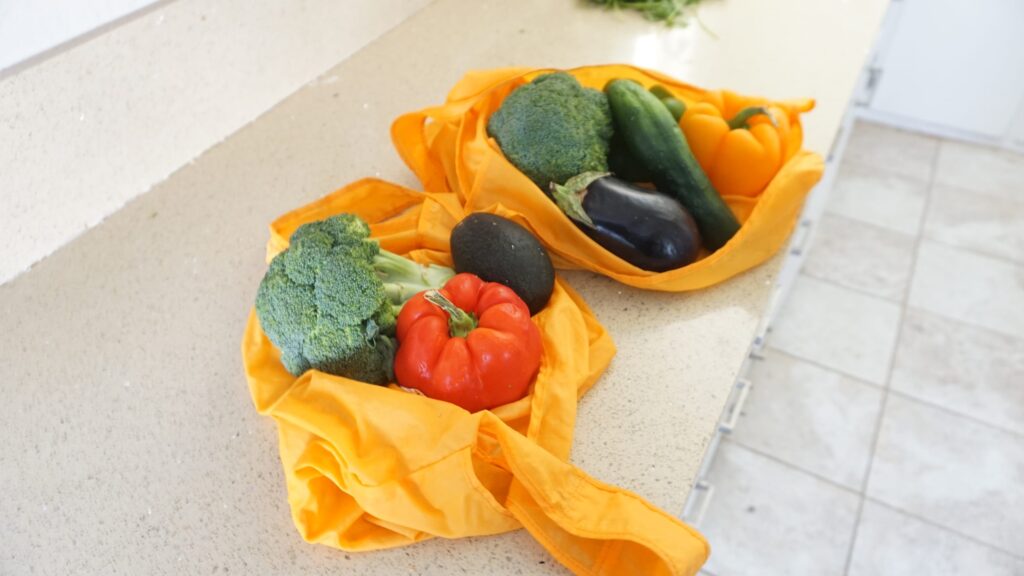 I decided it was time to buy myself an adult set. I bought a set of canvas bags on Amazon, and I hated them. Every time I used them I would be so angry.
They weren't sewn well, and they cost way too much money. They were falling apart, but I was determined to live with them because — reuse! 
If this sounds like a familiar story, I'm here to tell you it's ok! Sometimes you do things with the best of intentions, and sometimes they just don't work out.
Thankfully, my mom saved the day. Enter BagPodz.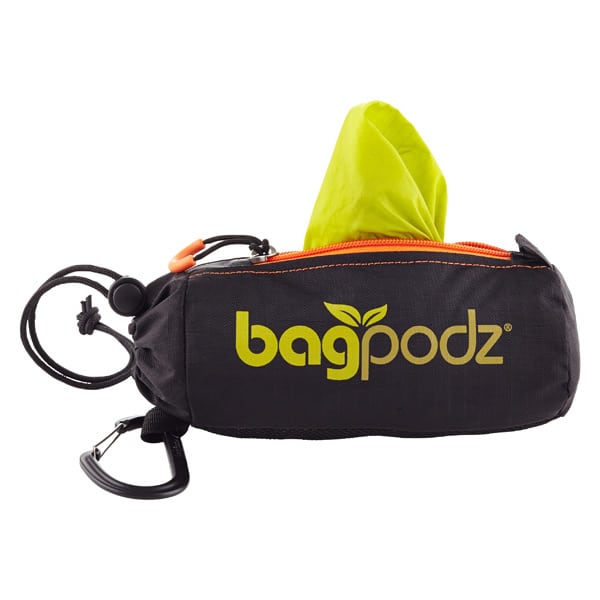 the best reusable grocery bags
You may have heard me chatting about them on a podcast with Matt Prindle earlier this year. After that podcast, we got in touch! I'm telling you — everywhere I go, people ask me where they can get them. I love talking about products I love! Especially ones that have revolutionized zero waste. 
They started making these bags after the bag ban passed in Austin. People were complaining that it was difficult to remember to bring their reusable bags to the store. Common complaints included: mismatched, bulky, never bringing enough, and difficult-to-fold bags. 
The geniuses at BagPodz found an easy way to address everyone's concerns with this little pod system.
You can unzip the side of the pod to pull the bags out at check out. After you get home, use the carabiner to clip it onto a hook or door handle. You can let the drawstring out, then shove all of the bags back into the pod.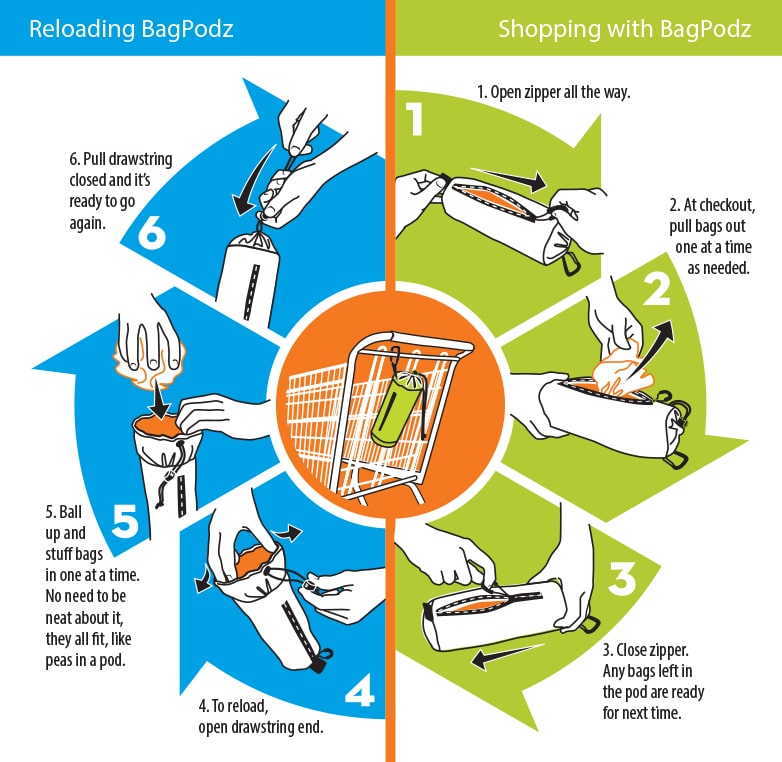 It's this perfect little compact tool that I keep in the car. BagPodz and Snapware revolutionized zero waste for Justin. They were lightbulb moments for him. He even said, "Zero waste makes so much more sense to me now." Now, he's more than happy to tote reusable bags into the store. 
I am all for any product that can help people to remember to actually bring their bags!
tips to remembering your reusable grocery bags
1. My number one tip for anyone who forgets to bring their bags is to turn around! If you get to the store and you don't have your bags, TURN. AROUND. Seriously. When you go back once to get the bags, I can almost guarantee you won't forget again. 
2. Clip them on your keys. After I unload my groceries, I clip the bags onto my keys to remember to take them back out to my car. 
3. Eventually you get in the habit of creating a little checklist before you leave the house. I always ask myself phone, wallet, keys, water, bag — something to that effect so I'm always prepared! 
I hate plastic bags and hope people will remember not only to bring reusable bags but also reusable produce bags! You can cut out so much waste just by remembering to bring reusable bags and a reusable water bottle. 
Plus, now I have an empty drawer where my reusable bags used to be. When you live in an 800 sq. ft. house, every ounce of space becomes precious. 
faqs
what are bagpodz reusable tote bags made of?
BagPodz bags are made from super tough and durable rip stop nylon that can hold up to 50lbs each! That's enough to cover a whole trip to the grocery store and then some. While the materials they're made out of aren't technically sustainable, they are long-lasting, ensuring you won't need to replace them like the other options I've tried.
And, when they do finally wear out, nylon is recyclable!
are reusable bags sanitary?
Reusable grocery bags are a smart choice but get a bad rap because the food carried in them may leave behind germs like E. coli or Salmonella. If the bags are not properly washed and dried before they are used again, these germs remain and can make you sick.
I suggest dedicating one bag to produce and one bag to meats (if you eat it). And of course, keep them clean and sanitize between uses to keep yourself healthy.
What's your bag routine? How do you remember your reusable bags?