Oven Fried Buffalo Cauliflower Lettuce Wraps
May 12, 2016 | Kathryn Kellogg
Last Updated on April 3, 2020
Y'all know how I feel about food. It should be quick, delicious, and filled with fresh, wholesome ingredients.
I am obsessed with these lettuce wraps! They're spicy, tangy, crunchy and filling without being heavy. It's perfect warm weather food!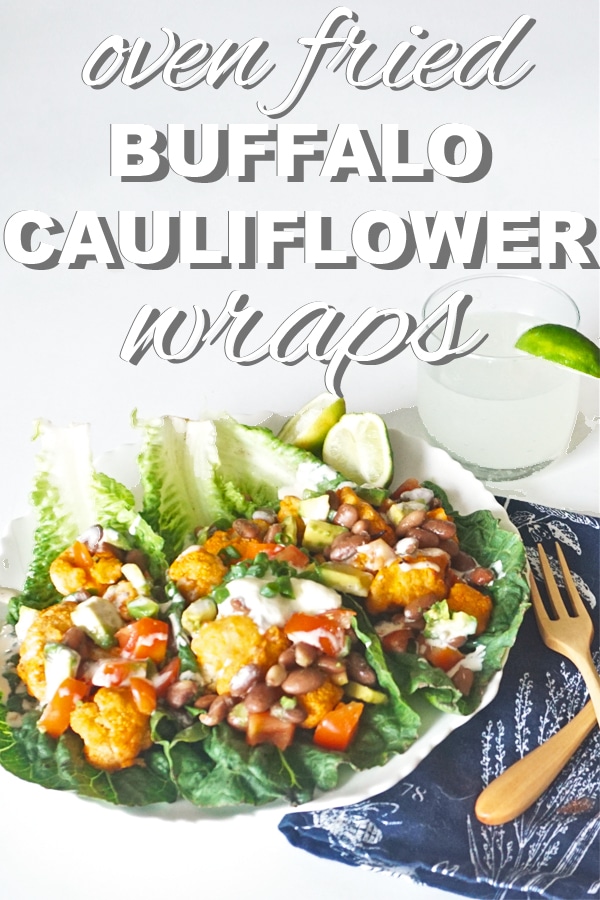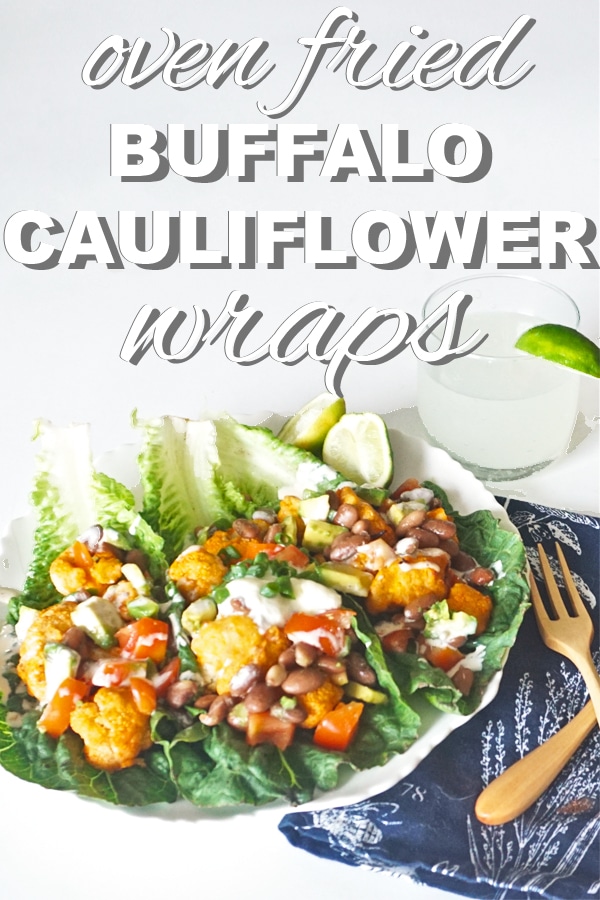 Healthy, fresh tacos filled with avocados and buffalo sauce – what could be better!?
If you knew me in college, you know my buffalo sauce addiction is real.
People would dare me to shoot different types of hot sauces. Voodoo sauce, diablo sauce – bring it on!
And, as my dad used to say, "Mo hotta; mo betta." Except for that one time I was in a Thai restaurant… Mo hotta; mo crying. 
No fear! These are not tear inducing. They are very mild and besides being super tasty, they're very simple to make and crazy easy to assemble.
You can customize them any way your like. I think this would be a great recipe for kids. You could set out an array of toppings for them to choose from. 
Some of my favorite toppings are tomato, avocado, and pinto beans. 
The lettuce is crisp and easily holds the weight of all the toppings, but you can ditch the lettuce wrap all together. Oven fried buffalo cauliflower is great on it's own.
If you have any leftover, it holds up great next day. But, honestly…. you're not going to have any leftover.
I'll eat the whole head of cauliflower in one sitting because it's just THAT good. And, at $2 for an organic cauliflower from the farmers market – why not!? 
Oven Fried Buffalo Cauliflower Lettuce Wraps
30 minutes; 450 Degrees; Makes Six Lettuce Wraps
3/4 Cup of Flour (I used whole white wheat bought in paper that was composted)
1 Cup of Milk (You can use any type of dairy or non-dairy milk)
1 Teaspoon Salt, Pepper, Garlic Powder, Paprika, Parsely, Onion Powder, and Cumin (bought from bulk spices at Oaktown Spice and Berkeley Bowl)
1 Head of Cauliflower cut into bite size pieces
3/4 Cup of Buffalo Sauce (homemade or store bought in glass)
6 Leaves from a head of Romaine
1/2 Cup of Pinto Beans (bought dried beans in bulk at Raley's)
1/2 Cup of Diced Tomato
1/2 Cup of Avocado (1 Small or 1/2 Large)
1 Lime
Preheat your oven to 450, and prep your baking sheet.
I used a slipat on a regular sized baking sheet with an oven safe cooling rack on top. 
Whisk the flour and all of your spices.
Add the cup of milk and whisk until combined.
Add the cauliflower in and toss until it's fully coated with the batter.
Place the coated cauliflower evenly spaced on your prepped baking sheet. 
Bake at 450 for 20 minutes.
Pull the cauliflower out of the oven and toss in the buffalo sauce.
Once coated, distribute evenly on the baking sheet and bake for another 10 minutes until golden brown and crispy. 
Baking it the second time helps to keep it crunchy.
If you pulled it out of the oven and tossed it in the sauce and served, it would get very soggy. By baking it twice you're preserving the crunch! 
While the cauliflower is baking, assemble your toppings. Add a pinch of salt and squeeze of lime juice to the diced tomato, pinto beans, and diced avocado.
Wash and pat your pieces of lettuce dry. Scoop 1/6th of the topping mixture into each lettuce wrap, and evenly disperse the buffalo cauliflower.
I added a jalepeno cashew cream on top. But, a dollop of sour cream, ranch, or blue cheese would be delicious! Margaritas are optional but encouraged!
A healthy, delicious dinner on the table in 30 minutes. You can't beat that!
What are some of your favorite summer and spring dinners?