Where to Donate Unusual Items
January 24, 2017 | Kathryn Kellogg
Last Updated on September 15, 2020
Over the holidays, I had the pleasure of brainstorming with Trisha who wrote Going Zero Waste's first guest post.
I've been wanting to make a "master list" of resources for all the cool and unusual things you can donate or recycle.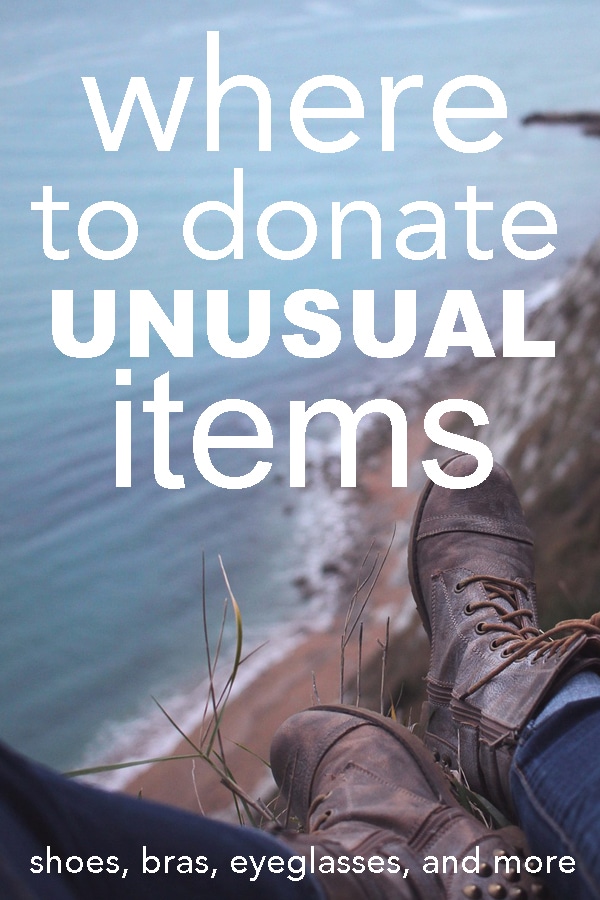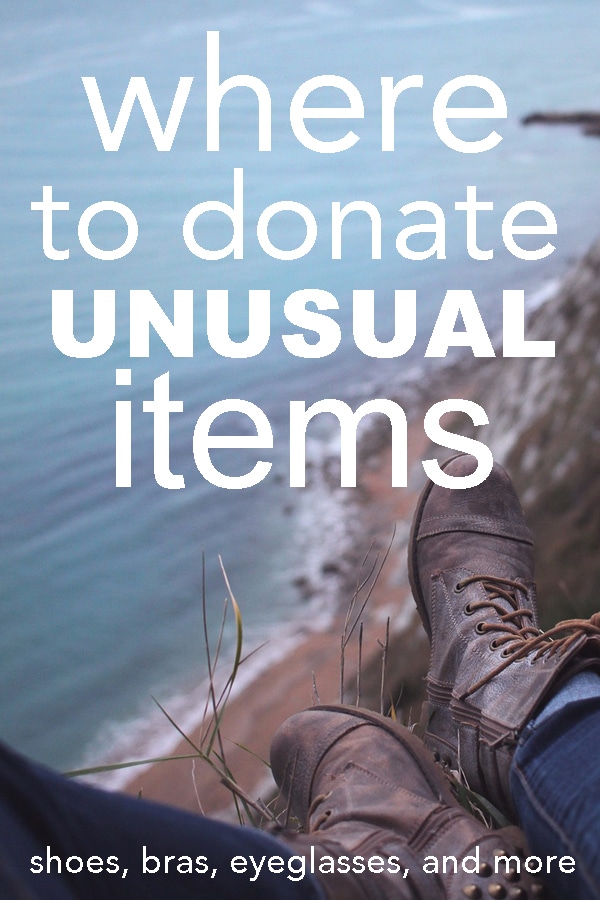 Trisha was kind enough to kick us off with the first six!
bras:
Yep, you read that right. Bras can be recycled.
Most local organizations will not take bras or other undergarments, which is understandable. However, there are still women across the world who can't afford these expensive items and that is where the Bra Recyclers come in.
They will take all of your washed and unwanted bras! They repair and transform the bras into a beautiful, brand new likeness and will get them in the hands of ladies in need.
eyeglasses:
The gift of sight is something that you just can't put a price tag on. That is why Lion's Clubs everywhere take used glasses and donate them to anyone in need.
Your glasses do need to be in usable condition, though. That means if you're missing a lens or the bridge is broken, your glasses can't be given to another person. Glasses are a tricky thing to repair, so if you do happen to have broken ones just recycle the materials individually.
Although, if for some reason the Lion's Club won't take your pair, it's always a good idea to try local homeless shelters and thrift stores around your area.
bicycles:
There are usually a few ways that bikes can be recycled. The first way is to take your unwanted bike down to a local shelter or thrift store.
However, you might want to bear in mind that if your bike doesn't work, they might not be able to take it. Another option is to call around to local bikes shops. Many shops will repair the bike or at least use the parts to repair someone's bike.
Recycled bikes are usually a much cheaper option for those of us who are strapped for cash. The Boise Bike Project is a great example of a local organization doing just that.
swimwear:
Anyone with a passion for water activities may have old swimwear lying around, including a wetsuit. Wetsuits are made from that very specific, stretchy, rubbery material that just doesn't seem suitable to recycle.
A company called Suga is willing to take your old suits and recycle them into yoga mats.
Another pesky item that is hard to get rid of is old swimwear. Most organizations won't take used or new swimsuits whatsoever.
Bras For a Cause, takes all unwanted swimwear (in addition to bras and lingerie) and donates them to breast cancer survivors, homeless shelters, and other women's organizations throughout the world.
In addition, if your item cannot be repaired, the material will commonly be used in the creation of works of art. The art is then sold and profits are donated back to organizations seeking a cure for breast cancer.
cosmetics:
Makeup is a touchy subject because it essentially becomes contaminated after the first time it is used. It may appear that products we don't like cannot be recycled.
This isn't true. Using 99% alcohol and a spray bottle, you can completely cleanse your unwanted makeup without ruining the product itself. The alcohol evaporates quickly and instantly kills all germs in the product. Paris-to-go told me makeup consignment stores are becoming popular in Paris.
You can also send your empties back to the company in many cases. Retailers like LUSH, Mac, and Aveda all have recycling programs that you can take advantage of.
running shoes:
Several organizations, including Nike and the More Foundation, will take your used shoes and recycle them in one way or another.
Nike will take used shoes and transform them into a brand new shoe, while the More Foundation actually sells the shoes in small villages throughout Africa.
The proceeds are used to build sustainable communities by providing help and education to said communities. They receive the funds necessary to start and sustain gardens, tree growing operations, clean drinking wells and much more. Your local clothing thrift store is also another great option.
---
Of course, this list contains only a few examples of items we can creatively donate or recycle. Half the fun is finding new homes for your old, "unusable" things. You never know what items can be reused until you look.
Before you toss something, make sure to ask yourself if you can give it a new life. Check sites like terracycle or just google it!
I will be turning this into a full flushed out resource. If you know of any awesome charities, companies, or organizations that take back unusual items, please let me know about them in the comment section.
You can read more from Trisha, the mastermind behind these six tips, at thatdangvegan.com or follow her on twitter @thatdangvegan. She is a dedicated vegan who promotes an all-around healthy lifestyle from Boise, ID.